Qualcomm's Nuvia ARM chips to challenge Apple M-series won't arrive until late 2023
People will have to wait until late 2023 to purchase a device with Qualcomm's upcoming Nuvia CPUs.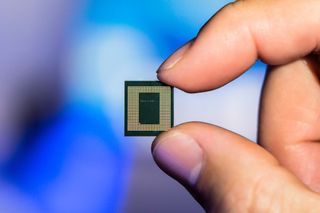 (Image credit: Qualcomm)
What you need to know
Qualcomm's Nuvia-based ARM processors will not be available in devices until late 2023.
It was known that the chips would ship at some point in 2023, but Qualcomm's president recently confirmed the late 2023 timeframe in an earnings call.
Qualcomm denied that the planned late-2023 release of the chips represented a delay.
Qualcomm's Nuvia ARM CPUs will not ship in devices until late 2023. The president and CEO of Qualcomm, Christian Amon, detailed the timeline for the processors in a recent earnings call (via Tom's Hardware). It was already known that the processors would arrive at some point in 2023, but we now have a more specific timeframe.
Nuvia is noteworthy because the company was founded by the same people that built Apple's A-series chips. That processor lineup eventually evolved into the M-series CPUs that are in the latest iPads, MacBooks, and Macs. Qualcomm acquired Nuvia for $1.4 billion in order to advance its ARM-based CPU efforts.
Processors designed by the Nuvia team will ship to OEMs and partners in the second half of 2022, but they won't make their way to purchasable devices until late 2023. That gap gives manufacturers a chance to refine designs and ensure that the new chips work with other hardware.
Until the Nuvia processors roll out, ARM PC enthusiasts will have to purchase devices with Snapdragon CPUs, such as the 8CX Gen 3. It's important to note that Nuvia chips won't entirely replace designs from Arm Ltd. like the 8CX Gen 3. Qualcomm will still have the option to license a design, which is what it already does with Snapdragon CPUs.
A Qualcomm representative denied that the planned release date of late 2023 was a delay in an email sent to PCWorld.
It's natural to assume that Qualcomm's Nuvia ARM processors will compete with Apple's M-series chips. Qualcomm said that its CPUs will be an "M-series competitive solution for the PC."
Perhaps more important than competing with Apple's offering, the Nuvia ARM CPUs will need to stack up well against the best CPUs from Intel and AMD. Qualcomm plans to compete in the high-end space with its Nuvia chips.
"As we think about the next generation, we have been developing our own CPU that has been designed by the Nuvia team, and we are going after that performance…. High scale in the enterprise, and development is on track and we expect to have that in late 2023," said Amon during the earnings call.
Windows Central Newsletter
Get the best of Windows Central in in your inbox, every day!
News Writer and apps editor
Sean Endicott brings nearly a decade of experience covering Microsoft and Windows news to Windows Central. He joined our team in 2017 as an app reviewer and now heads up our day-to-day news coverage. If you have a news tip or an app to review, hit him up at sean.endicott@futurenet.com (opens in new tab).
So, in late 2023 Qualcomm might have something competitive with the M1 which by then will be 3 years old? Sounds like status quo to me. Qualcomm has always been 3 years behind Apple.

So, this is where paying attention to details matters before jumping into comments. The president and CEO of Qualcomm, Christian Amon, noted that its Nuvia chips will be an "M-series competitive solution for the PC." M-series. Not M1. That distinction is important because it's correct to assume M1 won't be relative in late 2023. They're not targeting a three year-old-chip. From Reuters: "... he believes his company can have the best chip on the market, with help from a team of chip architects who formerly worked on the Apple chip but now work at Qualcomm." Again, the best chip on the market, not the market (from three years ago). It's OK to be skeptical, even though Qualcomm has the people who built Apple's processors working for them. But let's not forget that Apple is suing the founders of Nuvia and is not very thrilled with their prospect of working for Qualcomm. Finally, keep in mind, that these are processors. Apple are not magicians. If you think Intel, AMD, or Qualcomm can't catch up to (and surpass) Apple then you have a very biased understanding of how technology and innovation works. I've already demonstrated that Intel 12th Gen P-series blows away an M1 for performance. It just lags behind in efficiency.

It feels like apple will probably always have the closed environment advantage, in much the same way that console manufacturers can get more out of their products due to everything being designed in tandem with one another. Apple have that same advantage, that's not to say that it is a definite but I think other chip manufacturers have an uphill battle to keep up. Especially Qualcomm. Going back to having a unique chipset from the competition was an incredibly smart move on Apple's part.

All true, but the real competition for Qualcomm here is absolutely not Apple but Intel and AMD, and it just needs to beat them to start to crack at the much larger Windows PC market. I'll keep hammering this point home: Apple's M-series chips would only be a real threat on PC if Apple sold them to Windows OEMs, which would devastate Intel and AMD and hurt Qualcomm. But that's not happening. Because of this choice, Apple will be forever ~10% of the PC market. If you're into Apple, no Qualcomm chip will get you to switch to PC, at least not in significant numbers. The same is true of the reverse: There's no evidence that people are ditching Windows for Mac because of M1. We see many disgruntled Mac users finally upgrading to a machine they can like and new users in China, where Apple is always en vogue for the nascent affluent class.

Very true and I don't expect Apple people to jump ship, but could the success of the M1 help the vast majority of people also see the value of Qualcomm processors in laptops. I'd like to think that the very vocal group who are either "Apple or Die" or "Windows or Die" is a minority, and the majority of people don't actually care and just want a product that looks fancy and is within their budget. Comparing Qualcomm to the M series and using it as the benchmark, and having that as the focus could entice your lay person to think "Qualcomm, oh that's like those chips in the really expensive Apple laptops, maybe I should get that". I could also be massively overthinking it.

Qualcomm was kind of happy that Apple went ARM as it believes they proved the point of the value of technology to computing. And yeah, even Qualcomm compares Nuvia to M-series, so there is a PR move there, but, like I said, Intel and AMD are its real competition.

x86 chips will have a great headache with the ARM PC
Windows Central Newsletter
Thank you for signing up to Windows Central. You will receive a verification email shortly.
There was a problem. Please refresh the page and try again.