Rainbow Six Siege Phantom Sight's Nokk and Warden will elevate your game
Hands-on with Rainbow Six Siege Phantom Sight's new covert duo, Nøkk and Warden.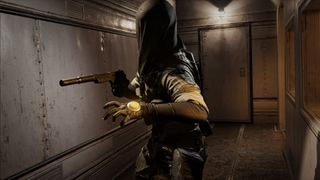 Ubisoft has lifted the veil on Operation Phantom Sight, the next expansion lurking ahead for Tom Clancy's Rainbow Six Siege. The second update of 2019 delivers a duo of game-changing covert Operators while revisiting underpinnings of the past. From digital deception to global espionage, next season packs some substantial changes you don't want to miss.
We've wrapped up our early Phantom Sight impressions after getting hands-on before reveal.
Eyes on target
(opens in new tab)
Tom Clancy's Rainbow Six Siege
Addictive, challenging shooter action.

Ubisoft's hit shooter is hotter than ever, touting tense tactical gameplay, and regular free updates. With millions of players in 2019, Rainbow Six isn't slowing down.
Nokk: Sweep the floor without a trace
Whether concealed in the shadows or plain sight, Nøkk carves a new stealth role in the Rainbow lineup. Shaped in Denmark's Jaeger Corps, this ghostly attacker leverages the HEL Presence Reduction device to mask her tracks and avoid enemy surveillance. Untraceable and silent underfoot, the veiled predator excels at covert infiltration and the art of surprise.
Fusing signature abilities of existing defenders Vigil and Caveira, HEL Presence Reduction fully conceals her mesh-draped silhouette. Once cloaked, Nøkk enters a state comparable to Caveira's Silent Step, masking the patter of footsteps while also invisible to defender cameras. She's the first anti-intelligence attacker on the roster, muddying the growing surveillance network hitting defensive hands.
Nøkk demands a unique offensive approach, best positioned out of the spotlight and waiting for the window to strike. She's the first Operator where breaking away from allies is near encouraged, with map knowledge essential to draw the most from the loadout. However, her ability shines when doubled with regular assessment of surroundings, still rewarding organized, communicative teams.
Swipe to scroll horizontally
Category
Spec
Ability
Hel Presence Reduction
Primary
FMG-9
SIX12 SD
Secondary
5.7 USG
D-50
Gadget
Claymore
Breach Charge
Armor
2/3
Speed
2/3
Price
600 R6 Credits

(opens in new tab)
While Nøkk can sink into the background unnoticed, it's not all smooth moves for this hunter. An extensive list of actions and gadgets will interrupt the device, causing a visible "glitch" noise pattern around the Operator's location. The HEL is also limited to a 10-second runtime, so you'll need to get creative for longer sightlines, leaving little room for mistakes.
Nøkk won't be your team's next heavy gunner but she can still hold ground in close-quarters encounters. Operation Phantom Sight revives familiar weapons for its new Operators, arming the ghostly hunter with FMG-9 submachine gun and suppressed SIX12 SD shotgun. In the holster, she stows a D-50 Desert Eagle, although now silencer-compatible to stay under the radar.
Founded on two existing abilities, Nøkk is neither Rainbow Six Siege's most innovative or exciting new Operator to join its ranks. However, our first matches suggest a rewarding role that taps into a clear opening in the offensive lineup. Elevated by one of Ubisoft's best character concepts and executions since launch, Nøkk keeps stakes high for Phantom Sight.
Warden: A (virtual) view to kill
Suited up and primed for action, Warden doubles as Rainbow Six Siege's newest on-site anchor and dapper chap. This stylish U.S. Secret Service agent enlists with gadgets as powerful as his charisma, holding back attackers from confines of the objective. Boasting his signature "Glance Smart Glasses," Warden will stay combat-ready no matter what's thrown his way.
These digital specs aren't your next Google Glass; Warden's combat-tuned eyewear is the latest counter to offensive throwables. Negating the effect of flash grenades once activated, he can avoid visual impairment, while reversing the impact once already stunned. Coupled with anti-smoke measures, it gives Warden with vital awareness over his accompanying three-armor, one-speed allies.
Swipe to scroll horizontally
Category
Spec
Ability
Glance Smart Glasses
Primary
M590A1
MPX
Secondary
P-10C
SMG-12
Gadget
Deployable Shield
Barbed Wire
Armor
3/3
Speed
1/3
Price
600 R6 Credits

(opens in new tab)
Warden is highly situational at his core, causing his value to fluctuate between rounds. He excels in situations with abundant projectiles, potentially a fitting (though more isolated) alternative to Jäger. Flashes and smokes are also less binary for attackers, injecting one further variable for consideration. But in those rounds where attackers opt for a different approach, Warden will rapidly lose his charm.
When the specs aren't in action, Warden also inherits diverse firepower from former Operators. The MPX submachine gives flexibility for medium-to-close range, ideal as the last line of defense against the objective push. You'll also get choice of the M590A1 shotgun, the sighted P-10C, and SMG-12.
The upcoming Phantom Sight expansion also hosts a Kafe Dostoyevsky rework, streamlining this frosty locale with a revamped layout and texturing. Among key improvements are an overhauled ground floor, expanded top floor balcony, and refining chokepoints of its predecessor. While Grim Sky's Hereford 2.0 emerged polarizing, the new Kafe stays true to the original vision.
I've grown cautious on providing initial rework map impressions, often requiring several hours for a real sense of gameplay improvements. However, Phantom Sight approaches with strong philosophies, which seemingly transpires to the final map.
Early impressions on Operation Phantom Sight
I can't drop a sense of stagnation for Phantom Sight, with both Operators utilizing existing weapons, an ability openly stemming from prior defenders, and familar map rework. While the latest duo is fun to play and beneficial to recent meta shifts, I only hope this becomes an outlier rather than future norm.
However, Operation Phantom Sight once again successfully shakes up Rainbow Six Siege, with two supplementary roles for its ever-evolving gameplay. Nøkk changes how defenders lock down sites, sure to spearhead new offensive strategies for the coming season. And while Warden remains highly situational, a second anti-projectile defender is hugely welcomed in the Operator lineup.
Operation Phantom Sight is expected to launch in June 2019, following early access hosted via the Technical Test Server (TTS) on PC.
Eyes on target
(opens in new tab)
Tom Clancy's Rainbow Six Siege
Addictive, challenging shooter action.

Ubisoft's hit shooter is hotter than ever, touting tense tactical gameplay, and regular free updates. With millions of players in 2019, Rainbow Six isn't slowing down.
Rainbow Six Siege accessories you'll love
While you're checking out Rainbow Six Siege's next update, don't miss these awesome, affordable accessories today.
HyperX Alloy FPS Pro Keyboard (opens in new tab) ($70 at Amazon)
The HyperX Alloy FPS Pro is a reliable mechanical companion, primed for responsive FPS gaming. It boasts strong build quality, the Cherry MX Red switches are snappy, and textured WASD keycaps accommodate shooter fans. It's an essential and affordable piece for any setup.
SteelSeries Rival 310 Gaming Mouse (opens in new tab) ($40 at Amazon)
This budget gaming mouse excels in performance, packing SteelSeries' leading TrueMove 3 sensor and comfortable in-hand feel.
AmazonBasics Xbox One Wired Controller (opens in new tab) ($25 at Amazon)
While Amazon isn't famed for Xbox One accessories, the mega-retailer's spin on Microsoft's own is ideal for budget gamers. It stows a lengthy cable, headset support, and strong grippy build quality ideal for everyday gaming.
Get the Windows Central Newsletter
All the latest news, reviews, and guides for Windows and Xbox diehards.
Matt Brown was formerly a Windows Central's Senior Editor, Xbox & PC, at Future. Following over seven years of professional consumer technology and gaming coverage, he's focused on the world of Microsoft's gaming efforts. You can follow him on Twitter @mattjbrown.