The Ramos Q7 is a 7-inch Windows Phone made for the Chinese market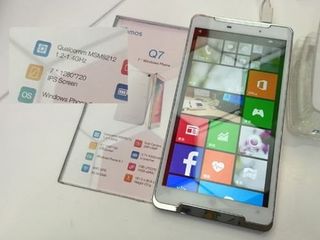 A Chinese OEM named Ramos has introduced a massive 7-inch Windows Phone 8.1 device, the Ramos Q7, in that country, but most of its other hardware features are in the low-to-mid range.
The phone showed up at a display this weekend at the Hong Kong Electronics Fair, according to ITHome. The phone also has a big 4000 mAh battery to help power that big screen, but the other hardware features are not nearly as impressive:
1280x720 IPS LCD screen
Qualcomm Snapdragon 200 processor with 1.2-1.4 GHz clock speed
1GB of RAM
16GB of internal storage
5MP rear camera
2MP front-facing camera
There's no word on pricing or availability for the Ramos Q7, and it's likely to just be available in China for the time begin. However, it's clear that at least one OEM wants to see if Windows Phone 8.1 could work well on a device that some might consider to be a small tablet.
Yep. Wmpu beat yeah to it(& they have a nice new app that puts this app to shame)

Good grief people. I think the WC app is better. And their coverage is far more reliable. But even if I didn't, I wouldn't be so low class as to continuously post nasty comments on the WC articles claiming otherwise. Grow up.

Its been 5 months since we've had an update & there are some quirks that other apps seem to overcome ie. lockscreen count without using a live tile

Snapdragon 200 is a joke. I think it should be restricted to wvga resolution

Hi how can I get their app from the store?

There
http://www.windowsphone.com/s?appid=c5856584-f05a-4f53-b546-8f8fdfc87b6c

It's a nice app but nothing compared to this one.

It's a nice app actually, and they have news categories.. Something we've been asking for, here, for ages. For a beta, I would say they did pretty good.

It's the weekend, give em a break.

7 inch, a little too big for a phone.

Perfect for me too. A photographer's dream... I use my 1520 as my mini portfolio. So it'll be perfect for me. The size that is... I don't need or want a low end device though.

Hell yes❗ A 7" Lumia would be awesome.....
......
Actually, I would settle for a new 1520 coming in at exactly 6.2" that's the perfect size for me.

Yeah, 6.2" FTW and no nasty small 5,7 for the phablet flagship please! :)

5.7" L940XL is the phablet for the mass. MS could add a 6.2" L940XXL tablet phone for some.

Or a 940XXXL with 7-7.5" for giants.

Or a 940XXXL Pro with 8" and a flip out full qwerty keyboard with trackpoint ;)

I agree Mortenvs. A true Lumia WP10 "phablet" flagship should be between 6.2 inches to 7.0 inches. Huawei makes a flagship Android called the Media Pad X2 that is 7 inches, and last year Sony released the Xperia Z Ultra that is 6.4 inches. I'm not interested in a Lumia 940 XL at 5.7 inches. We need a true 1520 successor flagship WP10!

7 inch is not a phablet anymore. Its a small tablet with phone capabilities.

What does it matter what it's called❓ What does that change❓

Srroy guys. 7" is tablet not phablet.

Technically it is a Phablet... It's a phone nearing tablet sizes... That's fact....
........
But, who really cares what it's called.... If someone wants a 7" MOBILE DEVICE, and use it as their "smartphone", and that works for them, what do we need to justify a name for❓

Microsoft even come to 5.7" 'cause 6" was too big to the people. I think they could do a lot of sizes: 5.2, 5.7 XL, 6.4 XXL.

It might as well have full Windows 8.1.

Actually idea is "dual mode", where you can switch between desktop, and mobile/phone, configurations eliminating the need for any remote desktop applications... Your smart device could mirror your desktop computer's OS, or simply function in desktop mode on its own... Even in desktop mode on a 6"5 device you would be able to bring up mobile apps like dialers, messaging, and people hub.... Basically, just how W10 already works... That would be the ultimate mobile phones experience.

I agree with you as I'm always in office I find the larger screens much better to work in.

Have you looked at a 7" tablet? Or does the OS more suit your needs? I have a stream 7 and I am still not sure what OS I prefer on there. I use a 1520 as well.

I'd try it out, I'm really attached to my 1520, it would be real hard to go smaller. I tried to go smaller when the screen on my 1520 cracked. I lasted 2-3 days on my 635 before I went back to my 1520 with the cracked screen.

Lol. Yes, MICROSOFT BETTER MAKE THE NEXT 1520 AT Least 6".......
........
Or I'm gonna go ballistic... Hahahahaha...
Preferably 6.2":-)

I support you rodneyej! We need Microsoft to know we demand a true "phablet" Lumia flagship device. 6.2" to 7.0" Lumia 1530.

Long live the Lumia 1740❗❗

My only concern would be how I'm supposed to fit a 7" phablet in my pocket. I wouldn't want it if my "phone" couldn't fit in my pocket.

Why is this a concern❓ Nobody is suggesting that MS drop every Lumia and only make 7" devices... Lol..

It was a honest concern. I just don't know if it would fit in my pocket. What's wrong with wanting to know that? Im not saying a 7" phone is bad.

Haha.. Your comments convenience me to buy a 6.4 incher Sony Xperia Z ULTRA :P

Yeah, I could manage that device easily... 6.4" is tiny.

I have a 1520 and a Sony Xperia Z Ultra and while people do raise ther eyebrows at me, I think it is a perfectly acceptable size. The issue is people confuse screen size with the phone dimensions. A 7" bezel-less phone could be more easy on the hands than a 5.7" bezel crazy phone... :)

Exactly.. You're exactly right.

Weird. I would wan't to try it, but it doesn't seem like something amazing.

Ridiculous, I would say. Who would buy that? 720p screen on a 7 inch device and with only a Snapdragon 200 processor.

Yeah, that's what I was thinking. I'm not sure a Snapdragon 200 can really handle pushing all those pixels around.

that is the hardware set up of the Blu Win HD ... SnapDrag 200, 720p screen, 1gb RAM ... it runs fine.

What does that have to do with it? The pixel count is what matters.

720p is 720p. Regardless of the screen size it's still the same number of pixels as many other phones that run a SD200.

Even I doubt that... First phone of its kind.. Entry level specs with a huge screen.

6" phones seemed ridiculous at one point too. I don't think this device is a worthy introduction of 7" devices, but I won't be surprised when they start showing up. I won't be buying one, but someone surly will.

If a 7" is going to be a thing, it needs some serious bezel trimmings. That here looks and probably feels way to chunky.

Neowin post this 1 day ago. Also s200 will struggle to handle this resulotion

Thanks but we got the news from WMPU+ITHome too though :) -Author of mentioned article at Neowin

It doesn't struggle in my win HD. that's also a 720p display

although it is a 7 inch. It is still delivering a 720p display just like the BLU win HD. screen size doesn't factor if they have the same resolution.

I didn't realize the Chinese had such big hands. Different looking, like phones back in the day, before everything became smooth and flat all around.

Lol, Wait till this becomes the norm... http://live.drjays.com/wp-content/uploads/2013/02/Samsung-Galaxy-Note-8.jpg.

Phablets look comical when normal people use them, but it was extremely hilarious seeing a little asian dude in Thailand holding what looked like a comedy-sized phone up to his head.

Introducing the Lumia 1735 XL.

That's what I want... Seriously❗ lol.

Nice phone to test previews...

Using a SD200 with a 720p screen for the screen size make this thing almost worthless. Graphic intensive apps/games will chug. These are the type of devices that make consumers complain about their "mighty" hardware.

Along with chug,those games will look terrible.

I was going to say the same thing. This is the routers of things that got laptops running Microsoft OS to be considered cheap garbage and started Macs to sell more to mainstream consumers. It also was the catalyst that's prompted Microsoft to make the surface as a reference design device for OEMs to improve their products.

I want at least half of those Chinese phones to come this way.

Probably, it's designed to Sumo Fighters.

Finally a sensible comment, lol.

But Sumo is Japanese. :-/

Yeah but there are some Chinese sumo wrestlers too... Ain't there?
Okay okay...

It's worthless to buy that. That procie can't be enough for that display or running apps. Must be SD400 or above

i though 7 inches device are tablet.

Not anymore. I think 8-inch may be the minimum now.

Compare bezels of any 7 inch tablet and this phablet

Biggest windows phone ever?

Snapdragon 200...No need in India. A break to "When in India" campaign.

"Wen* in India" campaign :)

They would have put a nice 64 Bit MediaTek Quad core SoC had MS certified one. I am not sure SD 200 has such a horsepower for 7" ,etc.

Resolution is still 720 screen size doesn't matter.

PS: Size does matter "if u know what I mean" ;)

Interesting device and even more interesting name. I wouldn't use a phone of this size but I think the needs of every market are way too different from one country to another.

What is with WP devices and low-end chipsets? The resuming screens ain't getting any better, people.

That resuming thing is a OS problem. It appears even on the 930 and other high-ends, of course, much less than other phones but its there. Microsoft seriously needs to fix it on Windows 10.

I'm not denying that. But the thing is, even in Android a lot of the lag went away with more powerful hardware. It seems silly to throw more hardware on something when it can be fixed in software... But I think the resuming issue is out of Microsoft's hand. It's very difficult to create software that's both scalable on all kinds of hardware, and fully-featured. These screens are a byproduct of adding more features in the OS and I don't think it will go away with WP10. The solution is better hardware. WP7 was smooth on half the hardware because it was pretty barebones.

Ridiculous... Resuming is almost exclusive to old Silverlight apps running on WP8.1. WinRT apps are a LOT better in this regard. So, it will be fixed when WinRT matures and apps get updated to WinRT.

Actually, SL apps do NOT have it, WinRT apps do... You'll notice how Office doesn't have it but the new apps like Lumia Camera do.

SL apps resume... always. But WinRT apps don't. Office is a hub. It is an OS component, like photos hub, people hub, etc. Such OS components don't even have a splash screen. The Lumia Camera 4.9 app is a SL app which shows resuming... always. The newer, Lumia Camera 5.0 is a WinRT app which is super fast (on the same phone). E.g., recall the old games hub. It was an OS component and was instant. The newer Games app in WP8.1 is actually a SL app which always shows resuming... That app can actually be deployed to WP8 and it still works. That's the reason it's so laggy and slow. Had it been WinRT, it would've been like the Files app.

So what you're saying is that Whatsapp, Skype, Mixradio, Music, Video, are all Silverlight apps? In this day and age? Ew.

Office doesn't have it because it is a first party app bundled with the OS. It is exactly the same with the old WP8 Music+Video app which is written in SL but opens and resumes instantly because they are already loaded at boot, not when you press the icon. Lumia Camera is also written in SL but isn't bundled with OS so it takes longer to load and resume (which might also explain why the similar more featured app in Win10 can load very fast as it is bundled with OS.) In my experience, WinRT apps handle backgrounding better and more consistently unless I close it from task switcher and can resume as fast as old SL apps bundled with OS.

Interesting. Thank you for the explanation, lovingfriendstar.

SL apps are not slower than WinRT apps, their application lifecycles are different. WinRT apps either stay in cache or are closed if there is too little memory. This is why apps stay in memory in W10, and are a bear to 512MB owners. This model is closer to iOS/Android, and one should not expect loading or resuming screens. SL apps have a deactivation event that informs app to save states of the UI, data, etc, and the app gets closed (not every time on WP8.1, take IE11 as an example). Basically when you are switching back to the app you are not switiching back to it! It is being loaded from scratch, and after it loads it has to load the state that was saved. This is where the "loading"/"resuming" screens come from. It is much harder to write a SL app that loads fast and restores state without bugs than to write a WinRT one that just stays cached in memory. There are missing features that make it hard/impossible to write WinRT apps for. With the public APIs available, Skype could not be written as WinRT lol. Here Drive could not be written as WinRT... Geez

Thanks for the info. Yeah, the lack of proper APIs for WinRT for WP is the main reason why we cannot have lightning fast music apps and why XBox Music is still written in SL because they don't support background audio. Hope that changes with W10 converging all APIs.

Fantasia Painter app is an exception..
The only app which do not show resuming thing till date even in low end hardware in addition to superfast startup. The devs were lazy to optimize the apps whether it is silverlight or winRT

I have an amazon fire hd 6 and I couldn't imagine have a phone that big much less 7" phone.

Credit: WMPU? I think Daniel had been singing all time that its a crap site? Where is he?

WMPU is a pretty good and quick site. Loving their new app.

They may be quick, but their articles are crap. Lots of them don't even use proper grammar in their articles. I've seen articles on their site that used the words "Windows 10 for phones" in almost every sentece to the point that it was confusing my mind because it was so repetitive.

It's understandable. Have a look on their authors page. Most of them are teenagers, or part time junior bloggers. Not professionals like WC's.

Will sell in China as those that want a device to do everything including tv access and movie playback will buy it. Many customers there will only have one device... No big TVs, no laptops, no desktops and no tablets... Just a phone.

I wouldn't mind trying one out before completely dismissing it.
SD200 should be ok with 720p, but 400 would be preferred.
Most people posting above are conflating screen size with number of pixels. 720p is the same number of pixels whether the screen is 4 inches or 40 feet.

My hands aren't that big :/

Why is ppl complaining about resolution. Ppl buy 15" notebooks with HD resolution. My 8" tablet is only 800p. Also, it's the same amount of pixels regardless of inches. Resolution is resolution.

There's a difference between a notebook and a phone. You won't be keeping your notebook 10 inches in front of your eyes

they are not complaining about resolution but the processing speed to handle pixels of the resolution isnt enough for a snapdragon 200 processor which is in the device...so...while playing graphics intensive games and other apps...you will notice considerable lag

Who uses windows phone in China?

I got excited for a moment..

God awful specs for a phablet.

I would to buy it, but as tablet if it could got better processor

I was super curious about a 7" phone... but 720p at that size is going to be pretty painfully low res for such a device. Still, I think it is a start. I seriously think that 7" and 8" "phones" are going to be 'a thing' in the near future as a laptop replacement device. Obviously, you would not use it much as a phone, and would instead use a headset and voice commands/dialing for such uses. But it would be a small tablet device running the modern office suite, pairable with BT keyboard and mouse, and capable of miracast to a monitor or TV when needed. These kinds of 'next gen' devices will kill off tablets, and for many people it will serve as a laptop/desktop replacement device (though not for the hardcore business, produciton, or gaming world, but that is not 'most people'). We are fast approaching the point where phones are 'good enough', and I think we are going to see another round of device consolidation over the next 5 years just like we saw with all of the portable devices consolidating into what is now the smartphone.

That's stupid. To big for a phone.

Well this guy, certainly disagree :P. http://live.drjays.com/wp-content/uploads/2013/02/Samsung-Galaxy-Note-8.jpg

You should've gone to SpecSavers then.

Honestly, those are garbage specs for phablet device

Honestly, you're not the target market then.

Get a metro in Asia and will be surprised with, first the amount of people looking to phones, then the size of the phones ...

I thing it's great that we are seeing a company express interest in making a super niche WP device.... Who knows, maybe with W10 WP can finally find it's place in the niche market with some really cool form factors...
..........
Keep your minds open, people.

And that one definitely needs the smaller spacing, and tiles 4-5 rows across.....
.........
I hope MS is planning some cool Lumia's like this, but at this size more options are definitely a huge must.... Heck, at any size we need more start screen options... This is all cool❗

"Its a tablet with phone capabilities" that would have been a better selling point than a 7inch phone, but it would be good to see that OEMs are getting creative with windows, now we just need a curved display phone

What would you need a curved Windows Phone for?
Just asking ;)

One could ask the same for the Samsung galaxy edge, its all about standing out, pushing the boundaries, that sells in today's world

The design alone looks awesome.

good for demo and kids playing.... and learning.... with windows 10 in near future! good job Ramos Q7

That phone is too weak...

Does it get LTE? that's the real question..

It's the miniSurface tablet that never was. And soon another forgotten device most likely. Posted via the Windows Phone Central App for Android

"consider a small tablet?" That "is" a small tablet. Lol

7inch with 720p screen. Nut jobs.

Ahh this is the one my Chinese friend is talking about, he said, "There is new Windows tablet in China called Lamos." I said, " nice name".

Ok... Why a Qualcomm snapdragon 200?

Because people are idiots and will buy it

Yep, anyone buying something that doesn't fit your specific criteria is an idiot.

Sure. Everyone wants a laggy phone that crashes when playing a simple game.
Asking why its a 200 makes perfect sense. That's a big phone. Gives people the impression its probably superior and fast. Then they buy it with little research and knowledge and realize the opposite. That's what these companies bank on.

Superior and fast? Based on size? When it's that cheap?
I know in the US everything is done to make sure buyers don't have to be weighed down with responsibility for their purchasing decisions, but in the target markets for this device the buyers will probably be quite savvy.

I use both WMPU and WC, both are fine by me. Please show respect people when making comments about other news sites

That's my dream phone: low spec, cheap, big. I predict there will be 7.99" phones anounced next Wednesday.

That's a pretty sad dream if low specs/cheap are "ideal". Dream big my friend.

Small tablet lmao. More like a small tv. Hahahaha. Jk. 7" is madness. But im loving my 6" 1520. What's one more inch when I already can't fit this anywhere. Lmao.

I personally don't see the point in having a phone with such a large screen being matched to such unimpressive internals. But any potential sales that would help market share is welcomed.

Exactly.... It's kinda like those super low end Windows tablets.... Someone will buy it.

SO ok its a phablet or a small tablet. Low powered under the hood just like all MICROSOFT devices so what?. IF the device can operate the screen size ok which obviously it does then I'm all for it. All devices regardless whether a laptop, phablet, or tablet should have a dialer just like your mobile. A friend in Taiwan believes this device should sell for the equivalent of $35.00 dollars US.
Cheers from DOWN UNDER.

Yeah, I find the i7 Surface Pro 3 to be really underpowered. And the Xbox one. Curious though, why would someone in Taiwan have such insight?

I might consider a 7" phablet if it were 16:10 and had support for split screen or snapped apps and a stylus.

Wow a Snapdragon 200. Posted via the Windows Central App for Android

I like the battery :) it's closer to my Lumia 1320 battery

Good for older people who just want to use Facebook and browse and don't want another phone to be carried separately.

7 inches good for 70 year old people

Big screens small hands...

It's good to have diversity in gadgets.

Irresistably awesome big size. Being a medical graduate, I have been looking forward to this much large screen windows phones as I will find it useful for reading books without useless redundancy of too frequent zooming and having to keep two devices as routine drivers.
Currently using Lumia 920 with Denim through slow insider.