Razer Arena makes organizing League of Legends tournaments a breeze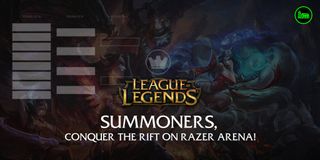 Razer is best known for its vast array of PC and console gaming accessories. The accessory maker produces a number of products geared towards tournament and competitive play, including the Razer Wildcat Controller for Xbox One and Windows, and the Razer Mamba Tournament Edition Mouse. But Razer's tournament ties go deeper than that…
Razer Arena is a "competitive gaming platform" for Windows that facilitates PC gaming tournaments and competitions. Arena offers a variety of features, including automatic match creation and reporting, match reminders, cheat busting, and more. That deep level of integration requires optimization for specific games – and now we can count League of Legends among those games. Read on for more details about Razer Arena and its new League of Legends support!
Razer Arena
Organizing a large-scale videogame tournament takes a lot of work. Razer Arena dramatically cuts down on that work, automating a number of tasks for the competition organizer.
Features:
Automatic Match Creation and Reporting: Arena automates the entire process of creating matches for tournament opponents and reporting the results of those matches, helping players get into their games faster and more easily.
Game Lobbies and Voice Chat: Powered by Razer Comms, Arena provides a suite of lobbies with support for text and voice chat.
Match Reminder Notifications: All competing players receive reminder notifications so that nobody forgets to show up when match time approaches.
Cheater-Free Competitive Play: Powered by FairFight, Razer Arena detects bots and cheat codes in order to help ensure a level playing field.
Run your own Competitions: Gamers can start their own competitions of any scale, whether it's at home with family or in the office, dorm, or elsewhere. Everybody has access to the same tools available to large-scale organizers.
Becoming an Authorized Organizer
Although Razer Arena is available to all PC gamers, Razer has created an authorization process by which successful organizers gain access to enhanced features.
Hosts will need to run three successful tournaments of at least eight teams each, all rated positively by participants, in order to graduate to Authorized Organizer Status. Once Authorized, these organizers are held to a higher standard and expected to run tournaments as smoothly as possible.
To find out more about becoming an Authorized organizer, visit http://http://Razerzone.com/arena/authorized-organizers/.
Supported games
Razer Arena supports the following competitive PC games:
Battlefield 4
CounterStrike: GO
DOTA 2
Team Fortress 2
World of Tanks
…And now League of Legends!
League of Legends meets the Arena
League of Legends is the most popular PC game in the world, played by more than 27 million people on a daily basis. It falls into the Multiplayer Online Battle Arena (MOBA) genre, pitting teams of three or five players against in each other in four exciting game modes. Due to its highly skillful nature and enormous popularity, League of Legends is one of the largest esports games in the world.
League of Legends on Razer Arena enhances the existing Razer Comms League of Legends Scouter feature that provides information about opposing teams at the beginning of every match, both of which are available in most regions worldwide. Arena integration will become available on all Riot-Servers, where it will be available in every region except China and Southeast Asia.
Razer will further support the League of Legends amateur competition scene by sponsoring tournaments with $50,000 of payouts in the first quarter of 2016. This will be the largest amateur league prize pool to date, the company says.
To find out more about Razer Arena, head to http://Razerzone.com/arena/. Grab League of Legends for Windows at LeagueofLegends.com.
Windows Central will have exciting news about Razer and League of Legends soon!
Do you play League of Legends, and have you ever participated in a tournament for it?
Get the Windows Central Newsletter
All the latest news, reviews, and guides for Windows and Xbox diehards.
Paul Acevedo is the Games Editor at Windows Central. A lifelong gamer, he has written about videogames for over 15 years and reviewed over 350 games for our site. Follow him on Twitter @PaulRAcevedo. Don't hate. Appreciate!