Razer Mamba Tournament Edition - Light-up gaming mouse review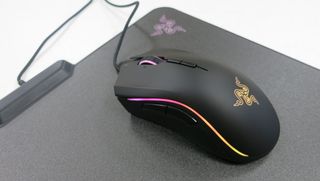 Not long ago we reviewed the Razer Firefly, an amazing (and expensive) light-up mouse mat. Razer is in the business of high-quality gaming peripherals, and you won't find a nicer mat than the Firefly. Of course, while mouse surfaces certainly play a part in the PC gaming (and work) experience, nobody can argue that the surface is more important than the mouse itself. With a limited budget, you'll want to think about your gaming mouse before anything else.
Razer produces an impressive array of mice for serious PC gamers. One of their flagship mice this year is the Razer Mamba Tournament Edition. Clocking in at $90 (less on Amazon), the Mamba TE offers the world's most accurate mouse sensor, customizable Chroma RGB lighting, and an extremely comfortable design. Is this the one device that all other gaming mice aspire to be? Read our detailed review with video to find out!
Mamba TE v Mamba: Dawn of buttons
Before we talk about anything else, let's clarify the differences between the $90 Razer Mamba TE and the $150 Razer Mamba (2015 version). Both share identical physical shape and many of the same features. The Mamba has two features that the Mamba TE doesn't, though.
First off, the Mamba can be used wirelessly or wired, whereas the Mamba TE is wired-only. Second, the Mamba features patent-pending "Adjustable Click Force Technology." This allows users to adjust the actuation force of the primary mouse buttons, making them require more or less force to activate. That's a clever feature, but the Mamba TE doesn't suffer for the lack of it.
Shape, shape senora
Comfort is one of the most important aspects of any mouse, whether you'll be using it for games, work, or browsing awesome websites like Windows Central. Part of that comfort comes from the orientation of the mouse itself. Some mice feature ambidextrous designs, many have right-handed designs, and a few like the Razer DeathAdder 3500 even come in Left-Handed Editions. The Razer Mamba TE currently comes only in a right-handed design.
The Mamba TE measures 28 mm / 5 in (Length) x 70 mm / 2.76 in (Width) x 42.5 mm / 1.67 in (Height). The top features a mildly textured matte plastic surface, while the sides are covered in an ultra-comfortable rubber textured coating. They seriously feel great to hold, plus the texture prevents the mouse from slipping out of hand.
The "front" of the Mamba TE has two grills located on either side of the USB cable. These grills don't serve any obvious purpose, unless fancy mice generate heat that they need to vent. I mistook them for speaker grills even though they're probably just for looks. How could would it be if mice could produce sound effects when playing games? Really cool, says me.
The Mamba TE connects to your PC via a seven-foot braided USB cable.
Buttons and wheel
On the top of the Mamba TE, you'll find the mouse wheel surrounded by the two primary buttons. The wheel has a rubber texture that makes it easy to grip and scroll in small increments. Pushing it in acts as a mouse button, while clicking the wheel left and right will scroll left and right by default. Unfortunately many programs I use have poor left/right scroll wheel support, but you can always program the left/right scroll wheel clicks for another function if desired.
Below the wheel, the Mamba TE holds two buttons. These raise and lower DPI by default, drawing on user-selectable DPI settings from the Razer Synapse application. Different applications actually do call for greater or lower mouse sensitivity, so toggling DPI on the fly proves surprisingly handy.
On the left side of the mouse, two additional buttons sit just above the rubber grip area and just below a light strip. The side buttons are so important for gaming, I hope nobody in our PC gaming readership rock a dinky mouse without them. I always use one of these buttons for reloading – how about you guys?
All told, I find every one of the Mamba TE's buttons and wheels easily accessible and pleasant to use.
The world's fanciest mouse sensor
The Mamba and Mamba TE's main claim to fame is their 16,000 DPI mouse sensor, which Razor calls the best in the world. Pioneer manufactures the sensor. Razer has a timed exclusivity contract on it, so you really won't find a comparable mouse sensor for the next year or two.
16,000 DPI is insanely fast – way faster than any normal user wants or needs. People with 4K displays and extra-large mouse mats could probably make use of that 16K setting for some entertaining gaming scenarios.
Luckily, you don't need to max out the Mamba TE's DPI to benefit from its amazing sensor. The DPI can be adjusted by increments of one, a feature that no other mouse offers. You can literally make this mouse as fast or slow as you want. Users can save five distinct sensitivity stages through the Razer Synapse software and then toggle between them at will using the DPI buttons on the top of the mouse.
Razer Synapse
Like other Razer PC products, Razer Synapse is required to get the most out of the Mamba TE. The mouse does not store profiles and settings internally, which is definitely a strike against a product with "Tournament Edition" in its name. Instead, all settings are saved through the cloud and accessed via Synapse. I understand that exporting settings to a USB stick is an option, but internal storage would obviously be better.
That said, the Synapse software is actually pretty good. Setting up your sensitivity and lighting preferences is a snap. Players can set up macros and even enable statistic and heatmap tracking for their mouse use, though I didn't bother with those features. I understand that some PC gamers reject Synapse out of principle, but I find it unobtrusive overall.
Chroma lighting
Impressive performance aside, one of my favorite aspects of the Mamba TE is its Chroma lighting support. Chroma is Razer's name for its 16.8 million color spectrum lighting technology.
The Mamba TE has four basic lighting areas: The Razer logo on the palm surface, the sides of the mouse wheel, and two long strips along the left and right edges of the mouse. Additionally, the lighting for those two strips can be configured in seven increments.
Besides turning the lighting off, users can select from six lighting presets:
Custom: Use the custom Chroma profile you create.
Breathing: All of the mouse lights pulse up and down in intensity. You can't have one light pulse a different color than the others, but you can set the lights to alternate between two different colors.
Reactive: When enabled, any keypress or mouse click from the Mamba TE or compatible device will cause the lights of all Chroma devices to flare up. If you want your mouse to flash when you fire in a game, the Reactive effect will make it happen.
Spectrum Cycling: The mouse cycles between various colors.
Static: The mouse remains lit up with a single color of the user's choosing.
Wave: A series of colors flow down across the mouse lights.
Firmware ups and downs
When I first used the Mamba TE, the mouse pointer froze up twice on me. This appears to be a semi-common issue with the mouse, but not an insurmountable one. In the event that your mouse freezes up, you'll need to upgrade to the version 1.02 firmware. I haven't had a single freeze-up since installing the new firmware.
The process of actually getting that firmware is a hassle because it's not currently listed on the Mamba TE's download page on Razer's site. You'll have to either contact Razer support or do a web search to get it. Not a huge deal, but Razer needs to list it where anyone can find it.
By the way, Razer offers a 16-month warranty on the Mamba TE, which is fairly generous as mouse warranties go.
Overall Impression
Just as the Razer Firefly is the nicest mouse mat I've ever used, so too is the Mamba TE my best mouse to date. This mouse just feels great, with perfect ergonomics and engineering. And the level of DPI adjustment is second to none. The Chroma lighting also looks extremely cool, especially when used simultaneously with the Firefly. Razer products won't let you down aesthetically.
The only feature the Mamba TE lacks that I could want is adjustable weight, something my old Logitech G500 did nicely. But the default weight works just fine for me, so it's not a big deal.
The Razer Mamba TE is a great lower-priced alternative to the ultra-deluxe Razer Mamba. If budget allowed I'd probably grab the regular Mamba for its wireless support, but the Mamba TE impresses nearly as much for $60 less.
Get the Windows Central Newsletter
All the latest news, reviews, and guides for Windows and Xbox diehards.
Paul Acevedo is the Games Editor at Windows Central. A lifelong gamer, he has written about videogames for over 15 years and reviewed over 350 games for our site. Follow him on Twitter @PaulRAcevedo. Don't hate. Appreciate!