Razer Firefly Light-up Mouse Mat review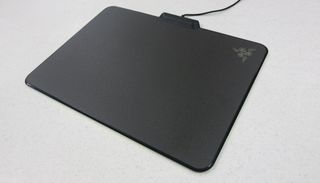 Serious Windows PC gamers likely own gaming mice and gaming keyboards (such as the Corsair STRAFE), all in the name of enhancing their gaming experience and getting more frags. Seriously, PC guys love their frags. One gaming peripheral that often goes neglected, though, is the actual mouse pad/mat. I mean, your mouse technically works on a cheap mouse pad or maybe even a bare desk, right?
Gaming mouse surfaces do affect mouse performance, though. San Diego-based accessory giant Razer offers some gaming mouse mats for different budgets and needs. One of their two top mats is the Razer Firefly Hard Gaming Mouse Mat. The Firefly boasts Chroma lighting, a generous 14 x 10-inch size, and a hard surface made especially for gaming – all for sixty bucks. Read our full review with video to find out just what a difference this pricey mouse mat makes!
Size matters
The Razer Firefly measures 14 x 10 inches, placing it in the "Medium" category of mouse surface sizes… They go all the way up to Extra Large, yikes! This provides as much horizontal movement range as any typical mouse user is ever likely to need, if not a little more. If horizontal real estate comes at a premium in your desk setup, you can, of course, use the mat in a vertical orientation. That still provides all the X-axis room I could want, so it's perfect for my setup.
The Firefly is made of hard plastic though it does have a minor "give" if you bend it. The top features a micro-textured surface engineered to provide a balance between speed and control play styles. The bottom of the Firefly is coated entirely in textured rubber, ensuring that it won't budge a jot during heavy gaming and/or Windows Central reading sessions.
Feel
I've always been a cloth mouse pad user, making the Razer Firefly my first hard mouse mat (other than a brief stint with the Mario Paint mouse pad as a wee lad). The Firefly's hard surface feels surprisingly different to use than a soft pad.
This one is engineered partially for speed, and it does have a significant impact on the speed of mouse movement. I used both Razer Mamba TE (review coming soon) and Logitech G500 gaming mice with the Firefly, and both moved noticeably faster than on my previous cheap and soft pad. It's like turning up the mouse's DPI without actually changing the DPI at all. Gamers who crave quick movement will get exactly that here.
The actual micro-textured surface provides a couple of benefits. The microscopic crystalline specks used to create the surface actually increase reflectivity to mouse sensors. This boosts the precision of the mouse, making impressively precise movement possible. The surface also feels really good to the touch – way better than cloth mouse pads I've used.
Another welcome advantage of the Firefly: it's super easy to wipe clean. Pet hair won't stick to it, unlike soft mouse pads.
Razer Firefly and Mamba TE mouse with Windows Central-colored lighting
Lighting
The Razer Firefly's true claim to fame is its Chroma lighting (Razer's name for its 16.8 million color spectrum lighting technology). The mat features lighting along its left, right, and front edges, as well as a light-up Razer logo on its top-right corner. The only edge without lighting is the back one, which should face away from the player in the default horizontal orientation.
To achieve this lighting, the Firefly must of course draw USB power. A six-foot braided USB cord extends from a raised area at the back of the mat. When plugged in, the Firefly lights up (lighting can also be disabled in software). When not plugged in, you obviously get no lighting.
To customize the Firefly's lighting, you'll have to use the downloadable Razer Synapse software. This requires the creation of an online account with Razer (a minor hassle), after which any lighting changes made will be saved to the user's account on the cloud. Synapse is really easy to use, particularly for the Firefly due to the relative simplicity of a mouse mat. No wading through multiple tabs to set up your colors here.
The Firefly offers five lighting effects (plus the option of no lighting), each with varying degrees of customization such as brightness and speed. You can see them all in action in our video review. A brief overview:
Breathing: All of the mat's lights pulse up and down in intensity. You can't have one light pulse a different color than the others, but you can set the lights to alternate between two different colors.
Reactive: This feature requires that you use at least one other Razer Chroma-supported device (a mouse or keyboard) in tandem with the Firefly. When enabled, any keypress or mouse click from the compatible device will cause the Firefly lights to flare up. If you want your mouse mat to flash when you fire in a game or whatever, the Reactive effect will make it happen.
Spectrum Cycling: The mat cycles between various colors.
Static: The Firefly stays lit up with a single color of the user's choosing.
Wave: A series of colors flow around the edges of the mat.
Razer Firefly rubber-coated bottom side
Minor quibbles
Price aside, only a few small imperfections buzz up around the Firefly's USB cable:
The USB cord is non-removable, so if it ever breaks you'd lose the lighting effects. On the other hand, mouse mats don't get moved around a lot – and the cable is braided. It shouldn't break for most of us.
Mouse mats don't generally require USB ports, but this one does. It would've been nice of Razer to throw in a USB passthrough or hub to free up a port.
Finally, the cord of a wired mouse can potentially bump up against the raised area from which the USB cable extrudes. This doesn't negatively impact my experience at all, but some users might find that little bump annoying.
The sexiest mouse mat ever to stalk the Earth
Nobody needs a light-up mouse mat. As with light up keyboards, controllers, headsets, and other gaming accessories, the lighting in the Razer Firefly is completely for looks. But oh man, those looks! You get five main effects and millions of colors to choose from with this mouse mat's lighting. All of those effects will dazzle not just the user's eyes, but also onlookers. The Reactive option is particularly rewarding for gamers who have already bought into other Razer Chroma products.
That fancy lighting might be for showing off, but the Firefly has practical purposes too. It's roomy, has a surface that legitimately enhanced speed, precision, and feel, and it's also easy to clean. This one investment, large though it is, should essentially last forever. I can't imagine a mouse mat much nicer than the Razer Firefly.
Still, sixty bucks really is a lot for a mouse mat. I'm sure many PC gamers would rather apply some of that scratch towards a nicer mouse, keyboard, or headset. Razer makes a very similar mouse mat called the Destructor 2 which uses the same hard plastic and micro-textured finish as the Firefly. It retails for $40 and rings up at $34 at Amazon, making it a great choice for serious PC gamers who don't care about lighting.
Get the Windows Central Newsletter
All the latest news, reviews, and guides for Windows and Xbox diehards.
Paul Acevedo is the Games Editor at Windows Central. A lifelong gamer, he has written about videogames for over 15 years and reviewed over 350 games for our site. Follow him on Twitter @PaulRAcevedo. Don't hate. Appreciate!