Corsair VOID SE Wireless Gaming Headset Review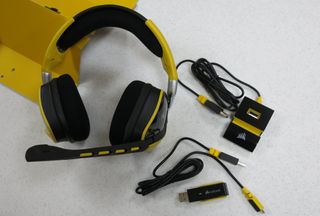 Gaming headsets have exploded in popularity over the last few years. Take the need for a microphone that comes with online gaming and the desire for high-quality sound and perhaps a dash of privacy, and you see why so many gamers crave stereo headsets for their hobby. Of course, headsets tend to have wires, and those can be a drag in a wireless world such as ours.
Lucky for PC gamers, Corsair recently launched its line of wired and wireless VOID gaming headsets. The Void lineup includes an affordable stereo headset that's PC and console compatible, a deluxe USB model, the VOID Wireless, and the top-of-the-line VOID Wireless SE. I found myself craving a wireless headset, so I picked up the Void Wireless SE. Are Corsair's headsets as majestic as their mechanical keyboards? Read our detailed review with video to find out!
VOID headset lineup
Corsair has thrown four gaming headsets into the Void. All share the same basic form factor, but their features and prices vary. Here's a brief rundown of each headset's features.
VOID Stereo: Uses a single 3.5 connector, and also includes a Y-adaptor. Compatible with PC, Xbox One, PlayStation 4, and mobile devices. Microfiber-wrapped memory foam ear pads. Price: $69.99.
VOID USB: Only PC compatible. "Info Mic" with LED indicators, Customizable RGB lighting, "True Form" ear cups, 7.1 surround mode. Price: $99.99.
VOID Wireless: Only PC compatible. Same features as VOID USB, plus 2.4 GHz wireless support. Price: $129.99.
VOID Wireless SE Yellowjacket Edition: Same features as VOID Wireless, but includes a wireless range extender and yellow color scheme. Price: $149.99.
Frame and ear cups
The VOID USB and both Wireless models all have the same physical build, although the wired USB headset naturally doesn't sport a power button.
These headsets are held together by a sturdy plastic frame. Both sides of the frame can be adjusted to accommodate a variety of head sizes, from normal all the way to Paul Acevedo levels. The left and right sides are clearly marked with L and R on their interiors.
Each ear cup attaches via a separate rotatable piece (silver colored on the VOID Wireless SE). In addition to rotating the horizontally where that piece meets the frame, the cups themselves rotate vertically at the point where they meet the silver piece, to a small extent. You can tilt the cup up to allow more outside sound to reach your ear or tilt it down to completely cover the ear.
Comfort is important in a deluxe headset. I'm pleased to report that the ear cups are the most comfortable I've worn. They have a soft and spongy feel, as opposed to being too firm like some cups. The texture of the microfiber mesh is more noticeable to fingers than ears, but I imagine it helps create a bit of traction to help keep the ear cups in place.
Inside the cup, a separate layer of textured mesh covers the actual speakers. This layer is yellow on the VOID SE and gray on other models.
Buttons and controls
All of the VOID's controls are found on the left ear cup, along with the microphone. On the bottom-left of the cup, you'll find the volume control. The VOID Stereo has a standard volume wheel there, but the USB and Wireless headsets host a digital dial/push button combo that Corsair calls CUE Control. Tilting the dial up or down adjusts volume, natch.
CUE Control also functions as a button. Short presses swap through the headset's EQ modes (individually togglable through Corsair's Utility Engine software). Long presses switch the headset between stereo and Dolby 7.1 modes (confirmed by a series of beeps).
I'm a simple guy who doesn't need fancy EQ settings, but audiophiles should appreciate the ease of jumping between settings. The 7.1 effect (reportedly achieved through software) sounds quite good; I keep it on.
The left side of the cup has two buttons: Mute and Power. Mute sticks out a few millimeters beyond the power button and has angled edges, making it relatively easy to find at a moment's notice – especially when I learned to seek the angled rear edge.
One nuisance that comes with a headset-mounted mute switch knows when you're muted and when you're not. Naturally the headset plays a tone for muting and unmuting, but I have issues with the tones. Enabling mute plays an upbeat tone, whereas unmuting plays a downbeat tone. I associate higher tones with "voice enabled," not voice disabled, so I sometimes misinterpret the tone and mistake my mute status.
The actual microphone has a mute indicator light, but we'll get to that in a bit.
Wireless functionality and the SE Extender
The VOID Wireless headset connects to PC via a distinctive USB dongle about the size of a large memory stick. When the headset is powered off, a white LED on the dongle blinks repeatedly. While the headset is on, the white LED remains lit without blinking.
The VOID Wireless SE includes a wirelessly received dock that the regular VOID Wireless doesn't. Users can plug the wireless receiver into the dock, which connects to the PC via USB cable. This gives you greater freedom over where your wireless signal comes from, potentially increasing the wireless range by several feet. The lack of a USB pass-through port is disappointing, though; the extender would be far more useful if it freed up the USB slot normally required by the wireless dongle.
The actual wireless performance is very good. With my computer and dongle at one end of my apartment, I can walk all the way to the other end without affecting signal quality. The only thing that affects the signal is walls, but that's not unusual with 2.4 GHz accessories.
Corsair says the VOID Wireless's internal battery will provide 16 hours of continuous use on a single charge. I charge mine now and then, so I've never had the battery die on me. An LED on the microphone lights up amber when the battery starts to get low and red when it turns dangerously low; the LED switches to green while charging.
The headset includes a black-and-yellow non-braided micro-USB cable for charging. The micro-USB port is located on the bottom of the left ear cup, about a centimeter in front of the CUE Control dial. Leave the cable connected and you can use the VOID Wireless as a wired headset.
Lighting
Premium PC gaming accessories tend to light up these days, and the VOID USB and Wireless headsets are no exception. The outside of each ear cup has a Corsair logo that lights up in RGB color patterns during use. By default, it cycles through the colors of the rainbow.
The Corsair Utility Engine software allows users to select between 11 different lighting modes. You can change the light to a single color using a color picker, adjust brightness, and disable lighting as well. Curiously, the headset only recognizes custom lighting choices while the CUE software is running. If you don't launch the software or have it on auto-launch, it just sticks to the default rainbow.
Gamers who own Corsair keyboards with lighting support also have the option of synchronized lighting, which is pretty clever.
I enjoy lighting features, provided they don't get too distracting. Lighting on a headset is a curious thing, though. You can't actually see the lights while wearing it, so you don't benefit the same way you would from a glowing keyboard or controller. Instead, the lights are for the other people in the room, the people watching you stream on twitch, or whatever. I'm glad for the option of lighting the VOID gives us, but I wouldn't assign much value to the lighting itself in this instance.
Microphone
The one and only disappointment with the VOID line of headsets is an important one: the microphone! Based on specs it seems good, with a noise-canceling mic and two LEDs to indicate mute and power status. The mic swivels up and down so it can be stowed out of the way when not in use. So far so good.
The first design mistake comes with the LED lights. They're located on the outside of the mic rather than the inside – exactly the side you can't see while using the headset! The lights have been designed to communicate information to everyone except the person who needs it. Sure, you can physically twist the microphone into your field of vision momentarily, but it's annoying that we should have to do that.
More concerningly, the VOID microphone is way too quiet by default. The first time I used it while hosting a Twitch stream, nobody could hear my voice. I had to crank the microphone level to max in the CUE software and boost it to 200 percent through my streaming application just to become audible. Not an acceptable situation from a $30 headset, let alone a line that ranges from $70-150.
As it turns out, Corsair themselves have discovered a workaround (opens in new tab) for the volume issue. See, the mic only swivels up and down, not left and right. But the microphone is mildly flexible, it turns out. You'd never think to do this for yourself because it's incredibly rigid, but it can be bent to an angle that brings it closer to the user's mouth. Do that and your volume issues will be solved.
Future production runs of the VOID headsets will come with the microphone pre-bent to the optimum shape. For now, users will want to bend it to a good angle themselves.
Overall Impression
I like the VOID Wireless SE headset and nearly love it. It's a beautiful looking accessory. I mean, I feel like Bumblebee when I wear it, and that's awesome. And I haven't found a more comfortable headset to wear than this one. The wireless functionality takes the comfort to another level, giving you the freedom to grab a snack or run to the restroom without losing audio. Love it.
It's just such a shame that the microphone didn't receive the same level of care as the rest of the headset. Putting the LEDs on the wrong side and having the mic too far away from users' mouths by default are pretty big mistakes for a flagship headset line from a big gaming hardware maker like Corsair.
I do still recommend the VOID Wireless Gaming Headset because of the solid wireless support and great comfort, even if the mic leaves something to be desired. If you pick one up, just be sure to bend the microphone before chatting. You don't want there to be a VOID where your voice should be!
Windows Central Newsletter
Get the best of Windows Central in in your inbox, every day!
Paul Acevedo is the Games Editor at Windows Central. A lifelong gamer, he has written about videogames for over 15 years and reviewed over 350 games for our site. Follow him on Twitter @PaulRAcevedo. Don't hate. Appreciate!
They're nice.. I think I'd probably afford them as second hand though, can't spend that much on headsets.

Corsair products have solid build quality and they tend to last long, so this can be a plus point of theirs and they will continue to update the headphones every year based on feedback, good first attempt i would say.

First attempt? This is their 4th version. All of their headsets over the past 5 years have had issues of some kind, most due to terrible drivers and lack of any post sale support. Their audio specific forums are filled with complaint after complaint, bad audio quality, bad mic, distorted sounds, wireless signal dropping randomly, etc. As a Corsair fan, this has been very disappointing. Thankfully my decision to buy a RGB keyboard was a pretty good move, the software team moved relatively fast and fixed the bugs found. If Corsair could get their audio team to this standard they might finally have a real winner here. In the meantime, Corsair has good hardware but terrible drivers and support.

I'm going to be in need of a set of cans soon. I'll definitely give this a look at when I go shopping for one.

I like comfort and lights. Lights attract cats.

I'm not much for flashy headphones. I probably wouldn't purchase this product simply because I have no use for wireless and I don't like USB headsets that can only be used with specific software. Good review as always.

looks really nice, but i need a 5ghz headset 2.4 has too much interference

I didn't realize they made 5 GHz headsets. Hmm...

Sounds like this would be a decent option for a headset! I just upgraded recently, otherise I would definitely have considered this.

Nice headgear. Love the over-the-ear better than on-the-ear.
Windows Central Newsletter
Thank you for signing up to Windows Central. You will receive a verification email shortly.
There was a problem. Please refresh the page and try again.