Corsair STRAFE Mechanical Keyboard review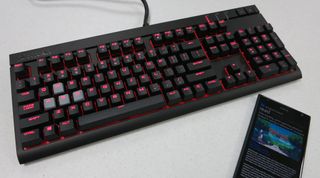 Last week we reviewed the Microsoft Universal Foldable Keyboard. An excellent portable Bluetooth keyboard for phones and tablets, but not something you'd ever use to play actual games on a desktop. Serious PC gamers should have three things: a gaming keyboard, a gaming mouse, and a controller. Grab those components and you're ready to enjoy Windows gaming in style.
Corsair, best known for its computer components like RAM and power supplies, produces a successful line of mechanical keyboards under its Corsair Gaming imprint. The Corsair STRAFE Mechanical keyboard is the latest such product. Designed to offer all of the performance of top-tier keyboards at the very reasonable MSRP of $110, the STRAFE packs plenty of bang for your gaming buck. Learn more in our full review with video!
Why mechanical?
Gaming keyboards come in many shapes and sizes, but one type is widely recognized as the cream of the crop: mechanical keyboards. Typical keyboards consist of keys that press down on rubber-dome switches connected to a large, flat membrane. Cheap to make, but not exactly the most responsive or durable style of input device.
Mechanical keyboards, on the other hand, contain individual mechanical switches for every single key. These provide the greatest possible precision, and they're certified to last years longer than other keyboards. And even when an individual mechanical switch breaks, you can always replace it without losing the device. Plus, mechanical keyboards make an audible clicking sound that lets you know exactly when a keypress has registered.
Design and features
The STRAFE is a full-sized keyboard with a matte black plastic body and glossy black sides. Both of those sides have a red lighting strip where the side meets the top surface of the peripheral. The body of the keyboard does not have a palm rest.
On the rear of the device sits a USB pass-through jack, allowing users to connect an accessory like a controller, mouse, or memory stick to your computer (or even Xbox One) via the keyboard itself. The keyboard's extra-thick rubber-coated USB cable has two male ends: one for the keyboard, and an optional one for the pass-through feature. Each of the two plugs has a bright yellow easy-grip connector.
Corsair's STRAFE includes two alternate sets of textured gray-colored keycaps and a key removal tool. To use the tool, simply position its two prongs around a keycap, squeeze, and pull up. The key will come off or go back on with ease.
The first textured keycap set replaces the W, A, S, and D keys typically used for movement in FPS games. Because the keys curve inward and bear a distinct texture, they let players easily find the WASD position in an instant.
The other set targets MOBA players, providing alternate Q, W, E, R, D, and F keys with unique curvature and ridges. I find the WASD set feels great and doesn't impede my typing at all, so I'll be keeping the original black keys packed away with the QWERDF batch.
Beneath each key, you'll find a Cherry microswitch and an individual RED LED. The STRAFE comes equipped with either Cherry MX Red or Cherry MX Brown microswitches. The MX Brown model should reach the market by early August.
The MX Red switches (which I received) were designed for gaming and have a low actuation force, allowing for rapid actuation. The Cherry MX Brown switches provide tactile feedback upon actuation. They're well suited for gaming and typing. To learn more about the differences between Cherry MX switches, visit The Keyboard Company.
More keys
In addition to the optional textured gaming keys, the STRAFE's spacebar also features a ridged texture (and an LED in its top center). I doubt many people lose track of the spacebar while typing, but the texture still feels good to touch and emphasizes the key's importance.
The STRAFE does not have dedicated media keys, which seems like an obvious oversight in a $100+ keyboard. It does provide media functions as secondary commands, however. These commands work by default with Windows Media Player. They can be enabled or disabled with several other common players as well via the CUE application.
By pressing the Function key in combination with F5-F12, users can mute or adjust system volume and stop, play, and skip during media playback. Hitting the Function and F keys with a single hand requires a bit of stretching. It might be easier just to use two hands.
Besides all the standard keys, the STRAFE has two extra ones in its top-right corner.
The left one toggles LED brightness from off to low to medium to high. The right key enables or disables the Windows key itself. Found at the bottom-left corner of the keyboard between CTRL and Alt, the Windows key serves many useful functions in applications. But you don't want to accidentally hit it while gaming because it will minimize the game.
Don't worry if you don't require either of the extra key's default functions. The Corsair Utility Engine program included with the STRAFE allows all keys to be reprogrammed. Peripheral-specific utility programs can be unwieldy to use sometimes, but not CUE. It lets users easily change key functions, set up key and mouse macros, customize the keyboard's lighting functions, and more.
Light it up
Whereas Corsair's higher-priced mechanical keyboards offer RGB lighting and user-selectable colors, the STRAFE only comes with red LEDs. This can be seen as a negative because some people might not like the red color scheme and lighting.
Still, the red lights here look really nice. Not only can users toggle between three different lighting levels by default, but they can also customize the lighting level in even greater detail using the Corsair Utility Engine. You can even adjust the lighting behavior for individual keys so that only the keys you use for a game light up, and more.
As demonstrated in our video review, CUE also offers some impressive keyboard-wide lighting profiles for users who crave the extra flare:
Visor: A red line moves from left to right and back again.
Rain: Lights "fall" like rain from the top of the keyboard to the bottom.
Pulse: The entire keyboard pulses from low intensity to high and back again.
Wave: Waves flow from left to right across the keyboard.
Type Lighting (Key): Only the keys you touch light up, then they slowly go out again.
Type Lighting (Ripple): Ripples of light emanate from whichever keys you hit. This is my favorite effect.
Killer keyboard
The Corsair STRAFE features top-of-the-line Cherry MX switches, optional textured gaming keys, highly customizable per-key red lighting, a convenient USB pass-through port, and great software. Features-wise, it has nearly everything you could ask for, other than real media keys and RGB lighting.
How does the STRAFE feel to use, though? It feels perfect. The keys provide just the right amount of resistance when pressed. Each makes an audible click, not unlike the sound you get from pressing a button on an arcade stick. Yeah, they sound a bit louder than cheaper keyboards, but the comfort and performance are totally worthwhile.
Although I prefer controllers for many types of games like platformers and racing, keyboards obviously excel for genres like shooters, MOBAs, RPGs, and strategy games. The STRAFE truly enhances the experience with these games. Its optional curved and textured keys and lighting modes will help anyone keep their fingers in optimal position and find important keys in a flash. Corsair's anti-ghosting technology ensures that complex key combinations will work properly rather than "ghosting," to boot.
If you're looking for a gaming keyboard that won't break the bank, the Corsair STRAFE is an excellent choice. After playing a few games and typing this review with it, I'm going to have a tough time going back to my notebook's much less impressive keyboard.
Get the Windows Central Newsletter
All the latest news, reviews, and guides for Windows and Xbox diehards.
Paul Acevedo is the Games Editor at Windows Central. A lifelong gamer, he has written about videogames for over 15 years and reviewed over 350 games for our site. Follow him on Twitter @PaulRAcevedo. Don't hate. Appreciate!