Microsoft Universal Foldable Keyboard Review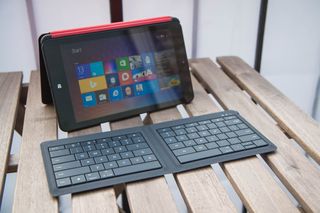 Microsoft is no stranger to keyboards and mice, and while the momentum these days is behind Windows 10, their hardware prowess in mobile is still alive and kicking.
This morning, the company has announced that their Universal Foldable Keyboard is now available at retail and online for $99.95. The device as originally announced at Mobile World Congress back in March. As someone who uses their ergonomic desktop solution and Surface devices, the Universal Foldable Keyboard certainly piqued my interest. This is my review.
The Hardware
These days, Bluetooth keyboards are found all over the internet. However, Microsoft brings their keyboard expertise to the table with their ultra-portable Universal Foldable Keyboard. As the name implies, this device is thin, light and, in theory, it should deliver and excellent typing experience. Here is what you get for a hundred bucks:
5mm thin keyboard
Bluetooth Smart aka Bluetooth 4.0
Up to three months of power on a single charge
Spill-resistant design
Works across iPhone, Android, Windows and Windows Phone 8.1 (with Update 2)
Can pair with two devices with an easy toggle switch
Magnetic closure
Micro USB charging
Between the ability to charge with a micro USB power source or pair to two devices, there is not much in the way of hardware flaws for the Universal Foldable Keyboard.
Pairing
Pairing the Universal Foldable Keyboard was a breeze. Simply hold down the button for device 1 or device 2 for a few seconds and it starts blinking. Now choose the operating system through the OS toggle button (upper right) and select the keyboard through your device settings. Finally, you are instructed to type in a six-digit pairing code on the keyboard and tap the enter button.
Every time you open or close the keyboard, it turns on or off. Assuming the device you had previously paired is within range, the keyboard automatically pairs giving a stress-free setup.
Design
Clearly Microsoft has taken what it has learned from the Surface 3 and Surface Pro 3 Type Covers and applied it to the Universal Foldable Keyboard. True, a Surface's keyboard and keys are larger, but between the button's design, aesthetics, even the fabric all make the Foldable keyboard feel like a close cousin to the Surface. That is an excellent thing as the Surface keyboard does a lot considering how thin it is and that carries over to this device as well.
Typing and key travel
Say what you want about a keyboard's design and it all take second place to how well it works as a keyboard. Luckily, the Universal Foldable Keyboard comes out on top from my usage over the last few days.
Although the Universal Foldable Keyboard is extraordinary thin (and light) the key travel is significant, giving you the feeling of typing on a laptop keyboard. Indeed, the key travel is better on the Universal Foldable Keyboard than some full laptops. It is not quite better than say a classic Lenovo ThinkPad, but then again, this keyboard folds up and fits into a jacket pocket or purse with ease.
Ultimately, typing is personal preference. Some people like loud clicking reminiscent of mechanical designs while others prefer the quiet, soft touch of modern computers. The Universal Foldable Keyboard is somewhere in between: it is not quite loud, but it is not silent either. There is a satisfying response that is quite impressive considering its sizes.
The keys seem smaller than the Surface keyboard, but they are slightly larger than my Microsoft Ergo keyboard. Granted the keys on my desktop ergo keyboard are spaced apart, whereas the Universal Foldable Keyboard are adjacent.
For being pocket-sized, I have to say I rather enjoyed using the Universal Foldable Keyboard. It does take a little training, and you tend to type with just the tips of your fingers, but surely the convenience is a compromise.
All is not perfect
If there are any downsides to the Universal Foldable Keyboard, it would be the floppy center and no backlit keys. The latter is forgivable as throwing mini LEDs around the keys would not only up the costs, but it would knock down that stellar battery life of "three months". Still, this keyboard would be an amazing sight it if could light up too.
The floppy center is, of course, the tradeoff from it being foldable. That much is obvious and when using it on a solid surface hardly an issues. So, it is lappable? Kind of. You can make it work, but it will not be the most enjoyable experience as you'll have to lean on the edges to keep it from folding in on itself.
Both of these complaints though seem like nitpicking what is otherwise a fantastic design.
Windows Phone and Windows 8.1
The Universal Foldable Keyboard works very well with Windows Phone, so long as you are rocking Windows Phone 8.1 Update 2 Build 15127 or later. You can check if you have Update 2 under Settings > About. That OS refresh delivers Bluetooth HID support something Windows Phone lacked up until spring 2015. Of course, if you are on a US carrier, you may be hard-pressed to find that update on your aging Lumia e.g. the Lumia 1520. Only newer phones like the Lumia 640, Lumia 640 XL, Lumia 735, BLU Win HD, HTC One (M8), and the LG Lancet come with HID support out of the box.
Luckily, Windows 10 Mobile is not too far off, and that OS support Bluetooth HID natively.
Still, there are some limits. For example, many of the function keys, including volume controls, pause, play and search seemingly do nothing on Windows Phone. All of those keys, even the 'screen lock' function work perfectly on Windows 8.1, but for the phone you will be sticking to just the QWERTY part of the keyboard.
On Windows 10 Mobile, these limits are there as well. Although the Bluetooth stack is not yet complete, so I cannot tell if it will support those features later on (the Home key though does at least bring you back to the Start menu). The QWERTY part of the keyboard works well in Windows 10 just like Windows Phone 8.1 Update 2.
When it comes to Windows 8.1, all of these function keys worked without an issue as expected.
Is it worth $100?
As mentioned earlier, Bluetooth keyboards are very common these days. Whether they are from major device manufacturers or knockoff brands, you can find devices for a lot cheaper.
Having said that, for $99.95 the Microsoft Universal Foldable Keyboard appears to deliver in all the right areas:
Super portable
Elegant design with magnetic closure
Long-lasting battery life (and convenient USB charging)
Pretty excellent key travel and typing response
If you frequently like to work on your phone or tablet (or both), the Universal Foldable Keyboard is a great investment. It is geared for the professional who needs to work on-the-go wherever, whenever. If, however, you are looking for a cool accessory that you may only occasionally use, you may want to think about saving that $100. It is not that the keyboard isn't worth it – it is – but you could just as well buy something cheaper so that you do not feel bad if you toss in the drawer.
Still, Microsoft has offered a unique solution not only for Windows and Windows Phone users but those rocking an Android or Apple product as well. The Universal Foldable Keyboard is a well-engineered product that is pretty darn cool. It just comes with a hefty price tag.
If interested, grab the Universal Foldable Keyboard from Microsoft or Amazon starting today.
Windows Central Newsletter
Get the best of Windows Central in in your inbox, every day!
Daniel Rubino is the Editor-in-chief of Windows Central, head reviewer, podcast co-host, and analyst. He has been covering Microsoft since 2007 when this site was called WMExperts (and later Windows Phone Central). His interests include Windows, laptops, next-gen computing, and for some reason, watches. Before all this tech stuff, he worked on a Ph.D. in linguistics, watched people sleep (for medical purposes!), and ran the projectors at movie theaters because it was fun.
It's this keyboard for Lumia 635?

If you're rocking the update 2 then yes.

Nice. I like it. I am looking for a super quiet keyboard for my PC. Any recommendations?

I have two of these - I love them, and they never need batteries or charging and are great to type on. http://www.amazon.com/Logitech-Wireless-Solar-Keyboard-K750/dp/B004MF11M...

That looks like it uses a dongle so it wouldn't work with a phone, and its size is for a different audience.

It's Bluetooth. There's no dongle.

The one in the link has a dongle in the picture. I'm not talking about the keyboard in the article.

i have one and there is no dongle. It is really cool, nice typing, samll size, easy to transport easy to configure and use. The only thing lacking right now from MS is a correct Windows 10 Mobile stack so that all the keyboard features work .. It's crazy that it works on iOS and Android and partially on W10M ...

You are right. The Logitech K750 uses Unifying technology for connection.

No recommendations, but I can tell you that these keyboards (while fantastic) will almost certainly not be quiet.

Wow! Thanks for the review Daniel

First question. Does Windows 10 mobile support this keyboard currently?

I mean, I did take the time to address that in the review. But yes, it works.

Did you read the article.

Will it work on the TP update 2?

I have no problem with that the keyboard support other platforms, but for MS to not put "Windows" button on the keyboard, it's embarrassing. Edit: And even more embarrassing, most WP devices can not use it.

They compromised with a generic 'Home' key which does the same across all devices and acts as a Win key. You can't put a Windows button on it and expect Android or iOS users to want the device. Going forward, Windows 10 Mobile devices can all support this keyboard. Not sure why that's a knock against the keyboard because not all older phones support it. As far as embarrassing, I try to not take on emotions for corporations, I just review what I have in front of me.

I have no problem with your review, you did a good job. Timing is everything, Windows 10 Mobile does not exist yet, W10M TP is not recommended for everyday use so MS keyboard can not work with more than 90% of WP phones, It is unacceptable. What about doing it the right way, release this keyboard when they release the next W10M flagships(940/XL), half price if you pre-order the 940 :)

But it works with all manner of other devices running Windows including RT devices and the small tablets from Dell HP Lenovo etc.

What's worse, it took MS 5 YEARS to add Bluetooth keyboard support. Android and iOS would've had it since 2010-11, and the release of WP8 GDR3 should've had this, but so long for BT keyboard support is atrocious. But hey, its here :), and I won't complain further.

Sounds good - thanks for the review. I could definitely see this being useful, not least as the typing experience on my Windows phones and Stream 7 tablet leaves a lot to be desired.

Lumia 940 XL + this = ultimate travel buddy

Agreed. It would also be a perfect complement to the tiny and cheap Winbook TW700.

I want one, but don't need one

This keyboard might be an amazing choice for artists who have a Surface Pro 4. Often, when working on a pen display, you place the keyboard a bit to the left or right of your screen, so your pen hand can draw and your other hand can use shortcuts without getting in the way. With the Surface Pro 3 and the Type Cover, that's not possible; you're forced to work with a keyboard directly below the device. With this, you can arrange your workspace however you want it. I'm actually thinking of getting a Surface Pro 3 (or 4) with this instead of a Type Cover now!

Interesting point; thanks for sharing :)
I hadn't realized (or maybe I'd forgotten) that Type Cover can't be used via Bluetooth; seems like something they should enable.

They had/have an attachment that does this, actually.

Daniel. Thanks for pointing out the wireless add on for Surface Pro. I need that.

The floppy middle gap has to go.
And they need to enhance keyboard support in W10 mobile; all the keys should work, not just QWERTY.

They will, eventually. Future builds should have this functionality.

It's floppy because it folds. If you don't want"floppy" get the non-folding one and save yourself $20 https://www.windowscentral.com/e?link=https2F%2Fclick.linksynergy.co... . Several reviewers have called it the best Bluetooth keyboard they ever used http://www.zdnet.com/product/microsoft-universal-mobile-keyboard/#!

It could be floppy for folding, but also have some sort of mechanism inside that would snap into place and make it rigid when used. Lots of things have that.

Bought a HP SK-9071 blue tooth keyboard for my Stream 8 tablet for $14.95. Works like a champ and will with my phone in when 10 hits the airwaves although given the choice the tablet wins over the phone for keyboard need/use. While it doesn't fold its small enough to fit in places my tablet does. Oh and it has a Windows key. IMO, the MS keyboard is not 85 dollars "better". Of course, YMMV.

What's that phone in the second pic? Cyan coloured.

Microsoft Lumia 735 on Verizon.

i'd pre-ordered from amazon, but they pushed estimated delivery a month to august. so i cancelled and ordered from MS store. heading on vacation and i wanted to leave my laptop behind and just carry my 8-inch tablet and this. it's in-stock at MS.

Nice looking portable keyboard! Quite hefty indeed. This will be a nice companion with Windows Mobile devices supporting Continuum.

They should have made it double as an extra batterypack for tablets and phone.;)

Thanks for the review, Daniel. Have you compare this with the wedge keyboard? I have the wedge, but I think it's way too heavy.

I've always been a fan of Microsoft keyboards. Even the basic £5 version screams quality compared to the Dell/HP counterparts. I personally use the Sidewinder X4.

I'm surprised they didn't create some sort of locking mechanism to stop it from easily folding in on itself.

... And I'm over here thinking, what tablet is that in the article photo? Lol

I can see a version 2.0 of this device including a moveable stability bar that you can extend so that it doesnt fold in on itself when on one's lap or other soft surface.

This is MS prepareing for Continuum. Amazing, but not for me.

Someone needs to come up with a more modern version of the Palm Bluetooth Keyboard. Targus also made a great stowaway keyboard in those days.

I will wait for Amozon Prime Day (tomorrow) to pull the trigger, but I'm in. It is such a step up from my old protable wireless, which is comparatively bulky and slower to connect. I am a little off-put by the middle gap between the right and left hand sides, but it'll do. I wonder if it will allow me to connect to my WP 1520 while that is in turn wirelessly connected to a widescreen monitor or LCD HD tv's? I expect so.

$100 ? Cool but, I'll stick with my slim Samsung bluetooth keyboard I have, paid almost nothing for it and it works great (back lit keys too) If this was $40-50, I think I would be all over it but, $100 seems a little much for any keyboard, unless it's a gaming keyboard.

I'll be an immediate first time buyer when the USB becomes a type-C one. I do not see the point of buying history.

Well it seems to be missing a track pad. Then it would be great.

Hi there! Can anyone tell me what tablet and case on the main pic is? thanks

It's the Lenovo something or other, with the branded case.

Lenovo ThinkPad 8
IDK the case

Thanks, already ordered one!

I really liked Daniel's comment at the end. Its great if you need it but if it's only because its cool, you should give it a pass. This helped me a lot since once I started thinking about it, I'll don't need it and will probably use it once and put it in a drawer like my leap motion. Hence really helpful review, thanks.

Does this also work with Windows 7? The Microsoft store says this requires Windows 8+, but I can't think of a reason why it would.

I wish it had a touchpad of some kind for mouse functionality...

This would be great for digital sketching in PhotoShop with my Surface Pro 3, as I could position the tablet directly in front of me and the keyboard to the left for shortcuts. I'll keep dreaming :)

I got the Logitech K810 bluetooth keyboard. It's small, sleek and thin. I got mine at Best Buy for $80. For some reason I don't think it's available there anymore and it seems to have climbed in price, but for me it's the best bluetooth keyboard I've ever used.

Check out the Microsoft Universal Mobile Keyboard if you don't need your keyboard to fold. It's the best keyboard that I have ever had. It supports Wndows, Android and iOS. It can also be used on your lap since there is no hinge. I picked one up for $30 on clearance at Canadian Staples store. If the deal is still on, grab one. You won't be sorry.

I recently got the Logitech K480. It works very well with my HP Stream 7, and works with my Windows 10 PB on a Lumia 928. Doesn't work with my Lumia Icon yet until WP10 comes around. ot a sale... $20 off coupon, so the keyboard came out to be $30. The only draw back to the keyboard is if you have sleeves on your devices, they won't fit into the provided slot, but two things... all of my devices have covers with built-in easels, and if I'm getting serious enough to break out the keyboard, I don't mind removing them from the cases. P.S. This is a heavy keyboard, probably made this way so that when you have devices in the slot it doesn't tip over. So this is more of a home/office keyboard and not something you would tuck in your purse or gadget bag. But solid keyboard, nice large keys, the color combos are a bit too funky for me but what-the-hay!

Its unfortunate that windows 10 start screen doesn't flip into landscape mode, as in the photo (its obviously win 8/8.1).

Make it a bit cursed like an ergonomic keyboard and I'm game!

Nice article pictures..! I went ahead and bought one of this babies at best buy, price match it to amazons'... I have been using the type cover with my SP2 for a long time now and love the feel, so I wanted to give this a try, at the office I have my SP2 and lumia 1520, both windows 10, open all the time and the type cover takes a lot of space and I have to be moving the surface back and forth to type on it and my office desktop keyboard out of the way. So I have been using this and it is working quite well, I hope the phone experience get better with the next builds. Love the look, feel and battery life!

looks pretty nice, but I think I prefer the LG rolly.

Has anyone figured out how to take a screenshot/prntscrn yet? I use the keyboard with continuum. I use my 950xl to take a screenshot then bounce back to continuum, so I'm not without the feature. If it's buried under key combinations I'd love to be in on what they are.
Windows Central Newsletter
Thank you for signing up to Windows Central. You will receive a verification email shortly.
There was a problem. Please refresh the page and try again.