Razer's updated Blade and Blade Stealth notebooks are faster than ever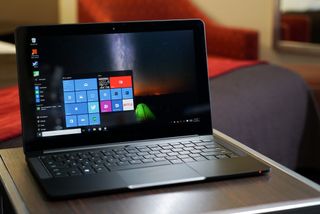 This year, Razer unleashed the Razer Blade Stealth Ultrabook and 2016 Razer Bade gaming notebook. Both support the Razer Core, a unique external graphics enclosure. Today Razer announced revisions to the Razer Blade and Stealth that will make them even better products for work and gaming.
The new Razer Blade Stealth
The Razer Blade Stealth launched in January of this year. Billed as the world's first gaming Ultrabook, the Stealth is incredibly portable. Its profile measures only 0.52 inches when closed, and it weighs less than three pounds. Razer describes it as durable and flex free, something I can attest to, making it well-suited for travel.
Launch models are available with either 4K (3840 x 2160) or QHD (2560 x 1440) 12.5-inch IGZO displays. Besides portability and high-quality display, the Stealth also features a Razer Chroma keyboard. Each key is individually lit and customizable, allowing for impressive color effects. The Stealth can also be used as a gaming machine with the Razer Core graphics enclosure.
Later this month, Razer will release the first updated version of the Razer Blade Stealth. It boasts several improvements over the launch model, starting with a 15-percent larger battery capacity. The internal battery has increased from 45 Watt hours to 53 Watt hours. The original Stealth had fine battery life, but improvements are always welcome.
The new Stealth is more powerful, too. Its processor has been upgraded to a 7th Gen Intel Core i7 Processor. The i7-7500U offers 2.7Ghz-3.5 GHz processing speeds. RAM has been doubled in several models from 8 GB to 16 GB.
That extra RAM corrects the original Stealth's main shortcoming: the laptop's graphical capability could be enhanced with the Razer Core, but the 8GB RAM limitation was set in stone. Some applications and many games really benefit from additional RAM, and 16 GB should greatly improve the Stealth's performance in general as well as the desktop experience when using a Razer Core.
The new Razer Blade Stealth starts at $999 with 8GB of RAM and a 128 GB SSD hard drive, but you can option up on both the RAM And the hard drive all the way to a top-of-the-line model that costs $1799 and includes a 1 TB SSD.
You can preorder the new Razer Blade Stealth at the Razer Store and have it ship later this month. Amazon and the Microsoft Store will also start carrying it towards the end of the month.
The Razer Core
Both the new Razer Blade and Razer Blade Stealth support the Razer Core, but the Stealth especially takes advantage of it. The Core is an external graphics enclosure that allows compatible notebooks and Ultrabooks like the Stealth to access the power of the best graphics cards (it supports NVidia GeForce GTX Series and AMD Radeon 400 series cards). What's more, the Core is plug-and-play and non-proprietary, so any portable computer with a Thunderbolt port should be compatible.
The Core acts as a dock — plug in your notebook with a single cable you'll gain access to expanded I/O options such as 4 USB 3.0 Ports and a Gigabit Ethernet port. Combined with a graphics card, this provides a full desktop experience.
You don't have to be a computer-building expert to use the Core, either. Graphics cards can be swapped out with no tools. A simple thumbscrew holds the graphics card in place. After inserting or swapping a card, the system doesn't even need to be rebooted. It won't even explode. The Core is truly plug and play.
The sticking point of the Core remains its price. It costs $499 on its own or $399 when purchased with a compatible notebook from the Razer Store. Hopefully Razer can bring the price down and make the Core available at other retailers in the future.
The New Razer Blade
Razer's Blad laptops have come a long way in the five years since the first one launched, becoming more compact and more powerful. This fall we're getting the latest iteration, which has the marquee inclusion of the new NVIDIA GeForce GTX 1060 video card. The current top of the line in mobile graphics, the 1060 packs 6GB of DDR5 VRAM. Not only can this card handle any gaming graphics thrown at it, it's also VR capable for headsets like the HTC Vive, Oculus Rift, and OpenSource VR HDK2.
Razer Blade buyers will have options when it comes to the 14-inch display: either a QHD+ IGZO panel with a resolution of 3200 x 1800 pixels or a Full HD (1920 x 1080) non-touch matte display. The lower resolution might seem less appealing at first, but along with a lower price it will enable faster framerates and smoother gaming in graphically intense titles.
The new Blade takes advantage of Razer's Touch Point Thermal Technology for heat management. This keeps heat away from areas the user is likely to contact. The left side of the keyboard (which houses the all-important WASD keys), palm rest, and touchpad are kept especially cool. Razer does this with a combination of fans, heat pipes, and spreaders. Air is taken in from the bottom of the notebook and sent out of the exhaust vent hidden between the display and the bottom of chassis.
Chroma technology featured in the keyboards of both the Blade and Blade Stealth allow for more than just personalizing the colors of your keys. Games can actually support Chroma keyboards with unique color profiles and features. For instance, when playing Overwatch the keys will change color to match your character of choice. Games can also highlight and flash keys that they want the player to press, and lots more.
The updated Razer Blade comes standard with a 6th Gen Intel i7 6700HQ quad core processor (with speeds from 2.6GHz to 3.5GHz), 16GB of DDR4 dual-channel RAM, Killer Wireless-AC and Thunderbolt 3 connectivity. Like the Stealth, it can also be combined with the Razer Core graphics enclosure for additional graphical power.
The Razer Blade starts at $1799 with a Full HD display and 256 SSD hard drive all the way up to configurations with a 1 TB SSD and QHD+ display for $2399.
Preorders have opened up today on the Razer Store. The new Razer Blade will ship and become available at retail in the latter half of October.
What do you guys think of the improvements Razer has announced for the Blade and Stealth? Is it too soon to release new versions of these notebooks, or are you chomping at the bit to get your own?
Windows Central Newsletter
Get the best of Windows Central in your inbox, every day!
Paul Acevedo is the Games Editor at Windows Central. A lifelong gamer, he has written about videogames for over 15 years and reviewed over 350 games for our site. Follow him on Twitter @PaulRAcevedo. Don't hate. Appreciate!
Surface Book, I choose you! Beat 'em all!

I know right... Can't beat the Surface.

Surface Book try to run DOOM.Its doomed

Well 400 euro laptop can beat the **** out of Surface Book. Why such hype?

C'mon now. I would probably choose the Surface Book over the Razer Stealth. But there's definitely no comparison with the Razer Blade. Two different audiences.

"Razer does this with a combination of fans, heat pipes, and spreads" Spreads? I

I guess like peanut butter or jelly. :P

Some people call the "heatsinks" that you mount on top of the CPU, "heat spreads." I can them heatsinks but what do I know...

Thumbs up to Razor Blade, but it's still lacking a finger print reader or eye scanner. I told Razor along time ago to add Windows hello capabilities but they still don't listen. O well waiting on the surface book to add specs like the Razor blade.

I would buy the Stealth if they offered a 1920x1080 touch display. I've never understood why that's not an option; better framerates, touch input, and most importantly better battery life.

the 1060 can run easier higher resolution but you can always change your resolution

The stealth doesn't have the graphics card option Posted via the Windows Central App for Android

What does the 7th Gen Intel processors bring in comparison to the 6th Gen? I prefer the Razer Blade over the Razer Blade Stealth but I am somewhat disappointed that the Razer Blade still has the 6th Gen Intel Processors.

Significantly improved video performance.

This core thing sounds cool

Ffs still no option to pre order on UK store. Was hoping they would add this newest generation ☹

This! I would buy if available in the UK.. Need to replace the aging Alienware ahead of Xbox Play Anywhere

Super beautiful computers. Posted via the Windows Central App for Android

Is it functionally possible to run the Razer Core with Dell XPS13? Has anyone done it?

My surface book is a different use case, but I like Razors' approach. A surface-branded offering with a desktop gpu solution in place of the surface dock would be really cool. Truth be told, it would be way more important than changing the hinge, which I like okay as is. Still, the gpu on the SB is good enough to make a file video editor without compromising maximum portability. It is not without It's quirks, nut the surface book is a fine laptop overall.

I would also love if microsoft came out with a similar external graphics enclosure/dock. Even though now I don't have as much time to game, I still enjoy gaming when I have spare time, but I move a lot so I have stopped making full desktop pcs so I have less things to move. I would love a more mobile solution for gaming. I'm also ok with the hinge as is, but I wouldn't mind improvements. Aside from that..the article says "the Core is plug-and-play and non-proprietary, so any portable computer with a Thunderbolt port should be compatible." If I'm understanding this correctly I could just purchase the core and use it with any computer with a thunderbolt port? There wouldn't be weird compatibility issues? I always thought the core would only be able to be used with razor laptops. Is this the same with the external GPU docks that other companies have made, like alienware and MSI?