Razer Ornata Mecha-Membrane Keyboard review: Something different this way comes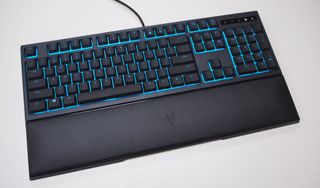 Mechanical keyboards are widely regarded as superior to cheaper, more common membrane keyboards, but their price and noise level can be off-putting for some. The Razer Ornata features "Mecha-Membrane" technology that combines the best of both worlds. But can it compare to true mechanical keyboards?
See on Amazon (opens in new tab)
Razer Ornata at a glance
The Razer Ornata comes in two models:
Razer Ornata Chroma – MSRP $99.99
Razer Ornata Expert – MSRP $79.99
The Expert model features solid green backlighting, whereas the Ornata supports fully customizable Chroma lighting and effects. This review focuses on the Chroma model.
These are the Razer Ornata Chroma's features in a nutshell:
Razer Mecha-Membrane Technology
Mid-height keycaps
Razer Chroma backlighting
Ergonomic wrist rest
Razer Synapse enabled
Fully programmable keys with on the fly macro recording
10-key roll-over
Dedicated Gaming Mode
Anti-ghosting capability for up to 10 simultaneous key presses
Body and wrist rest
The Razer Ornata is composed of black matte plastic. It connects to your PC, Xbox One, or PlayStation 4 via a lengthy braided USB cable. Cable management notches allow users to select which side of the keyboard the cable extends from.
Most gaming keyboards are designed for gaming more than work, but the Ornata seems to be designed for both work and play. As such, it includes a sizable detachable wrist wrest for comfort. The wrest snaps on via magnets, adding a couple of inches of padding for your wrists.
The magnetic grip could be stronger, but it should stay attached during normal use. The wrist rest is such a blessing comfort-wise, I hope that more Razer keyboards include them in the future.
Mechanical meets membrane
The Ornata's big innovation is that it uses Razer's patented Mecha-Membrane technology, effectively combining design elements of traditional membrane-style keyboards with those from microswitch-based mechanical keyboards.
The keycaps themselves are mid-height, making them shorter than standalone keyboards you'd buy and a little closer to a notebook's built-in keyboard, height-wise. This shorter height allows for quicker actuations, so each keypress registers very quickly as you tap it.
Tapping a key, you still get an audible click as with mechanical keyboards. But the sound is softer and will likely be less obtrusive to other people in the room with you. The keys have a mild sponginess to them, and yet they remain just as responsive and satisfying to press as a mechanical keyboard's.
As for the actual keyboard layout, the Ornata is a mid-priced keyboard for Razer. It doesn't feature any unique keys, although the top Function key row offers media and volume controls when combined with the Fn key on the bottom row. Additional functions include the ability to record macros, adjust brightness, and a Gaming mode toggle that allows users to press up to 10 keys simultaneously during gameplay.
Lighting
As the name indicates, the Ornata Chroma features Chroma lighting, Razer's name for its 16.8 million color spectrum lighting technology. Lighting profiles are set up with the Razer Synapse software, which is just about mandatory for nearly every Razer PC accessory. Synapse isn't bad, but it requires updates annoyingly frequently.
Although the Ornata has lights for every key and supports the usual Razer lighting profiles, the lights are housed a bit deeper within the key's construction than with typical mechanical keyboards. This has the effect of creating more diffuse lighting. The Ornata's mid-height keycaps look like they're floating on the lights below – a cool effect.
With the Razer Synapse software, users can turn the lighting off, create custom lighting profiles, or select from numerous lighting presets. As always, the lighting profiles can be quickly synced to match other Chroma-enabled products you might own. I find the static effect best suits the Ornata's overall design.
Overall Impression
Once you make the jump to mechanical keyboards, it's hard to go back to the membrane style. But some computer users resist making the jump, either because of price or the perceived loudness of mechanicals.
The Razer Ornata strikes a great balance between gaming and work device. Its design is subtle and sleek, without bright logos or visual cues that specifically say gaming. And it functions wonderfully for work and play thanks to the Mecha-Membrane technology. There's absolutely nothing wrong with the feeling of traditional mechanical keyboards like the Razer BlackWidow X, and yet the Razer Ornata actually feels even better to use.
Razer deserves credit for inventing a whole new style of keyboard, one I expect will be imitated in the years to come. But the Ornata is priced quite reasonably, so there's no need to wait. If you don't need pricier features like macro keys and USB pass-through ports, the Ornata's comfort and performance are simply unbeatable.
See on Amazon (opens in new tab)
Windows Central Newsletter
Get the best of Windows Central in in your inbox, every day!
Paul Acevedo is the Games Editor at Windows Central. A lifelong gamer, he has written about videogames for over 15 years and reviewed over 350 games for our site. Follow him on Twitter @PaulRAcevedo. Don't hate. Appreciate!
I love the idea but the lack of dedicated media keys is a bummer. I'm gonna have to take a look at this for my wife next time she ruins a keyboard.....I give it 3 months.

Yeah, I was in the search for a keyboard with dedicated media keys. I even rejected those that use Fn as an alternative to media keys. Ended up going with Logitech, seems like they are the last few that still do it. Below, mase123987 also says corsair has media buttons too.

I searched for weeks on a keyboard that had 1. Media Keys 2. Lights 3. A normal enter/return key 4. Macro keys. 5. Wired.
After weeks of searching I got an email from Creative about their new keyboard. As soon as the moment came I jumped on it and pre-ordered it. I am flipping excited. You can check it out here: http://us.creative.com/p/peripherals/sound-blasterx-vanguard-k08

I have found one that is all full of these basic features and it's completely mechanical. Only Kailh red switches, but for same price as this one. http://www.gigabyte.com/products/product-page.aspx?pid=5790#kf I'm gona to buy it after New Year, when new will arrive int omy favourite store here :)

I'm not a huge fan of shorter key travel so this probably isn't for me. Like bria5544, having dedicated media keys, esp. a volume scroll wheel, has become a must for me if I am to spend this much money. That said, wrist pad is a nice feature (I have one for my keyboard and love it), and geeks like myself like fun lighting. I would definitely have to test the keys in a store before considering purchasing. And I love really loud keys!

Wow, I haven't had one review keyboard with a volume wheel. That must not be common in gaming keyboards. Although the Ornata is quieter than a regular mechanical, the keys still makes a nice sound. Hope you get to test one soon. :)

It isn't a normal feature but one I REALLY love. Not sure about any other brands but it is on some Corsair keyboards.

Logitech has one too. Pretty nice

Creatives new Vanguard K08 keybaord does as well. I'm meh about the volume wheel, but every other feature of the Creative keyboard is exactly what I am looking for.

G.Skill 780R RGB has a volume wheel: https://www.amazon.com/G-SKILL-RIPJAWS-KM780R-Mechanical-Keyboard/dp/B01... That's what I use. Love it, the dedicated macro keys, the 3 quickbuttons for different lighting and programming programs. I also happen to prefer the Brown switches (my preference on combo of click, noise, and pressure), which not all of them offer as a built-in option. The optional special shaped keys are also great for feel-finding specifical custom macro keys. However, I'd point out that the volume wheel and volume lighting (https://images-na.ssl-images-amazon.com/images/G/01/aplusautomation/vend...) are imperfectly paired. You can turn the volume control up and down and eventually get the lights and actual volume out of sync, because the computer doesn't register volume steps the same as the lights (for example one full rotation might move the volume by, say 20 steps on the computer, but the lights change by 3 steps). You can easily recalibrate by turning the volume all the way down so everything goes to zero, but it's annoying that this is ever needed and they can get out of sync very, very quickly. If you try, you could get it so the lights are almost all lit (near full volume), but the computer volume is almost all the way down. They should update the drivers so the volume lights on the keyboard actually reflect the computer volume. But that's a pretty minor issue on an otherwise fantastic keyboard.

Nice, though at this point I wonder if there are companies who put this much effort in keyboard innovation for non-gaming purposes. I'd like to have a good typing keyboard for work, but I wouldn't want to buy a gaming keyboard. Also those ergonomic split keyboards are out of the question.

Nobody has to know it's good for games too! Unless your concern is the price.

Yeah, it is. Besides, I use a gaming controller with games.

I'm a loud typer, so I prefer quiet boards like this one. Plus it lights up :D

This looks great, I want one for work. Cool review Paul.

Hmm.....I am on the verge of buying a razer blackwidow chroma stealth/mouse/mousepad package and may have to rethink this....blackwidow has a usb and headphone jacks however...... thanks for the review.

I love keyboard that has less media key, maybe volume and mute button, im more for simplicity. The wrist rest are kinda huge for this, but it does look comfort. If only they could take those lights off and macro functions then sell me at half the price =P I'll take it anytime~~

Probably a dumb question (bare with me), but in what situations do you need to simultaneously press up t 10 keys while gaming?

I thought about this myself and couldn't come up with a reason. Then again I don't play FPS games so I don't know. Most games I play can queue up skills one after the other, or create a macro that presses those keys to activate skills one after the other. But 10 keys for simultaneous pressing? No idea.

I think ppl uses 10 keys simultaneously for digital keyboard/piano composser or DJmix games?

It's not a normal occurrence, but non-gaming keyboards can have problems with like 3+ simultaneous keypresses. So gaming keyboards typically ensure that nobody will hit more keys than they can process.

10 is a bit excessive, but I've hit the normal 3 on many occasions. Forward right strafe while jumping and looking behind while evading an enemy in a fps is pretty common. What they don't mention is that simultaneously is a loaded word. On a standard keyboard I have run into issues typing a well designed password... I type it fast enough th keyboard it registers as several keys being down at once. I press the keys in order, but may not lift my fingers fast enough to compensate for the slow release on some worn membrane keyboards. Slow release meaning that you let off the key but it doesn't break contact for a fraction of a second because the membrane is too soft to accelerate the key off the contact any faster... Can also be caused by dust, humidity, heat, soda, boogers, bodily fluids, etc. I have seen slow release issues cause real problems when a cheap keyboard is used in a hot server room... The membrane can get so soft that the shift alt and ctrl keys don't release for several 10ths of a second, making subsequent key presses get modified unexpectedly... Can be scary when 'a' becomes ctrl+a, especially if you follow it with a backspace or delete.

After the switch to full mech I could not go back to membrane, no matter how fancy. for those wanting media controls... Look at das keyboard.
Windows Central Newsletter
Thank you for signing up to Windows Central. You will receive a verification email shortly.
There was a problem. Please refresh the page and try again.