Razer BlackWidow X Chroma review: A 'topless' mechanical keyboard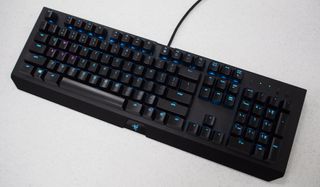 The Razer BlackWidow X Chroma is a mechanical gaming keyboard featuring a unique industrial design. With no top plate surrounding the keys, this gaming keyboard looks and feels different than the rest. But should you choose it over the original BlackWidow Chroma? Read on to find out!
Razer BlackWidow X Chroma at a glance
The BlackWidow X Chroma measures 6.2 (length) x 18 (width) x 1.5 (height with keys) inches.
It includes:
Razer Mechanical Switches with 50g actuation force
80 million keystroke life span
Chroma customizable backlighting with 16.8 million color options
Military grade metal top construction
Razer Synapse enabled
10 key roll-over anti-ghosting
Fully programmable keys with on-the-fly macro recording
Gaming mode option
Cable management routing
1000 Hz Ultrapolling
Braided fiber cable
Mechanical switches engineered for gaming
Gaming keyboards come in many shapes and sizes, but one type is widely recognized as the cream of the crop: mechanical keyboards. Typical keyboards consist of keys that press down on rubber-dome switches connected to a large, flat membrane. Cheap to make, but not exactly the most responsive or durable style of input device.
Mechanical keyboards, on the other hand, contain individual mechanical switches for every single key. These provide the greatest possible precision, and they're certified to last years longer than other keyboards. And even when an individual mechanical switch breaks, you can always replace it without losing the device. Plus, mechanical keyboards make an audible clicking sound that lets you know exactly when a keypress has registered.
The Razer BlackWidow X line features Razer's proprietary mechanical gaming switches for each key. These switches have optimized actuation and reset points, so the time between electrical contact being made and reset are supposed to be better for games than the industry standard Cherry MX switches. Razer's switches also have greater durability, reportedly standing up to 80 million keystrokes. Active gamers hit certain keys thousands of times per day, so the increased durability ensures the longest possible life for each key.
An alternative design
The BlackWidow X Chroma is a slimmed down alternative to the BlackWidow Chroma, Razer's top-of-the-line keyboard. Both keyboards sell at similar price points and feature the same basic performance and Chroma lighting, though they differ in features. To make things simpler, we'll refer to the keyboard in this review as the BlackWidow X and the original BlackWidow Chroma as simply the Chroma.
The BlackWidow X's key difference is that it doesn't feature the "top cover" found on the Chroma. Typical keyboards, including the BlackWidow Chroma, have their keys recessed into the body of the keyboard. A top cover surrounds the keys and rests above the actual base of the keyboard.
Without the top cover, the keys of the BlackWidow X rise above the metal base of the keyboard with nothing else surrounding them. This creates a unique, almost art deco look. It also means that the keys actually protrude a few millimeters higher from where your hands rest on the keyboard than they would with other keyboards.
That takes a little getting used to, even if you're not a touch typist. But every keyboard has its own unique feel, so adjusting to the BlackWidow X isn't worlds different than switching to a different brand of keyboard than you typically use.
The BlackWidow X lacks the dedicated macro keys of the original Chroma, and so this one has a smaller horizontal footprint. And in keeping with Razer's goal of a slimmed-down design, the front of the keyboard is also smaller than its predecessor's.
Thing is, the front of the keyboard is supposed to be the wrist wrest. The front of the BlackWidow X slopes down so steeply, it essentially has no wrist wrest. That design choice will likely lead to increased fatigue for touch typists in the long term.
Another distinguishing feature of the BlackWidow X is the cable management system for its thin braided USB cable. Ridges line the bottom of the keyboard that allow users to route the cable in three different directions. If your setup works better with the cord coming out of a specific direction, you can do that.
Function keys
With no dedicated macro keys, the BlackWidow X instead relies on macro key combinations for shortcuts and other controls. The shortcuts are mapped to the F1-F12 and Pause Break keys. When combined with the Fn key at the bottom of the keyboard, you get these shortcuts:
F1-F3: Mute and Volume Down/Up
F5-F7: Rewind, Play, and Fast Forward
F9: Macro Recording
F10: Gaming Mode
F11-F12: Keyboard brightness Down/Up
Pause Break: Enter sleep mode
The Macro recording feature allows users to type a sequence of keys and save that sequence to the key of their choice. Gaming mode disables the Windows key and maximizes the keyboard's Anti-Ghosting effect. Gaming mode can be further customized in the Razer Synapse software.
Razer Synapse software
Like other Razer PC products, Razer Synapse is required to get the most out of the BlackWidow X. The keyboard does not store profiles and settings internally. Instead, all settings are saved through the cloud and accessed via Synapse. Most gaming keyboards store settings on the device itself, hence some people's distaste for Synapse.
Still, the Synapse software is actually quite good. You can customize lighting, edit and record macros, enable or disable Chroma lighting connectivity in compatible applications and games, customize features of the Gaming mode, and more. The Synapse software proves quite convenient when you give it a chance.
Chroma lighting
As the name indicates, the BlackWidow X Chroma features Chroma lighting, Razer's name for its 16.8 million color spectrum lighting technology.
The BlackWidow X has individual lights for every key, as well as the Razer logo on the front of the keyboard. By default, these all light up green. Because the BlackWidow X does not have a top cover, the light spreads out horizontally more than it would on other keyboards.
With the Razer Synapse software, users can turn the lighting off, create custom lighting profiles, or select from seven lighting presets:
Breathing: All lights pulse up and down in intensity. You can't have one light pulse a different color than the others, but you can set the lights to alternate between two different colors.
Reactive: When enabled, pressing any key causes it to light up. Other Chroma devices set to 'Reactive' will light up as well.
Ripple: Ripples of light emanate from whichever keys you hit.
Spectrum Cycling: The lights cycle between various colors.
Starlight: Keys light up in one or two colors in a seemingly random pattern that simulates the effect of twinkling stars.
Static: Lights stay on in the single color of your choosing.
Wave: Waves of color flow from left to right or right to left across the keyboard.
Which BlackWidow Keyboard to get
The BlackWidow X Chroma is a very good keyboard. The keys and Razer switches feel great, the lighting effects are unparalleled, and the cord management slots are convenient. And that striking visual design that makes the keyboard stand out without looking gaudy.
Still, this keyboard retails for $159.99 – the higher end of mechanical keyboards. The BlackWidow X is only $10 cheaper than the original Razer BlackWidow Chroma, which sports dedicated macro keys, a USB pass-through port, audio pass-through jacks, and a better wrist wrest. You give up some decent features for the $10 savings of the BlackWidow X. Plus the regular Chroma goes on sale at Amazon regularly, so you can often find it cheaper than the BlackWidow X.
The BlackWidow X Chroma might not be a better value than the original Chroma, but its aesthetically sleek, no-frills design still makes it a solid choice for a gaming keyboard. If you like how this one looks with its lack of top plate but want to save some money, consider the BlackWidow X Ultimate. The Ultimate doesn't have Chroma lighting, but it retails for only $100 – a sweet spot for performance and value.
Windows Central Newsletter
Get the best of Windows Central in in your inbox, every day!
Paul Acevedo is the Games Editor at Windows Central. A lifelong gamer, he has written about videogames for over 15 years and reviewed over 350 games for our site. Follow him on Twitter @PaulRAcevedo. Don't hate. Appreciate!
Yeah, you know, so you can wrest in piece.

I love the look of this keyboard but man that price. I would buy this if it were half the cost.

Maybe windows central can have a contest that i could win? ya ya ya... This is pretty!!!

Wow, thats nice, and beautiful! unfortunately when this kind of stuff comes to brazil the price is very very high :(

Razer's own switches aren't better than the Cherry standard. If you want a proper keyboard at this price then go Corsair. At least if you want the best switches available.

What's the objective proof of that? Razer claims their switches are better for gaming and last longer. I can't say whether that's correct, but they have been great so far.

I'm not a fan of the design. I'd be concerned from the start that the gap under the keys in those pictures would let crap get under the keys, which would suck. I honestly can't see where the price tag for this thing comes from, given it's stripped-down, got fewer build materials, and it has fewer features. Why it sits over $150 is kind of confusing, when you can get a stripped-down Corsair STRIFE for $100. Then again, its RGB version is around $150--I guess the answer is that RGB lighting is costly. I'm still good with my Steelseries Apex that I got for $60, mechanical keyboards are too tall for my liking.
Windows Central Newsletter
Thank you for signing up to Windows Central. You will receive a verification email shortly.
There was a problem. Please refresh the page and try again.