Royal Bank of Canada app now available on Windows Phone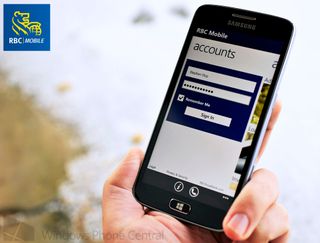 I know there's a handful of you that are going to be pretty happy to hear that there's finally an official Royal Bank of Canada app for Windows Phone. Head to the Windows Phone Store and you'll see RBC Mobile, a brand new app for all your mobile banking needs. The Royal Bank of Canada (http://www.rbc.com) is the largest financial institution in Canada, so its arrival on Windows Phone is very welcomed. Let's check it out.
We're slowly gaining more and more bank apps in the Windows Phone. It's a big win for the platform every time a new app like this comes to the Windows Phone Store. That said, RBC Mobile does exactly what you'd expect from a mobile banking app. Here are the features:
View account balances and details
Pay bills and transfer funds
Send and receive Interac e-Transfers
View and delete upcoming payments schedule for the next 30 days
Find RBC branches and ATMs
Access Mortgage Payment Calculator and Foreign Exchange calculator
Just reading that feature list and it sounds like this app does everything you'd want. Seeing as how RBC serves 18 million clients, we suspect a few of you will be stoked to have this on your phone. You'll find things like the ability to check account balance and details, in addition to transfer funds and paying bills. It seems like a really solid offering for RBC customers. Are you one? Sound off below with what you think of the app.
RBC customer? Head to the Windows Phone Store to grab the free app. And don't forget there's also an RBC Mobile app for Windows 8 that's been out for quite some time. You can grab it in the Windows Store (opens in new tab).
Windows Central Newsletter
Get the best of Windows Central in in your inbox, every day!
i think you mean hear hear

Now lets hope other Cdn. Banks and retailers follow suit with their own apps.

Where's the hsbc app already come onnnn Nokia ! Lol

Come on Nokia??? How about come on HSBC?

Gud point From My Lumia 929

Well they could at least give hsbc a nudge we were promised a hsbc app early this year if i remember right xp

If you are their customer, YOU should give them a nudge.

Meh i suppose think anyone who's with them should as well big company like them wont listen to just one complaint

It has to start with someone, and complaining here will not get their attention. Look at the thread about the USAA app, and how we hit them at Facebook, twitter, and email, and got our app back. If you don't want the app, complain here. If you want the app, do something instead of waiting for someone else to do it.

Ill have a crack at it never said id just lay in wait just seeing if anyone else here thinks the same about hsbc

Just switch to a bank that does support the platform...
I have just switched from Halifax (switched my banking there a year ago to take advantage of the free £100 to switch) back to my original bank, Barclays.
The Barclays app is superb

This app came at d right tym....I was wonderin where to put my 25 millions....Whew..What a relief....Thnx developers.... From My Lumia 929

still waiting CIBC........-_-

Let's go TD, what's the hold up?

Awesome. But TD needs to get on board with WP8 too.

'not enough demand' is what I was last told.

Maybe we have to show them some demand. I guess we should send them some mails and ask them about the WP8 version of their app, so they can see the "demand".

Hell yes!!!!! About time!!!

HSBC PLEASE!....... What's happening with it ? The Last app i need to move from android for good.

This is awesome. I've been waiting for this app since I got my first WP device in 2010. The windows 8 version is also sweet on my Surface.

Not having Canadian banking apps is one of the major things that has been holding me back from outright recommending a WP8 device to my friends. This is a great step in that direction. I hope the other 4 major CDN banks make the jump.

Awesome! I'm still waiting for TD like some others though. Hopefully this spurs other Canadian banks onto the platform.

Awesome, this is probably the only app i REALLY wanted/needed. Very happy. Well maybe a TSN app would be nice. Hopefully in time they'll add RBC Direct Investing access and NFC payments.

Ditto. If we just tangent off about TSN, for a second. Prior to them redoing their video player in the fall I could watch all the videos on the mobile site. Now though, you try watching a video and it just links you to a dead download page. What up TSN (Bell)

that video is weird, i often have problems with it in the browser on my computer, forget on my phone

I love RBC. With this they have an app for both Windows 8 and Windows Phone. I'm sure someone at RBC's "banking" on gaining hundreds if not thousands of new clients from other banks thanks to W8/WP support.

There is a TD Bank App. I got it on my 1020

Okay for some reason it's no longer published. I downloaded it Oct 25. It was called TD Bank Mobile. It's glitchy at times but it works.

that wasn't an official app

I have no idea but I can check my Balance, transfer money and pay bills. Maybe it was a fluke how I got it but maybe it's a sign of things to come.

It wasn't a fluke it was not an official app designed by somebody, I remember the guy promoting in the forums. I wouldn't put my banking info into such an app.

I can see its mobile payment system coming over with 8.1 http://mobilesyrup.com/2014/01/22/rbc-says-its-mobile-payment-service-wi...

Great news! Now we need TD and Scotiabank to get on board. I'm using Mint but its limited in functions.

Might be time to contact ScotiaBank again and see if maybe now they have plans to make an app.

Just got a response from Scotia saying they have nothing to confirm but will pass on the interest. So the generic canned response =/

I'm still not sure about banking on my phone, but it would be nice to see a TD app.

This is what im also waiting, i hope someone would negotiate with other banks like laurentian and scotia bank.

It comes in handy. The ability to do email money transfer as well as pay all my bills on the go is a life saver. Since I got the RBC app on my Surface last year, I haven't used a browser to access my account. It's awesome!

Like I said above there is a TD Bank App

I think they mean the Canadian version, TD Canada Trust.

Okay for some reason it's no longer published. I downloaded it Oct 25. It was called TD Bank Mobile. It's glitchy at times but it works. TD Canada Trust

Awesome!! Thank you Sam for bringing this to our attention, I wouldn't know about it if it weren't for WPcentral. Now we need a Questrade app on WP8.

Judging from the screenshot, I find it rather odd that a negative balance would be shown in green. :-/

Probably cuz its a credit card and they haven't maxed out, spend, spend, spend!

Finally, they've been promising this app even before the W8 app was available. Only thing missing from both is the ability to pay your ebills.

Woo Hoo!! Now we need Air Canada, TSN, Aeroplan and Marriott at which point I will say that I have 95% of what I use mostly. Swiss Chalet and Pizza Pizza would be nice as well.

yeah TSN needs to bring a well designed app

I work for a CDN bank. 60% of our mobile users are iOS. The rest being Android, and BlackBerry. WP8 is tiny in Canada. I don't know anyone that owns a WP8 (friends, family, friends). But I find most mobile website quite nice. We are launching a new banking app for iOS, Android and BB10. Heavy HTML5 based, so it should work well on a WP8 Web browser. Posted via the WPC App for Android! on BlackBerry Z30

WP8 has a far larger install base than BB10. Insulting to make a new BB app and ignore a larger customer base. Beyond that, no excuse for no Windows 8.1 app. Our mortgage is up for renewal in 3 months. Think this won't impact who gets the business since there is very little rate differentiation? Better believe it will.

In Canada the home Blackberry, WP is fourth place.

So, put,one out for those few customers that do use WP. It has the potential for the most growth especially when it gets unified with Win 8. And its not like a WP app will take away much from your record profits....

I had been a long time happy TD customer but they have pissed me off a few times lately so I think I'm going to go have a talk with Royal Bank to see if it would worthwhile moving my personal and business banking over.

I am the same as you - long time TD customer. However, my brother is in management on the investment side, I have several friends who are financial advisors at RBC and another friend who works in commercial banking. If you do in fact have business banking and are in Southern Ontario, I may be able to connect you with someone (they are territory based).

I started with TD when I lived in Toronto but I live in Halifax now.

For The Third time there Is a TD Bank App

No chucky, there isn't. There is TD Ameritrade, not what any of us are looking for. We want a TD Canada Trust and TD Waterhouse app ...

Okay for some reason it's no longer published. I downloaded it Oct 25. It was called TD Bank Mobile. It's glitchy at times but it works

Finally my bank! WP is getting better everyday. Thank you RBC for not leaving us behind!

Excellent, about time a Canadian bank stepped up

YES! I have sent them many e-mails about this, and they finally did it!

FINALLY... Now, to get TD, BMO, Scotia, and CIBC! :)

No TD Bank in my app store for Canadian customers.

Dear chucky78: Not for Canada. Pay attention.

Okay for some reason it's no longer published. I downloaded it Oct 25. It was called TD Bank Mobile. It's glitchy at times but it works. It's an app for TD Canada trust. Maybe its a sign of things to come.

PNC and Schwab, where art thou?

I'm still waiting for SunTrust.

this is awesome!! my friends have been waiting for this app!

Waiting for CIBC..the only missing app for me.

Sweeter than Jessica Alba in my bed.... No actually. But welcomed nonetheless.

About time!!! Yes. now i want nfc payments from royal bank and all the carriers together. Come on.

Wow this is huge news for WP fans in Canada, I'm even surprised they did an app

Nice to see! Great to see more support for Windows Phone!

Heeellloooooo... Capital One, you're next.

Yes.. To bad not Scotia bank. At least Ing direct is in the game too....

Scotia iTrade would be nice on WP and W8

AWESOME!! I wasn't sure it would ever turn up, but after seeing their pretty sweet Windows 8 app, I figured it could come someday. I'm terribly pleased it has! Proper job, RBC!

Wow finally. Been waiting this since day one of wp7
Windows Central Newsletter
Thank you for signing up to Windows Central. You will receive a verification email shortly.
There was a problem. Please refresh the page and try again.