RBS and NatWest both update their mobile banking apps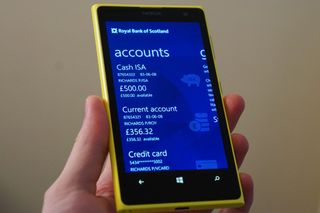 Today RBS and NatWest rolled out updates for their official apps on Windows Phone, bringing both offerings up to version 3.4. The new releases introduce new designs to better reflect the respective brands, as well as general improvements to how the app is laid out making it easier for customers to manage their accounts.
Since they'e both owned by the same parent bank, here's the full list of changes for the RBS and NatWest apps:
We've refreshed our app with a new look and feel to reflect the new branding
We've made it easier to make another payment or transfer by selecting the new payment option
You can now differentiate between ISA's and Savings accounts
You can view your CashBack Plus balance
It is easier and cheaper to contact us with a new basic rate number. This is charged at the same rate as a UK landline
It is now easier to share our app with your friends and family. You can now recommend it from the more menu
Check out the newly updated apps on the store and let us know how you get on in the comments.
Get the Windows Central Newsletter
All the latest news, reviews, and guides for Windows and Xbox diehards.
Rich Edmonds was formerly a Senior Editor of PC hardware at Windows Central, covering everything related to PC components and NAS. He's been involved in technology for more than a decade and knows a thing or two about the magic inside a PC chassis. You can follow him on Twitter at @RichEdmonds.
I'm looking at Santander uk

I didn't realise there was an rbs app, I bloody hate their internet log in requirements, what's wrong with a username and password like every other bank. And why not put your account number on your card like everyone else!?. Thought id give the app a go seeing this. And its such a bloody longwinded process to sign up to the app, txt confirmations, then even more passcodes to remember, and now after entering everything except my cock size a 24 hr wait before the app is active to use. God bless first direct as my main bank!!

Still better than losing all your sensitive data to some phishing scam....... :)

The thing is RBS ask for so much personal data every time you try to use them, that you're much more likely to be caught out. If any other company started asking me that many questions just to log in I would become immediately suspicious and stop. With rbs im so used to giving them the answers to millions of things all the time that I don't bat an eyelid at yet another random question. A phisher targeting rbs customers could get enough data to hack most of their other banks. An FD customer being phished would only give up enough data to hack that one bank. For instance FD don't ask for your entire credit card details including the security code!

bear with it. yes there are protocols in order to use the app, but they have clearly thought about the "what ifs". I like that you cannot setup new payment destinations on the device, it must be via web _with_ the card reader. 2 factor auth. you need a separate PIN to your phone pin, surely thats a good thing? The Nat West app is excellent on Windows Phone. (presume RBS is the same)

First Direct has an app - yet HSBC cant be bothered.. funny. They could probably use the same app just rename it :O

First direct are the best bank in the world and the most customer focused. HSBC are a bunch of money laundering twats, who couldn't care less about customers lol. Funny that one would own the other.

No argument about HSBC, but First Direct aren't as good as they used to be either. Their app is a joke and it took them much longer than the other banks to support Windows Phone.

I still love FD, as much as its possible to love a place that holds your money for you. My only complaint about them has ever been that the credit card and debit card look exactly the same in a dark petrol station. Lol. They may have taken longer than some banks, but they were also faster than many (Santander, co-op, hsbc, American express)

The app works really well, I love it. Worth the early discomfort.

Halifax is slacking too!!

You mean Bunch of Assholes? For taking away our app.

I will find you... And i will create an account

Typo. It's "their" not "thier"

Also they're, not they'e.

English people don't know their English....

That's often how it is :/

Looking for a replacement for BoA which I dropping their WP app.

Rich.. quick.. you can put another 14500 on the ISA account before April

These apps are really nice (much like Barclays). It puts Halifax/Bank of Scotland's to shame - essentially web wrappers that actually advertise their iPhone/Android app within the WP version! The only reason I don't switch banks is bcause HBOS give you £5/m for free into your current account!

Saudi Arabia banks, see this!!

Sbi freedom plus is not available in windows phone..

Nice to see them supporting Windows Phone, but bonk to pay world be nice (not that the feature is available on IOS or Android).

Is bonk to pay another term for prostitution?

I never pay to bonk, never know what viruses you may catch!

Payment in kind. Nothing wrong with that lol

Just wish they would roll a version for Natwest International clients

Come on Nationwide ......wake up and get to it

Nearly 30,000 people have registered their vote, how is this still not enough?? If anyone, even those who don't use Nationwide, wants to help follow the link and click the thumbs up =) http://your.nationwide.co.uk/your-voice/service-improvements/Pages/Windo... **Edit** Or click on Nationwide on the first comment xD hahaha didn't see that ;)

I was hoping that since PNC acquired all of the RBS branches in the US that they would have an app for WP since RBS did. They still have yet to create that app. I am disappoint.

And RBS in England and Wales is being transitioned into a new independent bank, wonder if this will still work after that.

Nice new additions. I wish it was more like the Barclays Banking app though which is one of the best designed, beautiful apps I've ever seen.

As a Natwest customer I have nothing but love for this App....thanks for the wp support and long may it continue.

Come on Ulster bank!!!! RBS also own Ulster Bank but no app!!! Annoying. This dispite Ulster Bank running rebranded nat west ads last year that featured Lumias running their app lol.I also bank with santander so if you guys could also jump on the bandwagon, that would be great. At least Santander have a mobile webshite

Long live RBS... The app is the best on the market by a mile. No issues for me, ever.