Reachme, a simple Windows Phone app for sharing your location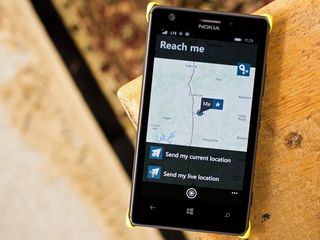 Reachme is a Windows Phone app that offers a simple means of sharing your location with others. The app is a Microsoft Garage (opens in new tab) project and lets you send your location, along with turn-by-turn directions to get to that location. While sharing your location with Reachme is presented in simple fashion, to share your location the recipient will need a Microsoft Account, be listed in your contacts and have Reachme installed on their Windows Phone.
All of which does give Reachme a rather restrictive feel that will likely tarnish any appeal the app has to offer. The app has potential and I can see it coming in handy, but Reachme needs a option of sharing your location without the need for the recipient to have a Microsoft account and Reachme installed.
The layout with Reachme is laid out rather simple with your main page pinpointing your current location and options to share your current location or live location displayed across the bottom of the screen. There is a blue map pointer icon displayed in the upper right corner of the map that will take you to your send/receive history.
Reachme does have a few requirements for use that may hold the app back a little. For starters, the recipient needs a Microsoft Account and be in your People's Hub contact list. They will also need to have Reachme installed on their Windows Phone.
When everything is in place, sending your location is easy. Just choose to send your current location or a live location (updates as you move), choose your contact recipient, choose any landmarks you want to note and tap send. If you are choosing to send your live location, you can set the duration for how long the app will track your live location.
Locations can be saved as favorites for easy reference and named accordingly (work, home, campsite, beach spot, etc.).
Overall Impression
I like the foundation that Reachme has established but feel it may be too restrictive for many. There are plenty of location sharing alternatives that are not as restrictive to the Windows Phone platform that may be more appealing.
However, I do like the live location sharing abilities that Reachme offers. It offers you the ability to keep track of friends or family while traveling, out hiking or exploring vacation spots. I can see this feature coming in handy with those Windows Phone users who have teenage or pre-teen children who want the freedom to go off on their own but you still need to keep tabs on them from a distance.
I think Reachme would have greater appeal if it would include a feature to allow you to send your current location over email or SMS, regardless if the recipient had a Microsoft Account and has Reachme setup on their Windows Phone. It would add to the versatility of the app.
Windows Central Newsletter
Get the best of Windows Central in your inbox, every day!
George is the Reviews Editor at Windows Central, concentrating on Windows 10 PC and Mobile apps. He's been a supporter of the platform since the days of Windows CE and uses his current Windows 10 Mobile phone daily to keep up with life and enjoy a game during down time.
I love those articles when wCentral gives us apps/games suggestions

Well if only this app would link on to Here maps...a very handy tool if it can do that...well downloading it anyway...

What you ask this app to do is exactly what glympse already does

Glympse ftw. Does everything and easily shared by a manner of means.

I love Glympse. It does not offer turn by turn directions to your location, nor can you add a nearby landmark. So these are related but somewhat different apps.

What benefit does Glympse give you over sending your location via text attachment? Maybe letting you see them coming to pick you up?

Sharing in Glympse is a cumbersome process, and you can't ask to "share and see" in one go, both things that EchoEcho had nailed. It's a shame EchoEcho is abandonware, it was the best location sharing app I've come across.

I like the potential of this app too, but obviously, it needs some work to make it more widely applicable. I would also like to see an additional ability to constantly track someone else. Now there is a time restriction on it.

You do know that sending your location over SMS is built into Windows phone :-)

Yes I do. Use it all the time. SMS, attach\ My Location. A wonderful little gem of a feature many people don't know about.

I agree. why is this better?

For one thing, this offers the option of continuous location sharing.

Seems the garage project teams have missed this... :D

I find it annoying all the Microsoft Garage projcts seem to only be available in the US

as a european, that really sucks.

As a Asian that really sucks too

And also sucks as An I INDIAN

Or just share my location as an attachment on a txt

I loved this app, but need more flexibility. Glympse can do the same thing, but work on all plataforms by the app or via Web, So, there no need the other people have Glympse Installed. Location can be viewed on a browser. If Reach Me have this, Will be perfect.

Good review. Agree on the negatives -- as soon as I saw those restrictions -- it went from, "hey, that's interesting" to "forget it". An app that could scale its directions and amount of detail to audience and communication tech (text/MMS to flip phone, email with lots of detail to smartphone, MMS with large picture and address for lookup to a smartphone) would be awesome. Also, probably don't need to be so...diplomatic in it. Call it out as crap. IIRC, Wikipedia hates those words, forget what they call them, but the "feel" and "may" words soften it down. You have legit gripes. Even if I had a large family all on WP, this would then be useless as soon as I wanted to send directions to a friend with anything else

This is a garage project, who knows what the future may bring

i use life360, it works across android too

Sorry out of Topic :
But.,
Subway Surfers got a update now....
& Now it moves out to BANGKOK...

Can't download in Holland. (Lumia 1520)

What's the point? This is all already built into Windows Phone.

I use to love fb integration but those fb bastards removed it.

When in India ?... Sorry, Europe.

I might use this with my wife... Could make meetups with her that much simpler than trying to isolate landmarks when she can't leave what she is doing to give me the cross-streets of her current location. Thanks for releasing this Microsoft.

The problem lies in the fact that I am the only one among my friends who uses a Lumia phone. #uselessForNow

?? Already have this in the messages (SMS)...

Why all these Requirements just to send a location, if we can use other simple direct tools?? MS is too optimistic about Lumias sells. Or this app was conceived for MS employees itself (meetings, conferences, lunchtime...)

Right! It sogould allow to share locations with others via SMS, email.

My app Find Me Here (http://bit.ly/FindMeHere_App) does this without needing the app on the receiver's phone. It also makes it easy to send a picture to help the person find you. I have had people ask about adding an option to send the location periodically in the background, but I think that could be easily abused. I plan to switch the map URL back to Here maps from Bing maps now that someone at Here helped me figure out how to get the location pin to show up on the map.

I would like to see real time location sharing like Apple's Find My Friends with no time restriction. I cannot find an app that does this on Windows Phone. Is it an issue with the the OS, or just lazy developers :p? I am a lazy developer by the way lol.

It would require a background task, which is not available on 512MB devices (the majority out there). It would also require some type of cloud service, because the built-in API tasks for creating emails and SMS require the user to interact with it.

So basically no one did it because the small market share does not justify spending on a cloud service to share location in real time.

It is definitely hard to justify the investment, especially when you could lose money every month.

Microsoft has their Azure implementation for cloud services that allows Scalability based on usage. This helps providing a cloud service based on usage demands.

-I wish people would fully read and think about these articles before posting. This app very clearly offers things that neither Glympse nor the built in SMS location sharing offer.
-I'm not saying it is better or worse, just that it clearly does different things. So PLEASE stop saying these are all the same thing.

It would be nice if we could hear from the devs at Microsoft about these apps. What goals do they have with these? Is there a problem they're trying to solve? Are they thinking about future functions for the platform? Is this just a pet project of personal interest? Why do this when there are similar apps out there? For this particular app, why the restrictions? Etc.

Same as
Check out "My Location" for Windows Phone https://www.windowsphone.com/s?appid=b3d97b6e-b036-4a6e-8ecc-aaa3d931e1b5