Reading is magic this Wallpaper Wednesday
Don't let your home screen fall into a rut — switch out your wallpaper!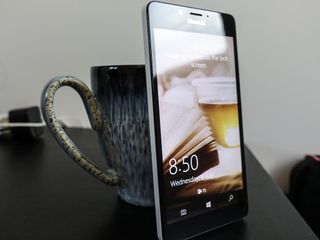 Wallpapers are important. They can give our phone a new feel, even if only for a little while. Some of us change wallpapers as often as we change shirts (sometimes to match), while some of us set one wallpaper and forget it, and that's a shame. A good wallpaper can be a pick-me-up, can remind us of better times (and upcoming times). They can show off what's important to us, be it a picture of the grandkids or an emblem of your favorite house in Game of Thrones. In an effort to brighten your screen, and maybe your day, we present an offering of wonderful wallpapers to grace your smartphone.
If you've got a wallpaper you use everywhere, share it in the comments below! We're always looking for something new. Now get your wallpaper picker ready and see what's in store this week.
Magic by annewipf
We all have those books we wish would come to life around us... and then there are the books that come to life as they draw us in. While we might not all want to summon mystical dragons through ancient tomes, I'm sure there's more than a few Game of Thrones readers who want one of Dany's dragons to join them as they read their way through Westeros. Or a dire wolf to cuddle with while they read.
Midnight Reading by PascalCampion
One more chapter... one more chapter... I can't sleep until I know what happens! We've all had these nights. Staying up till 4 a.m. with a book that will not allow you to put it down and get your much-needed rest. I still regularly stay up till 2 a.m. eyes glued to my screen as I read in bed. At least when reading on your phone you're required to hang it up and go to bed when your battery empties...
Midnight Reading by PascalCampion
Forgotten Library by Tryingtofly
Libraries may seem unnecessary in a world where we all have millions of books at our fingertips along with the rest of the internet, but we hope libraries don't fall into quite this forgotten disrepair. Then again, this library seems like a safe haven of knowledge in some post-apocalyptic world...
Forgotten Library by Tryingtofly
Reading Space by matsukitchi
While we all love to curl up with a good book in the safety and comfort of our own home, reading is a fun, reality-escaping activity that you can enjoy everywhere. Head to the park with a book and imagine the trees around you are a dense, elven forest. Read beachside and dream of the mermaids that could be hiding beneath the waves. Just make remember to stay hydrated while reading in the sun or the shade this summer.
A Good Book and a Cup by hyouro
Reading can suck you in, and while stopping to drink some water might feel like a pain, having a nice cup of tea to go along with your Victorian romance novel can help you feel even more like you're right there alongside your demure duchess or your dashing detective.
Get the Windows Central Newsletter
All the latest news, reviews, and guides for Windows and Xbox diehards.
Ara Wagoner is a Writer at Windows Central. She's addicted to music and video subscriptions. When she's not writing help and how-to's, she's running around Walt Disney World and singing show tunes. If you see her without headphones, RUN. You can follow her on Twitter at @arawagco.