Readit goes universal for Windows 10 Mobile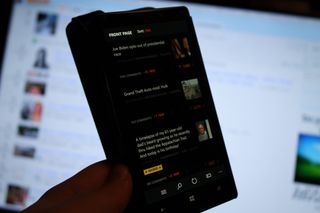 One of the most popular Windows Phone Reddit clients - Readit - made the leap to the Universal Windows Platform (UWP) a few weeks ago on Windows 10.
Thanks to the UWP, Readit is now available for Windows 10 Mobile, fully optimized for phone use.
Readit's developer, Caleb Keith, informed me that he was able to bring Readit from Windows 10 to Windows 10 Mobile in under a week. It speaks to the potential of the Universal Windows Platform for an app as complex and feature rich as Readit to become mobile compatible so quickly. Caleb also stated that further development on the Silverlight-based Windows Phone 8.1 app will cease moving forward unless a bug arises that prevents it from functioning.
The changelog for Readit's latest version (1.5.1.0) for Windows 10 Mobile is as follows:
You can now vote from the post viewer
Gifs now have preview images
Moved settings from hamburger menu to the subreddit/main appbar menu for space consolidation
Back button no longer closes the app, just minimizes it
Back button will now close the sidebar instead of minimizing the app
Subreddit list stays open when closing the hamburger menu
Every font size has been adjusted
Fixed swipe view bringing up front page posts even in a different subreddit
Fixed viewing posts/swipeview in search/profiles
Fixed appbars on small screens being cut off
Fixed web pages sometimes having transparent backgrounds
General bug fixes
Caleb has various feature updates planned for the near future, including scrolling image live tiles, and the ability to link a subreddit's image feed to update your lock screen and start screen backgrounds automatically.
Readit for Windows 10 Mobile functions very similarly to its Windows 10 counterpart, with some important differences. Readit has the hamburger menu at the bottom of the screen to enhance its one-handed usability and retains its signature swipe-view - also slated for Windows 10 on tablets and touch-screen PCs. Readit on W10M benefits from capabilities new to the OS, such as the ability to stream videos over your home network and the ability to reply to messages from the notification banner without launching the app.
As Readit is on the Universal Windows Platform, it's already capable of leaping across to HoloLens, and Caleb has expressed a desire to bring it to Xbox One should Microsoft open up the console to independent app development. If you haven't downloaded Readit already, you can try it for free with ads. You can also remove the ads for a very reasonable in-app purchase.
Download Readit from the Microsoft Store (Free) (opens in new tab)
Have you tried Readit? What do you think of its W10M version? Let us know in the comments!
Jez Corden is the Managing Editor for Windows Central, focusing primarily on all things Xbox and gaming. Jez is known for breaking exclusive news and analysis as relates to the Microsoft ecosystem while being powered by caffeine. Follow on Twitter @JezCorden and listen to his Xbox Two podcast, all about, you guessed it, Xbox!
Why no download links in the app anymore. It's too much of a pain waiting for the very slow website to load up.

Here you go: https://www.windowscentral.com/e?link=https2F%2Fclick.linksynergy.co...

Because Windows Central now has web traffic services in their links, and those links are no longer accessible by windows mobile devices. Pretty silly.

Actually, no. It's because the new Store link parses things differently from the old 8.1 store and our old app can't handle it. Good conspiracy theory, though, but it will be shot down when our new app lets you download apps directly. /tinfoil

So when are you guys releasing the new version of WC app?

Got this yesterday and Jesus Christ, app is soo bad, worst than the previous version. I always have to log in, apo doesn't keep track or save my subreddits, I always have to click on subscribed reddits before I can visit the one I want. Basically app doesn't do anything, so annoying it sees me as a new user every time I open it. Uninstalled and reinstalled Baconit. It's useless now. Older version was waaay better and friendly.

It's fine here, don't have to login all the time. My subreddits and everything are there. You may want to look at your setup. And are you running the latest build of Windows 10 mobile?

If you hit "more links" in the app you can get the link for the apps in the article.

Looks so good. Hopefully baconit gets an update soon.

And it is awesome. It is still buggy but it is a huge refresh that feels great

Buggy...to say the least....

Yeah, I have to say the WP8.1 version of Readit works so much better than the W10 version. Simple navigation alone is an exercise in frustration, driving me back to my phone or the website. Really hoping this update fixes some of that.

When will Windows Central go universal?

you guys don't pay attention on news, couple days ago, Daniel noted that the app is under development.

Well, when a single page of the website takes upwards of half a minute to load on a high-speed broadband connection, you kind of give up on checking the news everyday.

Yeah Windows Central on my WM10 is really bad now. It takes forever to open articles and it gets bad every day. Really hoping for something new.

This was answered on the last ask Dan video

It will go Apple Universal app first.

Used the app for 2 minutes and found 3 bugs...

App is very bad like it'sin a beta form, just don't get the developers, why would u release a beta app? #somedevelopers smfh

Isn't a released app. Normal user doesn't have Windows 10 on their phones yet. That's why it's on the preview version, devs can publish an app and see how it works before Windows 10 mobile launch. Their desktop app works perfectly. (APIs for phones isn't final yet, also I saw WC developer tweeting about it, he's doing the app but with every new Mobile build APIs changes, so kind of a pain code the app now).

Well Old one was better on WM10, you just don't override it with a buggy one, give us an option. We can have both versions of the same app, you just don't replace the old with a bad one.

You choose to be on this program. So.

There was a poll on r/readit a few days ago and we all voted for the beta app. Caleb is working like crazy and the latest version isn't that bad anymore.

The point of W10M insider build, partially, is so that developers can test their apps ahead of RTM. A Windows Store issue stopped him adding a (beta) tag to it, he's releasing updates almost daily though so, have a bit of patience.

I hope you reported, instead just complained here.

Is this the 1st party app?

Why is there no update for me?

I use this app on the desktop.

Nice app .I like it Posted via the Windows Central App for Android

Would love to see an official Windows Universal Reddit app. Posted via the Windows Central App for Android

Like the app on Win10 and liked the older Silverlight Version. This one is still very buggy but I am on a preview version of the OS and happy to feedback on bugs in the Win10Mobile version. So for the launch of the OS he can have a nice app in store. My main problems is the loading of comments and the fact that it signs me out every now and than or maybe every app update(cant tell because the bloody store does not always report them to me!). Sign out also forces you to allow the app again with reddit after the successful login again. The Reddit App access page shows it as being allowed though Just wondering if I had the add free version with WP8.1 - Do I have the same ad free version on Win10 and now Win10Mobile?

Great that it's a lot universal app, but... It's buggy as hell, jumps to different subreddits when swiping between posts, and the UI just doesn't fit properly on my 925
Windows Central Newsletter
Thank you for signing up to Windows Central. You will receive a verification email shortly.
There was a problem. Please refresh the page and try again.