Relive your favorite football goals in this new sport puzzle game for Windows Phone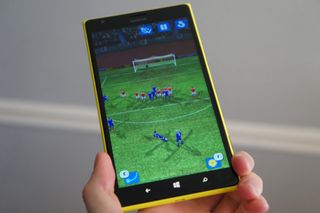 Remember those fantastic goals you've seen on TV that you wish you could recreate? Now you can with this latest Windows Phone game from aptly titled First Touch Publishing. The game, Score! World Goals, puts players in charge of netting those classic football goals from around the world. Your fingers are in control of famous goals, but do you have the skill to get past the opposition's defense?
It's an interesting concept, mixing puzzle gameplay with sport. Players are rated with up to three stars per level, and there are a variety of levels spanning multiple difficulty settings. These levels are packed nicely in different packages, the first covering great goals from the year of 2010. Other packages (unlocked through playing the game) span multiple categories, including international decades 1990s, international goals: road to Brazil and more.
Each pack of levels can be purchased using in-game money, earned by completing levels successfully. If you'd rather skip the beat and get started in your favourite decade, funds can be added through in-game purchases, ranging from $1.99 up to $45.99, so be aware when adding some extra coins to your account. That said, it's a superb game and well worth the investment if you're having a blast. Do note that the game is free to download.
The game provides a wide array of matches to player through with multiple challenges to overcome. These include passing, crossing and shooting using multiple swipe gestures. Rendered in 3D, the opposition will react to how you decide to play the ball, which makes it satisfying to battle through. In fact, the graphics will come as a surprise to many, especially on 1080p displays. A neat feature of the game is the constant stream of updated content, which is promised to be released.
Advertising can be disabled by purchasing a coin pack. We recommend the game if you're a football fan or simply enjoy puzzle games. This title works on hardware with 512MB of RAM.
Rich Edmonds is Senior Editor of PC hardware at Windows Central, covering everything related to PC components and NAS. He's been involved in technology for more than a decade and knows a thing or two about the magic inside a PC chassis. You can follow him over on Twitter at @RichEdmonds.
You used the word football, as you should. I salute you. Can't wait to recreate Roberto Carlos' magical moments.

The Brit inside me just couldn't handle "Soccer". shudder

Thank you, if I hear soccer one more time today I think I will explode.

Its "Soccer" but that's ok :P So where do I look to see u explode?

It's funny, but British commentators in the old days (particularly on those old Pathe news reels) used routinely to refer to "soccer", presumably to distinguish it from "rugger". I agree, though -- it's just...wrong.

Yet you chose 'favorite' instead of 'favourite' :-(

I will explode in Ireland because in Ireland proper football is soccer

There was an interesting thread on the forum that takes about the origin of the word, and the Brits are the reason we call it soccer. They coined the term and used it. We already had a short called football by the time soccer spread over here.

Ironically, soccer is a British term. Posted via Windows Phone Central App

These devs seriously need to reconsider the price of the IAPs, I mean, $46? Come on.

It's always the case with these types of games, unfortunately.

Yeah. I guess. But I hope you do think it could be toned down a bit, don't you?

True, but they're not required purchases so I personally don't view it as an issue unless I'd want to grab a pack. :-)

I think the issue with IAPs is that a lot of unaware parents end up stumping the bill when their child/teen buys a load. I think there should be an upper limit, say 20 dollars.
It's all well and good saying they should know better but not all parents are as competent with tech as some.

Game sounds amazing, then I stopped reading when I saw IAP. Shame really

They're not required. Well, I've not purchased any yet. :-)

Every free games now a days have IAP's as they should have some profit, but it is not required to buy them.

Was hoping that this beautiful game would come in 6/7months. But this was fast. Thank you to the whole team. :*

Great game. Hopes more of their football games come to WP.
This one is GREAT!

Don't you mean touch downs?

This looks really amazing.And thanks for calling it football.You rock :p Not worried about the IAPs because whenever a game requires them,I just delete the game :p

Yeah football! Will try this game

Thanks for calling it the right way.

jogos de futebol são sempre bem veu eu amo!

The game runs so well on my 520, very impressive. Wish this was a universal app!!!!!!!!!

It's fun, but unless you've seen every of these goals in real life, it's really hard to get 3 stars on any level. You just have to redo the level over and over and randomly change your trajectory until it tells you your new goal was better than the previous one, which seems pretty pointless... A goal is a goal right?

Also, it reminds me of why I hate football. Ok so this level I have to randomly shoot on the left side of the net, and because the sport is so strange the dude in front of the net will randomly jump towards the right side of the net and I will feel so proud of randomly getting a goal! Oh, and people in the crowd will go crazy and start killing each other...

Oh, sheesh. Scoring goals in (association) football is a lot harder than, say, shooting the ball in basketball. But when you finally do so, and in one of the big 5 leagues, no less, you'll really feel special.

Yeah, randomly... right.. of course you don't watch football very often. What seems random to you actually requires the player to think fast and have the skill to do the right thing at the right time. But I don't blame you, we usually don't like what we don't understand. For example, I hate the american football, first because I don't get why they call it football since players mostly use their hands, and second because I don't think 300 big guys tackling each other while one tries to reach the other side of the field alive can be any fun. But again I say that I don't understand that sport, and that's probably why I don't like it.

Not really. The game gives you a path to which you have to adhere. It's all execution.

waiting for Dream League Soccer, or other from FirstTouch

This is a very old game, I remember having a friend playing on it a couple of years ago on his iPhone. Tho, I swear just the day before yesterday, my other friend was asking me if we have it on Windows Phone, and I said no. It's a very weird coincidence that he asked about it, and that it launched a day after. It's impossible that he knew! Anyway, very happy we are getting more quality apps and games.

Ace.. This is world class game

Pfff, this game came out 2 years ago for IOS....

So it should be delisted?

There's the small matter of a little kickabout in Brazil happening in a week, so I'm sure the timing is spectacularly deliberate. You may yet see an update in the Apple store with a World Cup flavour.

Omg yes yes yrs yes I've been waiting since ages for this game !!!
I sent the devs on android a message to make it on WP and they finally did , thank you !!!!!
Windows Central Newsletter
Get the best of Windows Central in in your inbox, every day!
Thank you for signing up to Windows Central. You will receive a verification email shortly.
There was a problem. Please refresh the page and try again.