Remaking the Legend: Halo 2 Anniversary documentary posted on YouTube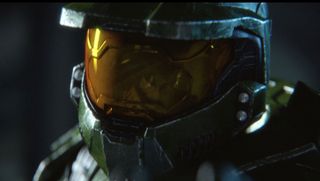 After making its debut on Microsoft's various platforms this weekend, the rest of the Internet can now watch the new hour long documentary, Remaking the Legend: Halo 2 Anniversary, on the official Halo YouTube channel.
This is a must see for any fan of the Halo game franchise, or indeed anyone interested in game development. After spending the first part of the documentary talking about the making of both Halo 1 and 2 for the first Xbox at Bungie (with a couple of surprising revelations that we won't spoil here), the rest of the documentary concentrates on the making of the Halo 2 Anniversary graphical revamp that will be included in Halo: The Master Chief Collection for the Xbox One on November 11.
You will be able to check out how the Halo 2 campaign was revamped by developer Saber Interactive and how the multiplayer maps were given a new shine by developer Certain Affinity. Finally you can learn about how the game's cut scenes were recreated with some incredible CGI by Blur Studio.
We'll be previewing multiplayer and more campaign missions from Halo: The Master Chief Collection via Twitch this Thursday at 11pm Central (9pm Pacific, Midnight Eastern) and Friday at 8pm Central (6pm Pacific, 9pm Eastern) on Twitch.tv/EastXTwitch. Hope to see you there!
In the meantime, does this documentary make you want to pre-order Halo: The Master Chief Collection?
Source: Halo (YouTube)
Get the Windows Central Newsletter
All the latest news, reviews, and guides for Windows and Xbox diehards.
Awesome! finally I'm able to watch it here in Germany.

You couldn't watch it on Xbox Video?

nope. Was/Is not available for some unknown reason.

YouTube sucks. And is slow.

That's your network connection speaking.

60mbps Cable 20ms ping. I can't get fiber yet. Or maybe it's because I use Windows and Google is buthurt.

Yeah, I have noticed YouTube getting really slow and buggy on IE and Firefox over there last year, especially on tablets. Fine on Chrome. Anti-competitive much?

I have never played a Halo game (besides a few hours of halo 3 and reach) and that documentary floored me. Cant wait for my copy next Tuesday!

whoa, MCC is going to a great deal for you! I'll be re-playing to relive that 13 year journey.

Yeah to say im excited is a understatement.

Ditto! I played about the first third of Halo CE anniversary, and Spartan Assault. But this will be my first real trek through the series.

Same with me. Except for a few multiplayer matches in Halo 1 on a friends' console, I've never played any of the Halo games. So, Halo: MCC was a great deal for me and my brother (he never played them either). I just hope they hold up well. Sometimes we gamers tend to remember games of our youth so fondly that it can be disillusioning to play them again a decade later and realize how much the industry has advanced since then (specifically, I'm worried that Titanfall ruined me for any other FPS game, as I tried CoD and Destiny after playing Titanfall and thought they sucked in comparison; would hate for that to happen to me with Halo. But, it's already pre-downloaded, so there is no going back now. Hope it's good).

definitely brought back some great moments for me, me and family and other games at its midnight launch for free swag and drinks and everything here in NY

Halo is Love, Halo is Life

First Xbox video then Twitch now YouTube, well let people enjoy it. I did, great video, good memories

Number of times "DLC" mentioned: 0
Number of times "ease of party system" mentioned: 0
Number of lbs. Phil Spencer has put on: A LOT

Wasn't going to buy it until I saw the doco. Surprised how bad the original halo looks now

Makes me want to buy an XB1 as soon as I can land a decent bundle in Australia! Only ever played Halo on the original XBox, none ever since. Bought PS3s after that and have been wanting to go back to XBox ever since...

This game collection is perfect for you. ;)

Watching this documentary on Xbox video gave me Goosebumps, is that weird?... I really hope there is a decent bundle for the MCC...

Finally got the game installed. Took two tries. Excited to play Halo again. Owned every Halo game so far (Would love a Halo Wars sequel).

Want but also want unity n dragon age will have to wait till december

I can tie this with alot events in my life I had the Original Xbox a while after launch college=broke, then got a PS2. Played a ton of Tigers Woods, Devil May Cry, Resident Evil. Met my wife she waited with me in a car during midnight launch of xbox 360 got a credit card (not smart we were in college and broke) purchased xbox 360 for me while we both studied for test, later we moved in together. Halo 2 came out had LAN parties at our apartment, played in tournaments, etc. Every Halo that came out since then friends of mine from college and work have always picked up the game even if it wasn't as good as Halo, as I type now my wife just said don't forget how many TVs (for parties), Consoles (Wii (2), 360 (4), Xbox One (only 1 currently) we have, I sit back and smile now because I am able to pass the enjoyment to my kids and play with them as well. So this video did bring some heartfelt, happy moments to me and just to show the bond it created one of my college friends owns a PS4 purchased and XBX1 just for this game and gave me his CODAW download because he isn't married yet and has no kids so no restrictions on spending lol.

Wow lovely to see a game bringing people together and binding them. Haven't played Halo ever but still seeing the documentary and people's passion for the game made me nostalgic.

I watched the documentary on my Xbox One. No, it didn't make me want to preorder The Master Chief Collection because... I already preordered it! :-D

Biggest spoiler.....cortana was going to be voiced and acted by Miley Cyrus ...booyah.

Tell me that ain't true!!

Already pre-ordered the steelbox version of the Master Chief Collection.

Pretty sure everyone who wanted to preorder did so a long time ago.