Report: BioShock director's new game facing troubled development
Eight years of development and the game is reportedly at least two years away.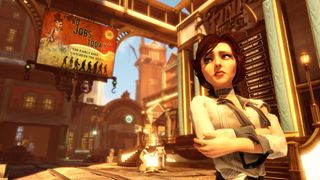 (Image credit: Take-Two Interactive)
What you need to know
Ghost Story Games is a small studio under Take-Two Interactive, led by BioShock director Ken Levine.
According to a report, mismanagement of the studio under Levine has led to repeated delays of the team's next game.
Current and former employees allege that Levine can be difficult to work with and is prone to lashing out at individuals.
A report from Bloomberg indicates that the next game from BioShock director Ken Levine and his team at Ghost Story Games is facing a troubled development cycle. The studio reportedly began development in 2014, with several delays and complete reboots due to how frequently the game's direction changes under Levine.
Ghost Story Games is a smaller studio of around 30 people, with the the team reportedly working on an immersive sim, a game that was meant to use "Narrative Legos," per a much-repeated GDC talk from Levine. Employees allege that "The ideas and ambitions were great" but the scale of the game wasn't feasible with a small team in time for the original Fall 2017 release window.
Employees speaking to Bloomberg also allege that Levine can become moody, singling out employees and lashing out. While the team reportedly does not have to crunch in order to meet a specific target, the game's launch window continues to change as Levine frequently changes his mind about specific elements or even large parts of the overall direction. One employee notes that the game is in a better shape now and could launch within another two years.
Levine previously directed both the original BioShock and BioShock Infinite with Irrational Games, known in 2007 as 2K Boston. After the launch of BioShock Infinite, most of the staff were laid off, with Levine choosing to start Ghost Story Games to focus on game development with a smaller team.
Windows Central Newsletter
Get the best of Windows Central in your inbox, every day!
Samuel Tolbert is a freelance writer covering gaming news, previews, reviews, interviews and different aspects of the gaming industry, specifically focusing on Xbox and PC gaming on Windows Central. You can find him on Twitter @SamuelTolbert.
That's too bad to hear about working for Ken Levine. As a game development artist, I think he's brilliant with exquisite vision and has single-handedly moved the game industry multiple times, but that doesn't mean he's a good manager. Often, people who are good at one, are poor at the other (in both directions). Seems the passion and will to create don't always fit well with the structural or supportive roles adopted by the best managers. If he asked for my advice, just based on these public reports, I'd recommend he hire a great manager as COO or CTO and let that person set the schedule and buffer his personality from the troops, while he focuses on the vision and script.

Very true. Unfortunately, it really isn't that surprising to me, given the infamous stories of BioShock Infinite's development and how Rod Fergusson had to be brought in just to finish it up and get it out the door. So often creativity and vision don't go hand-in-hand with sticking to a solid schedule for production.

Sounds to me like Ken is still being... irrational. Couldn't resist.

An amazing visionary and creative mind, hope he's able to bring in the right people to make it a reality. There will never be another Bioshock, but I'd be willing to try a game that's been led by Ken's vision.

Lionhead redux, apparently. An overambitious creative outstriping available capabilities. At least he hasn't been making public promises. Sounds like classic Peter Principle at work: a great creative promoted past his level of competence into a bad manager. He should have asked for an "assistant" to offload the management stuff. As Dirty Harry said in MAGNUM FORCE: "A man ought to know his limitations. "