Report claims Microsoft still losing lots of money on Surface tablets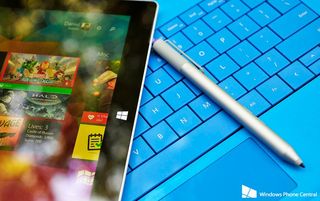 A new report claims that Microsoft continues to lose money on its Surface tablets, even as the company claims that sales of its new Surface Pro 3 are "outpacing" earlier models.
Microsoft revealed in a recent 8-K statement filed with the U.S. Securities and Exchange Commission that for the quarter that ended on June 30 it took in $409 million in revenue from its Surface tablets. However, the company declined to offer any information on its Surface costs, as it has in previous quarters. Computerworld claims, via their own financial computations, that the cost of Surface products at Microsoft was $772 million for the quarter. If that is accurate, the Surface division lost $363 million.
Microsoft did admit in its SEC filing that the Surface division did take a one-time charge, due to the cancellation of a "new form factor". That's likely a reference to the Surface mini, the seven inch tablet that was in heavy development until Microsoft decided not to sell the product just a few weeks before it was due to be announced.
Computerworld claims that Microsoft may have lost as much as $1.7 billion on Surface development so far. That includes the $900 million write down that the company admitted it took in 2013 due to low sales of the first Surface RT tablets. Do you think Microsoft should continue to make Surface tablets even as its losses mount?
Source: Computerworld
If only people find the useless iPad are...

people use it for media and Browser. Would you buy a 700$ surface for that or a 400$ Ipad?

People must use Rt tablets for media and browsing the internet

Also,ipads have 1gb ram with shitty a7 processor. The biggest storage model priced in my country is 700$ the lowest sp3 specs (700$) are 64gb i3 and 4 GB of ram. Also it can run full desktop apps. Better than any other tablet

well now the question to you.. if you are browsing the web and enjoy content like music and videos.. do you need the surface or are you good with the ipad?

Not good with an iPad because of the restricted view on the internet and the Surface RT takes SD cards too.

For a lousy $300 more you get a full computer, so it's an easy choice over an iPad.

Silly question; it's like I sell you a BMW for the price of a Corolla, and you tell me the Corolla is al you need! Duh... of course you may not need more than a silly iPad, yet you are getting much more for the same price!

Shitty A7 processor? Care to cite literally any reputable tech site that said that? Or do you just dislike it to dislike it? The A7 is a marvel, (even without the semi gimmick 64bit.)

Marvel?? C'mon bro. For a minute there I thought you were gonna say it was Magical.

Yeah dumb bitches everywhere.Surely A7 Processor is too underpowered on paper but because of proper software optimizations it is a motheeffing Beast. *Cough *Cough *Microsoft* -_-

Good software for just playing around, right? Crapy A7 and just surfing & not heavy gaming, and you call "motheeffing beat"? Ha, what a joke!

A7 processor + iOS = Best optimizations upto date Ipads are for gaming,Surfing. & that's what tablets are for & brother Ipads plays any games available in the Appstore without any lag or hiccups.If u don't believe in me get a hands on.BTW u can compare Macs vs Surface head to head as they both are pc's.

That's the real bad thing! Only what the fenced garden lets you! That's a Distortion Field, not the 'Best Optimization'; more like limited hardware to chose from, and heavens forbide you to need a software not permited (as Flash at iOS start. Optimization is to do the best for most, and that's why Android or Windows have like 90% marketshare each in its market!

Dude calm down.Ipad is a Tablet not a Pc & Surface pro's are more of convertible & it ain't a tablet because it hasn't apps & games.

U are comparing a powered pc to a fuc**** Tab.Bro what d f. Btw A7 can kick Microsoft's Ass in terms of optimizations.

64GB which turns into like 20GB...

Your right but I use it for Office as well, and it comes free.

I feel you are missing the point. A lot of people here are missing the point. While the Surface Pro is a great product, it is still a niche product. it is a good ultrabook that's also a good tablet. However, if you want a great ultrabook or a great tablet, you buy stand alone devices. This limitation coupled with the pricing, makes it a niche device for people that value convenience over function. Smartphones have drastically reduced the need for computers. Smartphones are getting bigger and more powerful by the day. My Lumia 1520 is my go to device when I want to go have an alone time in the restroom. It used to be my Macbook Air. More people are failing to see the need to UPGRADE their computer system since they only use them sparingly. Of course, most people here are going to disagree with me. However, we are the exception. We are tech hungry users that live in a bubble where applications like Photoshop, Logic Pro and XBMC Media servers are a must. For the rest of the world, the computer is increasingly losing its relevance as more people find themselves using their phones more for daily activities. Only going to their good and working computer for fewer tasks. In this world, spending $1500 on a Surface will increasingly make less sense.

Thank you, someone who sees reason!

Agreed with you. Think another point missed is Surface (RT/2) are the device proposed by MS (besides their own phones) for media consumption. So I don't get the comparison between iPad and SP3 (lowest being US$700) people made above.

Nope there ain't alot of peeps using Rt's for surfing & reading,Watching vids basic stuff.Rt project was a fail.Rt sucks bro same old story no apps & games compared to Android & Ios even if apps & games are present on Windows store they are not having the latest updates or features.

Nope, I use my RT tablet for work. It has a mouse and keyboard. I can do all the Office work I need to do with it. (Except Visio, which makes me sad :) )

I agree.... So if you clowns would stop running your mouths and shitting on RT, they could sell those for that...and if Microsoft could get their crap in gear and make Xbox Music and Video useful for your own personal library.

Seriously. RT has a purpose in this market, and it could really help Microsoft sell tablets that can compete with price and a thin, fan-free form factor in a pure platform untainted by legacy Win32 cruft. If only people would stop complaining about it and praising these junk x86 tablets with Atom processors in them.

Thank you! I dont understand why those looking for a laptop replacement just dont go buy the Pro and shut the hell up about RT. Bought RT for media, browsing, and email. Does that and does it great (as stated above...Xbox Video and Music actually doing what they are suppose to do would help immensely).

Bought my RT for reading, media, communication, social, managing dozens of SQL servers, active directory and other sys admin duties on the go, basic office use, games, taking notes in meetings, and whatever else comes along. It does the job.

Exactly, I bought an aw for serious tasks but would love something like the lumia 2520/surface mini(never liked tegra personally it doesn't make sense to continue their partnership if its being merged with wp codebase)

Rt= Fooling customers to buy shit.That is what it really is Rt software made a Super cool tab like NOKIA 2520 a Big flop & who's the culprit Microsoft.

Exactly... your B.S. is what hurts it. RT is more then fine for those looking tablet only.

RT may be adequate but the market has spoken and RT is a failure. There is no disputing that fact and I own a Surface RT. Posted via the WPC App for Android!

+620 Not everyone wants to run full desktop app on their tablet. also the surface pro are the only tablets that can run full desktop apps!

A tab should have apps & games to play which Rt's clearly don't have.Your comment makes no sense ur B.Shitting now.Is it that u have a RT & regretting?

RT should have been fantastic in the education market. Simple to use, includes Office, all-day run time. For the price of a couple of years of textbooks, school districts could go open source and buy RT for every student! Not to mention colleges. But MS just didn't seem to have that vision to offer an end-to-end solution.

+1 I'm perfectly happy with my RT. I'm skipping the Surface 2 but if a Surface 3 comes out with a decent hardware upgrade I wouldn't hesitate to purchase another.

Current Surface starts at $450 not $700. Current iPad starts at $500 not $400. I'd buy the Surface.

are we speaking about last years surface 2 with RT there? and which ipad.. i just checked there homepage and the cheapest pad started from $399

No we are versusong iPad and sp3

Ipad and SP3 are two different animals not even in the same league. May as well be comparing a phone to a desktop. SP3 matches up to a MacBook Air. Surface RT matches up to an iPad.

Of course we're talking about RT, that is what an iPad matches up to. Surface Pro is a full computer, not an app driver.
If you want to compare old hardware, Then 1st gen surface 64GB is $250 on Amazon which matches up against your old iPad 16GB for $399.

Well your argumentation is that the SP can do so much more than the ipad.. my argumentation is that the ipad can do everything the buyer needs. guess the market somehow agrees with me, rather than you, dont you think? dont get me wrong. i would never buy a ipad or surface RT machine and would love to replace my docked lenovo notebook at work with a SP3 i7. I am just stating the facts not "the best solution for me must be the best solution for everyone"

@adrian1338 : And everyone else's "argumentation" is that IF the ipad does everything the buyer needs then the RT can too. Dragging the Pro into the mix is not comparing like kind things. If you are in the market for an ipad - you wouldn't want someone comparing it to a macbook, so why compare it to a surface pro? The RT is built for that corner of the market.

A 400$ Surface 2 of course. Stupid question ;)

ROTFLMAO! I love how you use the iPad Mini's price instead of the iPad Air's price. The $400 for an iPad Mini is expensive for an 8 inch tablet. The iPad Air starts at $500 for a pathetic 16GB model without wifi. "Would you buy a 700$ surface for that or a 400$ Ipad?" You're damn right I would considering that $700 Surface is far faster, far more powerful, has far more RAM, more software available, pen input, USB 3.0, microSDXC, microHDMI out, and a vastly superior web browsing experience. The iPad has none of that. Hell, I can do all of that on a $450 Surface 2.

Surface pro 3 is a Beast i Love it too but as a Pc point of view not as an ideal tablet because of the app & games present.It is a powerful convertible for me in alight chassis.

If I got the cash why not get the best? Who knows one day I might need the oomph. And is there

No. I'd buy a Surface 2. Full PC internet browser, 3 app multi-tasking, hdmi output, microSD expansion, full featured file browser, I can remote into my desktop PC and stream videos and music to the Surface or to my Xbox or directly to my tv. Oh and I can actually print without some e-mail based trickery. Oh and by the way, it comes with a full desktop featured version of office installed. Oh and a 32GB version runs as much as a 16GB iPad.

What a stupid comment. Really? After nearly 5yrs and hundreds of millions of iPad sold as well as nearly a billion dollars in revenue from the app store, the iPad is useless? U must work for MSFT with that kind of analytical skill!

This is a great device...the question is WHY IS IT NOT SELLING? Too expensive for just everyday tasks? Whilst there are cheaper ones which can do same tasks? Hmmm

It's selling fine now if not for the money lost on the mini. Try reading the article.

I'm not Apple fan, and I support Microsoft, but people already have desktops on their PCs, while the tablet experience is far better on iOS with all touch and eyes friendly UI. I got bored of an iPad after few seconds of holding it, but still..

because they started to sell it too late. Everyone has an ipad now. If you look at Apple numbers you will see ipad sales are dropping fast. Not even apple are selling tablets as before. If the market is cooling down, none of the devices will sell specially since they do pretty much the same job. Having a desktop or Windows ecosystem is not compelling enough for the majority of buyers.

I agree, this is part of the problem. But sales is only half of the equation. The other half is the enormous amount of money spent on development, advertising and the massive over production of the 1st gen RT. (which accounts for half of the money lost so far). I would say is has more to do with bad amanagement decisions and less to do with the quality of the product.

I think the positioning of the Surface Pro 3 as a pro tablet with great pen and note-taking abilities, and a full pc offering in a super portable and flexible form factor is a valuable proposition that both addresses the declining pure tablet maket, and the creation of something legitimately new and compelling. Using a Pro 3 with pen to take notes in class or at work is a pretty big deal. That's something that gets glossed over alot I think. Having the great type cover and kickstand at your disposal, as well as an army of USB and other accessory options is pretty great too.

I can answer why I didn't buy the Surface 2 over an iPad (and I'm a windows phone user) and why I bought a Macbook Air over Surface Pro 3: Windows 8 and Price. I have Win 8 set up in Bootcamp on my Macbook and use it when I need to. But, in all honesty, its a confusing OS between the Metro and Desktop side: Yes you can have full programs, but only on the Desktop side. You have 2 different Internet Explorers, 2 different OneDrive programs, but some programs only work on one side or the other. Some apps close out and switch to another program when you want to do something the Metro side wont do. Lack of Windows 8 apps. At the time I was looking, there was: No Amazon Prime, no MyFitnessPal, Facebook App was half-functional, From what I see, people LIKE apps. Apps do what people need them to with a clear user interface. Having an app that does some stuff but then requires you move to the desktop side to finish what you are doing is not a clear user interface. If you bought a Surface (non-pro), sorry, but while it LOOKS like Windows 8, you can't run everything that Windows 8 can normally run. And with a medeocre app selection, its hard (for me, and I would imagine the average consumer) to justify buying a $400+ tablet that can't do anything more than an Apple or Android tablet can do (both of which DO have a large app selection). Given all of this: I have purchased a Dell Venue 8 Pro when it was on sale for $199. It is a decent device, FOR THE MONEY (minus the wifi issues). However, even that device was a purchase because I could afford to "experiment" at that price level. At $400+, I (and I imagine a good portion of the population) cant afford to "play"; it becomes about choosing my primary device, and I need a tablet that I know will be supported by app developers.

"I have Win 8 set up in Bootcamp on my Macbook and use it when I need to. But, in all honesty, its a confusing OS between the Metro and Desktop side". This just baffles me to no end. What the heck is so confusing about it? You have a start screen to replace the start menu. There a Tile to take you to the desktop. Win 8.1 can boot to the desktop if you want. you can pin traditional Windows applications to the toolbar and now you can pin Apps to the toolbar as well. You can have both Apps and traditional application on the start screen. How is this freaking confusing? It took me all of about five minutes to master it. Even my 90 yeard old father is using Windows 8. I am so sick and tired of the lame excuse that Win 8 is confusing. You don't like the look of Live Tiles on the Start Screen? Fine. Say so, but quit with the b***s*** excuse that it is confusing. I'm sorry if I have offended you with this rant, but it just irritates the hell out of me when people claim Win 8 is confusing.

You're not alone in this one. I've heard from so many people that Windows 8 confuses them. Nothing confusing about it. Start screen much more useful than the menu. My guess is that people are lazy to learn new things and expect things to carry on like they have done so. Familiarity over progress and efficiency.

Not offended it at all. (and no, I am fine with the Live Tiles - I'm a Windows Phone user) Everyone is entitled to their own opinion. But for me (and a large percentage of the people that I know that have used it), it is confusing. Can I figure it out? Yes. (I am a technologically minded person). Do I want to make the effort to try and figure it? Not really, as I don't see any benefit in it. Example: Take for instance changing the theme/background for your computer: On the Metro side: You go to the Charms menu (which is hidden until you hover in the correct place); then you go to Change PC Settings -> Personalize and from there you can change Lock Screen, Start Screen, or Account Picture. On the Desktop Side: Go to Desktop -> Right Click -> Personalize and from there you can change your background and theme for the Desktop side. Now, why are there two separate menus (which I am pretty sure are both called "Personalize" - using Windows 7 at the moment) to accomplish the same basic task (changing the color/theme of my background)? This doesn't make sense. Yes, one is for the Metro side and one is for the desktop side, but people don't want to think about an OS as two different computers. They want ONE computer that works. I mean, do you know how many people I have ran across that didn't know how to close an open window in Windows 8? Since at least Windows 95 (17 years), they have clicked an 'X' in the top right corner to close out a program. While this has been now addressed, did the people at Microsoft actually think that changing this was a good idea? No, its confusing and unnecessary change for those who have used a PC over the past 17 years. All I can say is this: Windows 8 has been out for coming up on 2 years now. But Win 8 is only on 12.48% of PCs as of July. I would think that in itself shows that there is something about it that, in general, people do not like.

Em... Market penetration? I've never seen A surface device in real life in my country... That's all because Microsoft has almost none store in here! Please Microsoft! Take over those useless Nokia Care and make them sell Surface device!!!

It's not that the iPad is useless, it has its place. It is for email, games and gimped web browsing....... For the same price, even windows RT tablets are more functional (they are perfectly sandboxed to avoid viruses and malware that people can't seem to avoid). Full Windows tablet like the Asus T-100 is a legit laptop replacement hybrid, that is cheaper than an iPad. Surface pro is really a niche device. It had replaced my personal laptop, my office workstation, and my other tablets. It is a do it all device. Most people that have ipads, also have pc's. If they go and get a windows hybrid devise, no need for two. I think that's the point..... Do more with a single device.

IPad is well marketed, and marketed towards a vast audience. Surface Pro is aimed at a niche. The typical Instagram girl and causal user is still better suited to the iPad... all the more reason Microsoft needs to learn from the success of the Dell Venue 8 Pro and release a sub $200 atom powered Surface Mini running full Windows 8.

Part of the marketing problem is Apple people would say how great a pile of dog shit is as long as it has an Apple logo. Microsoft people will knock any Microsoft device that is not SPECIFICALLY MADE FOR THEIR NEEDS. Surface Pro people bash the ipad's competition, RT, more than the Apple people do. This is Corvette owners screaming they want the Silverado killed because it doesn't do 0-60 fast enough. Please...if you want a full fledge laptop, STFU about RT. I guess some people are right that the naming was confusing. They should have called the OS's RT and 8, but maybe call the two devices the Surface Pro and the Surface Tablet.

I don't disagree with your point, but I think a major part of the problem is that the Corvette and the Silverado's exterior and interior look almost exactly alike. So people that aren't totally up to date with their car knowledge don't know which one they should get. -Skippy

Surface mini is competing their OEMs. Though launching that may help Microsoft to make more profit from the surface division. As I told before that Microsoft respect their OEMs. They never ever made their own pc hardware in front of Dell,Sony,Acer,Lenovo,view sonic,Samsung,HP etc. That's how they respected their OEMs unlike google.

Unfortunately, I think that business model may be dying. People go on and on about how great Macs are because Apple has full control of the hardware and the combinations to make sure there is no driver, is, etc conflicts. Might be time for Microsoft to make some of their own hardware that they know will run Windows flawlessly.

In light of recent market trends, I think they already did find them useless for the most part; just they find Surface even more useless. iPad market share is tiny compared to Android's tablet share these days.

Just release in turkey with right price point and it will sell like hot cake

Erdogan would probably declare it an evil tool of the Jews and issue a jihad against Microsoft.

Hahah I lol'd. Everyone in my country hates erdogan . I hate erdogan too

Again Loss! MS should ditch surface

I think they should just ditch the RT version.

Nope, they need to get their expenses under control. Half of the money lost is from the over production of the original RT. That was just a dumb management decision that cost them a LOT of money.

Absolutely not. Surface RT is the best tablet for the non tech people who on Surface Pro would end up swamping it with viruses and malware. They cannot do that on RT. It will always run malware free.

There's already a tablet for the non tech people/everyday user, it's called the Ipad.

Then why are Android tablets outselling the iPad? Why does the iPad have far less market share than Android tablets. If there was already a tablet for the non-tech people, wouldn't it have the most market share? Obviously not.

That brings me to my next point. Most Android tablets are far cheaper than RT. The RT is priced at a similar point as an iPad but the Ipad offers more day to day user value than the RT,true the RT is more powerful and could do more but is the "more" relevant to the average user?right now the market says no. So for those that want a everyday tablet but not willing to pay the price of an iPad will not look to RT they'll go for the far cheaper androids or even the atom powered Windows 8 tablets that are $300 or less

Why? MS is still making lots of money. Reports also claim tablet sales are dropping and conevrtibles have better sales. Frankly a Surface is also a convertible where an ipad is just a tablet. And with Surface Pro 3 MS will make money on Surfaces too. Just wait and see.

I guess it's whatever makes people tick. I was just saying they should ditch RT because it's already built into the Pro version. I don't have a use for RT but someone else might. But RT tablets are cheaper so I guess it all comes down to what ever you can afford. Don't get me wrong, I also hope that MS does well in the future.

Maybe just ditch the RT, but the Surface Pro line is AMAZEBALLS. This is functionally the best portable computer I've ever owned, and I cannot even bother with any other tablets having used it. If it did lose money, I still think it was worth it because people became aware of Microsoft as a brand again from recognizing the Surface in the commercials. From time to time, some guy will see me pull out the Surface and flip out the keyboard then ask me if that's the Surface tablet he saw in the commercial. It's a small thing, but huge in an iPad/Android dominated market. Besides, it's laughable how people try... REALLY TRY to make their iPad or Android tablet into a real computer by adding their keyboard attachment, use third party (previously) word processor/spreadsheet software and other workarounds to get their work done. All they really needed was a Surface which is compatible with ... ANYTHING. It could even sync that POS iOS device to iTunes. Anyways, ditch? No. The people who are confident enough (yes, confidence) to cross over and use a Microsoft product like this Surface end up loving it. They may not walk around telling people they dig the Surface over the iPad (social pressures), but they do.

If they launch in India, sure gonna gain some share at entry level. Lol anyways, Mini surface will seriously work. And the way google have nexus series, we will have microsoft surface series of phones. Seriously a damn powerful gadget. Cause windwos 9 is going to be focusing on universality right!

Yes but google has nexsus that are much cheaper than the surface is. They should include the keyboard with all the surfaces and then it would perform much better sale wise.

Again bro its ditching the name of Lumia l. Remember that Microsoft has bought an OEM of which there are billion fans which respect nokia even they don't buy. Branding surface phone aginst Lumia will be major loss in India.

They mist continue with the Surface tablet line if they want to make head way in the market. Even if it is at a loss, it will come around.

Only thing that will come around is Microsoft's destruction if they stay the course. The Surface was a ridiculous reaction to the iPad and showed just how out of touch MSFT was with itself and the market, as tablet sales are now plummeting. Those billion and millions of dollars wasted on the Surface could have been used to acquire game licenses and copyrights so that WP cld at least play some decent games.

No, Surface was necessary. Windows 8.1 was a ridiculous reaction to people who can't deal with change, even when it's for the better. Now we have a real Frankenstein OS because everyone complained to the point that Microsoft is going to turn Windows 8 back into Windows 7.

I agree, the Surface line was the next step for MS. And you're right, the general publics reaction to W8.1 was absurdly stupid. But W8 isn't going to be turned back into 7. Not gonna happen. The tiles will remain in Threshold because its in every single product ranging from the Xboxs to the WP. They'll make it like Vista and 7. Repackage 8.1 to a "new" OS. It'll have more features for sure, but at its heart, it'll be a repackaged 8. The Surface line will hold out. They put lots of money into it to cancel the thing.

Their destruction is assured if the dont keep focusing on mobile. Its a slow destruction, but it is sure. I would rather they go out in a blaze of glory making fantastic products like the Surface. MS must have a place in the mobile future, without it they will eventually lose the corporate world too.

How does a loss equal success? Sooner or later they will axe the Surface, that is a lot of money being lost.

Because it isn't just about devices but even more about services.

Starting up an entirely new devision of a company will always result in a loss. Half of this money is from the stupid overproduction of the 1st gen RT. My guess is that the Surface Pro 3 is making money, just not enough to erase the startup R&D and losses from dumb manufacturing decisions early on.

Bing "loss leaders", that's what the mini has to be.

Yes. That would be smart.

Have docks that are within reason for pricing (and built in dual monitor out). Have a hinged cover. Verizon network support. At least they addressed one of my gripes, the size. 12 is a good size, 10 is way too small for a "laptop replacement"

It has dual monitor out, and three, and four monitor out. That's what display port is. It allows daisy chaining of monitors.

THIS. Selling it WITH the type cover at the sans-type cover price is the first place to start. You can't sell it as a "tablet that can replace your laptop" and then charge extra for the keyboard. No one who wants JUST a tablet is buying a brand new Surface - period. Consumption can be done much more cheaply via any number of iOS or Android devices. True creation and productivity (not to mention the legacy X86 applications they use as a selling point) all but require a keyboard and/or trackpad/mouse. The Surface is a great device, but the marketing, targetted competition and execution are what's failing it. It's a laptop replacement that can be used as a tablet, not the other way around - the latter of which is the way the market has interpreted their marketing. Start at $800 WITH the type cover and focus the marketing more accurately and clearly and it'll be a profitable product.

So a third party site who has no actual knowledge of the situation claims they are losing money, so that is what they should respond to? This seems like a pretty big non-story to me.

Make the Surface 3 arleady

Yes, they should keep doing the Surface, but they need the Surface Mini to enter in the market as a cheaper Surface!

All I know is I've seen a ton SP3s in the wild. It has to be selling better. Our company is in testing as a possible laptop replacement.

Where are you living, MicrosoftLand ??

There are no less than five SP3's in my office right now after I showed my i5 off. Coworkers have ten more i7's on the way. All personal computers and MS needs to pay me commission.

3 in my office, and 10 people drooling for one too. Claiming MS should ditch surface is foolish thinking...this is why internet Monday Morning QBs do not run billion dollar companies

Yup, my office has 4 i5's, and I have the i7...... People are literally fighting over them, but our IT dept is not happy because these are all techtards, and need lessons on how to use the thing.

They need software to make the case for the Surface now; Windows 8 just isn't doing it for customers; no new surfaces until Threshold

Too expensive for a lot of people. The i7 model needs to be in the$1000-$1200 range with the cover.

I wonder why Microsoft is still selling surface tablets at such a price, coz u get iPads at much better price with much more apps & productivity than surface tablets.....

An ipad more productive than a (non RT) Surface? Put the pipe down, son.

RT is useless without a proper app store. The greatest disadvantige Surface tablets face is the poor app store. Immagine the Surface tablets having access to Android or IOS app stores then you can match them up. Until then, Surface tablets are always felt less than others irrelevant of their prices / formfactors etc..

The app store is not up to the quantities of android or ios, but I find it adequate and definitely not poor. Most of what I see people clamor for are silly games and social bs....they use the app for a week. If this is where the app users are going, I have no need for the "superior" app store. I seriously do not feel like Im missing anything...candy crush?

Silly games and social BS is what people want tablets for. You may have "no need" for that stuff, but it's what the rest of the world wants. People don't buy tablets to "get work done", and Microsoft needs to realize this.

Tim Cook is that you doing 80% of your work on your iPad???

Not this conversation again....

The surface pro line can run over 4 million programs, plus all the apps it has. How many PROGRAMS will the iPad run?

Probably best to wait for the next quarter numbers, the SP3 went on sale June 20th, not going to have much impact in 10 days. But makes for a nice hit piece, thanks for the (not visited) link. And to those whining about the price, this is not your mommies tablet, this is a full PC that can serve as both a laptop and a tablet, running more than toy apps. Make the correct comparisons, to ultrabooks not toys.

Thats why this comes out now. They have the loss from developing the SP3, but it hasnt been for sale long enough to recoup those costs. If you want to make it look bad, you have to do it now.

I agree with you! We should'nt be comparing Surface Pro sales figures with those of the iPad but with those of the MacBook Air (and maybe even the Pro) it's more a ultra portible laptop that can be a Tablet then a iPad compeditor (both by price and by usability). When you compare does figures I bet you things don't look so bad. Apple sold like what 4million and something Macs iMac (desktop),MacBook Pro (laptops) and MacBook Air (ultrabooks) last quarter? I'd bet you if you'd break down those numbers per category the Surface Pro 3 sales don't look so bad. Eventually the rise of the Surface Pro line wil help the ecosystem for the regular surface line, its a win win combination. The answer to question why Microsoft is still pushing the Surface line is becouse Microsoft is seeing where this cloud/mobile first world is going!
And with the Surface and Surface pro line they have a far superior devices then Apple right now.
They only need the apps, and when that happends they will dominate this mobile and cloud world that is comming to be the big thing of this decade! Posted via Windows Phone Central App

They should drop the prices and also make changes to allow batteries to be replacable. I know about the "but"s you can come here but this is my "but" :) At the end, consumers care about the price and features tend to be neglected when compare "tablets" - and this is another problem - people tend to think about Surface as tablet so naturally compare it agains toys like iPad or Android ones. Second - bundle it with type cover! To pay additional money for keyboard that looks naturaly and is the advantage of the device - NO WAY this will work! So bundle it MS!

while bundling will move units, and I'm sure MS is aware of it, this is not what they want to do right now. Sure there will be disgruntled potential buyers...but this is where MS should hold firm. There will always be that next 100 potential customers that claim....bundle kb and I'll buy it for sure....then bundle the docking station and I'll buy it for sure....if only it was $100 cheaper and bundled with kb and docking station....if only...if only...then it becomes...I'll wait for the next iteration with broadwell... From MS perspective, calculate what they expect to sell at their pricepoints and then go from there and don't cave to people wanting the kb bundled. From MS consumer standpoint....who would not want stuff for free LOL,

Well, I have 2 Surface Pro devices and know at least 3 people who will by one if it was bundled. They has be defenitely repulsed from buying it, because they had to buy the keyboard separately for additional £100!!! On it's own, it is INSANE price for keyboard anyway

That's why they should sell the Surface mini!! People want a small useless device for playing and surfing net

Apparently, it is selling. They just had the write downs from the first surfaces and now the mini which never hit the shelves. They'd be making now if not for the mini.

Surface pro 3 is too good of a device. Especially compared to anything Apple or Google is putting out in the business space. As an IT professional I hate consumer devices in my environment when there are better alternatives. The city I work for just bought 22 Surface Pro 3s for our department. In many cases completely replacing a workstation by using a docking station. All new products have a steep entry development cost. MS knows this.