Reports of serious power button issue surface after installing theChive app for Windows Phone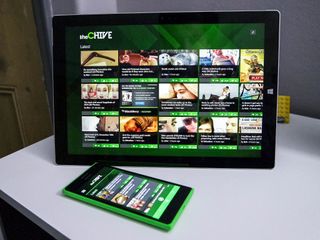 Chalk it up under coincidence or perhaps a real serious bug after all, but after numerous tips and a few forum threads, users are reporting finicky behavior after installing – and using – theChive app for Windows Phone.
TheChive is a new official app from the website of the same name. Although it jokingly bills itself as the "probably the best app in the world" many users seem to think otherwise.
One instance of a user with problems noted the following:
The common denominator appears to be theChive and possibly the new 5 Minute Home Workout app released earlier this week. The shared problem is reportedly an unresponsive power button. Perhaps the worst part is uninstalling the app and soft resetting the phone does not appear to fix the problem, at least not for everyone. A few users have reported that they needed to do a dreaded hard-reset with an early restore from a backup.
Of course, before shaming theChive app, some other users have suggested Glance or the new Gestures Beta app may also play a role. Forum member GoodThings2Life, who is an IT admin, thinks the problem is related to theChive's browser:
Needless to say, things are a bit cloudy at this time, so it is probably best to not install theChive at this time until what is causing the problem become clearer.
Daniel Rubino is the Executive Editor of Windows Central, head reviewer, podcast co-host, and analyst. He has been covering Microsoft here since 2007, back when this site was called WMExperts (and later Windows Phone Central). His interests include Windows, Microsoft Surface, laptops, next-gen computing, and arguing with people on the internet.
I had the same problem on my L1520 and had to reset my phone to fix it

That's why it's the best app in the world.

I have the chive installed and don't have this problem

The app was working fine but having lock issues.. Auto restart my phone and not able to receive call due to black screen... Nothing works so finally uninstalled it aakhri did soft reset

After reading this article I can confirm it was chive. I had this problem 15 minutes after installing Chive. I had to factory reset my L1520.

i had a same problem lumia 1020 needs factory reset

Lol ...ahem ahem there seems to be problem with navimi too anyone?

Same here, I thought it was because of my memory card, but it seems to be this. Lumia 620

We need to report this app. Why is it still up? http://www.windowsphone.com/en-us/store/app/thechive-probably-the-best-app-in-the-world/adf2e87a-6ca1-4348-b6f3-807c1d0dc3ae

The best app in the world to ruin your phone. I tried installing this app but strangely it would never finish downloading,so I cancelled it. Now I see I was very fortunate.

You're so lucky!! In the reset I lost apps that were pulled from the store!! :'( now I can never get them back

Same here. Even the status tiles was pulled

I don't know if you noticed it but status tiles is back in the store. I just saw it and thought I should tell you

Who said? Try to dev unlock your phone and deploy whatever app you want through app deployer from Windows SDK. There are so many websites for the apps. Use Bing as your friend. Nothing is impossible, man.

Dev unlock your phone and install cracked xap/appx bundle manually.

I installed the app but forgot to try it. I guess only after we launch the app the problem starts because I installed and there was no issues till now.

How odd!! I also faced same issue...for a sec I thought power button broke but after a restart is working fine

Everything about windows phone is a damn beta.

I've had this problem over the last couple of days as well. L925 with theChive installed. In fact the app was running in the background when the issue surfaced.

I've been dealing with this thing all day today because of that app. I guess it's not the best app in the world anymore cause I'm going to un-install right after this comment

"The Best app in The world"??? Breaking all users phones?? This is the biggest joke of this year!

I found possible fix... for my Lumia 1520 it worked. I disabled and uninstalled "Preview for Developers" app, restarted the phone and everything is back to normal. Hope it works for others... let me know.

Same with my 1020. After using the chive app my button wouldn't work and would auto start if I shut it down. I had to hard reset my phone and reset up everything.

Happened to me (1020), I just reset my phone this morning!!! Geez..Never installing that app again!

i had the same problem too on my L820, i had to hard rest my phone to fix it. i had same problem before too(after i installed some app), but i was not sure if it was the app OR coincidence. weird bugs keep popping up on (my) windows phone every month.... :(

I had this exact issue with the "5 Minute Home Workout" app earlier this week. The only fix that worked for me was a hard reset.

I also face the issue after installing "5 minute home workout"..even uninstall the app won't solve the problem..have to hard reset my phone

Like back to factory, or just reboot?

Reboot won't help. Soft reset neither. I hard reset my phone through "settings->about->reset your phone"

Same as you guys. After 5 minute home workout, got the same issue. At first I thought it was the Glance update... After hard reset, (without this app installed), the power button works again.

Yeah, me too. First I thought it was the Glance update or the Gesture Beta apps. Then, I check what app did I just install before the problem. It was "5 Minutes Home Workout". I uninstalled the app but that won't help. So, I hard reset my phone.

Exact same thing here, had to hard reset... Lumia 925

I had the exact same problem on my 1520.3 on T-Mobile, I reset my phone and was surprised that it gave me Lumia denim early

You don't have Lumia Denim early. It's a bug with Extras + Info that can be replicated by disabling Preview for Developers app.

Hey dude, if I may ask... Which RM # version is the L1520.3? I'm thinking of upgrading my 521 on T-Mobile, but not sure if the factory unlocked version of the 1520 I see on Amazon will get Lte support

Same problem on the Icon. I was troubleshooting this morning trying to figure the issue. It all appeared after installing theChive app

Thanks for the god that the internet goes down while downloading the 5 minutes app

Hmmm. I've had the problem twice now. Glad it's not the phone, guys I'll uninstall the chive until a fix is in place

Has this fixed? I've also unistalled it..

So... What if I have theChive already but haven't had the issue? Uninstalling sounds like it does nothing, so do I just stay the course?

That's the hard thing to answer here as data is all over the place. Don't get me wrong, those with the problem are adamant it is theChive and calling this "the biggest story of the year", which is a bit hyperbolic, but clearly there are some not having this problem at all.

I hardly think it's biggest story of the year, lol, but I saw one poster that thought so calling it malware. I just think it's a bug and want people to avoid hard resting their phones for no reason.

i didnt haver any issues for the first couple days, now i cant lock the phone and nothing but a hard reset to fix the problem, on my 930. I have it installed on my 1020but no issues.

No I have this problem only after installing Chive. I did soft reset it brings back me back out of black screen but all quick settings icon are blank.

What model device do you have? Can you tell us if you have Glance and/or the new Gestures Beta app installed?

I haven't install theChive but I face the issue too. Sorry but, I don't think it only was this app, it must be the 5 Minutes Home Workout app too. On that day, I install the Glance update, Gesture Beta and 5 Minutes Home Workout. Some guys face the same problem after install all those three app as I am. Refer some comment above. I had to hard reset my phone after failing to solve this problem with reboot my phone and soft reset my phone. After the setup, I install the Glance update and Gesture Beta. There is no problem at all. So, IMHO it was the 5 Minutes Home Workout as I never install theChive.

Yes same here had to uninstall the app restart the phone and all are good now on my L1520

I got same problem in my Lumia 730 after installing chive

Had to soft reset my Icon first time in months! Damn you Kim Jung Un!

Squidbillies for the win.

Ha! I watch that show too. It's funny isn't it?

Those without knees kneel before no man...

Heard that and removed app for now.

Its same with 5 minutes workout app too.

Chive deleted ...problemo solved :D

I've done soft reset, but after 2 hours the problem happens again

I installed the app but never used it...thanks to daniel for this info, I deleted the app soon after reading this article.

Power off to reboot... Not just reboot (volume+power).

Also uninstall 5 Minute Workout.

Had this problem yesterday on my 920. Stupid app. Had to reset the phone.

I had the same problem on 920, but it has not happened more than 1X after restarting the phone. I haven't removed the app or performed a reset.

In my Lumia 920 ..also this problem occurring.. Lock button stop working when phone is ideal.. Please fix.. This I also done hard reset.. But it won't effect..
I uninstalled chive ..but still lock button doesn't work..
Please Microsoft how can I fix this issue..

My wife had the same issue with 930. It turned out to have water condensation on the motherboard. Try to be careful when you sing in the shower. :)
Yeah, we had to take the phone to repair.

There is no way that the Chive app can do this, it doesn't have OEM interop privlidges. I suspect the glance app.

I don't have glance enabled (don't think you even can on a Lumia 930) so it's definitely these apps.

I suspected Gesture Beta, but after unistall it the porblem is still there

I think its the extras+ info update. Poor chive was in the wrong place at a wrong time. Okay may not be wrong place..

Except that Chive is gone and Extras is still on my phone... no more problem, and I can reproduce the issue by simply installing and opening Chive. :)

Some devs have said that some of the APIs in WinRT have bugs which can send phones into a reboot frenzy. Even the ProShot dev said in the forums that this is the reason he's sticking to Silverlight for now (though he's promised a WinRT version in the next update) till Microsoft fixes it. So in all probability there could be some implementations which can take control over the phone despite being sandboxed. Devs would probably explain it better.

Yes, it's The Chive for sure. Only app I installed yesterday and same thing happened. I uninstalled it but still had to factory reset and restore my Icon.

Run Field Medic to diagnose the problem. You may get to know of any crash with that data.

Yeah, I wiped the phone fresh with Lumia recovery tool even started a new backup. everything worked fine, reinstalled thechiveapp and bam its back after allowing it to run in the background, had to recover it again. Never tried the workout app. Gestures works fine each attempt.

Thank god I didn't find interest in this app.

So, it's the "the best app in the world"...

Me to I had to do a hard reset. Restored to factory settings.

I had to use Lumia recovery tools I had sound and video issues too...
L520

Good that I didn't get the time to open the app even though I did install it earlier today. Deleting till a fix is reported to be running perfectly :D

Had this on my 1520. Didn't put together that it was the Chive

The Gestures App has given me no problems, I have NOT downloaded thechives or 5minute work out.

The Gestures Beta app may not cause the problem on its own.

Just for clarity, I'm an IT admin not a dev. But yes, that is my guess. Many media apps use the function to keep the phone awake when media is playing. My theory is that it is not shutting the function down, isn't stopping when app is closed, and/or triggering an OS bug. Maybe some combination. I'm curious to know if it affects everyone on 8.1 or just dev preview users.

BTW, I do think people are preemptively jumping into a hard/factory reset without needing to... Uninstall and reboot by powering down first. Then, if problem persists, consider hard reset after a backup. No sense losing time and data over this.

I uninstalled the app "5 minutes.." as soon I noticed the issue, 2 days back. Also I have tried multiple soft reset after that, that wont work permanently.

Many can't even get to the point to uninstall. The phone is not even usable because the touch screen barely works. Minutes later the device will reboot and the blue sad face will appear.

Hey, dev here! GoodThings2Life has a good point but as far to my knowledge apps are heavily sandboxed on Windows Phone. Especially 8 and above. I tried reproducing it my self by making a app that tried to do this but once you hit the Start Button the app is sort of "paused" in laymen's terms. I think this is a weird mixture of a rare bug, its odd. Best course of action is to not launch the app if you really fear this... Edit: I'm NOT the dev for theChive app I'm just a regular WP Dev

Yeah, without being a dev myself and picking the app apart, I can't prove it... I'm just stating what I think is logical based on what the app and OS can do. :)

Hard reset solved the problem, didn't back up anything . . Lost everything. This is the worst app in store!

Thank god I didn't downloaded the chive app

Same thing I did not also download it. Posted via the Windows Central App

All my explorer pins on home screen became invisible, they were there but completely invisible, and my 1520 and the wife's 520 both gave a SD card error, tried to fix, seemed to erase everything then after a reboot and the systems repeated fix attempt it all came back, scary.

Same here! But those problems I've been experiencing for much longer than 1 day and a hard reset doesn't solve anything

Same here, display is all black!!! I have to connect my Nokia to the laptop - by USB - in order to see my lockscreen/PIN code! p.s. Uninstalled theChive about 12 hours ago :(

Happened to me. Icon, DP. Had to hard reset. The phone literally went nuts. Other issues besides just the power button. Mobile data issues, huge lag, and burning hot!

I had cellular data issues few days back. Had to restart the phone couple of times. Not sure what caused the problem. Was it Vodafone or the phone? I ran Field Medic for two days and submitted the report.

I just had the same problem after installing the chive, would've been nice to if I read this couple hours ago before doing the hard reset

It affects everyone on 8.1
@GoodThings2Life

It definitely seems that way.

Is this even possible? Aren't non OEM apps don't have that much privilege to actually damage system function?

No, they certainly shouldn't. However, I think this is triggering a function in the OS that may be badly handled by app or bug in OS.

I think the issue is caused by multiple factors such as Glance or Gestures Beta app. I can't seem to reproduce the issue on my Lumia 625 without glance or gestures app.

I uninstalled the chive app but I'm still having the same problem. Will there be a fix for this?

Hard reset will solve the problem, tried soft reset 3 times, but no luck, make sure u back up everything when u hard reset ur phone( I didn't!)

You win the internet for today.

I have the gestures beta app but no chives nor the other app mentioned in the article and my phone is working normal. I have an 830.

Great, that's what caused me to reset and lose so much...

Happened to me after installing and opening chive as well. But uninstalling and a soft reset corrected the issue.

Same experience I've had in two devices... 1020 and 1520.

Guys 5 minute workout is the real culprit

I've never heard of it installed that app, so no. It might also be problematic but not exclusively.

5 minute home workout is the real culprit. I installed only this app.. Even MS has pulled down this app now.

Both are poorly coded and to blame. I never installed the 5 minute workout, but did install The Chive. Had to run Lumia reformatter program. Lost everything. Nice work guys!

May be the issue is only for preview for developers

Doesn't seem to be the case.

Same problem for cyan too on my 720

I don't hv pfd, still had to reset the phone

@Daniel,
I have not installed theChive, but "5 minute...". Still I face same prob. Also I can now see "5 minute..." App is now pulled down from store. Do you think Microsoft will release a fix for this? As backup-reset is a painful process, I will end up losing some apps which are not available now.

The Chive... The hiding spot for 45 year old perverts.

installed and uninstalled after using chive app after few seconds. Now this problems happened. Power button doesn't work. Everything is super slow. Cant view Email. Cant install other apps. Phone is charging but seems not working. I need my life back! Help!

Power down the phone... Press and hold power works, just not quick press.

I'm experiencing the same phone charging problem

I'm pointing my finger at theChive. It was the last app I installed on my new 735 before that issue hit me. Fortunately for me, as I'd not finished final configuration on my device it wasn't a great issue to reset and start from scratch, without theChive second time around.

Has to be the chive. Its the only app listed I've installed and I had the issue. Uninstalling fixed the problem for me.

Had to do a hard reset this morning for this very reason

Nothing to do with glance, I have a 930 and have had to hard reset 2 times in 2 days. Once after 5 minute workout and once after chive. Uninstalling does not fix it. You think it has and it will re appear. Hard reset is the only way I know so far!

Did you have the Gestures Beta app?

I think this is a bit premature. Obviously the people with errors are more vocal, but did WC talk to the dev? Do we want to scare away new apps with conjecture? Forum to news in one day? How many times has out happened to the staff? Dvp? Phones? I just think it's odd to call out an app, maybe I should read the forum post, but I shouldn't have to either at this point of WC making it news. My comment, I don't like this post as is.

Yes, why don't you go ahead and read the comments on the thread and the comments here. :)

I shouldn't have to read the thread. The website and forums are different. Hence why comments on news don't need to stray, we have two places for a reason.
I think it's a coincidence. We have hive mind, a lot of us downloaded the app yesterday because it was featured here. Yet I have a video of this happening to my brother on his 925, when using musictube, yesterday. Could be OS related to time. It very well could be the app... But we are starving for app parody and blaming a new app, two new apps, when all we have is... Very little evidence. Obviously a discussion is important to find the problem, that is why we have the forum. Bringing it to the readers, who might not be super techies before we have lots of evidence is not good "reporting" imo. In quotes because this is a blog.

this issue arose within hours of that app being advertised. All users had installed Chive. No coincidence.

Time correlation is not causation. It happened once for me. I have chive installed. Didn't uninstall, no issues today. My brother doesn't have any of those apps installed, had the same lockout issue. His issue could be coincidence, blaming the chive could be coincidence. All I'm saying is that it's a little ridiculous to blame an app so quick. Maybe blame the API in the title of the story.
Oh well, I don't have any skin in this besides liking this site and liking Windows. Hopefully it gets figured out either way.

If it was coincidence, MS wud not have removed "5minute home workout" from store.

MS pulled it? That's what the devs said?

A lot of users reported that app. So MS might have found something fishy. Else the developer might have found the bug he left in the app ;)

Fwiw it hasn't happened to me and I wrote the announce post yesterday. But, it is seemingly happening to a lot of people.

Install The Chive bro. It will wreck your phone.

I'm on dp, up to date, 1020. Have chive. Thing is, I've had my power button act up before, happened yesterday too. Only thing that would work is holding camera to launch camera out of lock. Like I said, I just don't want people jumping to conclusions.
But it happened right now when viewing chive again, when I locked straight in the app. Hmmm, still got out with camera button, must be resume state... But it happens with other apps too. I wonder what's different?

Seriously i too have faced it....!!

I had the same problem on my 920. Didn't happen when I installed 5 minute workout, but it did happen after installing The Chive.

Need a hard reset. All pulled games, local data ađnd payment i payed in games disappear. ******* app

Exact same thing happened to me but I didn't make the correlation. Removed the app cuz it just ain't that funny and who needs boobs on their home screen all the time. Tasteless and a phone breaker. Good riddance

Chive was the only app installed today. Uninstall won't help. Did the Soft and hard reset. Still the problem won't go and not solve. This never happened to my 1520 before since I bought it. Seems most of you guys had the same problem. I'm buying a new 1520.

I have neither the fitness or gestures apps. Don't use glance.issues started within an hour of downloading, trying and uninstalling the Chive app. Resets do nothing. i refuse to hard reset unless I truly have to, although at the moment my phone(l925) is useless chive devs should be ashamed

I had this issue yesterday, deleted a few apps including official theChive app (it was time for a clear out) and a soft reset and working fine. Installed official theChive app again, no issues, was on it few minutes ago and power button won't lock the phone. Think I'll have to ditch that app until later. It's a Nokia Lumia 930.

Thanks for further validation. That is my experience on a couple devices as well.

Deleted app and restarted phone, Power Button working normally.

My power button became unresponsive after installing TheChive app on my HTC M8. Plugging in the phone brought my screen back to life and allowed me to follow the standard shut down process. After uninstalling TheChive app and rebooting, the problem is gone. For others with this issue, try to reboot, uninstall, and reboot before resetting your phone.

Haha, I get it "surfaced" ...
I really hate puns, hate love really.

Soft reset is useless. Hard reset was ok just for half day...then for my surprise unfortunately the phone just locked crashed. Hard reseted again and noticed the extra +information changed the color of the "lumia cyan"??? Soooo annoying! Lumia 930.
Fix it man! Worse than virus! Don't install at all cost! Phone looks corrupted

It froze my phone two times on glance... I was unable to unlock screen and I had to do soft reset in order to use my phone. Let us know when they solve the issue, it's nice app...

I'm having the very same issue except when I power off my phone it restarts

Hard reset not working.. In Lumia 920
I uninstalled app too..but still lock button creating issue.. Please what can I do.
How I can fix this issue.
Please Microsoft do,something
Chive sucks mah lumia man..

I didn't install it.... Thank goodness!

Sorry but what does this app do? never heard of it.

this I what happened to my Lumia 620
1.installed thechive
2.after an hour data sense app crashed(was set 30day), power button didn't lock, didn't charge when plugging in charger, battery saver didn't toggle,...
3.did soft reset
4.sat data sense to unlimited
5.sat date and time
6.after one hour and half repeat 2 to 5

Cant update maps. Data Sense not working. Cant install any apps at all. Most of the apps installed always error. Waze not responding. Everything is hell. Microsoft please don't let this happened again.

The first iteration of this app screwed up my phone too. Locked it up, had to do a soft restart all the time.

I didn't install TheChive but I did install 5 min home workout 2 days back. But I didn't open it till this morning and immediately I got these issues. Also had installed the glance updates a few days back but things were fine till this morning.

Could this be a virus or malware? I cant explain why my phone had its LTE data lit up while I was having issues, before I had to resort to hard reset. Phone was hot too. Worried..
:(

I had the same problem with my 820. Uninstalled the Chive app, did 2 soft resets, now back to normal.

Update: Even without Chive and 2 soft resets, power button issue recurred. Still happening now -- power button won't wake or put phone to sleep. I haven't installed 5-minute workout, so if not that or Chive, then what's causing it?

Hard reset will solve the problem, soft reset my phone 3 times but faced the same problem as urs( even after uninstalling the app), even though u hv uninstalled the app, sm data etc may remain in the phone, formatting( hard reset) solved it for me! Though u will lose all data after reset

Thanks, but I'm wondering if there's something else that can be done other than a hard reset. That's not exactly a solution. Windows Central folks -- any word?

Yes I know, but hard reset was the only option I had, phone wouldn't switch on or off, brightness reduced way below normal, hard reset will remove all data the app had,, but yes there should b other options too

Just set up my replacement 1520 due to a cracked screen and thought I got a busted refurb. Really glad it's not the phone.

Yeah, I bought a green 1520 yesterday. Installed a ton of stuff, The Chive was the last one. Phone blew up, stopped working. I nearly blasted the seller for this. Hard reset, lost everything, then all was good. Terrible appl

This is Microsoft's bug. App shouldn't be allowed to hose the phone in these ways.

Haven't used either one of those apps but I can tell you that since I installed Gestures Beta I've had nothing but issues. Clicking Home from an app goes to resuming screen for 30+ seconds then just returns back to app, no matter what app\ game I have open, trying to Lock phone and it goes black then back to Start Screen or whatever I have open, Unlock phone and it lights up on black screen and I have to lock phone and unlock again, notification bar has a couple of times gone missing and lastly, phone is just all around sluggish. Chalked it up to the Gestures Beta since I haven't installed anything else in a month, unless its an update to some other app that's done it.

tho seems to solve the issue for now:
1. reboot
2.uninstall the chive
3.reboot
4.soft reset

You can blame the app, but this is not Android. It is not normal that app can do this. People by iPhone or Windows Phones because apps shouldn't be able do things like this.

This is very much possible in windows phonew

Same Hero. Had to restore phone to previous save. Same day as downloading offical theChive app.

I do everything ..but its still affecting my Lumia 920..please Microsoft do something.. It won't connect to pc.. At all
Please fix this..

I am having the same issue....puy off my battery and restarted again...working fine but going to uninstall the app... Everytime screen goes black and doesn't work.. No power button..no display

HTC One M8, no theChive nor 5 minute workout and its fine. Lol

I'm curious who has an 830 and is having this problem? I saw one other post saying it was working fine for them, wonder about others. Mine seems to running fine with the app (knock on wood).

Mine did not go to sleep when pressed either. I rebooted and it seems ok now.

I only have the problem after using the app. And a soft reset seems to work.

Likewise. I've got the power button issue a couple of times, but both times it was after actually using theChive. Long press on power to shutdown had worked in each case and I've not had more problems since. I've not uninstalled theChive yet (as this doesn't seem to have helped some people) but haven't returned it either.

My bro and me discovered this bug last year and tried to report it to MS. They responded by banning us. Morons. This is most probably because of a background task.When

Perhaps it's because you call them morons...

When? When what? Please go on...

A hard reset will be necessary to at least 40% of the people infected. This app is very similar to our bug. Our big would also make the phone restart uncontrollably. In 40% of the testing cases uninstalling the app had no effect.

Oh we didn't call them morons then, while reporting. We posted on msdn, and on their twitter response. The twitter team first followed us took the info and later un followed us and we never heard from them again. No response on msdn either. Joe belfoire never replied to any of our tweets so we had no where to report. So we stopped

Well post it online in detail then. MS is good at taking bugs seriously, so I'm surprised they'd act this way to be honest, even with serious bugs.

I have had this problem too but with other apps. Perhaps even one I have written! Not sure why MS shouldn't let am app compromise the OS like this.

I had charging issues when the app was installed. Lock screen was also locking up and required a phone restart to get past the lock screen.

Stay away! Lumia1520 keeps on rebboting after uninstall. Soft reset works, I get into the system, but after normal shutdown the problem is back. Seems to me that a hard reset is unavoidable....

So that's what it was? Had to hard reset after opening thechive app. The app crashed on me and then my 1020 started crashing

Just finished doing the hard reset.... What a pain!!!! Lumia 1020

There is problem with navimi navigation app too. Anyone?

this solved the issue for me: 1. reboot
2.uninstall the chive
3.reboot
4.soft reset try it guys and see if it works

Just wasted my morning trying to fix this. Remembered problems first appeared after installing theChive app and just tried uninstalling app. Problems solved (power button not working, out of memory error, data sense not working, won't stay powered off). Wow, this was as close to bricking a phone I've ever come. Now I can finally Keep Calm. L920.

UPDATE: Problem not 100% resolved. Still issues with power button though not nearly as frequent. This is really bad. I'm now hard resetting which is pretty lame as only remediation for a problem app removal. As a .NET developer, I am surprised any one app could cause such problems to the operation of the phone itself, especially after uninstalling. How the hell did this app pass the review process for the MS Store.

Definitely had to hard reset after getting the 5 minute workout app the other day :( fortunately my backup was only two days old at the time

Very disappointing. On 1020, installed (had Gestures Beta installed too), and the phone started acting up. Couldn't use the power button except to restart, and charging it didn't work either. Also, the action button toggles were gone, just grey boxes. I'm now hard resetting as I haven't been able to fix the problem with soft resetting or turning the phone off and on.

Yes, it is true... I am also facing same problem with my phone after installing this app. Finally I hard reset my phone and now it is working well. Shame for such app.

So basically users of this site should avoid installing apps recommended/promoted by this site - as for now at least.
Not sure where i heard from the exercise app first so I just ignore that. But I installed theChive and the family guy game as per wpcentral's (or WC nowadays) posts. The latter crashes the whole damn phone in the very beginning and apparently the former is not doing that great either. Luckily I never ran the Chive app as I've never even visited the site itself.
Instead of merely hastily copypasteing the release notes of an app, perhaps WC should quickly run the app before promoting it? Also isn't MS supposed to be checking that apps in the store actually work before showing them the green light?

Fwiw I've had zero problems with Family Guy. I wrote the announce post for theChive and as you'll see from the picture in that article and this, I installed the app on both my Surface Pro 3 and Lumia 735. And I've had zero issues. So you can't really say we just copy and paste release notes. Because we don't. If we'd seen this happening to one of our devices before writing the post, it wouldn't have been written. Simple as.

Good to know, thanks mate. Credibility regained ;)

Don't know how some people have fixed the issue by simply uninstalling the app and a soft reset. Wish it was that easy for me. Tried for 2 hours last evening before finally giving in and did a hard reset. Lumia 920 on dev preview here. The problems I noticed were: 1. Lock/Unlock not working even though i could power off with long pressing power button 2. Double tap to wake up not working 3. PC not detecting phone when connected via USB 4. Manual backup from Settings failed multiple times at 99% 5. App downloads stuck on pending 6 Overall lagginess I had theChive, 5 minutes workout, Navmii installed but only had opened theChive after installing. Gestures Beta, new Glance update and Extras and Info installed as well. After hard reset I have reinstalled Gestures Beta but no issues yet.

3. PC not detecting phone when connected via USB

I thought my phone was gone after sinking in water.

Seriously?! I thought I was having serious phone problems so I went to Verizon today to get my Icon replaced. Now I need to upgrade to 8.1 and then restore everything when my replacement arrives!

i had the same problem on my lumia 720...had to hard reset ..soft reset and uninstalling chive didnt work...

I had chive, I didn't have gesture beta, I had glance days ago (no problem) Chive screwed my phone for sure, the only solution for me was hard reset restore from backup (without chive offcourse)

Ah-ha! I am a victim too. Kinda suspected the chive since it was the only thing that changed on my phone yesterday. After the hard reset I restored back to Wednesday and did not go get the chive app again, all has been well since (Icon, Dev Preview, gestures beta installed)

Bug hit my phone yesterday, hours after using the app with no issues. Had to hard reset to the previous day

Also I don't have nor did I ever download the 5 minute work out app. My issues were caused by theChive app. On L830

hey guys, its definitely that 5 minute workout app bcoz i didnt install the chive app. A few hours later after installing workout app, my 1520 lock/power button stopped working, i tried everything from rebooting to soft resetting but it didnt work, wondered what was wrong!!. Ultimately hard reset was only choice. All my data was lost, but im glad that phone's completely fine now.

Maybe they both cause it or its something else. Cause I *didn't* have the 5 minute workout installed but the problem occurred right after using theChive app for me. I wonder if there's some other app everyone has in common?

Yesterday my lumia 630 froze when i was using thechive app, screen turned Black and nothing happened when pressing the unlock button. Had to press and hold for several seconds to reset.

How come third party apps are causing issues in the OS like this! The developers are trying to implement viruses in wp through their apps or sth?

♪ ♪ ♫ ♫ This is not the greatest app in the world, no
This is just a tribute
Couldn't remember the greatest app in the world,no!
This is a tribute, oh, to the greatest ap in the world,woah ohh
All right, it was the greatest app in the world,
All right, it was the best muthaf***in' app, the greatest app, in the world ♪ ♫ ♪ ♪

you sir, you are a genius :)

Just after installing theChive on my Icon with DP8.1... My phone crashed and during reset, it looped a few times then began to auto restore my whole phone... Thank goodness for cloud and backup assistant...
Unrelated note, after everything restarted and reinstalled, the "extras/info" app says I have Denim?! I know it must be a glitch, because Verizon isn't supposed to release that until 2025 ;-)

I've been using theChive app for months now without issue... Developed by Full Revolution, Inc. Could this article be referring to the one developed by Resignation Media? Side note: There are a LOT of people mentioning the 5-minute workout app. Has anyone looked into that as the possible cause to the problem?

I had that installed the first time I had the issue, but I didn't reinstall it after doing a full reset. Got the problem again immediately after using theChive app.

Yes I also faced same :( I done soft reset

Its not just the power button,my sensors are not working... Chive was da last app I downloaded yday but it didn't do this till I opened and viewed some pics. The whole thing started when I closed the app. My screen won't even come on when I Av a call or receive notifications. WTF.... Apps I updated before this was VLC and extras+info... Got so many apps can't hard reset . Wish I could backup apps like Android so I wont Av to download em again

I downloaded theChive app and this happened to me. I tried multiple soft resets, I also tried turning on airplane mode and it wouldn't allow. I went to cellular data to turn off the and it wouldn't allow. I ultimately had to hard reset and lost my sons last Christmas program video. Pretty bummed.

I have none of the apps mentioned in the article OTHER than TheChive...which was installed yesterday.
Power button stopped working and I had to do a hard reset.
Stay away from this app.

my powerbutton only works for shutdown (long press), or in combination with the volume button for forced reboot. after a reboot i get a black screen after unlock, and the statusbar doesn't work. sometimes i get my tiles (and no quick toggles), sometimes the black screen. also, when i turn my phone off, it reboots just like its charging, eventhough it's not. all the above problems began right after trying the chive app, so from my experience i can confirm that it's actually the chive app causing all this trouble. the problem is, i don't want to hard reset so i hope there is a solution to fix this. i have a lumia 635 with latest developer preview installed.

Not sure what's causing the problem but one of the triggers is definitely the chive app. Installed the app yesterday and ran it for a few minutes and then started having the usual problems, did a soft reset and everything worked fine again, still had the app installed. Ran the chive app again today and the problems returned immediately, did a soft reset again and things are back to normal. Don't have 5 minute workout but do have gestures beta installed. Waiting for a fix but have uninstalled the chive for the moment.

After restarting 5 to 6 times, now my phone works fine ..

Same issues as described above on my Icon HOWEVER after doing a reset this morning and reloading I got DENIM! I kid you not folks I have Denim on my Lumia Icon VZW.

Yeah, I thought I did too. It's a bug though. If you notice, you'll have no features from Denim, just that the Extras+Info says you have Denim. Unfortunately, you do not. I had my hopes dashed too when I looked into it. I thought I had Denim as well.

I thought Windows Phone's sandbox was supposed to prevent stuff like this?

Had issues both times after using the app. Holding Down volume + Power was the only thing that responded. Shame, as the app is otherwise well done.

I have a lumia 925 running 8.1 latest dev prev (cyan). I had the power button issue after downloading the chive. I fixed by uninstalling>soft reset>power off>soft reset.

I had the problem but the phone just turned off. A regular restart did fix the problem at least for me.

The chive is for adults who act like children

It destroyed my data sense. I installed the app, had the same power button issue, plus data sense stopped working. Couldn't open the settings for it or anything. If I restarted my phone, it'd show the value in the tile, but once I opened it or tried to go to settings, the value disappeared and couldn't open. Reset my phone. Didn't have a problem until using theChive app again. Uninstalled and restarted and it worked. I didn't want to blame the app so tried a third time, problem happened again, but this time uninstalling didn't fix data sense. Had to reset my phone again.

karma's a b*tch, never say your own app is the best in the world

Ditto same issues after installing the official Chive app. Huge inconvenience to fix issues. Lumia 1020

I have the same issues with the power button. Since installing theChive app, my phone is unstable. The screen won't turn off, but a long hold to power it off works. The system also reboots randomly. I have an HTC 8X on developer preview and don't have any other apps from the article installed.

Had this problem yesterday after trying to KCCO by installing app. Sift reset appears to have fixed.

Same, on 920. Hard reset my phone today, for the first time ever.

My screen froze, wouldnt reset, finally got it to after a LONG while (like an hour). I thought it was bricked. Didn't tie it to the Chive app I had just installed. No issues after I finally got it to reset. (Lumia 1520)

How the hell can a sandboxed app even do such a thing, to screw up the system so bad that only a factory settings reset will fix it?

If forcing the device to power down does not work it is a critical OS/firnware bug. How many HTC users have the issue? Lol

Brand new 635..has been running flawlessly..installed the Chive Official app. Big mistake! Thanks assbags! I deleted a third party Chive app (one that's always worked) in favor of having the official..goes to show you folks..official whatever app doesn't mean it's better and can be even worse than imagined.

Got a hunch it's the Gesture Beta app

It's definitely theChive app. Just had this problem. Uninstalled it and did a soft reset and that cleared up that bug. I had neither the 5 minute work-out or the gestures beta app when this happened.


Fuck that theChive app. Im irritated bec I am also a victim of trying their app. No soft reset wont do anymore so have to hard reset.
All games progress will be gone and the inconvenience of reinstalling all apps u have.
Bugs for 1520:
1. Auto Time is not showing correct time.
2.power button and the lock app is no longer functioning..
3.random resets and pop up of screen and cortana too!
4.data and togggles are gone.
Fcking bitch app
-culprit is theChive as that is only the app I installed then this whole things happened on my phone. They ahould be penalized.

Perhaps it's an ingenious delivery mechanism for a CxxxxAxxxxx. Didn't run the app yet, uninstalled it now.

Jesus, was showing off the OS to a mate who had just spunked over £840 for a Sony Xperia Compact (2 year contract with EE) and we were comparing how quick we could take a picture from a turned off phone of our pint glasses. That's when I realised I had a fecking issue with my 930's power button. I must have dodged a bullet because a reboot of the phone sorted it and I've been using The Chive app since. Taking no chances though and uninstalled the app. I suffered through the fuck up with the Samsung Ativ S 8.1 update issues and know how shit a hard-reset can be. Good luck to all those of you affected. Hope you get your phones sorted.

I did have the same problems with everyone. Neither deleting the app nor rebooting worked. I had to do a hard reset. So stop suggesting soft reset, if you have opened the app it's done for good. 100% sure that it's because of theChive app. (Lumia 1520)

I have had the same problem.
Damned app!

So here is what i experienced with the chive app. I uninstalled in the morning but didnt open it, i went to work and hours later my phone was still fine. I came back home and opened the app for a while then switched to facebook and watched a video there, while watching the video the phone froze and went to glance screen, 'Double Tab' didnt unlock it and the power button was useless so i did a soft reset, it came back but the power button wasnt working. Also i had to plug in the charger to wake the phone. I went to the setting mene and noticed that all the sttings after 'Data sense' (including it) had only their titles without the second text line, waiting for about 10 seconds, all the settings had the second line of text (they got initialized properly) except for the data sense app. Getting the sim out and restarting the phone solved the issue for about 5 minutes then it was the same. a while ago i read somewhere that lumia 925 freezes sometimes if you set it to 4G while the network is 3G. I put my sim in and selected 3G, the screen froze displaying 'Registering' and didnt do anything for about 15 minutes. so i finally gave up on solving this and did a backup and hard reset my phone.
Now my lumia is doing great. BTW this is not the first time this happens to me, months ago the same happened and still dont know why. Hope this will help someone out there.


My 928works fine with all the updates as well as using Chive. All seems fine!!

Everybody certain it cant be the owa update to Glance that came in around the same time as the Chive released?

I have the Icon, so no glance for me. I had the issues as well.

I have installed the chive app few days back... But Thank god i have not yet opened the chive app..

What the hell? I slipped my phone in the water but fortunately it was not dead. After drying it for few hours and putting battery I am experiencinng similar things like unresponsive lock button, auto power off and says charging even if not plugged in. I dont know if its because of theChive app or water damage coz just few minutes before dropping the phone i had installed theChive app.

730, had a phone freeze hours ago, removed battery, restarted the phone, no problem since then and I still have chive installed. (I've had these freezes before but usually my phone wakes up with a power button hold)

A hard reset in 40% of the cases will be necessary. This is very similar because of the bug we found.

Had to hard reset! Uninstall doesn't work. But a fresh phone to play with again is fun to this Windows Phone VIP Advisor.

Lock button not working and auto restart. What the heck!! I have L920, does hard reset necessary.

Installed it 2 months ago-no issues. ATT 1520 on DP.

Edit: Its back once again. After multiple soft reset..I can say that my phone is okay now...it was really theChive app.
Just download the system updater and after several softreset it would be okay..i save my self from losing all my data.

I have been experiencing this problem on my L928 for two days. The power button would not function properly, I couldn't make/receive calls. I almost turned my phone in on insurance. I just uninstalled the app and did a soft reset and it is back to normal.

After my phone fixed, I installed an update and the problem returned. At this point, all I can do is hard reset. There goes my Sunday.

I had the same problem almost immediately after I installed this app. I did a backup of my stuff, and restored my phone to factory settings.. This seems to have fixed my issue. I hope that they can figure this out soon!

I had the same problem, had to hard reset my phone :( i couldn't even het the phone past the password screen

Had same problems! Took to Microsoft Store and they simplify reset the phone in settings which anyone can do. Because I had in settings my apps and start screen back up, everything turned back to normal! No more chive for me.

Same issue here, soft reset solved it each time. Holding off on launching this app until I see an update come through. Happening on my 830 with dev preview installed.

I have install and do not have any problem on my lumia 1520 cyan firmware... but the app named navimi does not install on my phone!!! i do not know why?!

After hard reset..Lumia 920
Glance not working properly..its only showing time..nothing else
Please Microsoft how can I fix this issue
In touch app.. Vibration off touch button option not showing ..only double tap wake option show..

Had to hard reset on my Lumia 1520

So actually I had the same problem - lock button didn't work.
Just plugged it in and restarted the phone and everything is back to normal, no resets required !!

I uninstalled it just to be sure. I didn't like their site anyway, so no loss for me.

I found possible fix... for my Lumia 1520 it worked. I disabled and uninstalled "Preview for Developers" app, restarted the phone and everything is back to normal. Hope it works for others... let me know.

Had the same problem me too, but uninstalled the app and soft reset, now it works again...

me having same power button problem.
but i dont install theChive,
just installed Denim & a developer preview update.
use Nokia Software Rrcovery to reset my phone twice, problem still persist.
firmware problem? lumia928

I had exactly the same problem. Had to do a factory reset. Best app in the world my a**.

Immediately after installing theChive my power button went unresponsive...i thought it was a hardware failure at first. Then I removed the battery, put it back in switched on and since then I haven't faced any problems with the power or any other button. But looks like restarting the phone haven't worked for most of you.

Had the same problem did a hard reset. It wasn't the 5 minute home workout,because i don't have it

I had to hard resent my phone.

L1520, had th'CHIVE for two days before the problem cropped up. I think it may also be memory issue, because it would cause long load times on everything. Power button also died. Uninstalled the app, vol down + power 15sec, and the problems are gone.

I have the same problems after installing "TheChive". Holly ... do I need a hard reset?!!! That's the worst solution I can ever imagine

Has this happened to anyone not using Preview for Developers?

My lumia 820 without preview For developer had the same issues after uninstalling theChive.
Only Hard reset fixed my phone

My Lumia 1520 has suddenly needed soft reset to restart on 2 or 3 occasions....thankfully I now know what's causing it

I have a Lumia 1020 and Lumia 920 both running 8.1 with Cyan. My 1020 had the Gesture Beta and theChive, and it started have power button issues. My 920 did not have the Gesture Beta app but i did install theChive and the power button issue started. I would say it is definitely theChive app. The app looked good while it was installed. I hope they get it fixed.

Didn't install theChive app at all. Only Gesture beta and 5-minute workout

The exact same thing happened to me. I had to do a hard reset in order to get my 920's power button to start behaving again. In my case the only change I had made to the phone was installing theChive app.

well i was excited about the official chive app so gave it ago and well after reading this i also noticed that my power/lock screen button did not work and my charging battery icon would not change, fearing a hard reset and loosing stuff i tried letting the battery run down and die, then charging it up again and well im happy to say i have a working power/lock screen button again

The official Thechive app should be pulled already if so many people are having issues with it. You guys should report it. http://www.windowsphone.com/en-us/store/app/thechive-probably-the-best-app-in-the-world/adf2e87a-6ca1-4348-b6f3-807c1d0dc3ae

I hace a 1020, after using by the first time Thechive App the start button problem issue started. I already uninstalled it and the problem continue, so I went to do the security backup of my Phone to do later the hard reset and magically It started to work fine, the only thing that stills working wrong are the direct access in the notification center, I cant change it! So i do a soft reset but the start button problem started to happen again!!!... If anyone knows how to solve this without doing a hardreset pleaseee tell me I am already desperate!

Well you could try my method posted a few comments above yours ???

Hi!, yes I did it, but when I charge again the battery the issue still happening. I had to do a hard reset that was the only way to solve the problem, but thanks... I think that its really bad that an App could do this to the Phone or it was a virus or something I dont know but, from nos Im gonna be more selective with the apps...

A subject for another topic I know, but I've never been able to backup my Apps+Settings on my ATT 830. Get 97% done then a message "there was a problem backing up your settings. Try again later.". So I just uninstalled theChive.

Finally fixed one hard reset later.

Not fixing after hard reset .. Lumia 920
Everything works fine..except glance app,touch app
How can I fix this?

I have a 1520... Installed thechive app Friday night. Power button wouldn't allow me to sleep the phone or wake the phone. Had to plug in charger to wake screen to wake phone. Charging icon continued to show even after unplugging. Hard reset the phone Friday night. Worked Saturday morning until I used thechive app again. Phone was messed all day and couldn't hard reset again until Sunday morning. Did not install thechive app this time and my phone is functioning fine. 100% for me, thechive app is bugged and cost me a lot of lost items even after a backup. After further review my glance app is missing but it is installed and functioning

Hard reset is solution....probably the best app in the world my as*. Report this to MS. How could they verified it on store?

I had to hard reset my phone also so. It is the chive app.

I had the same problem on my Lumia 925. I had to hard-reset my phone, to solve the issue. What does microsoft during the app certification process? Pass an app that make my phone nearly unusable?
But there is also a positive site. My lumia is a work phone, now I can go to my boss to show him, that my phone is broken and I need as soon as possible a newer one, like a 930... ;-)

Have the same problem. How is this even possible.

The power button on my 1520 stopped working about a week ago. I've never installed Chive, 5 Minute Workout, or Gestures Beta. Not sure what I installed/updated that caused it, or if it's hardware-related. I've gotten used to double tapping the screen now, so no problem, but can't use any key presses that involve the power button, like soft restart.

HULK SMASH!!!!!!!!!!!!!!!!


If you connect of disconnect the USB, it shows the Lock screen. You can at least restart the normal way.

Wow, this is unprecedented. I'm a Windows Phone advocate and have been with the platform for many years, starting with a Samsung Focus. I use a 1020 these days as my daily driver for the most part and I've converted multiple friends and family to the platform. I do dabble in other platforms regularly but this seems to be the most serious flaw I've run across, ever. My 1020 is exhibiting this behavior and makes the phone unusable (would practically classify it as a bricked). I did instill Chive and 5 Minute Home Workout at some point last week but didn't get this behavior until yesterday after I uninstalled 5 Minute Home Workout and rebooted the phone. Aside from a hard reset, doesn't look like much can be done. This isn't a big deal for me but for non tech people (like the sales guy in my office that's now yelling at me) or people on business trips, etc. this is unacceptable. I would really like to see something official on this because as of right now seems like a lot of speculation as to what truly happened.

OMG, this little bug caused me to actually take my phone apart over the weekend. SOB!
Why Chive, WHY!?

Looks like both theChive and 10 Minute Home Workout have been pulled from the Store.

I had the same issue since yesterday. I haven't done a hard reset yet, but I got my 1020 running normally as of now. I had to do soft reset atleast 8-9 times before i noticed that as soon as the time and date updated itself, the problem would arise. So, a possible work around is to soft rest, go to settings, date+time, turn off "set automatically", and manually set your date ahead to sometime in 2015. And check if the problems persists and if it doesn't, then whenever possible revert back to date+time and turn on "set automatically"

Daniel! Chase this one down!! Any update or followup? A hard reset for some nebulous problem isn't a fix - it could come back.


I think i found a fix for now. Go To Setting=> Date+Time=> and turn off automatically set date and time. After that soft reset your phone and manually enter your date and time because it will be set to November 24th for some reason. Worked for me now my date and lock button are working fine

I'm having this issue and don't have either Chive or ten minute workout installed. Perhaps some other update is at fault?
Windows Central Newsletter
Get the best of Windows Central in in your inbox, every day!
Thank you for signing up to Windows Central. You will receive a verification email shortly.
There was a problem. Please refresh the page and try again.