TheChive launches 'probably the best app in the world' for Windows 8.1 and Windows Phone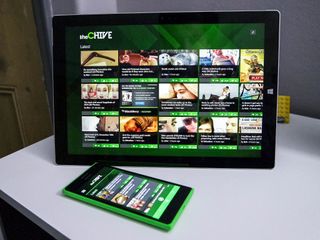 Unofficial apps are one thing, but we'll always welcome official apps into both the Windows and Windows Phone catalog. Now, we're welcoming theChive, as it launches "probably the best app in the world" for both Windows 8.1 and Windows Phone. It's a universal app – hooray! – is completely free and available to download right now.
TheChive is one of those sites you'll either love or loathe. It's one of the largest photo blogs on the planet showcasing humorous photos, GIFs and videos. And now you can have all of that in your hand, on your tablet or your desktop through the new applications.
Here's what you get:
All the latest posts from theCHIVE updated in real time
Share your favorites via Facebook, Twitter, Text or Email
Browse the most popular galleries
Pick your favorite gallery category including art, beautiful, fail, funny, gaming, girls, photobombs, tech and more.
Streaming video
It's ad-supported, but it's well designed on both platforms and is smooth and simple to use. Ultimately it's that Chive-y experience you'd get elsewhere but on your Windows device. And the green background is pretty nice!
There's really not a lot to it, after all, it's an app filled with hilarious photos and videos. But we're happy to welcome yet another official app to Windows and Windows Phone. Grab it now at the links below.
Windows Central Newsletter
Get the best of Windows Central in in your inbox, every day!
Managing Editor - Tech, Reviews
Richard Devine is a Managing Editor at Windows Central with over a decade of experience. A former Project Manager and long-term tech addict, he joined Mobile Nations in 2011 and has been found on Android Central and iMore as well as Windows Central. Currently, you'll find him steering the site's coverage of all manner of PC hardware and reviews. Find him on Mastodon at mstdn.social/@richdevine
Are they trying the bridge the whole app gap in one month? Wow.

But none of the recently released apps are useful to veteran WPusers.

Who are you that have the power for talk for "all WP veterans?" Let me gues... A tr....l?

I was talking about myself

That still doesn't mean you are the voice of "veteran WP users"

He can be the voice for a few. But not all. Just very, very, VERY little.

He will be soon. We're running a campaign. Sagar Garag wants your vote so he can be the Voice of The Veteran WP Users! Vote for SG.

You have my vote Sagar Garag

I agree. This app doesn't do nothing for myself

I think this app really only address the 'thigh gap"

Yeah. Sure... Tell me when we get Twitter/ Vine/ Instagram/ IMDB/ Snapchat updates/ releases.

Yes, a twitter update would be most appreciated. So it can, you know, be usable and not total tripe.

Nope they are not closing anything Think about social apps updates and features needed Specially Facebook messenger
Battery drain , lagging , no video send , no calling feature Viber video calls , tango , COC Much work needed !

"probably the best app in the world" will prolly be pulled any minute, DO NOT DOWNLOAD!!! Check the forums.

First time I hear about TheChive...

Same and I don't think it's the best app in the world. Writer must be smoking something.

The article is perfectly fine. There's a reason why they put it in quotes...

Need commenters with better reading comprehension, lol

Or writers that can provide more details... Lol.....

It's part of their branding. They call themselves the best site in the world. Don't worry, I'm sure they don't take themselves seriously with that anyway.

Me too, because we are WP users and get everything later than other platforms.
Zapya is another example! I'm sure most of WP users didn't ever hear about this app!

ShareIt is one thing but it's too cumbersome... Zapya is surely more convenient and a lot more powerful. I do hope they will release an app for WP8.1 soon.

You've never heard Keep calm and Chive on?

DO NOT DOWNLOAD! Check the forums.

The Chive: Stuff that was on Reddit yesterday.

Exactly. Browse Imgur if you want to see what will be on The Chive the following week.

Everyone says that, but it's basically the best of. They are an aggregator just like 80% of the sites out there. It's reddit for people who don't have time for reddit and redditors.

4ch: The place that people abhor or DIE FOR....

Could be this year' deadline. These apps just made it

I don't think I want all these new apps, said no Windows Phone user ever.

Actually there are a few goons on this thread that seem to be unhappy about the new apps. But I'd say it's just their selfish and immature side showing. "If it's not what I want, it's stupid" lol

So what makes this "probably the best app in the world"?

He never said if I was official or unofficial either. I assume official.

It's self proclaimed from theChive website. Don't worry, its not meant to be taken seriously.

I know right? I'm surprised they haven't updated this with everyone myself included on the forums having our power buttons cease functioning as well as double tap to wake. Had to uninstall.

One more application to expose people privacy...

Oh yes, if only we were asked for our permission before we installed it!

Someone get rid of that hamburger .... I am allergic to it.

Thank you! What's the point of it when you have the three dots? And the use for the 3 dots in this app is to send you to some about page which could've been included in the hamburger menu

Three dots are at the bottom of the screen .... It's easy to reach them but you know hamburger needs you to pull your thumbs long or even use 2nd thumb. These small things make a huge difference to few. Not just appearance wise but ease-wise.

Why is it probably the "best app in the world" ??please tell me

It is theChives slogan...

Definitely better than any 3rd party apps on the store.

But it's add supported...adds everywhere..

I don't mind adds as long it is a version paid that get rid of them.
So, in this case, I do mind.

Not in my opinion. I'm going back to my unofficial Chive App

well ...Naturally they advertise only the ios and android app on their site . I hope they change that

Installed it cus I've never really heard of or used chive before...then uninstalled it a bit later. Full of ...well... lots of ads and other unappealing stuff lol

Made my phone go haywire.Uninstalled it.

Lol, how did it make your go haywire?

My phone stopped responding when i opened the app, had to soft reset it, don't download the app, contains unrated stuff

Indeed. Phone power button stopped working.

It bricked my 920. First my touch screen started going wonky and then my power button stopped working. Now my phone is blue sad face. POS app!

Awesome. Hopefully it's more stable than the Android version. That one sucks!

I have used a chive app for years without realizing it wasn't official. This app sucks. A big fat hamburger menu far up in the left corner where it is hard to reach with the thumb? Really? Seriously? If anyone wants to try out chive use this app with a clean and simple metro layout instead:
http://www.windowsphone.com/s?appid=1b0d79f0-56d3-48ad-a8dc-13ad11b35d52

Same here. I thought the old Chive App was official. While its nice to have the official app, the old unofficial one is a lot better.

nice app... working good.

It freezes Glance screen on my 1520.. Had to put my USB cable in to make it come alive again. And........ removed again from my phone.

Nice to see The Chive getting on the bandwagon. You'd think that they would, after all this time, produced an App that utilized the Metro design language instead of just porting an iPhone style App. Frankly, the unofficial Apps that have been in the Store for a couple of years are better pieces of work that look like they belong on WinPhone. I think this one is a swing and a miss :-S

Another official app in the bag, keep 'em coming!

I like using the DYAC app. it works really well, and has feeds for 9gag, imgur, memdroid, AND ifunny. So, honestly, I think chive is kinda redundant. It looks cool, but I already have this ability in DYAC, and the ability to share the content as well.

Honestly reading most of the titles for the articles reminds me way to much of Gawker media (they always try to do a click bait headline or try to act "hip" or "cool" by not making an informative title.), and I despise them, so yes I am part of that people who loathe this app.

I strongly suggest reading the forum posts about this app before installing. Many users reporting major problems with their phones after installing this app, which required a hard reset to fix. Unresponsive power button, inaccessible notification center, unresponsive capacitive buttons. BEWARE this app. Also, theChive does not appear to mention a release of an official WP app anywhere on its site or twitter account. I'm beginning to wonder if this is even an official app.

Happens to me but u don't need to hard reset all u have to do is plug it into charge and restart your phone and things get back to normal

Just crashes instantly on my 520

That app is messing quite a few people up. http://forums.windowscentral.com/nokia-lumia-1520/329784-power-button-wo...

Thanks for linking the thread.

Worst app ever because after installing if the screen times out while I'm using the app the phone gets bricked and the keys stop working and the screen is not responsive at all I had to soft reset using the charger to unlock the phone and close the app in the background so I be able to restart the phone and get it back to normal everyone who face this problem don't panic and delete this app as it is so annoying!!!!!!

Deleting the app won't solve it. Seems like remnants are left behind and the damage is done

After deleting the app you have to restart the phone in order to solve the problems caused by the app

I did that. Several times. And the phone did that several times by itself as well. In my case, a hard reset solved the problem.

I think I was lucky enough to not hard reset my phone as it would be so annoying to lose all the data on my phone.
Cheers ;)

Lucky you ;) Wasn't too bad on my end. Just had to wait 2 hours for everything to download but other than that and putting my credentials in a few places, not too shabby at all.

Ugh, guess I'll have to bite the bullet and do a hard reset as well. Feck.

That sucks :( but u can try a soft reset first as it might solve it as it did for me

Deleting the app doesn't solve the problem!!! The phone keeps freezing (920)!! Is this a virus?

It's not a virus since wp have a high security and firewall but i think its because of bad development and the fact that Microsoft does not have a way to check the apps before submitting them to the store
(They do check apps but as it looks its not enough)

BEWARE!!!!!!! Don't install this app. It will fuck up your phone. Only solution is hard reset. Why isn't WindowsCentral talking about this???

Agree. WC is busy responding to useless comments and screwing many people including me
U should try a soft reset before you hard reset your device. Soft reset worked for me.

Agree! don't install this app! My Icon is now hosed :( hard reset if i can't get this figured out :(

U can try a soft reset it solved it for me
Good luck

Soft reset will solve issue temporarily. Again u will start getting power button issue after few hours. Better to take backup and hard reset

'probably the best app in the world'? I doubt it. Have you seen OneFootball? my my what a gorgeous app

BEWARE! The best app in the world will screw your lumia.

Crap, soft reset my phone 2 times, works fine for few mins, then screen goes blank,power button does not work, I think ill hv to hard reset, this is the WORST app in the store, do not download

DELETE THIS POST, WINDOWS CENTRAL! IT LOCKS THE PHONE UP AND REQUIRES A REFORMAT USING THE LUMIA UPDATER TOOL! Total trash. I really hope everyone has everything backed up and owns a Windows PC. Otherwise, good luck because your phone is broken now and you lost everything courtesy of the monkeys at The Chive...sad.

After the installation on WP 8.1.1 Lumia 920, my phone freezed twice (didn't unlocked, soft reset needed). Is anybody else exp this. I uninstalled the app and everything is fine.

Needs power+volume down! And immediately unistall the app in the next boot

Yes. Most of us faced this problem look at the comments above
Also mot every one lucky enough that the soft reset solved the problems some users had to hard reset

Also the USB connection of the phone to my PC doesn't work.

Thanks WC for recomending us such a shitty app... DO NOT INSTALL UNLESS YOU HAVE TIME TO WASTE ON A HARD REST!!!

What exactly does this have over 9gag?

This app totally hosed my Lumia 635. Avoid this app!

im hard resetting my 1520 now. i hate this app. :(

I'll echo what everyone else says and suggest the avoidance of this app. I had to hard reset my 1020 after the power button stopped working, the action buttons got greyed out, and a restart + soft reset failed to solve the issue. I regret installing it.

Another hard reset here! Avoid this app like the plague!!

The app crashed and the power button stopped locking the phone. Uninstalled the app and restarted it, botton working again.
Windows Central Newsletter
Thank you for signing up to Windows Central. You will receive a verification email shortly.
There was a problem. Please refresh the page and try again.