Retro Runners, 8-bit endless running game runs into Windows Phone 8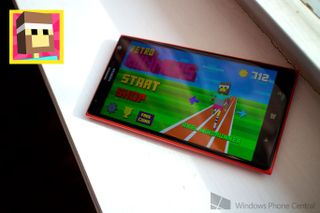 Need another game to waste time? Check out Retro Runners. It's an endless runner game with a nostalgic 8-bit style. Get as far as you can while dodging obstacles, enemies, collecting coins and special items.
Developed by two Brazilian guys, Retro Runners is also available on iOS, Android, and Blackberry. Head past the break to watch the official trailer video.
The controls are easy. Swiping on the left side of the screen switches tracks, while swiping up on the right side makes you jump into the air.
You have to avoid tripping on hurdles, falling into water pits, and bumping into other runners. You also need to pick up water bottles to keep your health bar filled up. It slowly depletes as you keep running, so make sure to look out for people on the sidelines handing them out. There are also photographers on the side that use flash. If you're too close, you'll be blinded for a few seconds.
There are special items along the way. Hitting a mushroom shrinks your runner, so you can just run under the hurdles. There's also an item that doubles the coins you collect for a short time.
Collect coins along the way so you can buy extra lives or characters at the shop. There are 11 characters available and some of them have special abilities. For example, Alfred the skeleton has infinite energy and The Running Dead can eat people to regain energy. Unlocking them requires a lot of coins, though. If you're impatient, you can unlock the characters with real money. The Running Dead costs $4.99. Other characters without extra abilities cost much less.
Similar to other endless runner games, it gets tougher the further you go. You'll start seeing other runners going in your direction and don't be surprised to see trucks heading towards you.
Retro Runners is a free download at the Windows Phone Store with the addition of in-app purchases. Check it out and let us know what you think in the comments!
Thanks for the tip, Loren B.!
Another endless runner? Toooo many!

You don't have to actually play them all, so I've been told.

Haha, happy crimbo Daniel, #legend.com

And now they start complaining about too many apps/games!! Anyway, just downloaded it and it's quite addictive. It feels like I'm playing Master System..

I was just joking geez :-\

I found your joke funny, actually kinda was looking for it Jhehehe, on another annoying topic, where is GTA? :P

LOL yes where is GTA❔ Maybe for New Years :|

Learn the diff between a joke and a complaint b4 u criticize ppl..

Try space Heads @wpscoops tipped it last night

Space Heads is really good ! Thx for the tips !

But yes I do :P lol but good one and I wasn't serious btw

Day 100. We still don't have gta.

Good thing the creators of Temple Run don't sue every developpers who make endless runners... Btw any news about TR2 being updated to work with low-end devices?

Then... developers of Castle Wolfenstein should sue Call of Duty and Battlefield? haha. Anyway, my game (Retro Runners) is really a mix of styles.
My main gameplay references where Temple Run(obviously), Super Mario Bros and even Top Gear. And the characters weren't based on Minecraft, they are square just due to a technical limitation.

Awesome game, man! I never get tired of those endless runners and this one is quite different from the others. Just loved the graphics style and the music. Gameplay is very good as well. Anyway, I'm having a great time playing this game! Keep up the good work. ; )

You are joking right? Temple run wasn't even the first endless runner...there were horizontal ones in flash form on the web yeeeeeears ago.

Endlessly running is the new tower defending. I miss *good* tower defense games :(

Posts on Christmas should be illegal! Go and spend time with friends and family, Mark! Merry Christmas :)

So is commenting :D
Go and spend time with Friends !

Nono commenting is fine. Writing posts = work. Christmas shouldn't involve any work. Commenting != work. No one is paying us to comment :P I admit though that my argument breaks if Mark isn't actually paid to write articles

Even GTA San Andreas has various 8 bit games on the tv sets. We need those 8 bit games. Now.

Seriously tho, san Andreas is a runner its just you have alot more objectives lol

When is GTa coming. Pleaseeeee!!!

Even Brazilian developers don't publish in here! I'm sad right now. :'(

Para lançar o jogo na store brasileira, eu preciso obter a classificação indicativa pro Brasil. Vou fazer isso em breve.

Você não precisa disso mais. Desde novembro do ano passado o governo brasileiro passou a aceitar os certificados PEGI/ESRB. Você só precisa fazer o upload de um deles na linha do DJCTQ e selecionar uma faixa equivalente. Eu conheço bastante de todo o processo, já ajudei centenas de desenvolvedores a fazer isso. Se precisar de ajuda é só falar.

Olá Marcelo. Vi que já existe o certificado de classificaçao na WP Store, mas o jogo não está disponível para download. Você pode verificar isso? Gostaria de poder jogá-lo. E vou divulgar o jogo nos sites especializados aqui também.

Também estranhei quando mandei instalar e mostrou a mensagem "não disponível". Até achei que pudesse ser alguma limitação de hardware (720). Aguardemos então a liberação na store nacional. Desde já, meus parabéns ao desenvolvedor!

Too many games launched in the past 2 months .. We are going mainstream :P

Mark, I'm gonna assume you're Jewish. If not, get out of here! Its Christmas! :D

Retro Runners is my first game, I hope you like it.

I have Rail rush, minion rush, rayman jungle run but I'm downloading this now to support ur first game :) good luck with ur future projects, hope to play more of your games..

So fun, when you run into the people. And they AAAAAAAAAAAHHHHHHHH!!!

Good to see competition in the windows phone store...

Wow this game is quite good! Looking forward to more games/apps from this developer.

Its a nice game & concept as well

GTA was a joke... Politics of business

Will angry birds go be available for 512mb devices later??

Tr2,ss,angry birds go will not be available for 512 MB ram...untill they optimise for 512 MB....

But when Jan,feb march Or April? Any clue or guesses??

Jan.........
.
.
.
.
.
.
2015.....lol

They are popular developers and they cant optimes game within 2 weeks is a shame for such developers

@Aashish13
Have you considered asking the developers that question? You're unlikely to get the answer you seek here.

Looks like Minecraft Olympics.
Windows Central Newsletter
Get the best of Windows Central in in your inbox, every day!
Thank you for signing up to Windows Central. You will receive a verification email shortly.
There was a problem. Please refresh the page and try again.