Revamped Yahoo Messenger desktop app reminds us it still exists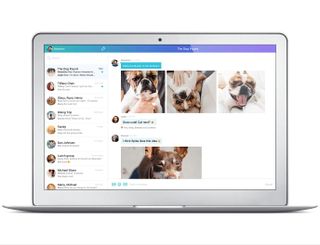 Yahoo has revamped its desktop Messenger app for Windows and Mac platforms, adding features such as "liking" posts and support for GIF images.
Yes, it is true: Yahoo Messenger is apparently still a thing even though it had reached its height during the George W. Bush administration. In a blog post, Yahoo tries to convince us that the rebooted Messenger app is cool again:
If you are still using the older Yahoo Messenger app, be aware it will be discontined on August 5.
Download Yahoo Messenger for Windows and Mac
Windows Central Newsletter
Get the best of Windows Central in your inbox, every day!
Haha, sounded like a title to an article on The Onion.

Apparently Ipad pro users are loving it! Ha ha

iPad Pro is certainly no joke. It's a great Tool for artists. I haven't tried it, but from what I have seen, the iPad is a drawing tool far better than the Surface Pro 4 is. While it may lack a full OS experience, that is certainly no reason to call this device a joke :)

I have to disagree. My company has moved 40 of our 60 designers over to Surface Pro 4, the initial 20 who had the iPad Pro found it awkward, poorly implemented and not nearly as capable a drawing tool as the Surface Pro 4.
Personally, I'd prefer they all had Surface Book, but that's next year - got a budget after all.

Believe it or not!
Apple's touch is the main attraction.

Verizon handle yahoo app in positive direction on its first day with yahoo revamp. Btw! Raise your hands if you are still using it.

Verizon is not in control of Yahoo! yet. First let the court procedures go through

UWP? LOL!!! Posted via the Windows Central App for Android

Damn...i haven't used this since 2002...

I didn't even know it ever existed :D

What killed yahoo was the bots in the chat rooms, then the closure of the chat rooms was the nail in the coffin.

MSN messenger was the best chat service ever made!

that is totally true!! agreed

That still exists ?
Damn i haven't used it in over 6 years Ayyyyy lmao

Wow. It's really nice. To bad I don't have anyone to use it with anymore...

well at least fans can keep it, windows live messenger is nowhere now

Well, it's obviously used by enough people that it warranted this huge overhaul
I miss WLM

Last time I used it was in 2008..Memories remain 1999-2008.

Yahoo is the real life version of hooli from silicon valley. Their products are just crappy

Oh yahoo is crap now. I couldn't find a program for it to use on windows 10, it told me to download the app and that it was only available on ios and android. Rubbish.

Yahoo messenger had the best emoji. They were animated and cool and very descriptive.

In 1999. I was using mirc, msn and icq for chatting. Good times

Still waiting that get to Windows mobile/phone any yahoo app I am an loyal user of yahoo services I even prefer more yahoo mail than the hotmail one just a thing of tastes

My Welsh friend in England and I are going to sorely miss Yahoo Messenger. We've been using it for almost 16 years to chat. And yes, we thoroughly enjoyed the avatars and spent many holidays and just regular days changing our avatars up (I especially loved the one I had where I was "wearing" a green bikini and had the green eyes). We also also enjoyed using the IMVironments. Who doesn't love falling hearts and throwing snowballs at the screen? And no, we're not youngins - I just turned 60 and he's 57. When we started using YM to have casual, intense, provoking, teasing, laughing conversations, I was 44 and he was 41. Any maybe it isn't "cool" to like messenger services anymore, especially YM simply because it was a Yahoo product. But we loved it. It was a part of our lives for nearly 16 years. Now it's gone and I feel like I've lost a companion. RIP, Yahoo Messenger. You'll be truly missed by the uncool crowd.

Does anyone still use Yahoo Messenger, or any Yahoo services for that matter?