Review: Extreme Text Threaded SMS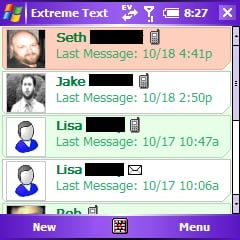 Birdsoft, a company known for making some popular software, especially for WM smarphones, has released its latest creation: Extreme Text ($14.95).
Extreme Text achieves the Holy Grail in SMS management by giving uses that ever so popular "threaded" or "chat style" view of conversation with your contacts. Birdsoft is not the first to release a 3rd party solution, in addition to the popular ripped Palm version from the Treo 750. However, they are the first to accomplish a few things which make Extreme Text a stand out:
No .NET CF 2 (hooray for WM5 devices!)
Relatively low price point: $14.95
Low Memory requirement: ~240kb = fast loading
Read on for the full review!
Features
In addition, Extreme Text includes these features:
Photo Contact Support
Emoticons
Follow Links in Text
Insert User Defined Text
Works with Existing Windows Mobile Databases
Auto-Capitalize
Color Themes
Pro Devices feature Finger Scrolling
The smartphone version for non-touch screen devices has been out for a couple of weeks already and was the first threaded SMS solution for the Motorola Q, which was notoriously finicky with these types of programs after its first ROM update. With the growing popularity of the program, WM Professional users grew a bit antsy and Birdsoft quickly answered by releasing a touchscreen version for WM5 and WM6 Professional devices.
How it Works
The program operates fairly straightforwardly. You install the program, an icon is created in the Start Menu and you can have it take over your dedicated Messaging key. How it integrates with your Outlook inbox is the nice part and one of the program's highlights. Basically, when you open Extreme Text, it shows the Extreme Text inbox and your other email boxes (in this case, my Exchange account). For the end-user, this simulates the standard Text/Email inboxes and makes thing quite simple. The program has a rich array of options, including color schemes, word wrap, date stamp, font size, emoticons, etc. The menus are kept simple and there is nothing complicated about the program itself. At this point, MMS is not supported, however the program will "ignore" MMS messages allowing your default MMS program to handle incoming messages.
The program works very well on the smartphone edition and I'm happy to report works fairly decently on the WM Professional version as well (Treo 700wx). I've been using it on the Moto Q for a few weeks now and give it high praise. If you run WM Standard, definitely give this program a shot as it should work quite well.
However, the WM Professional version (touchscreen) is not nearly as perfect yet and is a bit rough around the edges. There are a few outstanding issues from being a smartphone-to-PPC port that need to be resolved, like 'OK' button support and maybe a more intuitive menu system—it feels like a back key is missing. Also, a very important problem: notifications are not fully integrated at this point, so if you leave the program in the background and not in your email inbox, you won't receive the notification. What will happen is when you turn your device on you'll see the Extreme Text program front and center. While this is understandably a deal-breaker for some, it is something the developer is working on fixing in future releases, so keep an eye on it. In fact, I would actually consider the WM Professional version more of a late-beta than a true 1.0 application. None of these issues apply to the smartphone version.
But for the low price point, near invisible integration with the system and little system resources, Extreme Text looks to be a program to at least give a trial run, especially for smartphone users. More importantly, it has a ton of potential, so it is smart to be aware of it as a viable option in the future. The developer of Extreme Text is very responsive to user requests, so we expect to see some further updates and improvements in both versions in the future. (Users are encouraged to take advantage of the developer's forums to reports bugs and feature requests: http://www.birdsoft.biz/forums/ )
Of course, with the reported addition of Threaded SMS to WM 6.1, WM users may even be able to stop searching for a 3rd party solution in mid-2008, but I have a feeling there will be a lot of current WM5 and WM6 users who will be happy with this option.
Note of caution
If you are already using the Palm threaded program, installing this "over" it will probably results in some system conflicts, in which case I advise you to install on a clean device without the Palm program installed. Sorry!
Pros:
Low price
High potential
Low system requirements
Excellent for WM Standard (smartphone)
Nice system integration
Cons:
Professional (PPC) version needs some UI refinement
Notifications for the Pro version are not fully functional yet
MMS is not supported at this point
Get the Windows Central Newsletter
All the latest news, reviews, and guides for Windows and Xbox diehards.