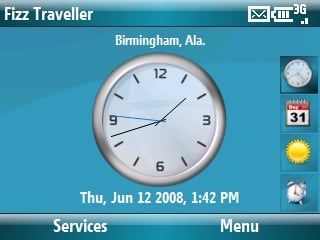 Weather applications are out there to make life easier to plan. You also have alarm applications that will help you stay on schedule and there are conversion applications so you can translate everything from currency to measurements. Fizz Traveler ($29.95) wraps all these applications and a little more into one handy package. Fizz Traveller has the potential of being the ultimate travel companion for your Windows Mobile device.
To see if Fizz Traveller hits the mark or fizzles out, read on!
Fizz Traveller is a feature rich application that gives you the ability to pull up information on the weather, quickly set multiple alarms, check travel information such as flight status, check moon phases, and convert currency, temperature, power, lengths, volume, area, weight, torque, speed, and clothing sizes. You can view weather maps, link web cams, and find dial codes for international calls.
Fizz Traveller is available for Windows Mobile Professional and Standard versions (5 and 6). The weather and alarm components have home screen plug-ins that are compatible with WM 5/6 home screens as well as third party home screens such as Facade. Future releases are expected to have compatibility with the WM 6.1 slider home screen but right now, while the application itself is compatible with WM 6.1, the home screen plug-ins are not expected to be.
Traveller has a good selection of skins to offer a bit of customization to the application. Additional skins, clock faces and home screen layouts are available at Fizzs Website. Traveller also offers Microsoft Outlook support for schedules, itineraries and alarms. Fizz Traveller is loaded with 58,000 global cities and updated information for weather and airport data for these locations can be done automatically or manually.
When you first enter the application, the main screen gives you the ability to set appointments in Outlook, view the five day forecast with current conditions, and set alarms. The calendar on the main screen is a portal to your Outlook application and you set your appointments there. However the Traveller calendar does not reflect appointments in Outlook.
In selecting the Services menu, you can choose between the numerous components of this application including Traveller settings; international services such as dial codes and world times; weather information and maps; alarm management; travel information such as flight delays/schedules; and the conversion component.
Whats the weather like?
Fizz Traveller includes a scaled down version of Fizz Weather. The weather component provides a seven and two day forecast, current conditions, airport delays and forecasts, as well as animated satellite and radar maps. The one key item missing with Traveller that Fizz Weather has, is the severe weather alerts. I think this was a very good feature for Fizz Weather and I was a little surprised Fizz didnt include it in Traveller. It is my understanding that future releases of Traveller may include the alerts.
Another short fall on the weather component is that not all areas support the radar imagery. I think future updates may resolve this issue as well. The weather component does allow you to link to a webcam image or static image. So if you want to see what the weather looks like from the beach webcam, all you need to do is enter the URL.
Another nice thing about the weather component is that on the forecast page you can scroll through current conditions at airports that are within your area.
Can I have a wake up call?
No more fooling with the hotels front desk to schedule a wake up call. Fizz Traveller has a nicely featured alarm management function. You can set one-time only alarms as well as repeated alarms each with individual ring tones. Fizz Traveller supports WMA and MP3 files. The alarms are not transposed into Outlook. The alarm component also has a stop watch and timer feature. An information bar can be plugged into your phones home screen as well to show you what alarms are scheduled.
How many millimeters is in a foot?
Admittedly, Im stubborn and have never gotten the hang of the metric system. Unless you are talking inches, feet and yards, Im a fish out of water. Fizz Traveller helps hard-headed people like me with a great conversion component. The component covers measurements for weight, length, volume as well as conversions for currency, temperature, speeds, and clothing sizes. One feature I like with the conversion component is that you can scroll through the various conversion applications without having to go back to the services menu.
Is my flight on time?
Fizz Traveller can give you real time flight status information that will tell you how long or short of a delay you will face at the airport. The application also has a packing list with several templates for various types of travel (business, vacation, etc.) so you wont forget your toothbrush. This service component also has an itinerary feature to better plan your trip by.
Fizz Traveller also has a component to keep track of international information such as world times, dialing codes, moon phases and daylight tracking. This component will also allow you to schedule meetings according to your home time as well as the time of the meetings location.
While Fizz Traveller is full of features, its weakness is in its navigation. I would have preferred a pull-up menu available in the various screens to allow me to go from component to component without having to revisit the Services Screen. As is, the navigation is a little frustrating but not to the point of detracting from the application as a whole.
Overall Impression
I dont travel much any more but if I did, Fizz Traveler ($29.95) would be a must. Even if you dont travel much, the components of this application can be very handy in day to day life (especially for those of us who are metrically challenged). You can get used to the navigation but it would be nice to see weather alerts and radar imagery for all locations included in future releases (as well as WM 6.1 home screen compatibility). From weather information to alarm management to metric conversions, this is one useful application for your Windows Mobile device.
Swipe to scroll horizontally
| | |
| --- | --- |
| Ratings (out of 5)Ease of Use: 4.5/5Graphics: 5/5Features: 4.5/5 (no weather alerts)Overall: 4.5/5 | ProsFeature richStrong application for traveling as well as day to day usecoversion component tackles everything from metric to clothing sizesConsNavigation can be a little frustrating at firstNo Severe Weather alerts and limited Radar imagery support |
Get the Windows Central Newsletter
All the latest news, reviews, and guides for Windows and Xbox diehards.