Review: Freedom Keychain GPS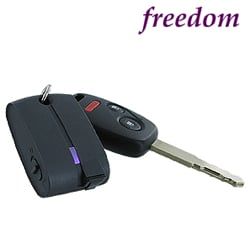 You've probably noticed a new entry in the recent weeks into the bluetooth GPS world, the Freedom Keychain GPS receiver ($89.95). GPS is becoming ever more popular, and when it comes to bluetooth GPS pucks, there are quite a few out there to choose from. Like many of you, though, being a smartphone user I've always believed in integration. I don't see the need for carrying 2, 3, or 4 devices in my pocket when one will easily do the job. As it stands today, only about 10-15% of smartphones on the market actually have dedicated GPS built in. As such, I've never been too interested in bluetooth GPS units since it would be another thing to occupy my ever abating pocket real estate. However, I recently received the Freedom Keychain GPS to review, and I'm starting to change my mind.
Design
I've had a standard bluetooth GPS puck (a GlobalStar BT-339) for about a year. GPS fans will probably know it because the BT-339 has been rebranded and sold all around the net. It's pretty thick, kind of hefty, and uses a round plug AC adaptor. When I throw it in my pocket I can definitely feel the weight; it feels almost like walking around with a roll of coins in your pocket. The size of the unit was also somewhat awkward (compared to many of the slim phones of today) and took up valuable pocket real estate, and the shape didn't even look like it was designed for a pocket but rather it was meant to be set on a flat surface. The result ended up being that I left the GPS puck in the car or at home, and rarely took it with me. Enter the Freedom Keychain GPS...
The Freedom Keychain GPS impressed me when I got it because I wasn't expecting it to be so small. As you can see in the pictures, comparing the size of the BT-339 to the Keychain GPS is like comparing the size of an HTC Tilt to a Touch; the Keychain GPS, like the Touch, is much sleeker and more pocketable. What you can't see in the pictures is the Keychain GPS is also much lighter weighing in at a mere 1.06 ounces. The obvious advantage of this is that it's very pocketable.
The dark grayish color and rounded profile add a sleek look to the Keychain GPS, and the soft touch feel of the finish gives it the feel of a quality product. There's no feeling of looseness or hollowness to the device, it just feels solid. The multicolor LED in the middle indicates the connectivity and battery status of the device. Blue blinks describe the status of the bluetooth radio (duh!), while orange blinks indicate GPS connectivity and red indicate the battery status (low or charging).
The fact that it attaches to your keychain seals the deal (in the design category) because most of us will always carry our keys with us; after all, when do you ever leave the house or the car without your keys? With the Freedom Keychain GPS on my keychain, this little unit stays on my person everywhere I go and thus maximizes its potential usefulness.
Use
Putting the Freedom Keychain GPS to use is as simple as using any other bluetooth GPS. You start by switching on the device with the switch on the side, then search for it with your phone and pair it. The main hurdle for me was WM6 (setting up a bluetooth GPS is more complicated than it needs to be), however after following Dieter's excellent how-to video and realizing the pairing code for this unit is atypical (1234 instead of 0000), I got my Treo 750 connected and running with the Freedom Keychain GPS with minimal effort.
On WM6, both Live Search and Google Maps Mobile now fully support data from a bluetooth GPS unit, and both are free. With both installed and the bluetooth GPS connected, I hopped into the car and started putting it to use. In a real world test, with the Keychain GPS dangling from my keys in the steering column of the car, the Freedom Keychain GPS held signal from about 8 satellites (according to Google Maps Mobile). As a reference, I held my Treo next to the in-dash GPS unit in my car, and positioning and tracking was every bit as good as the in-dash unit. Of course, if you want to match the practicality of an car GPS unit, you'll need to purchase software like TomTom to actually spout out voice directions as you drive.
The out of the box usefulness of the Keychain GPS comes in situations when you're traveling or walking pedestrian routes in unfamiliar areas. GPS enabled programs will allow you to check for restaurants, movie showtimes, and even pedestrian directions as long as you have your GPS puck with you.
Charging and Connectivity
The Keychain GPS uses the SiRF starIII-based chip, which is renown among GPS fans for its high sensitivity and low acquisition times, and according to the specs it can support up to 20 simultaneous satellites. In my use, I found it acquired about 8 satellites in my area and even held onto them indoors. Bluetooth 2.0 is supported on this GPS puck, and pairing is achieved with the code 1234 (this is worth noting to avoid any frustration in trying to pair with the Keychain GPS).
The Keychain GPS also sports a 420mAh lithium polymer battery and claims a battery life of up to 10 hours. If you look closely in the pictures, you'll see the front of the Keychain GPS has a rubber door that opens up to reveal a mini-USB port. Yes! That's right! The Freedom Keychain GPS charges with a mini-USB cable. That means you can charge it anywhere you take your computer. In fact, included in the box are a mini-USB cable and a mini-USB car charger. This only adds to the Keychain GPS's appeal since many phones are adopting mini-USB as a standard data and charging interface, so anywhere you charge your phone (provided it uses mini-USB), you can now charge your GPS puck too.
Conclusion
In summary, to anyone who's looking for a bluetooth GPS puck, I can't think of any reason not to recommend the Freedom Keychain GPS receiver ($89.95). It's excellence comes in its compact size, solid build quality, and potential for use. Even with a 420mAh battery, the life of this puck is good enough to get you through an entire day of continuous use with a little juice left over.
Swipe to scroll horizontally
| | |
| --- | --- |
| Ratings (out of 5)Design: 5Performance: 5Battery Life: 5Usefulness: 5Value: 5Overall: | ProsSmallest bluetooth GPS puck aroundExcellent designCharges through mini-USBSiRFstarIII chipBluetooth 2.0Comes with car chargerConsNone! |
Windows Central Newsletter
Get the best of Windows Central in your inbox, every day!
Does someone have a tutorial for connecting the freedom keychain to google maps on a treo 750?
Thanks.

No software, but the program GPS-free work great with Google PDA phone. Charge once a month, install Google Maps. And good to go. The fast acquisition time with Google, and have not any problems.
micro sd card