Review: GTS World Racing from Astraware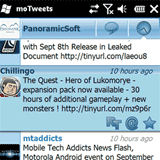 I have three racing cars: a coupe, a sports car, and a formula race car. Fortunately I don't have to worry about fitting them all into my two-car garage. I just have to make sure there is enough memory on my Tilt.
The cars I'm talking about are the three you get to choose from when racing on GTS World Racing from Astraware, available now in the WMExperts Store.
How does edge-of-your-seat racing perform on your Windows Mobile device? I tried it on my Tilt and you can read my thoughts following the break!
Overview
GTS World Racing is an old-school racing game with an arcade feel. You can select from three car types and drive on 64 track layouts across 16 worldwide locations. The three cars have unique handling characteristics and the racing locations offer different types of scenery, from snow to desert sand. There are also four difficulty settings to choose from, so you can start with Easy as a Rookie or go for broke with the Extreme level.
GTS World Racing also offers four play modes:
Single Race to practice your skills on different tracks.
Challenge Cup to race at the different locations and earn your keep by finishing in the top 3.
Grand Tour to tackle all 64 tracks and place in the top 3.
Championship mode, requiring you to race the full 16 race season and earn more points than your competitors to become champion.
Graphics
Your point of view in GTS World Racing is from just above and behind the car. The graphics are three-dimensional, with the Lap and Position indicators in the upper left corner of your screen, the track and position of all cars in the upper right, speed and RPM in the lower right. The top center of the screen displays an arrow indicating which direction you need to steer for upcoming curves.
The scenery is quite realistic and the graphics flow rather smoothly on my Tilt. But the game does have an older arcade feel in that the graphics are a bit blocky and pixelated. This really isn't much of a distraction because once you are racing, your focus is on keeping your car on the road and passing everyone else for the win!
Sound
The sound effects in GTS World Racing are simple but adequate. You hear the rumble of your engine and the sound associated with revving your motor to higher RPMs and the sound of your transmission shifting.
When you leave the road, there is the screeching and roaring sound of your tires on the rough shoulder, reminding you to steer true and stay on the track. The sound level can be controlled by going into
Windows Central Newsletter
Get the best of Windows Central in your inbox, every day!