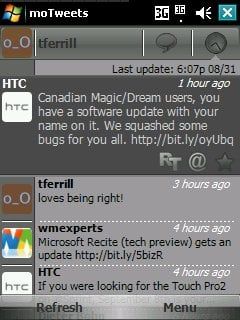 As Twitter garners more and more of a following, it becomes crucial to be able to follow and manage tweets while mobile. Up to this point some of our favorite Windows Mobile clients have been Twikini and PockeTwit. A new contestant is making a play for this segment. Panoramic Software of Phone Genius fame recently launched moTweets, a Twitter application for Windows Mobile Professional devices.
We've put moTweets through its paces; the verdict follows.
Usability
Like any application of this type, moTweets does require some minimal setup before it becomes usable. The first step to configure moTweets is to enter your Twitter login information. Once this is complete, you will have access to your Twitter time line.
Like any well-designed application, moTweets gives you multiple methods of accessing any one function. The most common functions can be accessed by tapping on icons placed across the top of the screen or by simply tapping on the tweet. One of the settings that is available to you is the ability to add buttons to each tweet, giving you the ability to easily retweet, directly reply or create a favorite.
Features
Most of the features that you have come to expect from Twitter are available when using moTweets. For those of you that manage multiple Twitter accounts, moTweets fully supports authenticating to multiple accounts at the same time. Scheduled updates allow you to passively track updates while sounds or vibrations can notify you when your time-line is updated.
Also supported are all of the basics that you are accustomed to when Tweeting with third-party apps. Pictures are supported either directly from your camera or through a file in memory. TinyURL is included for any links you wish to publish. Also, your location can be entered manually or using a GPS receiver.
Interface
One thing that moTweets really excels in is the user interface. The entire application is smooth and consistent as far as navigating to the various features. All buttons and menu items are finger friendly and all facets of the application support scrolling with a simple swipe of your finger. The length of your time-line can be configured to cut down on older Tweets. Multiple skins give an added level of customization for those that have a color preference.
Conclusion
I found moTweets to be a solid performer both in features given as well the actual system performance (memory usage hovers around 1.5 Mb). Couple this with the fact that Panoramic Software is only asking $3.95 for their full version makes this an awfully tempting option, even against some of the free competition on the market. Both the free and full versions are available from Panoramic Software's website. Give it a try and let us know your thoughts!
Swipe to scroll horizontally
| | |
| --- | --- |
| Ratings (out of 5)Usability: 4Features: 3.5Interface: 4.5Overall: 4/5 | ProsInterface is near-perfectSupports multiple accountsPrice is rightConsDeveloper isn't the most well-knownIt's not free |
Windows Central Newsletter
Get the best of Windows Central in your inbox, every day!
Phil is the father of two beautiful girls and is the Dad behind Modern Dad. Before that he spent seven years at the helm of Android Central. Before that he spent a decade in a newsroom of a two-time Pulitzer Prize-finalist newspaper. Before that — well, we don't talk much about those days. Subscribe to the Modern Dad newsletter!
Nice little app, but the backspace button on my Q9h doesn't work with that. That's kind of a deal-breaker. :/

Very good post, thanks a lot.

Nice app. But ick, you *have* to buy it through Handango? No Paypal option? I hate Handango and won't give them my business.

A con is that it isn't free? There is an ad supported version that is free. So give up another .5 to make the total score 4.5/5. It's a very darn nice app and the ad supported version isn't blatent and obtrusive either.

I have used Twikini and PocketTwit. I like PocketTwit because it has the ability to quickpost directly from a link. I really like moTweets a bit better. the birdie sound when it refreshes or when you tweet is really cool. I also don't mind the ads at the top of the screen in the free version. If it had a quick post feature, it would be the best twitter client!

one day i went shopping outside ?and in an links of london store?I found some kinds of links of london i love most?they are: Links of london mens bracelets Links of london mens bracelets Links of london mens bracelets Links of london mens bracelets Links of london mens bracelets Links of london mens bracelets Links of london mens bracelets Links of london mens bracelets Links of london mens bracelets Links of london mens bracelets shopping Links of London Bracelets shopping Links of London Bracelets shopping Links of London Bracelets shopping Links of London Bracelets shopping Links of London Bracelets shopping Links of London Bracelets shopping Links of London Bracelets shopping Links of London Bracelets shopping Links of London Bracelets shopping Links of London Bracelets

ONLY PROBLEM I HAVE WITH THIS APP IS THE INABILITY TO AUTOMATICALLY LOOK FOR A PERSONS' TWITTER NAME IF YOU DONT KNOW IT WHEN POSTING A TWEET UNLIKE POCKETWIT, THATS THE ONLY PROBLEM WITH THIS APP

this app works great and has great features only thing i dislike about it is that it drains my battery on my Incite

How do i get this app to only alert me when i have a @mention or @direct...I dont want to hear a alert for every update or see icon for every update..Just for tweets that have my name attached!!

The only thing that annoys me is when I follow someone in moTweets, it automatically starts sending me their tweets via SMS. I have to go to twitter.com to turn it off - there's no option within moTweets to turn SMS off for anyone you follow (at least none that I've found).

The only thing that sucks abt motweets is the fact that it drains my battery..other than that, its cool