myMoney for Windows Phone 8, helping keep track of those dollars and cents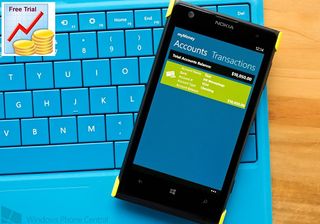 If you need to keep track of your finances from your Windows Phone, there are plenty of options to consider. myMoney hopes to be on your short list when shopping for a Windows Phone 8 financial app.
myMoney has plenty of features to set your budget, track your expenses, be reminded on bills, and keep everything backed up to the cloud. The user interface does take a little time to get used to but myMoney comes across as a capable financial option for Windows Phone 8.
Accounts, Transactions and More
When you first launch myMoney, you will be prompted to set-up a password to protect the app. This is a nice feature to keep prying eyes away from your accounts. However, if passwords aren't your thing you can disable this feature from the setup menu on the About Screen.
myMoney's main pages cover your accounts, transactions, expense/revenue categories, auto recurring expenses/revenues, bill reminders and an About screen. Each page has a set of features designed to help you manage your finances.
myMoney lacks the ability to synchronize data with your financial institution. While this isn't necessarily a bad thing, it will require you to enter all your account information manually. myMoney supports checking, savings, loan and credit card accounts. Account creation (accomplished from the Account page) includes fields for account numbers, institutional information, PIN numbers, etc.
Once you create your account(s), you will need to create spending and revenue categories. This can be anything you spend or earn money from such as household expenses, extra job revenue, groceries, etc. myMoney allows you to set a monthly budget for each category so you can monitor your expenses as you add transactions to that category.
The Transactions page will be where you add all your account transactions. Up under the three-dot menu you will find a series of control buttons and options to:
Save the checkbook data to your OneDrive account
Add a transaction
View past transactions
View future/scheduled transactions
Create reports
Export the transactions to Excel
You will need to authorize access for the app to access your OneDrive account from the setup menu on the About screen.
The Transactions page has a quick view panel at the top where you can view all transactions from an account or set a date range that you would like to see.
The Auto Recurring and Bill Reminder pages function in similar fashion with control buttons and options tucked away under the three-dot menu for creating auto recurring transactions and bill reminders. Bill reminders can also be shared via email or sms.
myMoney also has the ability to analyze your spending habits with a series of reports accessible from the Categories page. You can view a budget categories chart, expenses vs. income chart, expenses by category chart and category spent chart.
Overall Impression
There's no argument that myMoney is a feature rich Windows Phone 8 app to help you monitor your financial activities. The app supports multiple accounts, categorizes your transactions, sets up bill reminders and charts your expenses.
The downside to myMoney is that everything has to be set up manually and navigation takes some time to get used to.
Having manually set up all your expense/revenue categories isn't necessarily a bad thing and insures everything is set up to meet your needs. Still, I would not have minded seeing a few pre-set categories to allow you to hit the ground running. At least have the option for an uncategorized transaction or create a category within the transaction entry screen.
The navigation is a little on the cumbersome side. Maybe if the control buttons were not hidden or if you could add a transaction from the Accounts page the interface would be a little smoother. I don't think the current design is necessarily a deal breaker but may take some time to get used to.
All in all, myMoney is worth trying. There is a fifteen-day trial version available for myMoney so you can check things out before buying.
myMoney is available for Windows Phone 8 with the full version currently running $1.49. You can find your copy of myMoney here in the Windows Phone Store.
Note: myMoney was recently updated to version 4.5.3.0 which adds support for International currencies.
Windows Central Newsletter
Get the best of Windows Central in in your inbox, every day!
George is the Reviews Editor at Windows Central, concentrating on Windows 10 PC and Mobile apps. He's been a supporter of the platform since the days of Windows CE and uses his current Windows 10 Mobile phone daily to keep up with life and enjoy a game during down time.
Oh, really ! What is difference between others? WP8 or 8.1 needs more utilised apps not like this. For example, Microsoft facebook app is terrible. We could not do more things with the facebook app according to other platforms. spend your energy to real necessaries.

Necessities? Unless you use Facebook for your business and make money from it, Facebook "parity" is NOT more important than keeping track of how much money you have in the bank. Like adults need to.

Microsoft Facebook was an example. I am talking about apps qualities and functionalities. I have just looked my friend's iPhone and saw so much beautiful and full featured apps. I bought my Lumia 1 year ago or more but there is no good apps except Nokia's. Android and ios have many good apps. Microsoft couldn't get the developers to windows phone 8. I am an IT specialist in my country. No one can use windows phone in their IT environment because there is no VPN or Mobile device management service (I mean real service like Blackberry Enterprise) . I Allways supported this platform and so, I am waiting for 8.1

This article has nothing to do with FB or Microsoft.

For all pple complaining about FB app .. There will be Full-Featured FB app which comes with WP8.1CONFIRMED!!

They'll still complain. It's what they do.

Wow, I didn't know Paris Hilton had a Windows Phone. Money is something the rest of us deal with, honey. Run along, make us a porn video or something.

What we need is a money app that actually looks nice! I'm still waiting for one! All of them are so poorly designed and ugly and go against many design and user experience rules

That is exactly the reason why I develop one ;)

Have you seen or tried Mint?

LMAO...theres always gonna be a negative nancy

Mobu Financial Management. Best.

+8x Works great with the saving between Windows and Windows Phone using onedrive.

Daniel and other guys. have they reached San Francisco for the big bash???

If someone would post a proper leak of how the action center works, THAT WOULD BE GREAT.

How about wait a week and you will know..

I'm a Mint user. Works for me!

I love mint. Sometimes the syncing is a little slow, but great app!

Why are all these comments completely irrelevant? Those of you who have used this, how does it stack up against moBudget? I've been in love with moBudget for years, it would take a spectacular app to move me away

Moneywallet is the best :)

The icon is so bad. Ill stick to myBudget; looks nicer on my home screen. :P

The application DOESN'T collect any data, i.e. Nobody has access to the data. The application is opposite to other applications which can get into your bank accounts.
When creating new accounts, one can call a new account: "xyz" and leave the rest of the fields empty.

I use excel in the phone with storage on onedrive. Good alternative.

When my CC payment is denied, I know I'm out of money.

MoneyControl is also a great app.

First! I need to have money. Enough that I can lose track of it. With my bank balance, I know how much money I have to the last penny.

Yeah, you were sure first there...

Oh, I hate these expense tracking apps. 1) My expenses are sensitive info for me and I dont want to disclose it to any 3rd party, have it in cloud or anywhere else. It can be abused easily. No one knows what can happen with those statistics 2) I always forget to enter my expenses. - so it makes no sense for me. 3) my internet banking has similar functionality and its more secured - shows me in graphs my expenses - food, fuel, car repairs, fun, etc. I ll stay with my Old good account statement (electronic version)

No one else has a problem with the app asking for your name, account number and PIN and then asks you to save it to the cloud? I wonder where else it gets sent.

Now That there's a mint App. Why would anyone want an App where You have to enter each and every single transaction is beyond me. Life is too short for this kind of thing to NOT be automated.

Mint is not available in all countries.

What does the app does with all that permissions? For simply tracking some financial data it needs to know my location? Maybe the WPCentral Team could contact the developer and ask what is the reason.

Dev Notes:
mheiss, Whatever you write to the phone is your data. I don't have any access to it. This is part of a decision I made before developing the application. Comparing to other apps which can read your bank accounts, this application by design does not have that capability.

I would prefer that Intuit develop a Quicken app for the WP phones. I have this on my Android tablet, and it makes it easy toi enter transactions remotely and synch them to my Quicken desktop program at home. I have posted this in Intuit forums but have never received a satisfactory reply (or any reply for that matter). They own Mint, and this has a WP8 apps, so why not Quicken?

Too bad I couldn't buy it in my region... I hate this region segmentation!!!

Not sure about you guys, but I feel it's being very dodgy by asking for my live ID password at startup. It doesn't really need it any random text worked for me

Surprisingly enough the application icon seems to be taken from good old SPB Finance app http://spb.com/products/finance. Wondering if Yandex (new owner of SPB Software) is aware about that. On the bright side our Money Tracker Pro has much more in common with popular SPB Finance app. Feature-wise, not just borrowed image.
Windows Central Newsletter
Thank you for signing up to Windows Central. You will receive a verification email shortly.
There was a problem. Please refresh the page and try again.