Quick Review: OtterBox Defender for the Nokia Lumia 1020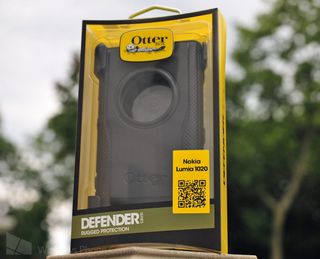 When it comes to industrial level protection of smart devices, no one can touch the OtterBox brand. Their cases, known for being well built and comprehensive, are only meant for those who work in construction, outdoors or in adverse conditions. It's a case you have to commit to because you want the best in technology and you want it to survive.
The OtterBox Defender was announced about two weeks ago for the Nokia Lumia 1020 and runs $50 from the company directly. It's an impressive system to protect your device, offering an impact-absorbing outer layer, rigid plastic shell, built-in screen protector and included holster-style belt clip.
But it's not for the faint of heart. Once on, you don't want to remove the Defender.
So how is it? The quality is top notch as always. OtterBox understands protection, you can't argue against that as it's their whole reputation. Having said that, the case is hardly pretty—but we're not sure where it could be improved either ('Hello Kitty' edition?). Having a yellow option though would be nice instead of the more tame black.
The buttons on the side do get mushy, losing some sensitivity as is the case with the screen protector. If you're a world-record screen typists, you can throw your skills out the door as you'll be focusing more on hitting the right letter. And pushing the physical keys will require some more effort too, though you do get used to after a break in period.
The phone with case feels nice enough in the hand, assuming you have accepted your fate in carrying around a bulky Lumia 1020. Likewise with the swivel holster, which securely locks the phone in (face in or face out) making sure it doesn't accidentally slip.
Conclusion? We're mixed on the OtterBox Defender. The screen protector could be better as could the faux buttons and we suppose a yellow option wouldn't have hurt either.
Still, for those of you who need this case (and you know you are), what choice do you have? From a pragmatic position, the Lumia 1020 OtterBox Defender is the best protection you can buy right now and it works admirably. Sure, you'll trade off some usability and speed but that seems like the standard tradeoff for such a massive layer of armor. If we worked in construction or were mountain climbing, this would be our go to case, no questions asked.
We're just glad we don't need to use it.
You can order the Nokia Lumia 1020 OtterBox Defender from OtterBox directly (opens in new tab). ESRP $49.95.
Windows Central Newsletter
Get the best of Windows Central in in your inbox, every day!
Daniel Rubino is the Editor-in-chief of Windows Central, head reviewer, podcast co-host, and analyst. He has been covering Microsoft since 2007 when this site was called WMExperts (and later Windows Phone Central). His interests include Windows, laptops, next-gen computing, and for some reason, watches. Before all this tech stuff, he worked on a Ph.D. in linguistics, watched people sleep (for medical purposes!), and ran the projectors at movie theaters because it was fun.
It's great to see Otterbox support the Lumia line. I wish they had some options for variations of the 920 I.e. the 925.

My question is, what if I was hiking and I dropped my phone in the dirt and rocks? That uncovered camera bump and lens would get ruined wouldn't it?

Well I would say yes but the lense IS made from gg3.

That's absolutely, unequivocally the most god-awful abomination of an accessory I've ever seen . . .

Yeah, but it's not meant to be pretty, it's meant to be functional. It's like criticising a dump truck for being "ugly"--you're missing the point! ;)

Great point Dan and nice analogy. It prevented me from typing the same critique;)

I wasn't expecting such a good rebuttal, lol. Can you tell I'm a purist? (And much too passionate, lol)

Heh, nah I understand. Trust me, I couldn't wait to remove it from my yellow beaut ;)

I knew you had to be hurting inside, haha.

where is the leather case selling? i saw the render and said yes but i cant seem to find it online

I have the one for the 920 and it does its job. I do not know how many times I have dropped my phone. This case has protected it from everything.

Good to see Otterbox supporting WP. I can't see many Defender cases selling for the 1020 to be honest. Unless you're a surveyor, architect or mountaineer!

Nice. I wouldn't have this one 24/7 like some people, but it would be super useful for backpacking trips and the like.

The day you don't have it will always be the day you'll drop it haha

I have kept the Lanyard on my 1020 and I have no say that not only does it not bother me, but it is also an insurance for me. It slipped out of my hand a few days ago and if the Lanyard was not attached, who knows what would have happened. I take Lanyard over any case.

The true question: does the phone AND the wireless charging cover both fit inside the otterbox defender?

I would take that to mean the grip and phone doeesn't fit either .... Seriously though .. Is there a rugged case that will hold them both? Maybe I don't need to carry the grip with me at all times but isn't the otterbox sort of a pain to take on and off?

Really, otterbox should start working with Nokia (and other phone OEMs) to incorporate wireless charging. Then they could sell a fully sealed otterbox case because you could charge it wirelessly, use Bluetooth for music, NFC, etc. The things big enough, you know a qi coil could fit inside that junk.

+1020 to this idea - I'd "consider" buying one if they did this (I don't want to throw away my "investment" in two charging stands and a wireless shell for my 1020). And that would be the minimum requirement since I've also got the camera shell...who am i kidding? I like the lines of the phone too much and I bought the two yr extended warranty from the MS Store for $99. So if i drop it/crack it/screw it up, they'll replace it for $49...the same price as the Otterbox lol (but with two kids in tow...this is certainly tempting if wireless charging was built-in)

Too bulky in my opinion. They could make it more sleek. A buddy has a galaxy s4 and that defender isn't near this bulky. I had one on my 920 and i ended up selling it as it was too big. I'd like to see a commuter

Ugh, no love for the 928... Loved my defender for my 8x.

I really, really, REALLY want a Commuter for my 928...

That's nice. Can you tell them to create one for the Samsung ATIV S.

Damn that is one big brick!, certainly don't envy those who have no choice but to use it. Also when I saw the article image I thought I bet he would want it in yellow lol, If I had to pack one for a trip I'd prefer a white one.

Mine goes Phone, wireless charging case, camera grip, and then this bad boy Otter Case. I can finally say that it is thick enough.

Put all that together and it's like holding a DSLR to your face to make a phone call lol.

HAHAHA - really did LOL at that comment, thnx :)

I really wish Otterbox would put out a Commuter case for the 925.

They should have made one for my Focus so I will not buy one, then again I don't have a 1020.

Should of built in qi into that massive monstrosity

AT&T Corp stores have it as well in the US.

It works great. I throw it on when I go biking, hiking etc. Protects against ugly dump trucks!

I think I will have to pass on this. Way too bulky and covers up everything I love about my 1020.... it's yellowness and the camera bump. BTW, Daniel, the lead in made me think that when you take it off it will scratch or otherwise damage your phone (saying something like "once you get it on, only the risky will want to take it off"). I dont wanna put a case on this beauty at all. To me an indefinite amount of time with this stunning device uncovered (*until I inevitably drop it and crack the screen) is better than 2 years with a massive brick.

I bought one for my 1020 after upgrading from a 920 that I dropped and cracked the screen. It works well and, to be honest, the bulkiness is a thin sacrifice for the level of protection it grants.

Otterbox refined the case just like Nokia refined the 1020...a perfect fit. The only case I would have gotten besides the Otterbox was the rumored Nokia case with the lens cap. The Defender case does not feel as bulky as the case I purchased for my 920 which was traded in. I wish someone would come up with a lens cap for the Lumia 1020 AKA BIG PIX. haha!

I use defender for my 920. The screen protector was the only thing I hate about the case so I removed it (which is very easy to do) and apply another one directly on the screen.

Nice. I had an Otter box on my phone once. It shattered when I tried to remove it. Not been too excited about them since.

Anyone know where i can buy Heavy Duty Bulletproof Case for 920?

You put that on your phone, you official lose your tech credentials. Unless your working bomb squad in Afghanistan and your the guy wearing the bomb suit. Who happens to recieve calls and texts while disarming bombs. If your not that guy you lost.

I'm getting the Microsoft Store extended warranty for my 1020 I think its 50$ and its 2 years and includes accidental damage.I didn't get it when I bought my phone but the lady I talked to on the phone said I have 30 days to get it after I got my phone. But that's when I was ordering from online MS store I canceled that order and went to the MS store in the mall don't know if that changes the offer I hope not going to call MS on 15th when I have the $ for it

My biggest problem with these cases is not the bulk, but the heat! Charging, watching a video, or using the GPS navigation generates a lot of heat. I have had phones lock up or reset in cases while charging it and using GPS.

Otterbox - solid protection all round.

I have respect for otterbox it saved my android (when I had it) and my iPad many times. I use the ballistic case now and I'm pretty happy with it. I like my phone to be protected :)

Display seems recessed.
Gooooood!

Is anyone making a water/splash, dust, shock proof case for any Lumias? My wife has one for her iPhone and I need one for my Lumia

Every time I see people with Otter cases i'm like WHY? Why companies spend millions to make technology 1-2mm smaller and then comes UGLY otter BOX and turns your beautiful phone into a brick... smh. The is no reason to buy nice phones - with Otter case nobody will ever see it. that should be Otter company slogan.

With a head like that even a sweet phone will not help you... :P Just orderd the Otter Box form my 1020 after replacing the screen on my 1020 ( $195). I have an Otterbox on my old Razor HD and it saved the phone 2 or 3 times on the Fire ground. As a Firefighter somthing like this is a must I want the 34MP .DNG photos and the other amazings tools on my 1020 but I want to keep it safe. Its fine for people with soft hands to say its to thick but the Otter box is not for you.

Well put John. Contemplating this case. I'm an electrician and I'm tired of destroying all my phones.
Windows Central Newsletter
Thank you for signing up to Windows Central. You will receive a verification email shortly.
There was a problem. Please refresh the page and try again.