Review roundup: The NVIDIA GTX 1070
There's another new graphics card from NVIDIA, and it looks like being a sweet spot for 1440p gaming.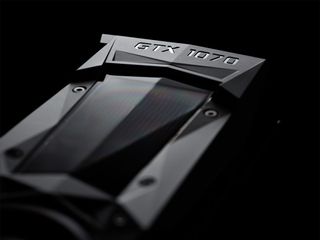 Even though the GTX 1080 was the main focus at NVIDIA's recent big launch event, towards the end the "one more thing" was the GTX 1070. Slightly less powerful than its bigger brother, the GTX 1070 was still given some pretty serious talking up, especially comparing to current generation of best graphics card options.
The first batch of reviews have been trickling out so we've rounded some of them up for you folks that are keen on the GTX 1070. All signs point towards it being pretty fantastic in its own right, but we'll leave you to make the final decision.
Be sure to jump into the comments below and let us know what you think!
PC Gamer
Check out the full PC Gamer review
Tom's Hardware
Read more in the Tom's Hardware review
Gamespot
Polygon
Check out the full Polygon review
KitGuru
And for those who appreciate their reviews in a more visual format:
Linus Tech Tips
JayzTwoCents
Hardware Unboxed
Richard Devine is an Editor at Windows Central. A former Project Manager and long-term tech addict, he joined Mobile Nations in 2011 and has been found on Android Central and iMore as well as Windows Central. Currently you'll find him covering all manner of PC hardware and gaming, and you can follow him on Twitter and Instagram.
Still worth it for 1080p or overkill?

Probably more worth it than spending similar money on a previous gen card. Future proofing and all that jazz, even if you're not into 1440p or VR right now.

Why would anyone get this over new AMD card?

Ask that again June 29th when the embargo lifts on the RX480. Until we know all about it, it's not a question with a solid answer.

Agree on that. If Radeon delivers, there will be no brainer to pick amd over this one or even GTX1080. I really was rooting for the green team but now I'd go red and happily will swap my GTX 770 for 480 the moment their promises will be proven.

Radeon will deliver, but it won't be a direct 1070 competitor most likely.. if anything, you'll see the 480 released, then nvidia will shortly follow with a 1060 which will trade blows with it. By all means swap your 770 for a 480, but you'll still likely be in the 3rd tier performance area, where the current GTX 960/R9 380X is at.

Ive used amd or ati for 10 years and moving to the gtx 970 g1 card has been nothing short of a miricle. No mor 4850s or 4870s or 5870 o 6 series at 90 degree temps, no more buying 30-40 pounds zalun fines and fans for the cards, no more sounds exeeding the sound of a plane above. That what the nvidia 970 g1 gave me and thats clocked lol, it would take more than one card to win me over back to amd. Also the cudacores give me so much noticable power on my premire pro editing too a difference i never really apreciated with ati or amd. I supose thats becasue i see a difference of almost 1/3 in times for rendering and sometimes i simply dont have to render lol. I never thought my home desktop machine could edit in 4k what a fool i was cause now on the 970 g1 it does. ofc the i7 helps too. I love the nvida cards at this time so as long as the 1070 cards have great reviews then im sold. If not then ill check amd.

Support for drivers is the main reason Please downvote me. I'm aiming for the most.

Exactly! Drivers! I was Radeon fan for a long time, but 2 years ago switched to nVidia and now I have zero problems with game compatibility . Just to prove that ATI/AMD drivers not good, I am author of one old popular application "ATI Tray Tools", which I made for Radeon cards and I know how many problems ATI had with drivers.

I prefer nvidia because of the 970 g1 but i used amd/ati cards for the last 10 years and updates cards every 2 years, usually 150-300 pound cards, i had no issues with ati drivers exept the first few months of geting used to amds buy out of ati, that was wierd but still drivers for me on all my cards ati and nvidia have been very solid and positive, thers settings like the colour settings or the built in overclocking of amd that i prefer over nvidia in the control centre but then again being able to drag and drop monitor positions on the multi monitor display is simple and genius on nvidia. I just nedd powerful cards that dont run hotr and noisey, thats where nvidia currently has me. ive only had 1 year on modern nvidia card the 970 g1 cause the last nvidia card before that was the tnt 2 ultra and so far no driver issues, t I had 10 years on amd and apart from the buyout where i didnt like the site changes ive also not had any real issuse with theirs ever and thats 10 years.

ive used ati for 10 years, yes they ran hot, yeas they were noisy but i never had any driver issues on the 6-7 cards and the 3-5 games a year i play at the least on them. You must have been unlucky. Buy the way ive now been on nvideo 970 g1 4gig ram and again i think i will marry this card 1 year no driver issues same as amd but thats 1 year only.

Personally I've never had any driver issue with my AMD cards. Been running a 7950 since 2012 and no issue with any game I've ever played.

Personally I've had many driver issues in the past, maybe they've changed but anyone I've known who has used amd, had issues with the latest AAA titles and non AAA. I stick to nvidia now. Please downvote me. I'm aiming for the most.

Because the AMD card is a $200 place holder from an inferior product. Likely the same hardware they just reserached from the PS4 4k or NEO. It will likely not make much of a dent and it is late to the party once again.

I'll be picking up the 1070...need an upgrade from my 970...

$650 Canadian.... this is why I'm not into PC gaming.

yeh 650 iS ALOT, i live in the uk so im hoping and expecting the card to go for 300 pounds uk on release, if so im buying one if not i wont.

I'll sell you my 970 for $450 Canadian...

Use the reply button so he can get notified Ayyyyy lmao

I shall be upgrading to the 1070 (at least) from my very well behaved 680 (GTAV and The Division are playable but have their moments of 20fps on the highest settings available).

currently i own what is my favorite card of all time well the last 15 years lol, a gigabyte 970 g1, runs cold overclocks well and the prise was an amazing 300 uk pounds. If they can make the 1070 affordable at 300 pounts with a none referance built id im sold. I dont want the blower system windforce would do me lol but wow these cards really make me slather at the mouth. The reason im thinking 1070 is because im updating my monitores to a simgle one a ultra wide 3440 res so need a little more omth for that 60 fps with mostly ultra settings
Windows Central Newsletter
Get the best of Windows Central in in your inbox, every day!
Thank you for signing up to Windows Central. You will receive a verification email shortly.
There was a problem. Please refresh the page and try again.