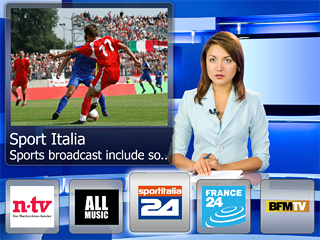 SPB is a class act among Windows Mobile developers. Their applications such as SPB Mobile Shell and SPB Backup are some of the best selling and most well known applications available for Windows Mobile.
Originally released in March of 2009, SPB TV recently made the jump to version 2. For the rundown on new and improved features, hit the jump.
Features
SPB TV version 2.0 offers some additional key functionality and builds on the foundation of previous versions. The notable new features are channels specifically offering Video-on-Demand content instead of only channels based on pre-scheduled individual streams. High Quality streams using h.264 streams are also supported, and Hardware video acceleration support is improved.
Usability
Any application built by SPB is going to excel in the usability department, and SPB TV is no exception. All navigation is intuitive and easy to use. Choosing content is very similar to the experience of operating a DVR or similar system. Channels can be scrolled through quickly and easily. Some functionality does however depend on what the specific channel supports. Features such as the ability to view the upcoming schedule may or may not be available for all channels.
Content
Don't go into this application expecting to get all of the premium channels from your cable connection, but there are some channels that give some value to the user. In particular there are several local channels that cover some of the larger cities in the US. Much of the channel selection is based outside the US however, and therefore features different languages. For a full list of the available channels, look here (Warning: PDF link). Additionally, SPB allows you to suggest channels that you would like to see added to SPB TV.
A word of caution, this application counts on the fact that you have a robust data connection (read: 3G or WiFi). Also, streaming video consumes a large amount of data; be aware of your monthly data limit.
Conclusion
As far as pricing, SPB TV 2.0 costs nothing, which is always a plus. The application is supported by ads that display whenever you switch channels; very unobtrusive.
My only real hangup with SPB TV is that much of the available content is not of value to me personally. However, SPB is obviously working on partnering with content providers, and the content that has been added since version 1.0 has definitely taken a step in the right direction.
Definitely give SPB TV 2.0 a try on your device and see what you think. Give us your thoughts in the comments!
Swipe to scroll horizontally
| | |
| --- | --- |
| Ratings (out of 5)Features: 4Usability: 4Content: 2Overall: 3.5/5 | ProsHigh Quality TV looks great Price is right!ConsContent selection still needs to improve |
Get the Windows Central Newsletter
All the latest news, reviews, and guides for Windows and Xbox diehards.