Sprint HTC 8XT Windows Phone review
Windows Phone Central's full review of the Sprint HTC 8XT, the first new Windows Phone 8 device exclusive to the US carrier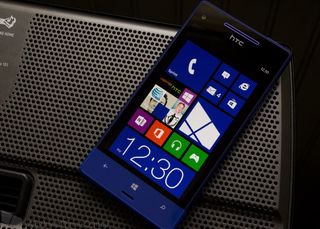 How does it go? "A long time ago, in a galaxy far away...."
Granted Sprint isn't a galaxy far away but it's been some time since we've seen a Windows Phone sitting in the wireless company's line-up. When Sprint dropped the HTC Arrive, there were always rumors circulating on what would be the Sprint's next move. Rumored dates kept on passing by and finally the HTC 8XT landed at Sprint as their first Windows Phone 8 device for 2013 (the Samsung ATIV S Neo is due to arrive in the coming weeks to keep it company).
There was joy in Mudville again with the release of the 8XT but would it satisfy the Sprint customers yearning for a new Windows Phone 8 experience?
The 8XT makes a solid first impression and it is very similar (like a long lost twin brother) to HTC's 8X. The HTC 8X is a quality Windows Phone as is, but HTC added a few more bells and whistles to the 8XT to give it a little more gusto (Data Sense, HTC's Camera App, Micro-SD slot, BoomSound, etc.). Is it enough to revive the Windows Phone market over at Sprint? You'll have to hit the break to see what we think...
Swipe to scroll horizontally

Solid build quality, Data Sense, quality audio through BeatsAudio and BoomSound, micro-SD card slot expansion, and an appealing 8MP camera

The only really bad thing about the 8XT is that Battery cover is tough to remove to access the micro-SD card slot. Other than that, there is room for improvement but nothing is to the point of being critical to the overall performance of the 8XT. Internal storage may be too low for hardcore users.

It's easy to compare the Sprint HTC 8XT to the HTC 8X. They are cut from the same cloth and are both quality Windows Phones. While the 8XT tries to build upon the 8X, there is room for improvement but nothing detrimental to the overall experience. It's strength has to be the audio quality and it can hold it's own in other areas (camera performance, screen quality, battery life, etc.). Sprint customers should be pleased with the 8XT.
The Design
If you've handled the HTC 8X, the 8XT shares the same fit and feel. There are a few cosmetic changes to give the 8XT a little more pizzazz such as the colored front button panel (borrowed from the HTC 8S) and the steel camera housing. The 8XT measures 5.2 x 2.6 x .39 inches and weighs in at 4.9 ounces (132.1 x 66 x 9.9 mm, 140 grams). Just a fraction smaller and heavier than the 8X (132.35 x 66.2 x 10.12mm, 130 grams).
The button layout is your basic HTC Windows Phone pattern with the power button up top with the 3.5mm headphone jack. Along the right side is your volume rocker and camera button with the micro-USB port at the bottom of the phone. The micro-USB port is right of center at the bottom of the phone, likely to make room for the dual speakers.
You do have a notification LED at the top of the 8XT that let's you know the charging status.
One key design difference with the 8XT is a removable battery cover. In theory you should be able to push up on the back and remove it to expose the embedded battery, SIM card and micro-SD slot. I say "in theory" because it feels as if the cover is welded into place and short of breaking out a jack hammer, my back cover isn't budging.
Where the 8X has the speakerphone speaker on the back of the phone, the 8XT has a dual front-facing stereo speaker with HTC BoomSound.
The back of the 8XT is slightly curved at the edges to give the Windows Phone a comfortable fit in the hand. The 8XT's finish is a slightly darker shade of blue than the California Blue of the 8X but it has the same rubbery feel to it. The finish has a bit of grip to it which is never a bad thing.
HTC has designed some exceptionally nice Windows Phones in the past and while the 8XT shares similarities with the 8X, most will find the design, feel and build quality appealing.
Under the Hood
The 8XT is powered by an 1800 mAh battery and is driven by a 1.4GHz dual core Snapdragon processor that moves things along rather nicely.
The 8XT is fitted with 1GB of RAM and 8GB of internal storage. It would have been nice to have seen HTC fit the 8XT with 16GB of storage but with the micro-SD card expansion and Skydrive as an option, 8GB's may be okay for light users.
Other features under the hood on the 8XT includes a digital compass, GPS, Bluetooth 3.0, Wi-Fi and NFC support.
The Display
The Sprint HTC 8XT has a 4.3" WVGA (800x480) Super LCD display protected by Corning Gorilla Glass 2. The screen is nicely responsive to the touch and for the most part it is a solid looking display.
Colors are vibrant with a bit of contrast. At times though, the 8XT screen seemed a little on the dim side as if the light sensor was taking a nap and forgot to brighten things up. It's not an issue to hide the women and children from but it is noticeable.
Outdoors... no real complaints on the display quality. The 8XT performs on par with other Windows Phones when used outdoors, though Nokia still gets the edge with their Sunlight Readability feature.
All totaled, the 4.3" screen of the 8XT performed admirably.
The Software
Along with Windows Phone 8 GDR 2 (version 8.0.10327.77 installed) the 8XT has two Sprint apps preloaded (Sprint Music Plus and Sprint TV and Movies) and the HTC apps (Photo Enhancer, HTC Burst, HTC app, and HTC Camera).
You also have Make More Space which is very similar to the Storage Check app on Nokia Lumia Windows Phones and Data Sense. Data Sense is a wonderful app that every Windows Phone should have. It allows you to monitor and limit your data usage.
The 8XT has your typical Windows Phone settings with a handful of settings specific to the 8XT and HTC Windows Phones. You have the Beats Audio setting which enhances audio playback for music and video files and then there's HTC Fetch. Not 100% sure what Fetch is but a May 2013 trademark filing by HTC describes it as,
Beyond that there's a lot of speculation but nothing concrete released on Fetch. Sounds interesting though.
BeatsAudio does give a little more giddy-up to audio quality and the BoomSound does project better than your average speaker. Music and video playback is rather impressive coming from such a small speaker.
Out of the box you have just over 7GB of available storage. Sprint did a good job of limiting the preloaded software and what is in place can come in handy. Should you see things in a different light, you can always delete these apps to free up storage space.
The Camera
With the rise in popularity of sharing photos online through Twitter, Facebook, Instagram and other social networking sites, the camera has become an essential element of smartphones. It provides an easy way to capture and share your photos to the point it is a very important selling point for our Windows Phone. The Sprint HTC 8XT's camera is a solid performer but it does have some room for improvement.
The HTC 8XT is fitted with an 8MP rear camera with a back-side illuminated sensor (BSI). The lens (28mm?) has a fixed aperture of f/2.0 and when combined with the BSI sensor, performs rather nicely in low light. The HTC 8XT does lack optical image stabilization (OIS) like on the Lumia 92x and 1020, which may be the one feature holding this camera back with low-light photography due to the slower shutter speeds used. The front facing camera is a 1.6MP with a fixed aperture of f/2.2.
While the 8XT has the standard Windows Phone camera software, it also has the HTC Camera app installed. The HTC Camera app is a camera alternative that gives you a few more settings controls and makes your effects filters more accessible through on-screen controls (they're also "live" filters).
HTC 8XT Grayscale Filter
Oddly, resolution isn't referenced by megapixels but instead by crop with both the native camera app and the HTC Camera app. The Square crop measures 2448x2448 (5.99MP), the Regular crop measures 3264x2448 (7.99MP) and the Wide crop measures 3264x1952 (6.37MP). Not sure why HTC opted to move away from listing the actual resolution options.
The native Windows Phone app offers the following settings for still images.
Scene: Auto, Night, Portrait, Landscape, Backlight, Text and Macro.
Crop: Wide, Regular, Square.
Effects: Grayscale, Negative, Sepia, Solarize.
Face Detection: On or Off.
Contrast: Normal, Lowest, Lower, Higher and Highest.
Saturation: Normal, Lowest, Lower, Higher and Highest.
Sharpness: Normal, Lowest, Lower, Higher and Highest.
Exposure: Normal, Lowest, Lower, Higher and Highest.
ISO: Auto or manually set (100 to 1600).
White Balance: Auto, Cloudy, Daylight, Incandescent, Florescent.
Assist Flashlight: Auto, On, Off.
The HTC Camera App adds/changes the following:
Scenes: Auto, Night, HDR, Panorama, Anti-Shake.
Continuous Shooting: Off or limited to 20 or 60 frames.
Self Timer: 2, 5, and 10 seconds.
Viewfinder Grid: On or Off.
Touch to Capture: On or Off.
Shutter Sound: On or Off.
You also have the filter effects (grayscale, negative, solarize and sepia) but instead of pulling up the settings to put the filters into play, you have a filter button at the bottom of the screen that will pull up the choices.
HTC 8XT Panorama Sample
The Panorama option in the HTC Camera app is very similar to what was in place in other HTC Windows Phones. You have a horizon guide that runs center screen and you capture images left to right. Instead of having the guide bubbles, you simply pan the camera to the right and the images are captured automatically as you move. As you collect images, a thumbnail view will begin to populate the bottom of the screen. If you pan too quickly, the thumbnail view will be highlighted in red. I've always like the performance of HTC's panorama software and the 8XT does a really great job of stitching individual images together to make the grand image.
The HDR setting in the HTC Camera app seems to be more of a filter effect than a traditional HDR application. When applied, the HDR images do add contrast and minimize shadowing. If the HDR application does take multiple frames at various exposures and then stacks them into one image, the camera does so effortlessly. Which leads us to believe this is more of a filter effect.
HTC 8XT HDR Photo Sample
HTC 8XT HDR Sample (left) and Non-HDR Sample (right)
The HTC Camera app does offer a slightly different user interface and the scene options do extend the camera's capabilities but the user interface is a little on the cumbersome side. Much like the native Windows Phone camera app, you still have to pull up a settings menu to make adjustments (as oppose to on-screen controls). It's nice but there are plenty of third party options out there that are vastly better.
While the HTC Camera app could use a little fine tuning, how's the image quality?
HTC 8XT Indoor Photo Sample
Not too shabby. The front facing camera performed on par with most Windows Phone cameras. The rear camera is clearly the 8XT's workhorse and images were sharp, colors decent but there were times the default settings left images a little under saturated. Nothing that can't be fixed in the settings or through post-processing though. Close-up macro focusing performed respectfully with a minimum focusing distance of about six inches.
HTC 8XT Close-up Sample
HTC 8XT Outdoor Photo Sample
HTC 8XT Night Photo Sample
No complaints about the 8XT's low-light performance. There was a little glare from lights, but nothing too bad. You do have to be careful with motion blur though. With these low light photos, the 8XT uses a slower shutter speed and without optical stabilization, the slightest movement of the camera will cause blurriness.
HTC 8XT Night Photo Sample
Speaking of glare, I found the front protective element on the 8XT to be very susceptible to smudges. I kept seeing haze on some of the test photos and after cleaning the front glass of the camera off with my shirt tail, image quality improved dramatically. Otherwise you end up with images like this...
HTC 8XT Night Photo Sample - Smudged lens
The LED "flash" performed no differently than what we've seen with other LED lights. It will shed a little light on your subject but it doesn't carry too far. I also noted that even with a flash, the 8XT dials down the shutter speed where motion blur is evident.
HTC 8XT Flash Sample
Let us not forget about the video capabilities of the 8XT. You can record video in full HD, HD, VGA, or QVGA. Again, HTC opted to go simple with resolution terminology. This makes a little bit more sense with video resolutions than photo resolutions. Additional settings from the native Windows Phone camera app include:
Effect: Grayscale, negative, sepia, and Solarize.
Video Quality: Full HD, HD, VGA, QVGA.
Lock focus in video: On or off.
Fast HD: On or off.
Video Stabilization: On or Off.
You also have the same native settings for white balance, exposure, sharpness, saturation, and contrast with video as you find with still images. The HTC Camera app's video settings are the same with no variation.
So... how's video quality? Nice, much like we've seen with the 8X but audio quality was better.
Overall, the 8XT's camera is a solid performer. It's not fair to compare it to the Lumia 1020 (it's in a different league) but the HTC 8XT's camera feels to be one or two notches better than the 8X. The challenge will be keeping that front element clean.
As far as camera software is concerned, the HTC Camera app is a decent alternative but really lacks any compelling reason, other than personal preference, to choose it over the native camera app. Where Nokia gave a lot of thought into their Pro Cam app on the Lumia 1020, it feels as though HTC just threw something together for the 8XT. The HTC Camera app has potential it just has a ways to go before it gets there.
HTC 8XT Sepia Filter
Bottom line... the 8XT's camera isn't too shabby and is capable of capturing quality still images and videos.
Overall Thoughts
When you first handle the HTC 8XT it is a natural reflex to compare it to the 8X. The two phones are cut from the same cloth with colors, fit and feel, camera performance and call quality are virtually identical. However, there's enough differences to allow the 8XT to stand on it's own.
From the subtle design changes with the colored button panel and steel camera housing to the software additions, the 8XT has it's own appeal. I wouldn't call the 8XT an improved version of the 8X but rather a more refined version of the 8X.
The 8XT enjoys Data Sense, BeatsAudio and HTC BoomSound, as well as micro-SD expansion. Each adding to the attractiveness of the 8XT.
The 4.3" WVGA screen is a little on the dim side at times. It's more of a quirk than a deal breaker that sinks the device all together.
HTC is making progress with the 8XT's camera. The camera was a solid performer in daylight and low-light conditions. There is a slight under-saturation but nothing a tweak of the internal settings won't fix and as long as you keep the front element clean, you should be pleased with the photos and videos. HTC really needs to revisit the HTC Camera app though and give it some muscle. I like the HD, Panorama, and continuous shooting features but there needs to be a more intuitive user interface.
Call quality is good, speaker performance respectable, battery life reliable, and overall the HTC 8XT is an attractive Windows Phone that will please most Sprint users who are seeking a mid-range device.
Now for the X factor...
While the 8XT has it's appeal it's manufacturer and wireless provider doesn't have the best track record for promoting Windows Phones lately. Sprint never really dipped past their toe in the Windows Phone swimming pool with the HTC Arrive. Heck, the HTC Arrive was Sprint's poster boy for their trade-in program. Then you have HTC's promotion of any Windows Phone that seemed to have left the room with Windows Mobile. Based on track records alone, some may see the 8XT being doomed right out of the gate.
Let's face it. Nokia has set the benchmark for promoting and developing Windows Phone. But HTC has just as much potential for success and the 8XT and 8X gives them a fairly sturdy foundation to build on. Hopefully Sprint and HTC will re-rejuvenate their Windows Phone efforts and we'll see more growth within the OS. We aren't against HTC but rather would like to see their Windows Phones get a little more support and TLC.
While the HTC 8XT is the only game in town over at Sprint (for now), it's not a bad game to have.
Through Sprint, the 8XT is now available and running for $99.99 after contractual discounts but you can find it through third party retailers for less. At Amazon.com the 8XT is running $.01 for new contracts and $79.99 as an upgrade.
Windows Central Newsletter
Get the best of Windows Central in in your inbox, every day!
George is the Reviews Editor at Windows Central, concentrating on Windows 10 PC and Mobile apps. He's been a supporter of the platform since the days of Windows CE and uses his current Windows 10 Mobile phone daily to keep up with life and enjoy a game during down time.
I'm sorry but 8GB is NOT ok with the Other Storage issue still around unless you can install apps in the SD, but you can't. The 820 has been a nightmare. The 920 with 32GB is perfect though... 8GB phones should not be released until the storage problem has improved (I know it can't be "fixed"..)

Agreed. It makes me wonder if we're still in 2010 with all these "8gb." internal storage devices lol.

Different users, different storage needs. My 16gb Arrive is 2.5 years old, and I still have 7GB of space left.

That's very fortunate of you but many users have problems. My Other Storage takes up 4.5GB. System 2GB. With a few essential apps installed guess how much I have left with zero games installed? Some ppl have it worst. If 8GB phones are capable of racking up 4+GB on other storage alone, it should really be considered.

Other Storage is fixed in GDR2. Read our site more often.

Lets not forget that micro sd is a waste on wp :'( he still has some fact though! The other storage has only been improved not fixed :)

It has been fixed. Other Storage is necessary for a device to run, and is utilized on more than Windows Phone. Android, iOS, and Even desktop OSes, like Windows and Mac OSx, have some kind of other storage (or equivalent there of). Windows Phone's "Problem" with other storage is that things were being put there that shouldn't, and that things were constantly being left behind, toppled with a failing clearing mechanism that was supposed to remove files but never really did. GDR2 fixed this by removing those files, that should of been removed, during the upgrade installation in the case of upgrades, and also fixes the storing and clearing mechanisms, so now things are more efficiently stored, and so the phone ACTUALLY removes noticeable space when space is needed. From what ive read, other has stayed around 300MB for those on GDr2 with 8GB devices.

I visit everyday and no the Other Storage is not "fixed" according to the forums. Improved maybe but not fixed, as what you stated in your earlier GDR2 article. Some 1020 users have a massive amount of Other Storage in just 1-2weeks use.
I'm not bashing anything, just wishing the best for such a good OS.

It's not fixed, it's just not as bad as it was. It's just a cache, which for every other piece of software under the sun is something that can be reset if space is low (e.g. my wife's 8S can't update to GDR2 because there's not enough space...because of this terribly-implemented, unmanageable caching system).
And installing some local maps, and having some big apps on the phone (e.g. games) are not hardcore user territory. 8GB is NOT enough, and reviews that make light of it are just allowing this rubbish to perpetuate.
1) As things stand, 16GB is a minimum for the phones to function as advertised.
2) Or, allow maps and updates to go on the SD card.

Not sure I would say other is "fixed" but, better than it was(I have been reading your site every day)... Till it can be managed like on Nokia devices (clear temp, see the acutal app sizes, etc), it's not fixed..but, better.

and a phone starting with 8gb or 6-7 actuall usable space, it's almost doomed for anyone who plays games on their phone.

Actually, different OS. I don't believe the Other Storage issue effects 7.5.

that is correct. Windows Phone 8, pre GDR2, is the only version(s) of Windows Phone where the clearing mechanism has malfunctioned.

the arrive is a WP7 phone. WP7 works just fine with lower storage, WP8 does not.

Can anyone tell me how this mobile is? Is it good? Do I buy it or do I go for iPhone ? Help plz

Nice review! I think this is a solid device minus the internal storage; got to have at least 16GB anymore!
I am very interested in the HTC Camera App; is this coming to the HTC 8X? I would love to have a built in panorama instead of using photosynth all the time.


I really want the camera app too, its nice to see HTC investing a little more in WP.

"Yay! A Windows Phone on Sprint!" Sadly, very few people are left to say that. :-(

To be clear, this is definitely a good thing, but it is going to take forever for there to be any real market share on Sprint. They've basically been WP-less for almost two years.

It's a shame that this phone is essentially under the radar for Sprint. People who reviewed the phone on Sprint's and HTC's website were pleased with it.

I REALLY want those new HTC apps/features on my 8X, like HTC Camera, HTC Fetch, etc.

Looks a really nice device for people on Sprint. They have pretty good rates too I think.
I have to say I like HTC design and hope they sell a lot of these phones.
While Nokia is the largest WP manufacturer, the more we have selling phones, the better overall for the platform.

I find my 8xt has a bit of lag occasionally, either when unlocking the phone or texting. I'm not sure if you found that on your phone or if a slight stutter was standard for wp8

It probably has something to do with an app you have installed, that's usually the case.

Are there any memory monitoring apps or utilities I can use to find out what's causing it?

928 review grumble grumble

The 928 does not exist.., most sites continually only say 920, 925, 1020, etc...

Logic is strong with this one..... /s

I feel the reason for that is beacuse the 928 is only on one carrier in the entire world. It dosn't have the significance as the 920/925/1020 which are available in other parts of the world too.

but the 8xt is only on sprint how significant can that be

>928 review grumble grumble

Get over it, Wpcentral does not care about the 928.... they give it no love. Not sure why because its' a "better' version (with a bunch of changes) over the 920 but, Wpcentral does not care about it. Even though the 925 is a the same phone with a hair better camera and no wireless charging but, they review it.... and same with the 1080, same phone, better camera and no wireless charging but they give it love. 928, what's that ?

Thanks for the review! It was a lot more positive than I thought it would be. So far, everything I've seen on it from owners of the 8XT has been really positive. I'm still waiting on the Samsung ATIV S Neo, but this might be my fall-back if I decide not to get that.

I generally see that a lot of people who own this device are really happy with it. So you may be happy with whichever phone you get.

I got mine the other day. 8GB is plenty for me. I had only used a few on my Arrive so it isn't a big deal.

Is the 8xt in the photo using an exclusive accent? That blue looks darker than the stock one, although it may just be the picture.

I've had it for a week now but I think I'm going to return it and wait for the ATIV S Neo - if the 8xt had kept the 8x's 720p screen it would be perfect, but 480x800 is just unacceptable in 2013 (also 8 gigs is too low for an OS that doesn't allow app storage on an SD card)

I don't get it! Why everyone refers to this phone as the sibling of 8X not the 8S? It looks pretty much identical to the 8S!

because the design is the only thing reminiscent of the 8S. Everything else is either close, identical, or above that of the 8X.

Was at Best Buy Saturday to examine this phone, sadly, they didn't have it.

The HTC 8XT is also available on Ting.

Stop trying to make Fetch happen, HTC.

Easily the worst network out there. Does this phone come ready for the newest lte that sprint has decided to switch to or the lte that is already about 12 months behind schedule? 3g is worthless and the wimax fiasco is another story. The "Not Now" network

I've been with Sprint for 10+ years and got the Evo 4G the day it was out. Since then I have bought all 4G devices for the family with the exception of my Arrive. At the beginning you even had to pay +10 just for the 4G moniker. Looking back I used maybe a total of 2-3GB of 4G since it was announced with Sprint because its NEVER available. Its just a gimmick. I have one line with T-Mobile now while I wait for my contract(s) to expire on Sprint and have LTE access just about everywhere I go. This device is nice but with a crappy network and 8gb there isn't much room for it.

This sounds like a great phone and being on Sprint and only having HTC Arrive (running 7.8) I would jump to this phone in a heartbeat BUT I've been burned one to many times by Sprint. First with the Palm Pre with no upgrade available when Verizon was getting a version with more memory and then the Pre2 before the whole HP fiasco. Then when I switch to the Arrive they don't even release any OS updates past Mango and I'm stuck on contract for about 18 months with this BS, luckily I have been very satisfied with the Arrive as far as hardware and took it upon myself to update the OS to 7.8 myself. You would also think that Sprint might be offering some sort of incentive to the people they have left on the Arrive like special pricing on the handset or billing credit, etc., or at the least make us aware this phone is going to be available through e-mail or snail mail, I wouldn't have known anything about this phone if it wasn't for WPCentral! Sprint might be the cheapest provider for me but then as I found out the hard way, "YOU GET WHAT YOU PAY FOR". Sept. 1st my contract is done and I will be getting a Nokia flagship phone.

Sprint.com had all the information when the device was announced, and wen the date of release was made available. Due Dilligence!

Welcome to the club. Proud HTC Arrive owner here but had to leave Sprint. It wasn't just for the phones though as there is no support and customer care has gone down the drain. I took the plunge and dove right into T-Mobile with the 925 and have to say this thing is nice. I didn't know what I would do without my keyboard but the onscreen for WP has always been great and with such a great device (like the 92x series) I don't miss it one bit. It took alot to make the decision to abandon Sprint but I feel like I made the best choice.

" First with the Palm Pre with no upgrade available when Verizon was getting a version with more memory and then the Pre2 before the whole HP fiasco."

I was in that boat...and I remember the slow Ty-D-Bowl sinking feeling...At least you had the patience to wait...I jumped ship to AT&T right when the Titan was released lol AT&T definitely costs more (per month and phone equipment) but I get really good service and the phone I want (more often than not cuz AT&T is the 800lb gorilla in the market and I'm not on the last carrier to get phone options for my chosen platform)...besides, right before I left Sprint, they sold their soul to the fruity OS company and got iPwned for the foreseeable future(http://appleinsider.com/articles/12/05/16/sprint_wont_profit_from_carrying_apples_iphone_until_2015_has_no_regrets) ...with that known, which phone do you think Sprint Store reps are going to try to push as soon as you walk in the door?


This is a question I have yet to figure out, the HTC website shows the phone having Bluetooth 4.0, but on the Sprint specs, it shows bluetooth 3.0... Also, is there a way to download the maps to the sd card? Otherwise, this phone is just right for me.

I have the same question about Bluetooth. Is the chip in this phone capable of being updated from 3 to 4 via new drivers in a future update? From what I've read from others Maps can be put on SD, but not apps...

I think Sprint just marked it wrong. Accordding to the FCC filings and testing it is Bluetooth 4.0 LE


Did everyone forget that the 8x has a 720p screen and is clocked at 1.5ghz? I love the idea of the 8xt but honestly it falls flat when such important specs are not as good as its predecessor.

The screen resolution may be an issue for some, but in this case, it was probably done to save battery life and overall device cost in order to make it more of a mid-level phone rather than high-end. If you can honestly show me a noticeable performance difference between 1.4GHz and 1.5GHz on a Windows Phone, be my guest. My bet is that you won't notice the 0.1 difference. Everything else on it is pretty much on par with modern WP8 devices, with maybe the exception of the 1020.

I'm not arguing your points, they make sense. But for the price, 720p should just be standard. Plus we keep comparing windows phones to each other when the market competition is in android and iPhone. Windows phones need to step it up to really impress larger crowds and the 8xt is simply too much a "niche phone".

Right? With 720p I just can't go back to 480*800 resolution... It's so much beautiful... My Samsung focus screen looks gross compared to my 8x

Great review, George. It was clean, and precise.

8gig onboard is okay. But NOT for a handset priced over $400 off contract. That pricing is wack, this phone should be in the $250 range.

Beauiful phone, terrible specs.

Its on par with other midrange WP phones....

That was a nice overall review. 8GB is manageable after the other storage has been resolved with GDR2. I've been alright with my Nokia 810 which seems very similar in specs to the 8XT. Honestly speaking I dig the design :)

Working for me. Time will tell if the 8gb is bad or not. I do have a storage card installed and it is working fine.
Under phone storage in settings : Phone 2.87GB used of 7.23GB Storage card 1.4GB of 7.4
When I click the phone bar 19.34MB show up under music and videos. (ringtones?)
Other is 663.88MB
Free 4.36GB

Under make more space app. Music and Videos show 0bytes

Alright, I am going to rant about the pricing of this phone given that it has only 8GB and no extra ordinary feature. Unless people are jumping walls to grab HTC phones, $100 is too much for this phone under two year contract. First thing it's Sprint not Verizon, so I don't know how they should have priced but this phone doesn't stand a chance.
If HTC wants to sell these phone, they should offer competitive pricing. I know they are struggling financially and don't have cash to discount but still. At best this phone should be priced between $350-400 to move the volume. They should also release these phones on pre-paid/MVNO operators to gain market share. HTC can't compete with Apple and Samsung so they need budget phones. That's my three cents. I know people are going to attack me.

I actually prefer the look of the original 8x....the two toned look doesn't look as good in these pics unless it is that white and black version of the 8s

Sprint, T-mobile, Verizon, all have Data Sense, where the hell is it on my Damn ATT Lumia 1020??? ATT is continuing to reassure ALL users that it is the worst carrier out there.


Is this phone comes whit GDR2 then it should have BT 4.0 insted of 3.0

What colors does the 8XT come in❔.. O can't recall this ever being discussed.

It's only in this "California Blue" right now, which is really purple - not blue. They haven't announced other colors, and that's all HTC has on its site.

Well at least Sprint users now have two decent mid range WP devices to choose from, more choice is always good news.

Why I would never buy the 8XT:
1. It's on Sprint.
2. The Nokia 625 will run less for about the same specs and a larger screen.
3. The Nokia 520 is about a QUARTER of the cost (A QUARTER!?!?!?!) and has pretty much the same hardware (less speed on the S4, less RAM, smaller screen...that's about it (battery life is a wash, as the CPU runs slower). It also comes with the legendary Nokia build quality and apps (yes, yes, they released them for all products, but, still..))
4. Did I mention that the 520 is a QUARTER OF THE COST OF THIS PHONE?!
5. Hey....the 520 is only $100 ($90 if you are on Amazon...)
6. HTC is invested in Android...and not doing very well, may I add. Their support of WP is secondary, at best.
7. At this cost (>$400), it is literally unacceptable to have a 800x480 screen, no matter how nice it is. You can buy a 2 year old iPhone 4 with a better screen resolution at the same approximate price. It is obvious Nokia is yoked to WP at this point. HTC and Samsung are not. If you want a quality WP, then Nokia is the best option in almost every case. There are more options at higher overall quality and ability, from the 520 to the 1020...and I wouldn't be surprised to see a 420 pop up sometime in the future to drive into the super low end even more (you do realize that WalMart and others sell Androids for $50 off contract that are little better than garbage?....and then there are those emerging markets to think of, where the Asha is actually not doing all that badly...) Microsoft needs to drop the licensing fee altogether, in my humble opinion. MS can make their money back through the Windows Store. Get away from the license, sirs!

I ordered an HTC 8XT today:
1) It was free
2) No intention of switching from Sprint. Service in my area is fine and the price is the best.
3) It was free

...except for that whole contract thing....it wasn't free, just fyi....520 is $100...no contract.

While I admit there may be a future need, I have several family lines with contracts already and have no intention of switching from Sprint, so to put it another way, I was able to switch to this phone for no additional cost.

The night shots look incredible...WOW...thought it was taken by a Lumia ; )
But...battery way small and not user replaceable ?

I picked up the phone last week, didnt like the fact the they removed the telnav for a fee based voice nav system. I installed google maps and "Here" and that solved the problem. However, I must have a defective camera or flash, my nightime photos all have a green image in them(see link). The store by me only had the one in stock which I bought, not even a display model. I am debating going back to the Arrive and waiting for the Samsung, or trying for a replacement.
http://t.co/NPDhJcKKqD


This may come across as obvious, but I have to ask... did you try cleaning the camera lens and surrounding area with a cloth or glasses cleaner?
If you did, and it's still like that, but you're otherwise happy with the phone, I'd just ask for a replacement. No need to wait unless you really prefer the Samsung, which hasn't been given a date yet.

FINALLY THEN WINDOWS PHONE HAS COME BACK TO SPRINT. 'The Rock Voice' lol I have ATT just happy to see wp take a step foward

Having had this device for about two weeks to this date, I will say that this device is outstanding!! For any HTC Arrive user (including myself), this is definitely a huge, tremendous step up. Like the Arrive, the feel of the device is solid, it is light, and feels great in hand. It has the bigger screen, and is lighter weight than its predecessor, two huge improvements over the Arrive. Sure there could have definitely been more memory (>8GB out of the box... oh well). Sure it could have had a better screen resolution (there's higher HD screen rez's out there, we all know). However, this device is just outstanding! The BoomSound really is awesome. The sound is a step up using with headphones too. And of course, Windows Phone 8 is great to use also, as we all already know.
Thee bottom line: If you liked your HTC Arrive, you'll love the 8XT.

Does it lag when you listen to music? I've seen some reviews where I saw some really big lags.
I mean, I'm really into the BoomSound feature. Please, be honest!
Windows Central Newsletter
Thank you for signing up to Windows Central. You will receive a verification email shortly.
There was a problem. Please refresh the page and try again.