Ringo launches India's cheapest local calling service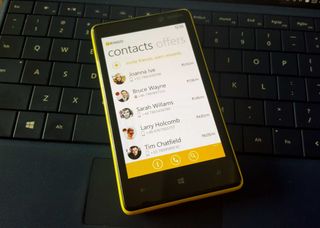 After breaking ground in the international calling space, Ringo, the low-cost calling app, has introduced local calling in India.
The latest version of the Ringo app allows users to call any landline or mobile in the country at a flat rate of 19paise/min (less than half a cent), without any additional charges like roaming, STD, or top-up cards. Unlike other VOIP apps in the market, Ringo uses carrier networks instead of phone data or the Internet for a phone call, thus offering a superior calling experience without any call drops.
Ringo can even make calls if the recipient of the call does not have the app installed. With Ringo's standard rate of 19 paise, it is 90% cheaper than most carriers and 25% cheaper than the most popular Internet calling apps.
Ringo is able to offer cheap rates by purchasing minutes in bulk at extremely low prices, and passing on the accrued savings to its customers. Ringo does not use your talktime, as the service uses a unique call-flow that connects both the initiator and the recipient of the call via a conference bridge.
Bhavin Turakhia, CEO and Founder of Ringo, said:
Ringo's service comes with transparent and easy-to-read itemized bills, and you can even earn free credits by downloading other apps from its Offers section. Additionally, the app offers 50 minutes of free talk time to every user who installs the app for the first time, and 50 additional minutes for every friend a user refers to Ringo.
Ringo is a pretty interesting calling app that uses traditional phone lines in lieu of a data connection. When the app launched for international calling few months ago, I tried it for a few international calls, and the experience was smooth. Call quality was decent, and it was definitely cheaper. Are you guys looking forward to calling local numbers via the service?
Download Ringo from the Windows Store (Free)
Windows Central Newsletter
Get the best of Windows Central in in your inbox, every day!
Bruce Wayne uses this, so, it's good 8-)

But this Bruce Wayne is made in China..

Can someone explain what it means?

I can't handle the pain! :(

Is it cheaper than vodafone?
I get a bill of around 550 INR, including 500MB 3G data

Just 500 MB ? Is that enough for you? I know this plan... The Vodafone red 499₹ plan right....i was also thinking of getting a postpaid but the low data and high minutes ruined the deal.

Nope... ₹150 for 500MB... Rest for calling+sms....n yea..i tried the 1GB plan nd ended up wasting about 300MB at the end (wifi does the job)

Daam it that is so less data. Even on 2g I finish it in 6 days..

It says it will charge as per carrier plans..what about 19p/min

Depends on the location... I like it

That looks promising..cheaper than my airtel local call rate of 90p/minute

Abhishek Baxi! Which Lumia you use? Also I cant able to verify after registering my details in the app!! Not getting the verification message!! This similar thing also happens while any transaction from my bank account of SBI as I don't receive OTP on my Lumia :(

You must have blocked, or muted those numbers (pretty sure of that). I had the same prob months ago

I used to hav the SBI issue, but not anymore. But yes, I don't get onedrive otp's. Never ever :p

Actually the point is when I put my sim card to any standard feature phone then I receive every OTP's from bank but in my Lumia, it happens only for first time when I registered my number with bank account!
Is there any OTP option in OneDrive too?

I just installed app and when tried calling local number it says we only support international calls

Go to Ringo settings & switch on - Make Domestic Calls through Ringo..
& it's working perfectly for me..

But it is charging as per carrier plan

I won't make calls so much... Always relay on Text Messages... Will try this one definitely..

Downloaded and checked by placing a call. Working just as promised. But the app now started crashing in my L1320

Great app.. And its works perfectly .. Littal lagy on lumia 720.. Use constant 10 minit call no problem at all.. ( for indians say your friend some diffrant no. Call come plz accent it )..

Is It only for international calls or we can make call to any number in india(i mean local or std)

Any one able to make Indian local calls from windows phone ? Internationl calls are working absloutely fine from windows phone but not able to make local calls like in android version.

Yes, I just made call to 3 of my friends, 2 are on wp (local &std) and 1 on android (local), call quality is superb..... However app crashes frequently...

Not getting credits .. After inviting frnds ( of course he has made his 1st call through ringo )

May be your friend not use your link .. I already got form one friend rs. 10

Did you made local calls from windows phone ? Because only internatinal numbers are being added to app contact list and when i tried to add or call any local number the app notifies saying "Seems like you are trying to call a local number. Ringo only supports international calls." on my Lumia 720.

I think there is a separate app for local calls in india.Store app on Windows 10 mobile lists only the international calling app.

Yes, I made local call, app imports all my contacts local + intl.

Hi Hari. Can you update your app to the latest version? Post the update you should be able to make local calls within India.

Maybe you can use a vpn in another country to get around this

Call ends in 3-4,mins is this a bug guys

Dear i already tested around 9.40 minits constant call to my friend may be your or friend network drop it.. ( note that this is not internet call use local operater network )

Anyone in w10 mobile got this app?

Yes. Installed 30 minutes back in my L1520 W10 10586.11. Tried calling a STD Mobile and Local Mobile and the service is excellent Cheers!

Was that the international calling app?

Waste app... Lagging too much and 100% not working in my Microsoft Lumia 640XL.

Try app save on phone memory ..!

Ringo pushed an early update after installed within an hour.

Anybody using in Microsoft Lumia 640XL?

Working okay on 640XL but help me out how call using free minutes...after dialing a number only option I see call back...

Free calling means they have initially credited you 10₹ which gives you 50mins of talk time

Whenever I try to call a number only option is call back and it "requires" internet connection to place a call back :/

Dear net require for request call only .. There is no much internet use while talking .. Its easy .. !!

Same question here @snooky

I calling Ringo...so he want a internet connectivity..what the hell

Just tried it and it's cheaper than most of the network providers

The customer support is really good. I was unable to make the calls. So i sent a feedback regarding the issue. They replied immediately replied saying they have reached the maximum calls or something and trying to increase that.

Guys tell me ,how does this work without internet?? I am not getting that.. Are they placing call through our network provider? If so, do they have some kind of tie up with them?

It's says 'ringo uses local minutes per call,charges according to your carrier will apply'

Please Imo video call apps
Windows Central Newsletter
Thank you for signing up to Windows Central. You will receive a verification email shortly.
There was a problem. Please refresh the page and try again.