Rocket Fireworks - a blast of a time waster game for Windows Phone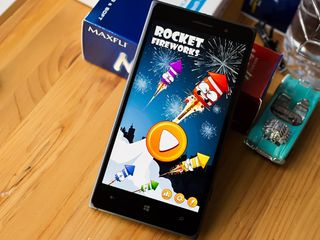 Sometimes the simplest of games can be the most enjoyable. Rocket Fireworks is a Windows Phone game that hopes to fall into that category. Rocket Fireworks includes three gaming options where basically get to shoot fireworks on your Windows Phone. Sounds relatively simple, right?
Rocket Fireworks three gaming modes are designed to test your memory, reactions and tapping speeds. You also have time constraints and color sequences to match to keep the game from becoming too easy. The game concept is simple but mastering it may take some time. Available for low-memory Windows Phones, Rocket Fireworks comes across as a nice fit for the simple but enjoyable Windows Phone mold.
Rocket Fireworks' main menu offers your standard options that include moving into game play, viewing the online leaderboard, access to the game's settings and viewing the About page. Settings are minimal and cover sound/music levels.
There isn't a help section with Rocket Fireworks and not much of a tutorial either. It's not a difficult game to pick up but a help section might be a nice addition with a future update.
The game screen has your level of play, rocket goal and points displayed across the top of the screen. A string of lanterns is just below these stats that can have different meaning. Your rockets are ready to launch and line the bottom of the screen.
Game mechanics throughout the game, regardless of the gaming mode, is the same. To launch a rocket, just tap on it. The goal associated with launching a rocket will be dependent on the gaming mode. The three gaming modes with Rocket Fireworks include:
Free Style: In this game mode, the string of lanterns represent your game timer. You have to launch a set number of rockets (starts at 50 and progressively gets larger) before all the lighted lanterns go dark. Reach that goal and you advance to the next level where the timer speeds up ever so slightly. The goal, see how many rockets you can launch.
Rhythm: Here the lanterns not only server as a timer but they also dictate which rocket should be launched. If they glow green, you'll need to tap/launch a green rocket. You start at fifteen rockets per level to launch (which increases as you advance) but they have to match the colored lights. The further you advance, the shorter the timer and the colors will start blending.
Memory: This is the more challenging of the games and the lanterns again serve as a timer and dictate which rockets should be launched. The key difference is that the launch sequence flashes at once and while the lanterns are changing, the rockets are invisible. One wrong launch and you will lose a little time off the clock.
One note on the Memory game is that the lanterns will glow white in between each color in the sequence. For example, a blue, green, red sequence would flash blue, white, green, white, red. It does take a little time to get used to and adds to the challenge of this gaming mode.
Game play starts out at a decent clip in any of the game modes and picks up nicely as you start to have success. Another feature that comes alive as you advance up the gaming levels is the background changes to new landmarks. You tend to concentrate so much on tapping the fireworks, the changes become rather subtle but a nice touch nonetheless.
Overall Impression
Rocket Fireworks is a fun, simple Windows Phone game. The graphics and animations are nicely inked, game play challenging enough to keep things interesting and I can see Rocket Fireworks being an enjoyable way to pass the time.
I don't think Rocket Fireworks is a game that you can sit down and play for hours on end. However, for shorter periods or maybe as a pass/play game between friends Rocket Fireworks will do nicely. The game is ad-supported with an ad-banner that runs across the bottom of the screen that is mostly unnoticeable. You do have the annoying full-screen ad that appears periodically but not enough to really get too irritated about.
Rocket Fireworks initial release seems to have been plagued by bugs, as the comments in the Windows Phone Store suggests. The end result is a Windows Phone Store rating of only 3 stars. I have been playing version 1.1.6 for the past few days and haven't experienced any stability issues and I'd bump the rating up at least one star.
If you've tried Rocket Fireworks, let us know in the comments below what you think of the game and remember to rate the game in the Store. It is the easiest way to get feedback to the developer.
George is the Reviews Editor at Windows Central, concentrating on Windows 10 PC and Mobile apps. He's been a supporter of the platform since the days of Windows CE and uses his current Windows 10 Mobile phone daily to keep up with life and enjoy a game during down time.
U call it time waster, I think it should be called phone storage waster

Seriously man,I enjoyed it. Even though the concept is a bit silly it's a complete time waster and it made me feel like I'm silly :D

Wasting my time is my fav time pass.

Rubbish. Zero help. Buggy, crashed and left the music running. Kept tapping the ad bar too. George seems to have been left with reviewing ask the crap stuff since WPC became WC. I hope he's job hunting.

Rubbish. Zero help. Buggy, crashed and left the music running. Kept tapping the ad bar too. George seems to have been left with reviewing all the crap stuff since WPC became WC. I hope he's job hunting.

Crap crap crap ... That's what this is .. Don't get the point of this game

I rated it poorly. There is no tutorial or how to at the start or even after when trying to find it. I didn't get the concept of the game. I just started shooting fireworks in the air and I said "next level" plus it was buggy
Windows Central Newsletter
Get the best of Windows Central in in your inbox, every day!
Thank you for signing up to Windows Central. You will receive a verification email shortly.
There was a problem. Please refresh the page and try again.