Royal Revolt 2 review – Nearly the best raiding game on Windows Phone and Windows 8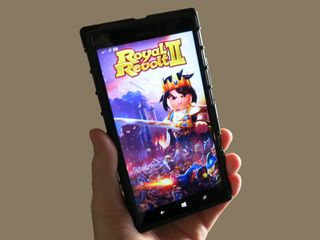 The original Royal Revolt (developed by Flare Games in Germany) was one of the first truly high quality games for Windows 8 and RT (it also appeared on Windows Phone). The game play combined smooth touch-screen combat with mild strategy elements, making for an addictive reverse tower defense game. Other than a steep and unfair difficulty curve and some iffy English translation, the first Royal Revolt was just about perfect.
Royal Revolt 2 for Windows Phone 8 and Windows 8 and RT drastically changes gears to a completely player-versus-player raiding focus, much like Cloud Raiders and Clash of Clans. Luckily, the addictive core game play survives almost completely intact. With an endless array of opponents to attack and defenses to upgrade, this sequel has become a mainstay on my daily playlist. But as good as it is, Royal Revolt 2 still has some room for improvement…
Protect and defend
Unlike the first game, Royal Revolt 2 has an actual tower defense component. You now build the battlefield that invading players will follow on their way to your castle. Attackers receive a portion of your gold (soft currency) for every tower and defensive structure they destroy. If a raider manages to knock down your castle gate, they walk away with a sizable portion of your loot (but never all of it). But they only have a limited time to complete the attack.
Laying down the defensive path could be a little easier. Stones and ruins block portions of buildable land. It costs gems (premium currency) to clear the path, so not everybody can afford to make room. The length of the path, number of towers and barricades/traps, and health of the Castle Gate itself are all determined by the gate's level. Individual towers and defenses must also be leveled independently.
Meanwhile, your base has many non-defensive structures as well. Taverns generate gold over time, providing baseline funding for your various upgrades. Farms produce bread, the resource needed to go out on raids. Bread in turn must be stored at the Silo. Keeping the Silo and all four farms fully upgraded will allow you to attack as frequently as possible. Energy mechanics like bread are a drag since they limit how much you can play, but I suppose they are necessary to keep players from steamrolling each other.
Super troopers
The Troop Academy is where players can research and upgrade each type of military unit. Royal Revolt 2 currently offers eight types of units, with more planned for the future. Each unit type has a morale cost that determines how quickly it can be used during attacks as well as how many slots it takes up during defensive waves. In theory, the cost and benefits should all balance out, and each unit should have a rock-paper-scissors-style foil.
I don't think Royal Revolt 2 quite achieves that balance, though. The more expensive ranged units (Pyromancer and Mortar especially) just have way too much of an advantage over everything else. Sure, the actual player can run up to any ranged unit during battle and kill it in one hit with a decent spell. But attacking units will just die over and over against the Pyromancer's burning shots and the Mortar's poisonous projectiles (with splash damage!). Even though attacking melee units could potentially run past a choke point of ranged defenders, they usually just stick around and die. Attacking ranged units tend to die just as consistently.
Even the player can easily get caught in a hail of fire or poison shots, his or her life sapped out uncontrollably. Sometimes there is literally nowhere to run and avoid the flurry of projectiles. You can't heal yourself during battle, other than running away from enemy fire for several seconds or reviving by spending gems. The healing spell only works on other units, not yourself. Buffing the heal spell and nerfing the ranged units would go a long way towards creating a better balance.
Matchmaking and (lack of) social features
One advantage Royal Revolt 2 has over Cloud Raiders is its matchmaking system. Yeah, it does have a matchmaking button that brings up a single random opponent of similar ranking. And you can pay some gold to find a new opponent. Here you actually get to see the opponent's base layout and gold right on the matchmaking screen, which really helps in deciding if you want to attack or not.
But that's not all! Players can always enter mini-tournaments along with 14 other random players. You get to attack anyone from that list with no gold cost, although mostly they tend to be useless targets. After the 1- or 2-day tournament ends, the top few people win some free gems.
You can even save any player to your favorites list and attack him or her at will. Or find someone of similar rank by scouring the global leaderboard. Actually browsing the leaderboard is slow and unwieldy. But at least we have options for finding targets that don't cost gold.
Adding enemies to your favorites list is the current extent of Royal Revolt 2's social features. Other versions allow players to request bread from friends via Facebook, but Flare Games (annoyingly) has yet to offer that feature on Windows platforms. Not fair! The developer promises that we will get clan support within a few months though. If properly implemented, clans could add a lot of fun to the game.
Lack of cloud support
Royal Revolt 2 requires a constant online connection, being a multiplayer-only game. All or most of every player's data is stored on Flare's servers, so that players can attack each other asynchronously. My save data and yours are on the cloud right now, technically.
Unfortunately, Flare does not allow players to create an online profile and retrieve their profiles from other devices. If you uninstall or buy a new phone, you won't be able to start up where you left off in the game. Want to jump back and forth between Windows Phone and Windows 8? Too bad. That save data you created on the game's servers will remain inaccessible to you. That's exactly why I stopped playing Flare's Throne Wars, because I switched to a new phone and couldn't retrieve my profile.
The lack of proper cloud support is awfully consumer-unfriendly. As I've said, player data is already stored online. All the developer has to do is create a login system or enable login through an existing system such as Facebook or Microsoft accounts. Enabling Facebook login can't be that much work for a developer. We've seen enough games from tiny studios do it; Flare is a pretty big mobile developer.
So close to excellence
Royal Revolt 2 is a really, really good game. The art style and graphics are beautiful (despite how much worse the shadows look in part 2). The core gameplay of running through levels, summoning troops and casting spells in order to destroy opponent defenses, never gets old. The game has received a couple of significant updates already, and the developers have teased both single-player levels and clan support for the future.
A really good game, but it could easily be better. The English translation once again seems not to come from a native English speaker, resulting in awkward dialogue. The balance of units needs adjustment, and the player's offensive capabilities don't grow nearly as fast as opponents' defensive capabilities. And most of all, the Windows Phone and Windows 8 versions need both Facebook support (just like iOS and Android) and cross-platform cloud save support. Windows fans should contact Flare Games through the company website and Facebook to request those important features.
Royal Revolt 2 – Windows Phone 8 – 59 MB – Free – Store Link
Royal Revolt 2 – Windows 8 and RT – 157 MB – Free – Store Link

(opens in new tab)
Windows Central Newsletter
Get the best of Windows Central in in your inbox, every day!
Paul Acevedo is the Games Editor at Windows Central. A lifelong gamer, he has written about videogames for over 15 years and reviewed over 350 games for our site. Follow him on Twitter @PaulRAcevedo. Don't hate. Appreciate!
Yo know I wait for this moment I can post it. It's FANTASTIC!

And you're made of plastic?

The site should do something to automatically detect and delete a comment which says "seems faster" in the first 5 minutes of posting an article. ;)

@heickelrrx And you're stupid. So annoying.

Seems Faster
OMG can't stop laughing. My stomatch hurt lol

So many kids on WPCentral.

Sir, can i create a backup my progress/ data game ( royal revolt2 ) via one drive in windowsphone 8.1 ( cyan ). I see in wp8.1/cyan have feature to backup app/games data !

Nope because the apps seems faster
Really no. But the flaregame support can help in case it gone somewhere
Anyway this app seems faster every second
#seemsfaster (ouch my stomatch)

Hey kid, go sleep you are dreamy now.
can anyone answer my quest clearly . Please help. I want to hard reset my phone.

Stupid kid this joke died the day it spread,if you're actually laughing then I got some bad news for you...

Stupid kid this joke died the day it spread,if you're actually laughing then I got some bad news for you...

Stupid kid this joke died the day it spread,if you're actually laughing then I got some bad news for you...

Stupid app keeps posting comments

Yeah, The only one's missing is the food invite option..

Not fair. Cause we have to wait snail farm to produce food, while the troops need more food

Yeah, that's why I transferred my account from windowsphone to Android P.s. No offense..

you can do that? it would be good if I can sync between windows 8.1 and ios

Cross OS syncing isn't a thing. But transfering your account is. If you have two phones and want to play on another OS, you can write to the support here: http://feedback.flaregames.com/

I stopped playing this for same reason mentioned. I restored phone to 8.0 to get 8.1 and cyan. Can't retrieve game data which is very disappointing. I didn't want to start over when I had spent so much time on it already. I wonder if it saves game data on IOS with game center. It is a fun game otherwise.

Me too, not starting again till they fix that problem. Mine was due to my phone breaking though not os downgrade.

You can restore your account by using this site: http://feedback.flaregames.com/ You have to make a new Account and type in your old and new Accountnames. I also used this 2 times and it takes just 1 or 2 days.

Thanks giving this a try.

I started playing the Windows 8-version first. It's quite a nice and fun game. Synced perfectly between my desktop and laptop. The lack of Facebook support found on iOS and Android was ofc annoying, but didn't bother me that much. I still looked forward to installing the game on my Windows Phone as it didn't even occur to me that it was even POSSIBLE the WP8 and Win8 versions of the game would NOT sync. Especially being a universal app and all. But after installing the game on my phone and noticing I was back on level 1 and couldn't find a way to get my higher level kingdom (wich I had spent both time and money on (I usually don't do IAPs but this game is VERY much pay to win and i got a bit carried away) onto my phone. I still couldn't believe it was really that bad and thought it might be a bug or something. So i binged it and stumbled upon a post on the developer's Get Satisfaction page and finally realized the horrible truth! The unsympathetic and rather ignorant reply from the employee didn't make things better so I quickly deleted the game from my phone since it was nothing more than a big waste of space.

Hopefully this review, along with some emails from our readers (hint hint), will inspire them to catch up and offer proper cloud save support.

Well, let's hope so!
It really isn't a bad game. But it does leave a sour taste when developers cut out basic,but important, functions (like Facebook-login and cloud sync).
This review though is awesome!

Thanks Nico! I'm glad you liked it. :)

Ugh! I was just about to install this game even with the annoyances from the review. Not now.

The game file can be retrieved by emailing them have done it myself you can continue where you stopped all you need to remember is your username and they instruct you to what to do. Great Game

Just like others have mentioned, you can restore your game on another device by contacting support. They will help you restore your account from where you left off. Still wish they made that process easier for us to do.

Cloud raiders is the best!!

It's good but Cloud Raiders is still the best!

But still waiting for Microsoft exclusives i.e Halo 5 and ages if empire. Though we have third party games coming at a decent pace but still live the Microsoft games ie halo Spartan assault, snap attack,wordament, solitaire,kinematicals and many kee of theirs

Yes, I would love to see Microsoft make sure to get all of their current Windows 8 titles on Windows Phone too! Hope to see Microsoft Jigsaw, Microsoft Sudoku (new version), Microsoft Bingo, Microsoft Treasure Hunt and Secrets & Treasure: The Lost Cities in the not to distant future And while Tentacles: Enter the Mind and Microsoft Jackpot hasn't been fully released even on Windows 8 yet (I guess only Denmark and Trinidad & Tobago respectively at the moment?) i hope they won't take too long either.

I want Microsoft and insomanic to make sunset overdrive available for windows 8 with Xbox chintit controller support

People in hell ant ice water...

Last night most of my gems just disappeared. I'm mad

I really liked this game till one day all my game data was lost. I opened it and it just began with the tutorial like first time you open the game. I then tried to get through the tutorial and then enter my old gaming name but it said someone already uses this name. So not everything was deleted only the connection between the data and my phone got lost. Why they never fixed it??? I'm not the only one whom this happened. Hours and hours lost... I really liked the game...

Hey there, we can make sure to restore your account if you contact the support team over here: http://feedback.flaregames.com/ Simply give them the name of your old game as well as the new one. Oh, and some information that proves that the old account is actually yours, like number of gems, hero level, etc. Cheers, Jona

Thanks for the tip I've already read it here and I'm trying at the moment...

My favorite game...playing daily since May. But as Paul mentioned it can be improved...

Wait? So I'm the only person who had their game reset then losing progress, lost what in app content I paid for because of no cloud support and no resolution after contacting their customer service?? No RR2 for me. Uninstalled.

What device are you using?

I did have same issue once, but after they updated to 1.3.0 they claimed that they solved it.

I'm playing this game for more than a month and totally recommend. Unfortunately I can't sync my profile between Windows 8 and Windows Phone.

The no registration issue remembers me the time I asked Rovio why the angry birds epic WinPho version has not the rovio account access and only answered that "Windows phone does not support login accounts" and I was like dafuq!

Btw, I really love the first royal revolt, I think this gonna be the same :D

They reload your data from their backup if you change devices or reset ir Phone. Also they said that the bread thing its because the poor integratiom between WP and FB. Idk if its real or not.

I lost my account. I contacted with them they asked for proof and I gave them the required information but till now they did not respond to my email it's been 24 hours already. I was level 50 and my throne room 9. Too bad this is all gone.

Just wait, mine took almost a week before it gets restored..

I restored my account three times across two different devices, but they could have a better solution to this sync issue.

They will get back to you. Sometimes it takes a little while though.


I stopped playing this because every time I attacked someone the game crashed and I lose my money and exp. It's a good game though.

Just remove the internet connection required rquirement and I'll play it everyday,that's the only thing that's holding me back :(

The game literally wouldn't work without that requirement though. It's multiplayer only, for now.

:o Really?The first time I installed it,I thought I played some campaign mission but maybe that was just a tutorial or something,Idk because I uninstalled it as soon as I found out that it required internet ;_;

Royal revolt 1 might be more up your alley if you only want a single player experience

Already played that a lot :p

I really enjoy this game. I play it almost every day on my Lumia 520. Some things if like to add: Customer support is actually pretty good- I had to hard reset my phone and, obviously I've lost my account but the support team was kind enough to restore it. Secondly, the lack of facebook integration is an disadvantage in the tournaments. I've contacted the developer team and they said that it's a restriction placed by Microsoft and there's nothing they can do. Frankly I don't get why they said that, knowingly other games have fb support on wp. Anyway it's not a big deal for me since I'm planning to delete my fb account. To much of a time waster.

Been playing this daily for the past couple weeks! Fun stuff. " O Doggy Fresh" if you can find me

I played for a few minutes and then called it quits. The constant online connection and forced pvp got annoying quick. The first game was far more enjoyable.

Yes the first game is amazing ... I think games must have option for cloud data its very annoying when this doesnt happen. Thats why I like asphalt 8 for this .

This game must buy gem in app purchase if u want to win

Uninstalled this a while back... But I guess I can try it out again...

I think it's a great game. The tactical gameplay is quite good. You just need to be clever and patient. Too bad about the cloud save. But I did get my account recovered, and fast to. But the last update kinda screwed the graphic in my phone which is suck.

The odd thing is, the Windows 8 version has cloud sync.

can i create a backup my progress/ data game ( royal revolt2 ) via one drive in windowsphone 8.1 ( cyan ). I see in wp8.1/cyan have feature to backup app/games data ! I want to hard reset my phone ( lumia 520).

I uninstalled this games few weeks ago after spending bunch of my gift cards from Bing rewards and many hours of gaming, realizing that I couldn't sync the record cross windowsphone and windows devices.

It's too bad it's so entrenched with pay-to-win nonsense. I ain't paying a dime on this and it only feeds a bad habit. Oh, the female character swears at some point.

Don't forget another achievement mean another trophy.

"Enabling Facebook login can't be that much work for a developer", I can only say F-U!!! I avoid any game that forces RapeBook on the user, also the games that access my Live account must stay away from my contact list and mail. doen't comply with my terms, then unistall. Very simple... I play on Asphalt 8 but the RapeBook advantage given to Rapebook players is unfair to anonymous players and Rapebook snooping seems very Scroogle...

Typing Rapebook just makes you look crazy. I can't tell if there's a point in there or not. Probably not. :(

Actually it it's a nice game
But lately it became boring
Nothing new.. Same routine

The article said you can't heal yourself. I'd you quit fighting and get away from enemies, your hit points go up

Yeah, I was talking about instant healing as the heal spell (IMO) should do. Running away doesn't always work because there are times when you have nowhere to run and/or the fire/poison keep working at killing you even if you're running.

"512 MB supported" image. Thats new.

Ya. That's Nice game. But it got crashed many times. So, I uninstalled it.

I'm glad you mentioned the horribly done shadows. That is the biggest reason I can't play this game. All the other graphics are so beautiful and they ruin it with Minecraft quality shadows and it hurts my eyes just to look at it. Obviously, it would be awesome if they could optimize it even just a little bit, but if not, at least give us the option to disable shadows altogether as it would look better without them.

Yeah, it would be a nice option to be able to turn them off.

this is a very good game if you want to pay and pay and pay to play. while you can start out free and progress quite far, at some point you will have to invest good old hard cash to play and then you will pay and pay and pay.
Windows Central Newsletter
Thank you for signing up to Windows Central. You will receive a verification email shortly.
There was a problem. Please refresh the page and try again.