Royal Revolt for Windows Phone 8: a Medieval family feud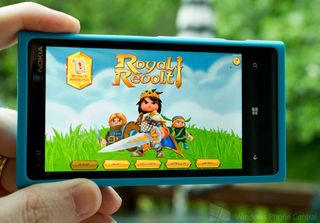 Royal Revolt is a wonderfully animated game for your Windows Phone 8 device that has you on a quest to become King.
You play the role of a young Prince sent away to boarding school. Upon your return you learn that your Aunts and Uncles have taken over the kingdom. Your job, conquer the various castles and retake the kingdom as King. A Medieval family feud of sorts.
Game play is challenging, animations great and all totaled, Royal Revolt is a nice addition to the Windows Phone 8 gaming library.
Royal Revolt plays like a reverse tower defense game. Instead of setting up defensive positions to battle invading armies, you play the role of the invading army. There's also a RPG aspect to the game in that you can upgrade your troops, add spells to your arsenal and upgrade your Prince's abilities as you progress through the game.
The map view is your launch page for your game. Here is where you can start a level of play, upgrade your troops, manage your spells, upgrade your Prince (the Hero tab), and make in-app purchases of gems that can be used for upgrades. Game play has the Prince leading his troops through fifty-eight levels of action to reclaim his land. Each level contains a combinations of barricades, enemy troops and outposts all leading to a castle that has to be destroyed.
The gaming screens has your Prince's health in the upper left corner, your troop selection in the lower left and spell options in the lower right. Your troop generation meter runs along the bottom of the screen. There are various types of troops (swordsmen, archers, mages, etc.) that require differing amounts of energy to produce (represented by the dots on the troop type icon). As you generate troops the troop generation meter is depleted. Give it a few seconds and the meter regenerates so you can create more troops.
Once generated, troops head down the trail to confront the enemy. They won't wait on their Prince so you may find yourself playing catch up to get into the battle. As you proceed through the gaming level, you can continue to generate troops. It just takes them a few seconds to catch up to the action.
Moving your Prince is easy, you can either tap/hold and drag your finger around the screen to move the Prince or just tap the area you want the Prince to move to. When he is moved adjacent to an enemy soldier or structure, he'll start hacking away at it with his sword.
The Prince has an circular area around him where the spells have influence. For example, there is a healing spell that will heal any of your troops that are within that circular area. You also have destructive spells that will impact any enemy troops within the circle.
As you take out enemy combatants, coins will be dropped that can be used for upgrades. At the end of each level, you'll also earn coins and gems that can be used to give your characters a little boost in abilities. If you're not the patient type, you can buy gems within the app. The cost ranges from $1.49 for 100 gems to $89.99 for 6,500 gems.
The game starts a little slow with pop-up tutorials guiding you through the motions of defeating your enemies. Royal Revolt picks up in speed with each level to keep things from getting stale. Additionally, with fifty-eight levels and a large handful of unlockable bonus missions, there is plenty of gaming with Royal Revolt.
The two biggest drawbacks to Royal Revolt is the lack of a help section and that it sucks the life out of your battery. While the tutorial walks you through the game nicely, a help section for reference would be nice. Not sure what the answer is on the battery consumption which is likely due to the graphics. Just be aware that if you sit down to play Royal Revolt for very long, you'll need a power source.
All in all, Royal Revolt is a fantastic game for your Windows Phone 8 device. We've tinkered with the game for the better part of the afternoon and find it perfect for the times you only have a few minutes of gaming available and for those times you want to sit down for longer sessions. The developer did an excellent job on the graphics and creating a fun battle game.
Royal Revolt is a free game for your Windows Phone 8 device that you can find here (opens in new tab) in the Windows Phone Store.
George is the Reviews Editor at Windows Central, concentrating on Windows 10 PC and Mobile apps. He's been a supporter of the platform since the days of Windows CE and uses his current Windows 10 Mobile phone daily to keep up with life and enjoy a game during down time.
**One word: upgrade
One word: contract

Well that would be your fault for signing away your soul for a slightly cheaper handset.

Takes up to much space on my phone, can't download it

Can't download, thanks to 'other' taking more than 5gigs of storage from me.. 14,8gb storage on my Ativ S, over 2gb for system, 7gb for apps & games and over 5gb for other. Way to go, microsoft!
Ps. Yes, i have Shrink Storage, and it helped me on the beginning. But now - even if i do it 6 times in a row, nothing happens..

No xbl achievements? Booo but downloading anyway lol

why don't you download the xap file manually and copy it to an SD card. That's what i do on my L820 (8GB). The installation files will remain on the SD card, saving some space on the phone memory.

how do you download xap manually, please describe the process

you go the game/apps windows phone website (usually the windows phone website where you can purchase and download XBL games too and apps. Search for the game or apps (Royal Revolt in this case). When you find the game, click on it, it will send you to a detailed information page where you can view the supported language, the size of the game, what WP it will run (7 or 8) and at the bottom of the page, on the left side, you will see a link called Download and install manually. Click on it, you will get a .xap file (like an executable file for WP). Download that your computer. When that is done, plug the phone to the computer via usb cable.
On My Computer, you should see your phone (with a given name), double click on it. you should have two removable storages, one for the phone and one for the SD card (if your phone supports SD cards, of course). Copy-paste the xap file to the SD card (either on the root of the card or you can create a new folder for it). when that is done, go back to your phone, launch the marketplace/store app. (make sur the phone is connected to the internet either via wifi or 3G)
You should see a new entry called SD-card (if you don't see it right away, reboot the phone once (and also make sure you have internet on the phone). Select the SD-card and the xap file(s) should be there. Select it/them if you have more than 1 then choose install (or install all if you have more than 1 file). That's it.

i did the same with temple run.. but no use.. it still takes 99MB on my phone..

This game looks great. Having no support for older handsets is a bit unfortunate. Seems like a good day for WP8 users; receiving two great games today (not to mention they're free!).

Dafuq, what about WP7?
So desparated with this lumia710, wish it could run android.

Why, it still wouldn't receive updates.

first time I downloaded a game before WPcentral review it or make an article about it! so what? haha

How much space does this actually take? I cleared out 1.5gb for it and it's still too big

What a wonderful day for WP users! Love this game on my android tablet, I'm glad it boarded WP already

Windows RT version pls :)

Definitely a very well done game. Yes I wish everyone could run in but I had the 900 and upgraded to the 920 so I could settle at WP8 for a while know they could run these games. WP7 hardware couldn't run this.

This has become a personal favorite on my HTC 8x wish their were more games like it :o
Windows Central Newsletter
Get the best of Windows Central in in your inbox, every day!
Thank you for signing up to Windows Central. You will receive a verification email shortly.
There was a problem. Please refresh the page and try again.