Rudy Huyn confirms new Dropbox job, will continue to work on his Windows Phone apps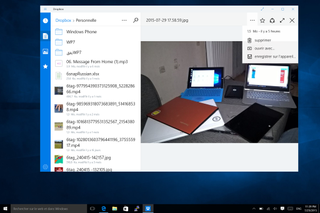 Rudy Huyn, one of the most well-known third-party Windows Phone app developers, has confirmed he will soon be working full-time at the Dropbox cloud storage service. However, he added that his Windows Phone app work, under his 6studio label, will continue during his off-duty hours.
Huyn made the announcement official on his Twitter account:
Huyn was already working with the Dropbox team to help develop the official Windows Phone and Windows 10 apps for the service before now, so obviously he will be able to work even harder on those apps as a full-time member of the business. Fans of his many third-party Windows Phone apps, like the Tinder-based 6tin and the Instagram-based 6tag, should also be happy that Huyn will continue to develop and update those creations when not working at Dropbox.
Source: Rudy Huyn (Twitter)
How does he have time to sleep?

Rudy i actually the next generation of the IOS and Android app-porting tools. It's an AI that doesn't just port the apps but builds the apps itself.

Outstanding! Congrats, Rudy!

Congrats dropbox for being so much smarter than snapchat.

Windows phone must show him as a brand ambassador to the platform

All he need to do is make his apps universal. Other than that they are perfect the way they are. Congrats Rudy!

It's a shame there is no mention of what is really going on here. Huyn may have thrown in the towel either way, but more likely he is just the first developer visible enough to demonstrate to us all the consequences of Astoria/Islandwood. These tools will make it almost impossible for developers, who have so far invested in building real WP apps, to survive. For RH this is particularly difficult, as his apps will largely be replaced by the official apps ported over from iOS or Android. Evolving his apps into universal apps will serve him only if there is significant demand for such universal apps (unknown), which the officially ported apps then fail to supply (also unknown at this point). Even if both those unknowns go in his favor, the chances he could make a decent living off the remaining revenues are very slim indeed. It's not a stretch to envision the entire WP developer community doing the same and going the way of the Dodo-bird.

I don't agree with that. I do agree that it was the reason for him to leave, and if you've read his twitter before you could have such conclusion. But it is not really the case for other developers. Rudy did one great thing for the Windows ecosystem that was just in part in his long term interest. He has built the best 3rd part apps for popular services that haven't properly supported Windows Phone. He filled the great gap and made platform more bareable for the average users. It was in one part in his interest because he became very visible and probably got some outsourcing jobs from big companies. But it wasn't in his long term interest because I don't think that anyone has ever built his business as the 3rd party app provider for services. And yes, you've got pretty well that those big companies will have no trouble to port their Android apps to WP now (not so much iOS apps) and though his apps might be even a bit better in some cases it would be pretty hard to fight against the effect of the global brand. But for most developers the story is not like that. First of all, Windows platform will grow and won't be too much influenced by those tools (for Android because it won't be supported, for iOS because it will be hard to port the app). Next, support of Windows Phone won't be too much interesting for smaller Android devs - it will represent less than 5% of their revenue, so it is not too motivating and they usually face the lack of resources anyway. So let's have good wishes for Windows platform and especially for Rudy who did amazing things maybe even more for the platform than for himself!

We'll see. I work in the software industry. I speak with multiple companies who build apps on a regular basis. Of those that have a foot in the WP ecosystem, every last one is considering abandoning it, although contrary to what you say, most are considering porting from iOS rather than Android. At least based on what I see, I don't believe your predictions to be accurate.

I am now sorry that I haven't bookmarked the article from one major publication (I think it is ZDNet) that polled top Android and iOS developers with the question whether they'll support the Windows platform because of those new tools, and only those developers that have already supported it answered with 'yes'. I haven't said that companies will rather use Android porting than iOS porting. I've said that for the companies that doesn't have any commitment to Windows platform. iOS porting requires a lot of time, and thus commitment, but have bigger potential effect. It requires probably 50% of the time of creating the original app (unless it is a game, then it could go very low). Most iOS developers aren't even aware of that so they make some claims based on the false facts.

I believe the devs who make really quality apps, whether they are the unofficial clients to services or just apps, will have no problem. Just take a look at 6tag. It is a pleasure to use compared to the iOS Instagram (except for video upload sometimes). I can surely say the same about 6sec and 6tin. He incorporates new features in less than 4 to 5 days of announcement.

@ashhar
This I'm sure is incorrect. No matter how good your app is, if you're competing with the official app that is available for free, there is no way you'll be able to make a living off your 3rd party app that costs something. It just won't happen. That is a dead end and surely part of the reason RH is taking a job elsewhere.
Whether the WP devs with unique apps will also be throwing in the towel remains to be seen. If what I'm witnessing in central Europe is similar to the rest of the world, Astoria and Islandwood will exterminate the remainder of the WP dev community too. I'm just not sure if what I'm seeing is a regional anomaly or a general trend.

At least he now got a stable job :)

Congrats man well deserved and I wish you the best. It's such a join to see hard work pay off.

Way to go, Rudy! Success.

Yeah, good luck to him. Might explain, though, why TVShow has fallen into neglect. The constant "cannot connect to server error" when trying to add new shows has unfortunately pretty much ruined the once great app.

Not related, I don't like it neither. TVShow is the biggest TV Show database tvrage.com, but the service is down since 5 days, the website team works hard to publish it again. On my side, I prepare a backup solution, using an other database, with less informations and data, in case of tvrage.com doesn't come back

I have the issue as well and happy that am not alone. I even mailed you about the error.
Congrats on your new Job Mr. Legend. Wishing you success!!

Anyway, congrats Mr.Rudy! Man, Microsoft should hire you instead! Bravo and keep it coming!

Good for Rudy. H truly deserves it :)

Congratulations...have heard that Dropbox has got a great work ethic.. :)

Good for him, hopefully 6tag won't fall too far behind.

Awesome! Congrats, Rudy! I'm only bummed other companies didn't clamor to hire you as well. You would have improved so many apps that desperately need improving. (won't name names..........but Facebook! Instagram! Skype! Anything Windows Wallet related! And friggin Snapchat which is a whole other story!)

Rudy plzz do something with our Facebook Apps...

All of windows phones problems explained in this one move. Rudy is EASILY the most famous developer of WP. He has many top paid apps, and yet, he's taken a normal job as a programmer. All his top apps, all his fame, and he can't even make as much as being a regular developer. WP development is not a job. it's a hobby, as he says "work will continue in his own time". that clarifies everything right there. Nobody develops for WP because having MANY top paid apps isn't enough to support 1 guy nevermind a company.

You sure he is just a developer?

@sweatshopking while wp has a much lower user base, it is not all rosy on the other side either. Did you see this? https://www.reddit.com/r/IAmA/comments/3kj5ko/i_am_the_ceo_of_an_indie_g...

That's hardly the same thing.

There is no such thing as "enough" for humans, we don't know if Rudy makes enough money From his WP apps, but either way working for DropBox is a big career move, especially as a tech lead, in the future, he could even work for even bigger companies! I'm happy for Rudy and I won't even mind if he stopped supporting his apps.

No matter how much you make as a freelance there's always the appeal of a steady check from a 9-5 job. And understand these developers at Dropbox make bank. Plus you can do your hobbies in your own time for extra coin.

I am unsure if Rudy has any top paid app. His apps are mosty free with in-app purchases and advertising. But you've got some points. Windows (phone too) users rarely want to pay for anything and expect great apps. It doesn't happen like that. If you want great apps you've got to pay like iOS users do. Even huge pile of users like on Android doesn't completely make up for that.

If there's a community that doesn't like buying, its the droids

Sure, they are on the top, but Windows is unfortunately not significantly better. Actually the best bet to revive UWP is on Xbox, IMHO.

I have yet to see an indie app developer to support themselves only on the income from their apps even on Android, unless they are in the game development area. Apps don't pay as much as people think they do.

Good luck to Rudy and much success! Without him, many more would have left the Windows phone OS months ago.

Congrats pal, we of Windows Phone nation wishes to you a nice job with the apps and possibly bring Snapchat to Windows Phone users please, the well know 6snap or with another name. Cheers for the good work!!

6snap was killed by Snapchat not Rudy

Please don't get stuck there,I mean continue your own apps with the same pace

Not a chance, unless he plans to have no life. Once he sees what the SF night life has to offer I'm afraid his side job will cease. At least that's how it would go for me if I were in his shoes...

Maybe he can put someone in place to take over day to day stuff?

I live and work in Silicon Valley, and still have plenty of time to work on personal projects in the evening and weekends, without any issues. Not everyone is taken in with the glitz and glammer, nor feels the need to spend all their time out partying.

Silicon Valley and SF are worlds apart culturally.

Well Congrats to Rudy Huyn, now time for him to be Windows 10 Mobile Addict with Universal Windows apps.

Congrats Rudy, could not of happened to a nicer guy and talented programmer.

FYI this article needs a like button.

Hope he's snagged plenty of stock options for the expected Dropbox IPO!

meanwhile, he refuses to acknowledge TV Show's troubles...lazy jerk

http://www.windowscentral.com/rudy-huyn-confirms-new-dropbox-job-will-co... you said?

I hope he is just kidding.

You know that term "Angry old white-man"? Well it had to originate from somewhere. I think we have discovered its origin.

Thanks for all your work over the years Rudy. You've made this platform an enjoyable one to use. (6tag/6tin especially!)

If Huyn was lazy jerk, he wouldn't worry to develop apps for Windows phone. Sorry, but you are wrong

Rodney...you're an idiot.

You are the jerk , why don't you appreciate his work?!

Wish you great success at @Dropbox. Hopefully MS can buy them someday before the evil corps jump-in.

It's really a good news, but please fix TVShow first. Since tvrage.com is down, maybe he should change to other providers.

Congratulations Rudy! Please 6tag as universal app. :) we really appreciate it.!

Congratulations, Rudy!! Absolutely well deserved. What took Dropbox so long?

Rudy the man how stay alive Microsoft mobile

Pretty cool, I hope someday he won't abandon WP, congrats Rudy!

Maybe Microsoft should have hired him.They need guys like this that actually have a passion for W10 and mobile.

Absolutely, I agree with you.

That wouldn't bring any new apps LOL.

#Respect #congrats
Great example of hard work never fails. :)

Sad snap chat didn't hire him...

Idk if he would want to work for snapchat

Congrats Rudy! Best of luck!

Congrats Rudy! Wish you all the best and thank you for your hard work. Keep us happy with your great apps!

Can't be anything but happy for the guy. Hard work pays off.

Why didn't Microsoft hire him?

Rumors say that his 6studio apps would bring legal issues for Microsoft. But he did partner with them to work on the lock screen feature that got canned.

Because they prefer to spend 100 million on some iOS and Android developers ;).

I'm really happy for him. Good luck Rudy!

Congrats, Dropbox is great! That and OneDrive are my preferred online cloud storage

It will be great if he can improve his 9gag app... It has lot of missing features

Nobody cares. Im leaving wp. Im full of this sh***

You're definitely full of shit, lmao!

Yeah yeah...whatever you say pal

Yup... You sure are full of it.

Yes, nobody cares about you leaving WP ;)

Good Deal he truly made my Lumia a decent device with his apps where major companies did not care he is a True Champion and Voice for Windows Mobile

Whoa! A big move and win for Microsoft's OS! Congrats!

Felicidades Rudy. Eres un gran desarrollador, una leyenda como dicen todos. Desde que tengo WP, 6tag es la única aplicación por la que he pagado, pues es mejor que cualquier otra. Y eso de enfrentarte a Snapchat y sacar como una aplicación la parte Discover, es lo mejor. Aun la tengo y tiene prácticamente lo mismo que la aplicación oficial para las otras plataformas. Microsoft era quien debía contratarte.

I love you Roods. Without you I would've been just another lifeless user of Windows Phone. You have made this platform meaningful for me and given life to this corpse.
You are a legend for body of work you leave behind. You are Jesus Christ (JC) for this platform and you are the light in the dark.
Your star shines bright in the darkness and gives hope to all of us that one day we will see the other side.
Goodbye and good luck. I wish you well and give you my best.
Take care.

You truly deserved. Congratulations, Rudy. All the best for the new start. :) Posted via the Windows Central App for Android

Microsoft should hire Rudy for making windows 10 core apps....

I think I read somewhere that his 6studio apps might bring legal issues to Microsoft.

MS wouldnt, they want WP to fail.

Amazing! Not enough great developers like this!