Rudy Huyn pulls TVShow app temporarily from Windows Phone Store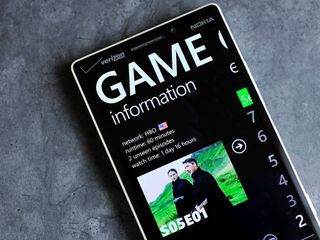 Well-know Windows Phone app developer Rudy Huyn is experiencing some issues with two of his creations. One of them, TVShow, has actually been pulled from the Windows Phone Store temporarily. Another app, the Instagram-based 6tag, is also experiencing some server-side issues with video encoding.
TVShow, which lets its users track episodes, air dates and more for their favorite television programs, uses the TVRage.com website to collect its data. That site is currently down. In a Twitter message, Huyn says:
As far as the issues with 6tag, Huyn writes:
Download 6tag from the Windows Phone Store
Huyn recently announced he will be joining the Dropbox team full-time later in September, but will continue to work on his own Windows Phone apps after hours.
Source: Rudy Huyn (Twitter)
Get the Windows Central Newsletter
All the latest news, reviews, and guides for Windows and Xbox diehards.
Hope tw show becomes universal app.

I just want Rudy gets chance to make his 6snap back.

Agree, Universal would be awesome. I use this app often and noticed at the weekend that I couldn't add a tv show. Be glad when it's back so i can continue tracking my favs. Oh, it's also a brilliant design.....sooo Metro.....sooo easy to use :)

TVShow is one of my most used apps. Happy it's only temporary.

I agree. Love this to be an UWA.

Tv Show is awesome! Universal app would be a great upgrade. Maybe some new features or app updates too? This was one of the first windows phone apps I bought and use it all the time.

What kind of haters that attack 6tag server?

I am thinking about this too.

He's likely using a paid server that hosts more than just 6tag, so it's not like someone is specifically targeting him.

It's probably not a directed attack. My server and other small companies get DDOS attacked all the time (in waves, which last a week or so) for no apparent reason. Finding out information about the attack is almost impossible. My server is at SoftLayer in Dallas and they take the server connection down to halt the attack. I could pay for hardware protection but the attacks haven't been persistent or long-lasting enough to justify it. The DDOS attacks on my server would always start after midnight Eastern time. If you look at the logs on a public-facing internet server you'll see that the server is being attacked almost every second of every day. You can see blind attempts (where the URL doesn't exist on my server) to hit wordpress vulnerabilities, phpbb vulnerabilites, etc. If you have an email server you can see methodical password dictionary attacks on common usernames.

The server wasn't working for this app since ten days.. I hope it comes back bigger and better with an universal app.

I don't think that TV Rage will come back. The site is now down for 15 days. Rudy should switch to TV Maze and/or The TVDB.

TVShow app was not functionnal, we can't add any new tv shows... Hope the cause is the website. And please Rudy, update the app with a new design. It needs new things like statistics

Good 'ol Rudy!
^_^ Rudy's got the chalk.... Er.. I mean App ^_^!

Our servers...hmmm
Rudy has a team?

Yea I noticed that ! Posted via the Windows Central App for Android

aww, snap, one of my top 10 apps, been looking for an update literally for years :)

When will Rudy update 6tag to do video encoding locally? I know at the time windows phone didn't have the APIs for video encoding, but now there are a few apps that do it, including movie maker, which even has the ability to upload to instagram.

The tvrage website doesn't seem to back any time soon, perhaps he should find some other providers.

Hopefully he will use this downtime to give us a much needed update for the app. It has so much potential.

If I lost TV Show.....id find the tallest building. Tracking 35 shows, my #1 app.

I am building a brand new TV Planning universal so for Windows 10, it will be coming soon...

Does anyone have any news about TVRage? Anything?

I just think that will have to wait and push for officials app of instagram and decent ones because this guy as will work full time on dropbox project don't think will be able of do everything as used to do, after all is human too and also needs their time of leisure so I don't expect or raise my expectations up that will still steady with the upgrade of the apps that been developing, just, need to start to push to instagram,vine and tinder that start to take to Windows phone seriously, after all we just let get the rates from the selling but never Microsoft has posted how many activations of Windows phone are, perhaps be the activations higher even.

Check out this link to try out the beta version of my Windows 10 Universal app: https://www.microsoft.com/store/apps/9nblggh22flg It scrapes its data from TheTVDB.com and TVMaze for Time zone data, and it features a bold, modern design. I would appreciate it if you gave it a try.

can you import your shows from Huyns app TVShow? i just cant start my list again, it's too much