Rumor: Nokia and HTC both working on dual-SIM Windows Phones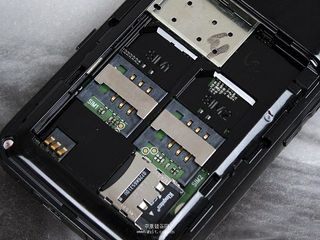 Back in September, Evleaks revealed on Twitter that Nokia was working on a dual-SIM version of Lumia 720. So far, the device hasn't materialized in front of us yet. But according to latest rumors, it's still on the way: Nokia's dual-SIM isn't dead yet.
Citing an unnamed insider source, Chinese tech site WPDang reported that both Nokia and HTC are currently preparing several dual-SIM Windows Phones. Unlike on some Nokia feature phones where you are allowed to shove in two SIM cards, but only one will work at a time, SIM cards in these devices will work simultaneously.
I'm not sure about users in developed countries, but in China and India, there is high demand for such devices. Having two SIMs working together immediately opens up several user scenarios:
Business folks running frequently between two cities could equip their phones with local SIM cards from both destinations. Long distance and roaming fees are evaded, and there's no need to swap the SIMs around.
Different carriers for talk and data: China Mobile has THE BEST GSM network coverage in the world (well, covered from subway tunnels all the way to the top of Mount Everest), but their 3G network comes in a weird standard called TD-SCDMA which is poorly supported by phone makers. China Unicom's WCDMA network is lacking by quite a bit in terms of coverage, but the data flows pretty fast when there actually is reception. Dual-SIM phones allow people to enjoy the best from both worlds.
Sadly the insider source didn't give an estimated date of release. 2013 is almost running out, and there's hardly any time to slip a device or two into the Nokia World conference. Let's see what happens in 2014.
The source also revealed that HTC will be releasing three new Windows Phones during late 2013 and early 2014, including HTC One loaded with Windows Phone 8. Hopefully there are nice surprises on the way.
Source: WPDang
Folks in Asia would be happy. There is high demand for dualsim phones in India

That's to put it mildly. When Nokia introduced its dual SIM phones 2 years ago, it sold 17 million of them right on the next quarter.
Now there are much over 95 million dual SIM phones sold every quarter globally.

I just hope it's not too expensive.

Simple, just make the dual sim version $20 more than single sim model.

I'll be happy here in Sweden too. I can by a phone off contract and get call and data plans separate, which will save me alot of money every month, and whenever a better offer comes along I can switch them independantly.

Damn... it's too late. Everybody with a want for dual sim devices who would have agreed to use a WP is now sporting the White Plastic. Still, better late than never.

Dual sim and dual boot. I heard Samsung and Huawai (can't spell it) is working on dual boot too. :)

What are the pros of having a dual SIM device?

He mentioned the pros in the article.

In the US.... I have a work cell and personal. I've lost work iPhone at least twice. Now I just call forward all my iPhone calls to my Lumia. My iPhone has been dead in my desk drawer for 2 months BC of this. Having dual sim would great help to me. Some pple can carry around 2 phones. I definitely can't. Most Partners at my firm can't either. They are allowed 6 replacements per year.

Yep. This would be huge for BYOD, and I wouldn't have to carry separate work and personal devices around all the time. I'd be on top of a dual-sim phone like a fat kid on a Smartie.

I have this exact situation - work iPhone, personal Lumia. I really dislike having to carry around another electronic device. Unfortunetly, I think this article is referring to the European/Asian market.

Well, over here in Africa generally, it would also be highly welcome. They have the feature phones which are already quite popular and adding Lumia to the mix will only help. Also, over here a Chinese OEM, TECNO makes a killing using this strategy, they rival Samsung for sales in the Android market with these dual SIM phones. Well, the phones are also dirt cheap.

It's great for drug dealers :P

Too late...the coworker in my side is totting a Galaxy Grand Duos. My Lumia 822 cant hold a candle alongside it.

and she is a chick... !!

For cross border travel on Rogers and mobile. Nice

That's what I was thinking, as I have an AT&T prepaid SIM for travelling to the U.S., and a Fido SIM for in Canada. Nice!

Should be good. Then I can use Three UK for 3G/4G and Vodafone for phone calls.

What are the odds of that HTC One running Windows Phone 8 coming to all the major US Carriers?

Pretty high. I'd bet money on AT&T carrying it first with Verizon coming in second.

I might get rid of my buggy 928 for a HTC one running Windows Phone 8 GDR3+.... As long as it has a good camera, FM radio, MicroSDXC slot and 32gb or more, sign me up !

A dual SIM version of the 720...well...THAT one could be Batman...after all...Batman/Bruce Wayne. 2 characters, 1 body.
Now Tom Warren's believe may be a bit more substantiated.

As for HTC, I highly doubt they'll release a One with WP. They just reported losses, the last thing they'll be doing is spending money on a phone that won't sell that well outside the WP-fanbase. Actually, I'm not even sure about how willing are they to keep releasing Windows Phones. Depends on the amount of money Microsoft spills into their pockets, I guess.

Actually if there isn't a huge difference in price people will prefer that over the regular ONE because it gives them options. They may not use it but they'll still want to have it just like most obscure features on phones.

The selling price of the One was around 600€/650€. It's definitely a flagship device. But how well would it sell if sporting another OS than not Android? Windows Phone users may very likely give it a try, since the One is a solid Android device and so should a WP version be. But thinking of the common smartphone user? Hmm...doubt it. Specially since HTC is nowhere near the support quality of Nokia. Actually...even Samsung has more Apps on WP than HTC. Honestly, it doesn't seem like the OEM one would go for if wanting to try a Windows Phone.
(If Nokia is destroyed by Microsoft, then that's another story. HTC may - as Microsoft intends - take the place of Nokia as the major OEM for WP)

From the looks of it, you are the one destroyed by this Nokia-Microsoft deal, stop being butthurt and face the reality, Nokia-Microsoft deal is just a formality now.

You have the wrong info my friend. All Nokia's dual sim phone had its 2 sims working simultaneously except that the 2nd sim doesn't work in 3g

Verizon data and t mobile voice.... A guy can dream

I want one of these for Canada, to keep my work calls separate from my personal calls, since each is paid for separately. It would be much easier than going through the bill each month and reimbursing my employer for my portion.

This could be huge for international travelers, but also enterprise people that dont want to carry two phones.

Dual sim? Wo needs that? They should bring people buying more devices with innovation.

Oh I don't know...it's only mentioned IN THE FRICKIN ARTICLE: "...but in China and India..."

I'm up for renewal with AT&T in July so I'm hoping badly for that HTC One with WP8. I'll be the first in line.

Most of Dual SIM phones including Nokia's are dual standby. I'm not even sure anyone makes a non dual standby dual SIM phone anymore. Those were the early devices.

HTC ONE with WP. Bring it!

I can already imagine this: "feature disabled by Rogers" or this: "only works with two Rogers SIM cards"

These are things that Microsoft needs to have in there mobile platform they have to be aggressive

Would live dual sim . I'm an int'l traveler and corporate biz man.

MORE SUPPORT FROM HTC = HAPPINESS

With HTC, if after Microsoft acquires Nokia's Devices Division, they open up all the Nokia exclusive features (e.g., Glance, etc.) and apps to the entire platform, I would be more open to getting a phone like the HTC One running WP. So I hope HTC does stick around. A rising tide can lift all boats, as they say.

its a great idea but i think id rather try knowroaming 1st as if it dont support lte/lte max(refarmed wimax) its not entirely worth it.

I'd like to see a dual SIM phone with 5" screen, 64gb memory, 2gb RAM, latest processor, 41MP pureview and wireless charging and battery that lasts more than 1.5 days.

What's the great purpose of dual sim exactly aside from maybe if one networks getting updates you can swop to the other in that aspect i guess its handy
Windows Central Newsletter
Get the best of Windows Central in in your inbox, every day!
Thank you for signing up to Windows Central. You will receive a verification email shortly.
There was a problem. Please refresh the page and try again.