Samsung Omnia W Windows Phone announced with detailed specs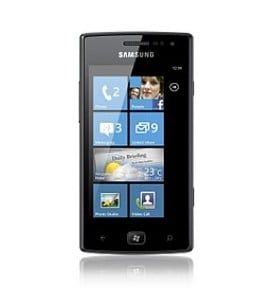 Samsung has announced the Omnia W, the Omnia 7 successor, and it's set to sport a 3.7" Super AMOLED screen, 1.4Ghz processor and a 5MP rear camera (with FF VGA camera). We previously caught a brief overlook of the specifications from SamFirmware and they stated that the handset will be available at stores in October starting with Italy and advancing through Europe.
What's yet to be decided is how Samsung will price the device, probably aiming to battle with the HTC Radar (opens in new tab). The Omnia W will be powering Windows Phone Mango. Check out the full specification chart after the break.
Source: Samsung Press, via: Engadget (opens in new tab) & WMPU (opens in new tab)
Rich Edmonds is Senior Editor of PC hardware at Windows Central, covering everything related to PC components and NAS. He's been involved in technology for more than a decade and knows a thing or two about the magic inside a PC chassis. You can follow him over on Twitter at @RichEdmonds.
Luckily no real reason to update my Omnia 7 yet.. I like my WP7 squared, not with curves at the top/bottom. :)

No, not interessted. As their support in sweden is so crappy it will take some time before I ever concider a Sasmsung product again.

This is just the international version of the Samsung Focus Flash that's already been annouced for AT&T.

"probably aiming to battle with the HTC Radar." Probably not. This phone has a 1.4ghz processor and a amoled display. The radar is running 1ghz with lcd display. Not in the same ballpark.

Yeah, all 3 of the phones that AT&T is getting are better then the Radar. Pretty sad for us on T-Mobile.

except that HTC has a much higher CSR than Samsung

So based on this and the Focus S we can only assume at this point the non-american verision of the GSII equivalent will be the "Omnia S"

I think this works. Fast processor, 8 gig memory running Windows Phone Mango? Oh yeah this works. I'd dig a larger screen size myself but my HTC Arrive is quite enjoyable. I think the OS is what makes the difference. The experience will truly be enjoyable.

You would have to like a larger screen than the Arrive, right? Would't a 3.8 or 4.0 range screen be sweet? I don't get all of the smaller WP7 screens and just a couple of larger ones. The whole graphical layout of WP7 seems to beg for more real estate to show off to beautiful lateral screen transitions. Maybe it's just me.

When I read this on Engadget and BGR earlier this morning, it was in addtion to the GSII LTE and GSII HD units that Samsung also announced running Android. Looking at the 3 units together, it's sad to see how WP7 gets the ugly duckling of the bunch. The new GSII models here and abroad are much more appealing (to me at least) with the larger screens and more sleek designs than the Sammy WP7 offerings.How nice would a GSII be running WP7 Mango directly from the manufacturer?? C'mon, guys...step it up.(I so want to like WP7 and still can't see the point of the wasted homescreen real estate for the white arrow space. It looks so much better on the WPCentral home page phone store add where someone photoshop'd the arrow out and made the tiles wider to fill the entire homescreen)

Remember the Focus S that is going to released?

You have corrected me and for that I thank you, sir. I'd forgotten about that one since it wasn't really shown (until the post today) when the HTC Titan pics came out.Hopefully Sprint gets a few of those big ones to choose from soon.

mmmm, already have the omnia 7, i think i will stick to getting the HTC Titan personally. Much better specs

Looks nice from the front. I wonder what the back looks like.

As much as I like WP7, I cannot see a reason to upgrade my Omnia 7. Slightly faster processor and thats about it. Smaller screen making it appear that it has better resolution instead of really upping the resolution is a bit of a cheek from samsung. Nothing new from Samsung or HTC, the specs are more or less the same as the first wave of WP7 devices.
Windows Central Newsletter
Thank you for signing up to Windows Central. You will receive a verification email shortly.
There was a problem. Please refresh the page and try again.