Samsung releases ChatON messaging app for Windows Phone users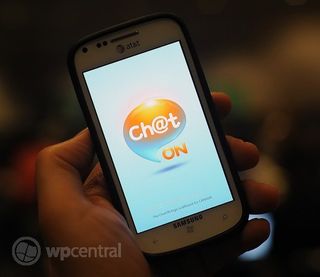 We've heard it was coming and now Samsung have gone ahead and released their ChatON (web.samsungchaton.com) app for their Windows Phone users. We last reported on this back in April so it's nice to see the app is finally live.
ChatON is a proprietary messaging service made by Samsung but works across various devices including Bada, Android, iOS, BlackBerry and now Windows Phone.
Truth be told, it's a fairly decent messaging service that offers some unique features like
Profile page
Animated messages (via drawing)
Location info
Calendar
Multimedia sharing (and storage)
Group chat
Interaction Rank
Proprietary messaging services are always a tough sell especially since you need to convince your network to change over. Having said that, Samsung has done an admirable job with their service though we're hesitant it will catch on. Either way, it's good to see the app now on Windows Phone for Samsung users.
Pick up ChatON in the Samsung Zone now in the Marketplace. Thanks, Corepc, for the tip
Windows Central Newsletter
Get the best of Windows Central in your inbox, every day!
Daniel Rubino is the Editor-in-chief of Windows Central, head reviewer, podcast co-host, and analyst. He has been covering Microsoft since 2007 when this site was called WMExperts (and later Windows Phone Central). His interests include Windows, laptops, next-gen computing, and for some reason, watches. Before all this tech stuff, he worked on a Ph.D. in linguistics, watched people sleep (for medical purposes!), and ran the projectors at movie theaters because it was fun.
Wow an exclusive app from someone other than Nokia!

Exclusive apps that enhance the functions of the device itself (like maps, readers, video players etc.) make sense, but an exclusive SOCIAL app? Strange policy.

Yep. I felt the same. Exclusive social app doesn't make sense.

It may be better if you sign up on the website first before installing the app etc.


Fragmentation! LOL. sorry I just had to do it. Prepare for the army of complainers in 5, 4, 3, 2, 1...

No one wants a useless app where they can't message anyone. It's like HP releasing software (on PC) that will only allow you to message other HP owners... only difference is that there are way more HP owners :P

Sorry, it's available on ios, blackberry etc too... So only WP7 owners get screwed.

I'm ok with this. Samsung is trying to make its own (weak) ecosystem. keep it in Samsung Zone....the rest of the world uses Whatsapp anyways.

I have a Focus S but can you get it on a non-samsung Windows Phone? It would only make sense seing as it's on iOS, Android and Blackberry.

Seeing as it's only in the "Samsung Zone" and not the general Marketplace my bet is "no".

it was not listed under Samsung Zone but it listed under Apps - Social - New at least for Me.
I stand corrected maybe only Samsung Phone can get them..exclusive is nice..

Hmm. I have mixed feeling on this being exclusive to Samsung phones. While I do want some exclusives, the whole point of the app is to message your friends. If my friends with HTC Windows Phones can't use it, then it's value decreases. Then again, most of my friends have iPhones, so they can still use the app. And at least Samsung is putting some effort into Windows Phone.

Finally a good app from Samsung! Lets see them bring over some top games,

Not available for HTC hd7

Aww, I have a lumia 900. I want this! Lol j/k. I am glad to see Samsung finally release something for their users after all the Nokia exclusives. I will be happy to see even more from them and HTC.

Can't download on my Lumia 900 but I will install on my Focus =)

Finally something from Samsung for WP users!

Yes!!!! Thank you, Sammy!!!

I have a question that's off topic. NBA.TV app just came out and it says it's not for my phone. I have an HTC Arrive on Sprint does this mean I need to get a Lumia or something. WTF. I love unlimited data on Sprint but growing increasingly frustrated over these apps that shouldn't be exclusive.

Woohoo!! Been waiting for this...and has anyone seen all the exclusive apps for the galaxy s III? Yeah...those are coming to WP too!! Samsung is going for the jugular on all platforms...and I have to say, they do know how to make a killer device! - from a proud focus s owner

Kinda weird that it's available on iOS and Blackberry but is exclusive to Samsung on Windows Phone.

+3. Exactly. This doesn't seem to make any sense. A messaging app should be available for all devices for it to catch on.

I'm thinking that there could be technical, not just political, reasons for the Samsung exclusive. Example: A Marketplace app can't save video to the media hub, but an OEM app can. It's possible that they want to take advantage of the increased platform access that OEMs are granted, that most developers don't have access to. (I'd say it's lame that Microsoft doesn't just open access to everyone.)

Very nice! I hope it works fast because I'm getting tired of Whatsapp working slow (on a Lumia 610 of course). My friends with iPods can't get Whatsapp but they can get this one, which is great.
EDIT: damn I missed that it's only for Samsung devices!

Another extra and unwanted stuff


It really is good to possess the capacity to examine a great high quality article with practical specifics on topics that plenty are interested on. The stage that the information indicated are all first hand on reside experiences even guide a lot more. Proceed performing what you do as we really like readi?-
playfi

I don't understand the appeal of these closed messaging services. Phone, text, email, IM, Facebook, and Skype aren't enough? What am I missing?

One appeal is that you use data, thus you can message Internationally for free. I'd also like to get rid of unlimited text and save $$.

hmm, cant download it for my Focus, in Canada.

Can't download for my Samsung Omnia W. It says " This application is not available for your device".

Same thing for me here. Unable to download it on Samsung Omnia W. Very very strange.

This is dumb, I have both a focus s and the lumia, why would Samsung release an "exclusive" app on the windows os but then have it on android and ios.. If it's exclusive then make it for only Samsung devices! Its not like there is a shortage of Samsung devices out there.

I rather use still WNM app it use for any phone.

This is dumb, period. A messaging app can only be as good as the number of people you can message. They waited too long to get to Windows Phone and then this? Irrelevant.

I hate exclusive apps! What do HTCs get apart from sub standard apps and a useless htc hub :(

Those apps are far from substandard, the compass is useful, the flashlight, most definitely sound enhancer.

The app looks too iOS tbh :L

I've got it on my HTC Titan using Marketplace Config (homebrew). I just need some 'buddies' to try it out now. Shame that you have to give away your phone number to add people.

Exclusive Social App -> Fail. ut of the same Reson IMassanger for IPhone isn't worth it. I would like seeing this App on all Windows Phone's it seem's to have some good futeres that would make me switch from What'sApp.

I bet it would be a time limited exclusive before it gets to the general marketplace like Nokia. Did with tango video calls

Not in India yet, not gonna use it anyway . Nokia has strong hold in India LOL

Every handset maker does it if your vocal enough and not complacent like everyone was with the year long Nokia exclusive then we might see something more fair

Can't see it in the Marketplace yet. I have a Samsung Focus. Is it a regional thing?

Wy not available for Lumia 800??

Looks like iPhone messaging. Not surprised though it's Samsung we're talking about.

Don't see the point at all with this. What's wrong with WhatsApp, Kik Messenger just to name a few?

I Do believe That its a regional thing too & its only a matter of time for the app to reach all WP Devices.
Cuz this app was design mainly for Bada phone users to connect with the rest of the world.

Don't get your hopes up. I got it on my LG but not by simply going to the Marketplace. With that I only got the warning that the app couldn't be downloaded to my device. I had to change the OEM marketplace with WPH Tweaks to Samsung.

eBuddyXMS, GroupMe, HeyTell, ICQ, IM+, Kik Messenger, Palringo, Talkbox, Tango, Skype, Viber, WhatsApp, WeChat... And Samsung decided we need another social messaging app?!?!?! And made it exclusive for some retarded reason?!?!?! FFS!

I can't find it in my marketplace
Is it US only?

Omg add me please !!! Here is my number please !!!! (+52) 4448361738

Or someone give me it number for add buddies please ;) I'm a good guy

Scanned the QR code. Apparently, the app is not available for my SAMSUNG focus flash. what's this ?

CNN app for windows phone exclusive to Nokia, Chaton Available for IOS, Android, BlackBerry.....etc but exclusive to Sammy's windows phone...RUBBISH.
I think it's high time Microsoft address this.

Come on!!! A messaging app that is only avaiable to samsung users... Who will usa an app that you can chat with only a few frieds? Better get Whatsapp or Kik and chat with everyone...

Such a great speaker and I got another playfi spaeker want to share to u.

Positive glad that I navigated in your web page by accident. I'll be subscribing to your feed in order that I can get the latest updates. Appreciate all of the details right here Partywear suits for men

The tattoo machine is a handheld device that is typically used to create a tattoo, a permanent marking of the skin with indelible Handmade Tattoo Maschine ink. Tattoo machines modern use of the electromagnetic coils to move a reinforcing bar from top to bottom is a Bar prohibition said needle plate connected to the packet, the ink in the skin. Tattoo artists usually use the term "machine", or even "iron Rotary Tattoomaschine", in reference to their equipment. The word "gun" is commonly used incorrect terminology. There are many types of machines. Liner and shader is the most common machines from a technical point of view. Machines, tattoo machine coil, pneumatic Tattoomaschine Dragonfly machine and rotary or linear, tattoo machine. Liner tattoo machine, tattoo machine coil tattoo Rotary machine.


<a href="http://www.monarch-garments.com/cat_sherwani.asp">Sherwani</a>Hey. Very cool site!! Man .. Beautiful .. Wonderful .. I will bookmark your web site and take the feeds additionally...I am happy to find numerous helpful information here within the article. Thank you for sharing.

While talking about cyberbanking accessories one cannot avoid the acceptance of Video Games. There are advanced ranges of amateur and gaming consoles which are adopted by gamers http://www.idealobd.de/806-ford-mazda-gm-opel-chrysler. One can accept from RPG games, cardinal amateur and arcade amateur and can use assorted platforms and accoutrement for arena these games. The designers of these amateur accord a absolute activity attending and feel to these amateur in adjustment to grab the absorption of the gamers. One can even accept assorted types of weapons to action with dragons, monsters and altered forms of goblins. @link-xy