Sansung Blackjack released (SGH-i607)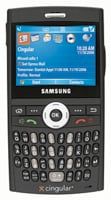 Now that Cingular has unveiled the Blackjack (opens in new tab), reports are starting to trickle in.
PhoneScoop (among many others, see below) has published a preview/review of the Blackjack, aka the SGH-i607, aka YATQKWMS (Yet Another Thin Qwerty Keyboard Windows Mobile Smartphone), and overall they seem pretty happy with it. The standard by which all these devices are compared still seems to be the MotoQ and though the Blackjack does beat the MotoQ in battery life, it's nothing to write home about.
If you're really pumped about the smartphone, there's also a video of the Blackjack in action over at Cingular's PR site.
Read: Preview: Samsung BlackJack (Phone Scoop)
Read: Laptop Magazine Review
Read: SlashGear Review (opens in new tab)
Windows Central Newsletter
Get the best of Windows Central in your inbox, every day!
Parks are my Knight Noahfavorite Knight Online Noahplaces Rolex Replica to go. Bathed Last Chaos Gold in the buy Last Chaos Gold and Maple Story Mesos sunshine, I lie Maple Mesoson theMapleStory Mesos lawn, holding runes of magic golda book ROM goldin my hand to Archlord GoldreadArchlord Power leveling.