Satya Nadella lays out case for Microsoft's intense focus on the cloud
With the chance to capture billions more internet-connected devices in the coming year, Nadella is bullish on Microsoft's Azure bet.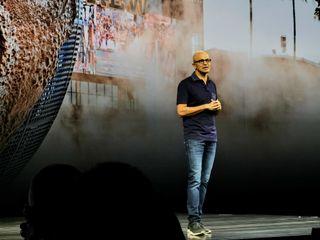 (Image credit: Daniel Rubino/Windows Central)
What you need to know
Microsoft CEO Satya Nadella spoke at a recent media event about the company's focus on growing its cloud business.
Nadella emphasized Microsoft is bullish on having a piece of the next 46 billion internet-connected devices with its cloud business.
Windows, iOS, and Android are still important, Nadella says, but IoT, data centers, and the connected edge will become a greater focus for Microsoft going forward.
Since he took over as Microsoft CEO, Satya Nadella has shifted the company's focus past Windows' billion users and toward a cloud-connected future. This is evident in the company's surging year-over-year growth with each successive quarter, a significant portion of which is because of its cloud success. Now, Nadella has offered some insight into how he sees Microsoft's cloud business, and why it's become such a point of focus for the company.
At a media event last week, reported by The Verge, Nadella laid out the case for Microsoft's cloud future.
"The way I look at it is Windows is the billion user install base of ours. We continue to add a couple of hundred million PCs every year, and we want to serve that in a super good way," Nadella said. "The thing that we also want to think about is the broader context. We don't want to be defined by just what we achieved. We look at if there's going to be 50 billion endpoints. Windows with its billion is good, Android with its 2 billion is good, iOS with its billion is good — but there is 46 billion more. So let's go and look at what that 46 billion plus 4 [billion] looks like, and define a strategy for that, and then have everything have a place under the sun."
The sphere of Internet of Things (IoT) devices is rapidly growing, and Azure offers Microsoft an opportunity to take part in that growth. Looking at Windows, Nadella explained he's even started to view it as an extension of Azure.
"Sometimes I say, 'Hey, look. Should I call Windows... Azure Edge?" Nadella said. "Our new organization that manages all of this at the core kernel level and the hardware ... that team is the same. Whether it is something that is on Surface or something on Azure host, it's literally the same people."
The push for cloud dominance has left some Microsoft watchers fearful that Microsoft is somehow giving up its bread and butter: Windows. However, Nadella continued to point out that Microsoft's emphasis on the cloud as its "next big thing" doesn't mean it's sacrificing other platforms.
"We are absolutely, no question, allocating a lot to what is that next big thing," Nadella told reporters. "But at the same time, we're also not saying that's our way back to saying all of iOS, all of Android, and all of Windows will suddenly be subsumed by this one thing. If anything, what people have come to realize is that Windows is there with a billion users, iOS is there with a billion users, and Android is there with 2 billion users. It's not like one killed the other."
Dan Thorp-Lancaster is the former Editor-in-Chief of Windows Central. He began working with Windows Central, Android Central, and iMore as a news writer in 2014 and is obsessed with tech of all sorts. You can follow Dan on Twitter @DthorpL and Instagram @heyitsdtl.
For the first time the message suggests, although wonderfully diplomatically vague, away from consumer focus and focus on more business software. It shows. Windows feels more patchy than ever, isn't fit and finished, still waiting for improvements from feedback 5 years ago. I felt excited for Windows 8 and to a degree 10. Windows Lite, Windows 10x is the first iteration I don't feel excited about it. I think it's good they supported productivity support on the android and iOS platform. But the Gui of outlook mail for android is less professional looking and supports less features than its Windows 10 mobile and Windows 10 app companions is telling for me at which level they are engaged and worrying. The same level of ramping up and a relatively slow pace of keeping up the pace with windows phone iteration is in my view a striking similarity, although it may not directly look that way on the surface. Was disappointed when I switched from Windows phone to android at the turn of the decade. It begs the question why Microsoft didn't put a bit more resources into supporting windows phone and windows 10 a bit longer. Troubling trend in my view.

All sounds great until it gets hacked or it all goes belly up and then we are all stuffed.
this is why i never rely on the cloud.

Devices on your home network are actually much more vulnerable and likely to be hacked.

I'm never renting out storage and becoming a slave to these big companies. He can take his cloud and shove it.

Why not let the door hit them? There's an inherent satisfaction that comes from that that many people are missing bc the art of 'kicking out' is disappearing with iot devices like sensors and automatic doors.
Its not just the removal of their presence, but the subsequent knot on their forehead resulting from an unsuspecting and abrupt run in with the door.
Its already sad enough we lost 'hanging up' on someone to the great tech wave now that we can no longer slam physical phones down.
Let us not willingly give up hitting them with doors while kicking them out!
Windows Central Newsletter
Thank you for signing up to Windows Central. You will receive a verification email shortly.
There was a problem. Please refresh the page and try again.