Satya Nadella: Microsoft's Minecraft purchase will help kids learn about science and technology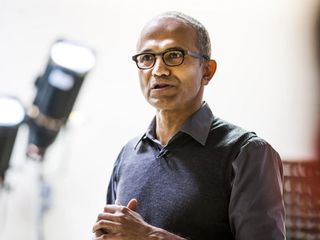 Microsoft's $2.5 billion purchase of the game developer Mojang and its hugely successful Minecraft series wasn't just about adding a new game franchise to the Xbox division. Microsoft CEO Satya Nadella said today that it will also be a big boost in helping kids learn more about science and technology.
Nadella made those remarks as part of a annual luncheon at the Seattle Metropolitan Chamber of Commerce today, According to GeekWire, Nadella said:
Nadella also said that his own 10 year old daughter asked him this morning if he knew about Microsoft acquiring Minecraft. Do you think Nadella's vision for the game is a proper one or should it just be about offering an entertaining game experience?
Source: GeekWire
Should have just handed out 25 million free Windows Phones to any android user willing to switch. If you go offered any of the models around $100, it would have cost the same 2.5 billion.

I wonder how that would work, honestly. My initial thought was, but Minecraft will keep making them money, handing out phones won't. But perhaps if there were millions more out there using WP the end would be the same. The difference is handing out phones would most likely be a bigger gamble.

Actually handing out phones is a bad idea (its not fair to people who actually buy your product)
BUT discounts amazing discounts totally help (nexus kind of way) , and YES there is benifit the more people who are on Windows Phone the more ads revenu and the more store activity too so you cant say its a wrong move. look at all the unsold surfaces, if the loss were invested in bringing the prices of those tablets down, perhaps RT would've not failed

RT failed in expensive tablets. Once tablet prices came down the sales increased.

Free Minecraft game for all Windows Phones... and if you choose a Surface tablet for your school/students... Minecraft is FREE for them too! (I'm hypothesizing...)

I love my 2520 and so do the people using them at my job. Many of them are now buying them via the $49 - $99 specials many ATT stores are offering.

Is that with a two year lte contract?

Well, I don't know about giving them for free... But what about bundling them with PCs in retail stores (for a little extra price) or, say, giving away a few flagship models for a big volume of workstations sold through OEMs, and touting their excellent integration features to executives... Sounds too IE-like? ;-)

That Surface Pro 3 bundle they have right now should include an option for a WP device as well.Get an SP3, keyboard, bag, Office, Complete coverage and a phone for a %10 discount on the whole package

You forget that Microsoft has the money to still pull that off after spending 2.5 billion dollars.

They are doing similar programs for iPhone 6 (http://www.cnet.com/news/verizon-offers-free-iphone-6-with-trade-in-2-ye...)

Of course, if Apple gives out free phones its great marketing. If Microsoft does it they are desperate.

+920. Microsoft will never do the "right" thing in the eyes of the public.

Really? I remember people in line in front of CompUSA stores to buy Windows 95 that launched.... at midnight.

Actually Apple is not giving away anything, it is Verizon that is offering to waive the cost of subsidized device.... if you sign for another two years contract. While I personally do not buy my devices through carriers I am well aware that all of them have these offers for other brands as well.

Yeah, did they do this for the Lumia icon..... No! If it isn't the iPhone, it isn't happening. For example, ATT is offering the Nokia 2520 tablet for$49 & $99 online and in stores. I just paid$449 per unit through Verizon for the same units with their $99 discount applied. They were regular $549, but that's the carrier my company uses

Actually, the Lumia Icon was free with Verizon for quite a while :P

That is. NOT free. Verizon still buys the phones from Apple. Verizon takes your money for two years and takes your old phone which is likely worth close to the $200 that you're "saving."

This is a Verizon deal that's similar to the Jump/Next programs at T-Mobile/AT&T. You're still paying for that phone on your monthly bill (the $200 down payment you save isn't the full price of that phone, the full price is $650). Some of these devices (the 5S for example) are worth more than the $200 savings. This is not Apple giving away phones for free. It's a Verzion offer and it's only a discount not a free phone

I used to think the same thing. Why spend billions on marketing and just give them away to people. Being in sales you realize people value what they buy compared to getting something for free. Out of those 25 million for many are really going to mention it to people or how many are just going to try to resale it or how many are just going to shove it in a drawer and forget about it. Remember it cost them nothing. There's the logic in that.

I don't need free phone. Just make Lumia 930 available for purchase on AT&T will please me. Is that too hard, MS? I'm willing to help raising the WP market share in US. :-)

Except this accusation isn't about building a WP market share.

They don't need it: they already have a better franchise in Age of Empires, which is coming to Windows Phone this month.

No! I seriously don't wanna start all the way from the beginning on Age of Empires!
I play really well on coc, that! I want to continue on WP...
If you get what I mean...

HA, GAAAAYYYYY! In all seriousness though, it seems reasonable.

Yes, teach kids how can water be infinite source and how flying trees look !

Nothing is reasonable about 2 billion dollars for a game.

When it's Minecraft, it is.

Unless you consider the income potential.

which is no where near that number

Microsoft must see this as a very long term investment.

$100 Million a year profits, from a company that only has around 100 staff. A company which hasn't milked its product to its full potential. There is serious money to be made from Minecraft, its a cheaper more expansive form of lego! If and once the proposed Minecraft movie releases you will see Microsoft marketing machine move into full gears. Every kid will want minecraft toys, games and whatever else Microsoft produce. Personally i can see Microsoft re-coding Minecraft into C/C++, developing a decent Mod API which will help the Minecraft Community ten fold. The Mod API will encourage people to develop educational and learning Mods which seems to be a goal (Not the only goal mind you, $$$ comes first) for Microsoft.

$2.5 billion, actually. And Microsoft expects to recoup all of that money by June 2015.

It's not a game, it's a franchise. I own a minecraft pickaxe and have three versions across my devices, and my nephew watches minecraft videos on YouTube constantly whilst wearing a creeper t-shirt.

They paid for one game what it cost for 60% of all of Star Wars and Indiana Jones.

They didn't pay that for one game. They bought the younger generation of players. Plus, Minecraft is a platform. Imagine an Azure-powered Minecraft, with official APIs, you will be able to play a modded version of the game on your phone/tablet. That is the next step. Kids don't care about Star Wars anymore. You should watch Minecraft The Story of Mojang. You will quickly see why MS paid this much.

Wondering how can we learn science from digital Lego bricks.

It's all about curiosity and how things work.

Depends on your science definition

When my kid learned how to setup and run his own server, use his own custom skins and mods, and build his own maps/levels all without me having to teach or show him anything, I'd say this "digital Lego brick" game is a powerful learning and development tool...

Well said. Posted via the Windows Phone Central App for Android

Check it out on you tube, some people have actual created working computers, calculators etc... In a Minecraft world using the available bricks.

You'd be surprised how many engineers are big Lego fans. It's about getting your brain to think in certain ways.

I bet she also asked how long will it be before I can play it on my surface! Lol... I bet that 10yo already has a rough release date for the game as well dammit!!

What about the Cyanogen Mod ?

Well there you have it, he bought it for his daughter.

I understand his sentiment.

Pretty expensive gift, I'm lucky if my dad would bother and buy me something for 25$ .-.

They probably are gonna change the name into mindcraft :)

That was a very odd last paragraph, but regardless, I'm excited of this deal.

Minecraft is already used in lots of classrooms and there is an education version of mc that you can get.
Minecraft can be educational, as long as you don't just pvp and op prison.

I'm so happy that my favorite company is gonna own my favorite game :)

For ages I thought Minecraft was just a stupid game then I started playing and what fun I've had I now have the Xbox 360 version and I love it so great news to hear my fav tech company is buying a great game company. Hopefully it turns out better then bungie screwing them over

What! What kind of excuse is that to waste money. Could of just took the google approach and push surfaces in classrooms like Google and Apple.

So fcking dumb, Microsoft. Seriously??? And WPCentral, stop posting things about Minecraft. Forget it, I'm moving back in with Android. Lmfao.

Goodbye. Windows Phone and Microsoft as itself is so messy, no organization, no smart plans to boost windows phone and no great advertising and marketing. This is all a joke at this point. I used to be in LOVE with Windows Phone but now... It's just slow and seriously needs to start over... For the 729,872th time.

You care about this stuff way too much.

This money could go into helping boost Widows Phone, but they care too much over a game that will soon be not a thought into kids minds in coming years??? Bye to Windows Phone market share.

Try to be CEO of MSFT for a week and you will know why!

Who says they haven't allocation billions to WP?

Like the 7 Billion they already spent on Nokia? I think someone is forgetting that...

They spend 7 and earned two in the first year. Now they can make devices, something they were incapable of. Generally they're doing very well. I know people had some feelings because the windows 8 confusion but that's something they had to do. They started from zero apps, and that's the big problem, to attract developers who can make apps in order to catch em up. That's everything about windows threshold, to attract the huge amount of windows 7 die hard users so they can gain market share to attract developers for both windows and windows phone. I mean I like the WP and W8 OS probably because I know how to use it and I understand the concept. But this is business and if it had no massive acceptance there will be problems,

Exactly.. I will keep saying this, but I think the days of waiting for a Surface phone are numbered ;-)

Savi forgot about it coz he is sooo focus on android LOL!

MS has something like 60 billion in cash reserves. Buying Mojang did not impact their budgets for Windows Phone related initiatives in any way.

What are you upset about? Microsoft just bought the most successful mobile game franchise. They'll bring it to Windows Phone now. This is good for Windows Phone.

I'm holding out for the next line of Windows Phones. In the meantime, getting the iPhone 6 plus. I will NEVER own anything Google again. Call yourself SaviLagDROID ;-)

This is the most epic failure from Microsoft ever. Next, angry birds, Tetris and other bullshit games. Kids move on. The next hype will be something else and all kids forget about Minecraft. 2,5 billion in the trash. Even giving 2,5 billion to facebook to finally get a proper app would have been more useful. So much possibilities with 2,5 billion and they buy this nonsense. And how hard is it to build a new Lego game comparable to Minecraft and give it to schools? No need to pay.

That 2.5b was sitting overseas doing nothing, this will offer a better ROI than bringing the money back into the the states where the tax hit will suck.

Totally agree.
I thought MSFT had lost the plot under Ballmer. Now I know they've lost the plot under Nadella.

Minecraft isn't a game. It's a platform. It's the source of millions of digital worlds. Passing phases in Minecraft are the games in the modified worlds created on the servers that exist on the Minecraft platform. This acquisition is the only cool thing Microsoft has done since most teenagers were born.

Yes.. At least the new game would suit better.. Man, these MS heads should first consider doing plans with us real users here at WPCentral :D

I'm extremely glad that we have Satya to make this decision instead of you. You're obviously totally ignorant of any type of analysis that would be used in this deal. You think it was just a whim of Satya's? It wasn't analyzed by their accountants and CFO? Seriously, wake up.

O trust me I would make better decisions. I would have bought youtube and whatsapp. But wait, the competitors are smart enough to invest in truly useful companies, Microsoft not.

In those situations you're talking about pre Satya or 15 days after he had become CEO when the deal was probably finalized already. Whatsapp has almost no benefit to Microsoft when they already have Skype that could easily perform the same functions. YouTube being bought by Google was AGES ago. 2006!

Yes it was in 2006 when Google was not what it is today and easier to outbid, still MS missed to grab YouTube. The best thing happened, note happened not that was planned or intentional, to MS in the last ten years is that those idiots that were running Yahoo rejected MS original bid and reiterated it even after MS added another 5 Billion.

You tube have never been on sale, since they're generating a huge amount of money on advertising. For your knowledge Google has to pay about 3 to 4 billions annually to MS because of patents android use. Now WP is totally free, had a decent amount of apps, OEMs are coming more and more since then. What are you talking about guys? What left? Windows threshold to move W7 die hard users so they can attract more developers. MS is doing better than everyone on business with their servers. Only thing are apps to catch up Android and IOS, hard way to go, but that's the way to conquer consumers besides business. It's not hard to understand that.

I'm glad MS didn't buy YouTube, it's absolute tripe. Just full of ads and popups. It's the last place I go to for videos (granted the sites I do visit utilise what's on youtube but forego the ads).

They'll earn all that money back by June 2015 and then permanently own the most popular game of the past decade that could have the same staying power as Mario. It was a great buy.

They can subtly push WP through minecraft. Bam, 100M potential buyers within the next 3-5 years.

When it's a game like Minecraft the usage is limited to imagination. If you can imagine, you can do.

Off topic: This app is slow a.f.!
On topic: Good approach, like I said before: Minecraft fits in the same line of Xbox One and PC game Project spark. Games like these create and mold new possible developers for example. So imo Microsoft buying mojang is a very smart move for the long run on what to come. Now, MS, just to top it off, Buy the Pokemon IP :) just get it over with.

How is this app slow? I have a Lumia 822 with 8.1 no cyan. Its very fast. Not sure I understand.

It'll teach children of MSFT employees how to blow $2.5 billion in a heartbeat...

Blow $2.5 Billion? That's projected to break even in a year? Really? It's blowing it? Not investing it?

From what I've been reading, Mojang aren't valued at a quarter of what MSFT paid and likely won't be.
It's not an investment, it's a gamble for the property, not the talent behind it.

Then you need to read more: http://techcrunch.com/2014/09/15/microsofts-safe-2-5-billion-bet-on-mine... http://www.slashgear.com/microsoft-to-break-even-with-minecraft-in-1-yea... http://www.inc.com/associated-press/microsoft-to-buy-minecraft-maker.html

thanks those links are very interesting. Now one seems to explain how they expect it to be self funding but hey if MS think they have the numbers then good on them.

And this is where we start to wish for Ballmer to come back, what an epicly stupid purchase.

Why don't you explain why it's epicly stupid? It's projected to break even next year, then generate more cash for Microsoft afterwards.

project by who exactly? Honest question. Because last year, the Mincraft company made a $100 million in profits. With normal calculations, that's way off from breaking even next year with 2.5 Billion. The company only has 100 employees, probably 95 after the founders leave. That still doesn't translate into 2.5 Billion break even. Any help?

The key is the growth rate. It made $100 million last year, but it could be projected to make $300 million this year. Plus, it's being offered on more and more platforms as we speak.

Are you being realistic? What other platform is going to bring in that other $200 million? Windows Phone?

Xbox One, PS4, for starters.

Of course not, because people on Windows Phone always complain about having to pay for things. Yet they seem fine with Microsoft just throwing money at the platform.

I really think this purchase is a great decision from Microsoft. It puts an app of huge demand on Windows products. It generates huge amounts of revenue. It will help fuel xbox sales, windows phone sales, windows tablet sales. Even without prompting any growth in that area, it will be great source of revenue for Microsoft. Any biased analysis of this decision simply shows you're not aware of the facts of the deal.

Man, Like I don't have enough stuff to learn in school.. XD Minecraft.. Seriously.. OK fine.. But what does this have to do with the current Microsoft operating system and apps..

They could've bought maxis & got a more successful franchise

Maxis has been owned by EA for a long time. EA's market cap is over 11 billion. Minecraft is much more popular today than Sim anything is. So your statement is completely lacking in logic on every point.

This is awesome because I'm in the Engineering STEM Academy at my high school. Sweet!!!!! Posted via Windows Phone Central App

That They would probably do a better job giving 2.5 bil to a new super special condom research.. like Bill Gates

I'm just glad they are continuing development of the vita version! That's really all I'm interested in. Posted via the Windows Phone Central App for Android

.....and eventually lead to making you more money. Cut the BS please.

A good sentiment definitely, let's hope they remember it...

Tomb Raider helped me learn about girls.

Guess what Crysis 2 taught me about!

Lays off thousands of workers then waste billions on a game studio that is mediocre at best. Why not spend money on R&d and build a real note competitor. With productivity in mind. I look at my 1520 and its really good but then I look at all the missed opportunities, excel and word but no stylus. A pop out menu at any time like the note 3 with word excel one note would have been nice by swiping to the right. Why not fix windows, 8, 8.1 is a failure it's not compelling to use at all. Leave tiles for the tablets. Leave the desktop alone. Put back the proper start menu. Purchase a YouTube competitor or create one, google is making a killing with ads. Microsoft has no clue and its really frustrating as a windows phone users oh its not windows phone anymore its windows on a phone . Bing weather to just weather then to msn weather. Changing the name does not help microsoft

The layoffs were not for financial reasons, so your argument is invalid. Also, Windows 8 works better on a desktop than did Windows 7, even and especially with the start screen replacing the start menu, which they are unfortunately bringing back in Windows 9. I empathize that you feel the need to complain about Microsoft because of some other failing in your life, and it's easier to blame them than look at your own decisions, but you should try to at least base your complains on some kind of reality.

I'm currently 20 years old, about 3-4 years ago I learnt how to program. The way I learnt? I developed some Minecraft mods. Programming is now one of my favourite hobbies. I have no opinion on this deal but I certainly understand how Minecraft can be a good tool in many ways for teaching about technology and possibly science (especially if you install some of the excellent mods that add things such as nuclear reactors and chemistry).

I for one am thankful that Microsoft has a CEO with a vision, like Nadella, rather than all the armchair executives we have on the comments section here. Some of the shit I read is just painful to see. Microsoft does have a plan, it's called unification. Microsoft bought a platform and IP, not just a game. Stop crying already.

I think that the integrity of the game will always be there. If anything, I can imagine a educational-spin off.

For a measly $1B I will teach kids about Science and Technology. Probably leave out the exploding Creepers, Red Cave Spiders, flying trees etc and stick to things that are real. Oh, and for just $500M more, I'll introduce them to these things called LEGO, that you can use to actually build structures of any design youth can dream up. There you go Satya. Saved you a billion bucks on your education project.

Yea, how ever you want to tell your stock holders for spending 2.5 billion dollars on a company who only made really only one game and that game is 5+ years old... I think its an excuse or he got it for his kids

My 8 year old daughter has been egging me for almost a month now to allow her to purchase and install Minecraft on her laptop or on the Xbox 360. She's telling me that all her classmates have Minecraft and they've started using it in school. I'm thinking if my little daughter understands and appreciates the value of this game, perhaps Microsoft does too. So I finally gave in and purchased it for her.

Geez man, why hold out for so long? It's not expensive and she' was begging for months? Open up your wallet, Ebenezer!

I'm sure he had his reasons for holding out. Caving everytime your child asks for something without taking into consideration behavior, grades, the potential effects of what they are asking for, etc. is terrible parenting.

Pretty much this. Its a game but it can be so much more if you want it to be.

I think that was a real stupid acquisition. Minecraft in an old game, a one hit wonder and it's fan base is starting to shrink. Thu could of spent that money on researching something useful, not buying that stupid game.

You know that the fanbase is shrinking how?

What if it has the staying power of Mario?

finally a Windows Phone version is coming?

For those who don't like Microsoft they will never understand or give it a chance

They'll day they'll break even fiscal year 2015

Interesting perspective and better use for the billions stored doing nothing. Minecraft is immensly powerful as it is fueled by creativity, those of you who say it is just a dumb 8 bit brick game and question the purchase. I would question your creativity & imagination :P.

Producing a surface phone will teach WP faithful that Microsoft can make a beautiful, productive, and precise phone that can compete against the likes of the iPhone and galaxy in the consumer space. This takes planning, engineering, and execution which also teaches children.

Better them than scroogled buying it

Interesting point of view

Feels like a brilliant move to generate lots of interest targeting a whole new demographics few other companies even look at. One of the many attempts by Windows to let others discover how much their mobile arm has developed while the others were sitting on tried and tested models; making small gimicksto gain leverage.

If it's about additional services and experiences then it's always welcome!

I like it . When it Works i am really really glad ms turned such a boring and useless Game into sth usefull:)

Minecraft will never be the same.......i heard terraria is on windows phone.........sorry mojang and Microsoft but I'm joining terraria!

I think the game already has these qualities, the game should continue to be entertaining and semi educational.

First rewrite it from Java to C#, its the slowest game EVER...

YES. If you have kids you should already know that they are fully aware of Minecraft. They learn about survival needs, engineering concepts, and simple real world magnetism situations.

Agree with the article. Minecraft is really good for kids to build up their creativity
Windows Central Newsletter
Get the best of Windows Central in in your inbox, every day!
Thank you for signing up to Windows Central. You will receive a verification email shortly.
There was a problem. Please refresh the page and try again.