Microsoft to officially acquire Minecraft creator Mojang for $2.5 billion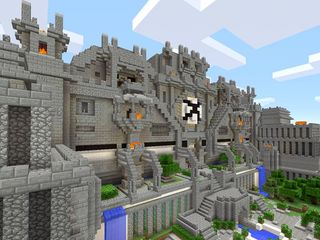 Microsoft has now confirmed the rumors that started last week that it will acquire Mojang, the creators of the hit PC, mobile and console game Minecraft, for $2.5 billion
In a press release, Microsoft stated that the acquisition will be completed sometime in late 2014. It added, "Microsoft plans to continue to make 'Minecraft' available across all the platforms on which it is available today: PC, iOS, Android, Xbox and PlayStation."
In a statement on Xbox Wire, Phil Spencer, the head of Microsoft's Xbox division, stated:
Microsoft also stated that Minecon, Mojang's fan convention for all things Minecraft, will be held next year. There was no mention of Minecraft coming to Windows Phone or Windows 8.1.
What do you think of Microsoft buying Mojang and the Minecraft franchise?
Source: Microsoft (opens in new tab), Xbox Wire (opens in new tab)
Windows Central Newsletter
Get the best of Windows Central in in your inbox, every day!
Indeed! I've never played Minecraft but I have seen some of the awesome things people have built with it, and I have some friends who are really into it. Good pickup for MS!

And we need this game for our WP and free for a limited time.

Don't count on us getting it before spring of next year, on our phones. If at all. And it definitely won't be free, even for a limited time. Though we can dream.

Great, Now can we get Minecraft Pocket Edition for WP and Windows 8.1 !

Minecraft on PC is available today thru Mojangs Website. Why would you want to play a pocket edition on your PC?

Because RT and because Universal App and because Touch based.

Hope it works out for them and isn't a wasted investment

My thoughts too. Don't see how this is a better investment than keeping Xbox Entertainment Studios. Just seems like the Microsoft brass are too out of touch.

Its the same as Apple purchase of Beats. Its about getting all this fan base.

Or why Facebook bought Whatsapp for an insane amount of money. If you'd put the 15 billion Facebook payed for Whatsapp next to the 2.5 billion Microsoft payed for Mojang it does'nt seem so high.

I think it was $16 billion for Whatsapp, which is insane considering Lucas Arts sold Star Wars to Disney for just $4 billion--the most iconic franchise of all time, for just 1/4 the cost of a very limited mobile messaging app. Crazy.

Microsoft told its shareholders they expect it to pay itself off by the end of 2015. XBox Entertainment wouldn't have even probably had any revenue let alone paid itself off by 2015. Also selling private servers is a big money maker for Mojang, that fits well with Microsoft's "Cloud First" strategy. It also is the #1 game for every platform except for Windows Store and Windows Phone because there is no metro version. Clearly Microsoft would like a clear winner on their platform.

I'm also hoping this isn't wasted. I don't see a remarkable catalog of upcoming projects that would make the brand name lucrative. Minecraft was easily the best thing Mojang had under their belt and it looks as if Microsoft just sunk billions into a one trick pony... I suppose they could gain exclusivity, but Minecraft isn't exactly absent from their platforms as-is. The way I see it, they just paid for something they already had. Even if the name were into be used for more projects, hearing that the founders have departed takes away consumer confidence from the name.

Not on windows phone they didn't and I think now we will see it on wp

Microsoft bought a Gaming Studio and the Staff (Bar the 3 founders) which have several titles in development along with the merch rights and minecraft, and the biggest thing that Microsft is proabably betting on is Minecraft 2 at some point. So Do i think its ambitious to think they can pull back 2.5 billion in a year and a half? Yup, but I do understand that Microsft is a successful buisness and I figure they know a few things about how they will get there money back that we are unaware of. So lets all take a deep breath and wait and see.

Yeah, I don't really see how this is going to help really at all. Seems like the money could have went to better things.

Would have preferred 2.5 billion spent on giving away 25 Million $100 phones like the Blu Win Jr. Maybe its just me...

Mmuhuhuhuhuhu....you forgot to add that. lol

As a Playstation player, I don't like this at all. I also don't like the deal with call of duty. Wanna trade that for destiny? I played the alpha and beta but I didn't really find that game exciting.

The pace in destiny compared to both battlefield and call of duty is way too slow. Destiny reminds me of borderlands, where the characters feel like they're made of paper.

I wouldn't worry about it too much, they've released stuff on other platforms before their own. Microsoft is better at this than Apple, Sony or Google. If Sony would have purchased this, I would've been concerned.

No thanks. I don't really find anything particularly appealing about the Xbox, other than the integration with my phone. I only use my ps4 to play games anyway. Besides, most of my friends have PlayStations. One of my friends has an Xbox One, but he only got it because the ps4 was out of stock.

at least you get to play the whole game (Call of Duty) at some point on Playstation... because Xbox One will never get the full finished product of Destiny so.... and furthermore I believe that you still can play Minecraft on PS4 and thats not going to change. Microsft needs Minecraft and any future properties to be successful on all the platforms to recoup the money that it spent buying the Studio.

This is a smart buy Microsoft.

Time will tell, but I'm not so sure.

Nice i want minecraft pe free on my 1320

Can someone please explain to me why they are buying this?

Because it is one of the biggest game franchises out there. Like Halo it sold over 50 Million units and counting. And it's a huge boost to the XBox Platform. Now nobody can say Microsoft is planning to sell XBox .

actually because they have large amounts of money in foreign accounts that don't count in the US, so basically they add Minecraft with little to no financial cost on the US headquarters or bottom line.

they do count on the financials in the US since it would be consolidated. it doesn't count on their tax returns. so, they bought the company without any tax consequences.

Minecraft has huge revenue potential outside of actual game sales. The market for Minecraft "stuff" is immense and the Minecraft up itself pulled in ~100million in profit last year.

so, it would take 25 years to break even. if they don't develope another hit, this will be a bad imvestment.

It would break even in 25 years _without doing anything_, which is good.. Posted via Windows Phone Central App

Skype costed 8billion and it's a free application they build for many operating systems... it's a waste of money but it gives Microsoft users, millions of millions users, same with Minecraft, from today, people is using a Microsoft game... like it or not. so they are buying the software and they can plan to do things with things franchise that has done alot... it's not about money, Microsoft has so much money they don't care, it's about userbase. again, Skype was "a waste of money" but then... many people use Skype that it's still a good thing for Windows 8 and beyond.

http://www.theverge.com/2014/9/10/6130597/why-microsoft-wants-minecraft-...

Yeah, i don't see them producing another hit like this. I also don't see Minecraft sustaining it's popularity for too much longer. To think of all the other things they could've done with that money.

Very True! Posted via Windows Phone Central App

Your missing the fact that they are a game studio and game developers that will develope future intities... so yes they bought Minecraft but they really bought far more with a staff of talented game developers who are at the top of the heep as far indie games go. Microsoft is very smart for doing this.

It's possible that Minecraft is a fad like Angry Birds and is on the decline. It's also possible that it will become like Mario is to Nintendo and be the face of Xbox and Microsoft for decades to come. Either way, they'll very likely make their money back on this in less than a year, by their own projections.

Becuz it makes alot of money not only the game but there is also merchandise deals and other stuff and ppl think 2.5 is a huge investment to us everyday people it is but to Microsoft its chump change plus the more games and apps that cone to WP the better I personally hope ms buys king games next then we will get candy crush not that I personally care cuz I don't play it but a hell of alot of other people do.

They need a Minecraft theme park.

that seems like an awful lot for that development team! but okay, haven't tried mine craft yet but eventually I will... hope they know what they're doing tho... go Microsoft

I don't really get why Microsoft bought them, especially if they aren't going to make the games exclusive. They could still get what they want without buying them.

As the Verge said it could be another reason for people to use a Microsoft account

Looks like a Hail Mary pass play to beef up gaming. Minecraft is profitable but $2 billion profitable? Hopefully it doesn't turn out to be another aQuantive.

From the press release it sounds like they wanted the user base. ???

Future titles can be exclusive and this move can get many new people into the Microsoft ecosystem.

That "s" word does not always translate into reality.

So they will continue to have it on Android and iOS and make ZERO effort to bring it on Windows Phone or Windows as universal game? Right? Ok.

They didn't say that, don't read what isn't there.

They will bring it to WP they ain't crazy name one game of there's that on IOS and android that ain't on WP they will release a better version with exclusive content to WP and leave the Io and android the same to try to entice android and ios users of Minecraft to switch to wp for a superior Minecraft experience.

Same thing with Xbox one and PS4 versions. They will add more content to the current Xbox one version. And try to drag Minecraft gamers on PS4 to Xbox one.

yeah make up words nobody said, it's OBVIOUS Microsoft will bring it to store, but you can't expect the game next week, so please next time you should think a little.... they just adquired it officially today, it's not like they were working in the game before they belonged to Microsoft. also--- what do you want? Microsoft removing every app until windows phone is done? lol please... again, don't make crap up. if you are going to do that, then why comment? why don't you call your mom on grandma and tell your "problems" to them?

I like this name, Jorge. Copyright it. I see a bright future ahead of you...

Another step away from evil corporation to modern and cool. Meanwhile Google continues to be the opposite of "do no evil"

+925 Posted via the Windows Phone Central App for Android

just as a dig at Notch, they need to quickly ship a Win8 version.

I tipped you guys come on :/ you give credit to other tippers but not me ;(

Don't cry. Nah, go ahead and cry, it's funny.

Now if they can just drop support for android in two weeks that will make my day

So they will continue support for iOS and Android and don't even mention WP. Looks like another Skype all over again.

They will release it to WP with exclusive content not avaible on IOS and android to try to get ppl to switch if only the hard core Minecraft players to WP for the better Minecraft experience

I don't really like playing Minecraft... Playing it alone just feels lonely... If the Online feature is made free for all Lumia though... Haha... What will they do after this?

Lonely? Isn't there an 8-player multiplayer mode?

This has the potential to be unbelievably huge for Xbox and WP. Question is will Microsoft leverage this to there benefit?

Very doubtful. I just don't think they know how to, seriously.

It's a tricky, delicate task. How do they make Minecraft the face of Microsoft/Xbox the same way that Mario is to Nintendo--making cameo appearances in hundreds of games and dozens of Nintendo franchises (Mario Kart, Paper Mario, Smash Brothers, etc.) without upsetting the hardcore, anti-establishment indie gamer crowd that made Minecraft popular?

Soon to be seen on Android and iPhone, may even make it to Windows Phone...

Joe Belfiore: "Today we're excited to announce that Minecraft is coming to Windows Phone and Windows in the coming months (*Coming Soon™) and yes, it will be Xbox LIVE enabled." * Copyright pending

Did Belfiore really say that?

I'm not quite sure the benefit to Microsoft on this one. They made Minecraft sure, they have 2 other games I never hear anyone talk about. Maybe they have other ideas that given the resources of MS could be successful. Hopefully it wasn't just because of Minecraft... Because in that case probably a bad purchase at that price.

Yep .totally . Cause I don't think Minecraft made at least one billion yet . Some hundred million but not 2,5 billion

Microsoft has stated that they expect the deal to break even by the end of Fiscal Year 15.

Crazy... I wonder what they have planned? Hasn't Minecraft jumped the shark by now? Having said that, they are buying the digital version of Lego...a product which has had some success and staying power. Better than picking up a King, Zynga, or even Rovio.

If they continue development for the Playstaion, it would be working againt their own console. Sony doesn't have any first party developers making games for the Xbox, it just seems wrong. I would like to see it on Windows Phone with Xbox Live support.

How retroactive current sales goes to Microsoft?

Bo they wont. See all they guys who wanted Minecraft and bought a x1 or 360 got it by now . And now by selling Minecraft version to Nintendo and sony will make millions of dollars . Trust me ms will get the 2,5 billion back

Yeah, well under Nadella, they prefer giving these things away. I'm not kidding when I say I wouldn't be surprised if Nadella made Halo available to PlayStation. They had zero problems giving it to the competition on mobile platforms. Don't be surprised that if Halo 5 undersells, they send it to PS4 (with exclusives, of course). Not joking. It may be a last resort, but it's on the table.
Edit - damn app replied to wrong comment, lol. Was meant as a response to tragic.

Geez I really hope they don't do that, not even in a parallel demesion lol.

Damn app did it again! It must like your comment lol!

Minecraft on windows phone finally.

Dient get warm with Minecraft . It's a deep and intelligent game but there are no objectives no tutorials no quest bla bla bla : It's boring . And its a empty game . And guys : Stop complaining about making it exclusive - that would be the worst step because Microsoft would loose all ios and andorid players and those are at least 20% of the players. And since you can continue your PC game on mobile platform ( ios and android ) Microsoft would loose too many . And that would be a wrong step

Have to agree with you, it's great, but it's not that great.

Wait, you can 'pause-and-play' from the PC version of Minecraft to the iOS and Android versions, like how many of Microsoft's mobile Xbox games work (Skulls of the Shogun, Tentacles: Enter the Mind, Halo: Spartan Assault)? I was thinking that would be the big draw of an upcoming Windows Phone-Windows 8-Windows RT release: cloud synced saved progress. But it's already been done in Minecraft?

Interesting, but nonetheless an epic reach by Microsoft.

Don't worry, folks, they'll keep making original games... just... like... Rare did. :(

Makes sense if they require a Microsoft account to play. Getting 10s of millions of young kids who otherwise would grow up ignoring Microsoft services.

FREE Minecraft for Windows Phone PLEASE!!!

This is a really weird buy. Haven't all the games etc been sold already, mostly at least. What's next? Minecraft 2 with the same thing again? Or this could be the new Sims that still sells well after all these years with the same game over and over again.

Minecraft could be to Microsoft what Mario is to Nintendo. It'll be a delicate thing to pull off, given the ravenous nature of its indie fan base roots, but you could be looking at things like Mine Kart (Mario Kart), 2D iterations like Terraria, cameos in all sorts of games (e.g. Project Spark), and just general merchandizing up the whazoo. Then, there is the inevitable bigger, badder sequel.

One thing I've noticed is how huge "minecraft-branded" anything is. Toys, posters, etc. So, having Minecraft on Windows Phone is a GIANT help for the platform, especially in the demographic of the "next generation". Add XBox Live integration, and it's a hands-down winner. Done properly, there should be a massive holiday push with TV ads stating "The only phone and Game System with Minecraft" or similar. HAS to be a Windows Phone exclusive so that the kids/tweens/teens/twenties want to get it. Then make sure that the market had plenty of Minecraft-Branded accessories and maybe even a cheap Lumia Minecraft phone! To bad they didn't get this done sooner to give more time for the holiday rush!

Now imagine WP pre-installed with Minecraft, that would be hugh!

If Minecraft Pocket Edition was unpublished and made exclusive for WP there would be rioting in the streets from 10 year olds and probably a ton of people would hate Microsoft.

Nobody is saying it has to be exclusive, just make it come pre installed on Windows Phone thus free and people will buy Windows Phone if they love the game. Imagine it syncing with your Minecraft on Xbox.

So that's why they had to fire all of those people. That's messed up

How about for their own windows phone (or windows, or phone, or whatever they call it now)?

They call it the wp win phone winwinwindowz telephone

Ugh, American billions. Not a proper, 1000 million billion.

I believe Microsoft is setting things up for an even bigger and massive release of advertisement. Their move to bring back the start menu with the intention to move windows 7 users to windows 9. Now they're buying the best seller game Minecraft. Just time will talk.

Minecraft has yet to be effectively exploited as an educational tool. Actual chemistry and more realistic physics could be deployed so that users can experiment 'crafting' real things/compounds in the safe Minecraft environment. People have already built some pretty incredible projects with the limited functionality. Modules can be written for almost anything to help teach a fairly detailed understanding of, for example, how to build a nuclear reactor or a petroleum refinery.

That's from... Liveside's editorial ? Talking about modules, there's also a modder community around Minecraft, spawning branches from the original Minecraft. Not all of them love Mojang's attitude against the mods. I'm interested to know how Microsoft will embrace or shun these modder community.

@rluka No, I wrote it myself, it's my own opinion. Backed up by MS CEO today! Who or what is 'Liveside'?

As great Minecraft is, this sounds like wasted money... I hope I'm wrong.

Stoked to hear this. I hope the first thing they do is port the PC version over to .Net and drop Java, then a Universal app for RT & WP. OneDrive integrated saves accessible from your XBox, PC, and Windows Phone! Azure hosted Minecraft servers! Minecraft is a great game that will get even better with Microsoft Studios behind it.

+925!!! Posted via the Windows Phone Central App for Android

Good, now block it on android!

Its a company, its not a hater so relax. A company has to make money, they cant just block around 90% of mobile owners , can they?!

It will probably be Skype 2.0 - in the sense they will only remember something vaguely about WP when the stars are aligned in a straight line and the moon turns red or something like that.

2,5 billion?? Did ms bought minecraft with there whole fortune?

Nah, its microsoft, they have a lot more than that. But dont worry, they will get that money back in no time! Minecraft is here to stay!

Their "whole fortune"? lmao... MS has like 17 billion in offshore accounts alone to spend...

Lol But 2,5 is also a lot of money ;)

This seems like an odd investment. I mean, the timing seems odd.

So Microsoft paid more than twice what the game's hypothesized revenue is, and they got a past-its-prime (I imagine that month-to-month sales have peaked) developer witho ne title, and they didn't even retain the minds behind the games creation? I mean, I guess I'm just confused as to what the reward is for this. They basically didn't buy Mojang, they bought Minecraft, and it's hard to see how they get a reasonable return on their investment over the long haul.

It boiled down to this: "We're irrelevant in consumer, let's buy something relevant! What's relevant - Minecraft! Let's buy it" Yup that's the MS braintrust.

Now ask Minecraft creator why didn't he released his game for windows phone and windows 8 , and fix that , so all games creator's can jump in easily

Minevraft is not out for windows (phone), is it? I hope they release it now that they even have the game in their hands to handle!

knowing windows phone and MSFT, they will not have it for a long time. just like remote desktop was last on windows phone, I suspect MSFT couldn't care less about WP to port this anytime soon.

A waste of money. Minecraft has already largely saturated itself into our lives. I don't see MS getting 2.5 Billion out of the deal.

so if clearly not exclusive, and if clearly not cheap...is the point of this to spend the money to keep google or sony from getting it? MSFT will never make 2.5 billion out of that thing, so is this one of those "cost of doing warfware" type of expenses?

They'll easily make the money back, and probably a lot more quickly than you'd think.

Except the kidz these days think MS is 'uncool' and will ditch Minecraft for some alternative soon enough. Also at Mojang's current rate of profits, it would take 10 years to recoup.

I believe Microsoft said they expect to break even on the deal by FY 2015, unless I misinterpreted it. So Minecraft will make Microsoft cooler to youth. That's probably the point.

My 4 year old already loves Minecraft on Xbox One. We played it for the first time the other day and he couldn't stop talking about it. People underestimate this game.

I was more interested in what other franchises or works-in-progress they'd be inheriting in this deal, but it sounds like the only thing Mojang has done besides Minecraft is to publish another developer's upcoming game, Cobalt, which looks all right but nothing amazing, and an obscure card-based RPG, Scrolls, which, Mojang said in their press release that they didn't know what will come of it. $2.5 billion is a lot of money for what appears to be just one franchise and a small pool of programmers. I was hoping there would be more to Mojang.

Why?? Someone explain this move to me? And at 2.5 billion? This makes no sense to me. Why?

Microsoft thinks they'll earn their money back on it by the time FY 2015 closes.

They didn't buy tat to earn money! They just wanted to ruin them

That makes sense...said no one.

Does that mean minecraft for Windows Phone? YaaaaaaaaaaaaaaY

Guarantee won't be coming to WP but more or less more updates to android and ios. MS is awesome! Since the birth of facebook on wp7, they still can't fix it. It only gets worse!

Great! Hope to see a version of Minecraft for WP soon....

They only acquire others including Bing Skype Nokia and many more! C'mon people invent something on ur own!!

They didnt acquire Bing. They created it. Microsoft Research create lots of stuff...mostly stuff you don't see.

With all the money MSFT are blowing on this deal, they could use it to significantly improve Windows and Windows Phone.

It doesn't work like that. It's not like they could have gone out and magically hired 1000 extra software engineers who would be effective on day 1 in terms of Windows/Windows Phone. You can just buy an IP like that.

So what happens when the craze passes and no one cares about this game anymore? If they were going to make this acquisition they should have done it sooner, when they'd have been able to capitalize on it more. At this point it'll take a long time to make up this investment.

Actually, Microsoft expects to recoup the money by June 2015. It won't take long at all to be in the black on this deal. Then the money will roll in for years to come. It was a brilliant purchase.

Millions of new young users interested in building things now using Microsoft's eco system can only be a good thing. 2.5 billion burning a hole in their pockets, this is a great move on their behalf. Yip, perhaps its trying to remain cool, (with the not so cool kids) - but it's not Bebo

They could make a cartoon for Minecraft for xbox

I really like the direction Microsoft is heading. Mostly because of the changes to Xbox in the past year. Nadella also seems smart.

Greate, I can already see whats going to happen! Micro$oft is going to gradually stop making updates for the Mac/iDevices/Adroid/Linux/PS versions of MC, force people to buy their inferior Micro$oft products, and wonder why sales have dropped 50%, and then go off and buy, (and ruin) another great indie game. You herd it from me first. Just sayin'.
Windows Central Newsletter
Thank you for signing up to Windows Central. You will receive a verification email shortly.
There was a problem. Please refresh the page and try again.