Microsoft reportedly close to buying Minecraft maker in $2 billion deal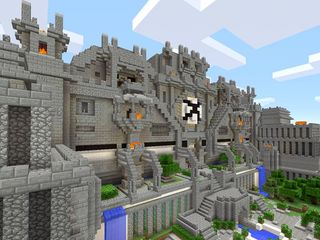 Microsoft may be close to a $2 billion deal to acquire Mojang, the Swedish gaming company behind the popular Minecraft game. The deal could be finalized as early as the end of this week if these early reports are accurate, which would be surprising considering that Mojang has purposely kept itself away from outside investments.
Despite blocky graphics, Minecraft has accumulated a cult-like following among casual and dedicated gamers alike thanks to its open-ended possibilities.
The deal would be the first large acquisition by Microsoft's new CEO, Satya Nadella, and could help Microsoft expand its Xbox division.
What do you think of Minecraft under the helm of Microsoft? Will this give the Xbox division a boost?
Source: WSJ
Windows Central Newsletter
Get the best of Windows Central in in your inbox, every day!
Chuong's passion for gadgets began with the humble PDA. Since then, he has covered a range of consumer and enterprise devices, raning from smartphones to tablets, laptops to desktops and everything in between for publications like Pocketnow, Digital Trends, Wareable, Paste Magazine, and TechRadar in the past before joining the awesome team at Windows Central. Based in the San Francisco Bay Area, when not working, he likes exploring the diverse and eclectic food scene, taking short jaunts to wine country, soaking in the sun along California's coast, consuming news, and finding new hiking trails.
Well, Minecraft on other platforms is fucked.

I don't know if Minecraft was ever going to other platforms but its best chance is with Microsoft at the helm, I would think... Look at their history of cross platform solutions.

Minecraft is available for PC, Mac, Linux, Xbox, playstation, android, iOS, and probably some other platforms as well.

It is avaible on Blackberry too

Doubt it, in Microsoft's history of in house products on third party hardware, Playstation will get all updates first then Xbox

Xbox games are completely different from Skype or whatever you're referring to.

MS is, unfortunately for WP, really good about keeping staying cross platform. See Skype & Office 365. Also their lates steps go the same way -> BING going MSN and all Platform, Cortana going all platform. The last think the shut down for other platforms was Halo...

Well if they start making Halo cross platform, MS may as well order coffins and stick every single xbox + team into it. The day they make Cortana cross platform windows phone will be dead, I mean look at the recent ad commercials. They have only one Unique selling point and they are pushing it like mad, rightly so.. however having one usp is like Nintendo relying on Mario to dig them out of the pit they are in.
It is not going to last.

That's not the case with Xbox.

Bing is NOT going to be MSN. Bing will be Bing. The apps that had Bing in it's name like "Bing sports" which is not just sports will be man sports. In reality, the articles and such from those apps actually come from MSN not Bing. Bing won't change just the apps identity. The apps themselves won't change though. Also, they never confirmed Cortana would be on other platforms that isn't part of MS. It was talked about and discussed but no official word. I don't think they will. It's what separates them.

Man sports stop being sexist :P

At least there'll be a chance it'll come to the Windows Store! Notch was against it as he didn't like the Store being 'closed' which was always a confused statement. Notch has always had very emotional responses to things.
Really would love it on my Surface 2.

True, I wouldn't mind playing it on my 920 but it will cook the phone faster than a frying an egg on a gas fired stove at full blast :P.

Yeah! Minecraft PE for WP and a port of PC version for Windows 8.1 as a modern app!

Playstation 4 is probably fucked for any future Minecraft, but PC and all mobile platforms will be fine.

I agree. I expect this is a lot more about keeping Xbox console exclusivity than removing existing Mac / mobile platforms.

Poorly worded. I do know that it is currently out on Playstation, I meant more future exclusivity on Xbox for new content, upgrades, etc. Xbox was the only console with the game for a while, and I can see MS paying this kind of money to have Minecraft be a permanent feature of the Xbox exclusives lineup.

This Microsoft, all of their services are on other platforms , not apple not google!

I'd rather he spent that 2 billion on Xbox entertainment studios.

I never liked minesweeper much. Don't see how it could be worth so much. I think i remember playing it on Windows 3.1.

LOL... Hahaha... Dude they are taking about Minecraft not minesweeper.

And for what? Skype is owned by Microsoft for years, yet to make a difference. This money would be better spent investing on WP. IMO.

I'm happy with my Windows Phone, I want more games for my Xbox.

I'm happy with my Windows Phone but I want more unstoppablekem

Well, even if you didn't want more of him, he's unstoppable, so you'd get him anyway.

You always want me though. ;)

I must admit, you're kind of adorable. I'd buy an unstoppablekem teddy bear and cuddle it.

I kinda threw up a little in my mouth.

I'll always be here for you. :)

And with Microsoft in control, Minecraft would finally find itself on WinRT and WinPhone. The only reason Minecraft is not in the Store now is because Notch didn't want to give up a 30% cut, which is total BS considering he didn't have a problem giving up a cut to Apple.

In their defence, giving up 30% probably hurts more when you're making way fewer sales to begin with.

Isn't the windows stores cut like 20%? I remember it was definitely less than Apple's.

Its 30% up to a certain level, then it drops to 20% from memory

Other than being one of the largest voice and video messaging platforms on the planet that consistently brings in revenue, I can see your point.

So it's all that is about? Business? If you think this way you should encourage Microsoft, as everybody does, to give up consumer market ;) and become the new IBM.
I do not share your point of view. I want to see Microsoft succeeding on the consumer market, with a respectable brand, as Google and Apple does nowadays.
With a phone OS that is respected, that is a relevant option on the market, instead of possessing a mere 3% worldwide market share.
With a PC OS that is used around the world not because it is convenient, but because people like it, love it and feel it. (Ok, i'm exaggerating, but that's how I feel LOL)
I want to see Microsoft announcing a consumer product and be cheered by the public the way Apple was cheered today as it announced the iPhone 6. Don't you? Don't you want to own a phone that you love and that people respect? That have a whole brand recognition behind it? I know I want. Thumbs up, if you agree. I cannot be the only one that feel this way.

Microsoft would never be cheered by the public on a consumer product launch, even it is so ground breaking that it is beyond comprehensible logic. Didn't you get the memo, MS are still bad guys from the decades past -.-... bloody biased tech journalists, bloggers and store reps.

Unfortunately, that's the reality we live in. So sad.

Indeed it is... The saddest thing is kids growing up these days will not know anything different.

No one on Wall Street was cheering for Apple today. My rebuttal was based on the idea that Microsoft hasn't done anything with Skype. They have. They always work toward integration with acquisitions and it has been a profitable venture that adds value to Microsoft's portfolio across the board. $2 billion for Mojang seems steep but I'm sure they see something in it.

Are you talking about Apple's stock? OMG, every year is the same thing, when they announce the iPhone stock is always down, after the sales it increases, everyone knows that. I'm sure Skype is a profitable service, I was talking about the consumer side of it. You know what I'm talking about, I'm sure. As of Minecraft's buy, certainly is a good deal, no doubt, I was just making a comparison of efforts from Microsoft, doing profit and investing in the consumer products, just it.

Yes, I'm talking about AAPL stock and I'm not just talking about a standard market fluctuation. They are on a bad run ever since the iCloud hack. But then, "everyone" knows that. Personally, I could give a rat's ass about whether the Valley divas applaud Apple and ignore Microsoft. I don't need their validation to make my own decisions.

"hey are on a bad run ever since the iCloud hack." Will people stop buying iPhones because of that? I don't think so. So, Apple will continue to profit billions. "I don't need their validation to make my own decisions." It's a valid point, I agree til a certain point. Because if the platform was more popular, it would increase sales which would increase number of apps, resulting in a better ecosystem, consequently in a better experience for us, Microsoft guys.

Right. I never said that Apple wouldn't continue to sell their wares to the hapless. Applause at an Apple event from a bunch of Cupertino divas should be expected. But there is an undercurrent of dissatisfaction in Apple's products among investors. They don't really have much to hang their hat on. For Microsoft, the "ecosystem" is so much larger and more substantial than anything from their competitors. It seems to me that many don't realize how significant the unified kernel is for Microsoft. Apple has been rolling out one disappointment after another. That will catch up to them and personally, I can't wait. Their proprietary tripe has run its course.

I bet this move has something to to do with their online cloud gaming solution

Wish MS read your comment and realize how stupid they are. Created an OS grow it a bit, gather some fans and then kill it ? God... Please give these people some slaps...

Investing how? They bought Nokia's hardware division, but you can't come out with completely new phones in a short time no matter how much money you throw at it. I think that if there were an easy way to turn 2 billion dollars into huge incrases in market share, MS would do it.

@ToonU Good point, not good for Playstation hardware.

If you look @ it the other way it is good for them because ms sees no money in core gaming anymore. This driving away their loyal fans

Probably the only way Minecraft will ever come to the Windows 8/Phone Store.

Brace yourself, Minecraft on Windows phone with XBL coming soon. (If the deal is done)

I could see it being more of a single player version. Sure it may have achievements big deal.

"Coming soon!" (december 2016)

Probably one of his kids want to play minecraft on his WP lol

And when his kid wants to do heists on Windows phone, brace yourselves, gta 5 for Windows phone with xbl when Microsoft has acquired rockstar north, then it will be time to dock!

If they bought R* North... I would be happy as can be.

Rockstar is too rich and successful. I wish Microsoft will buy WhatsApp,facebook,instagram and everything good that will integrate well into the OS. Even WP central should be bought..hahaa

I bet this move has something to to do with their online cloud gaming solution

If you can't beat em, buy em! :D

For those who enjoyed Minecraft...well, I hope you liked it. Start saying your farewells.

I may actually get into now.

You, sir, are as wrong as a virgin nun.

NOKIA Lumia
NOKIA Lumia
NOKIA Lumia
NOKIA Lumia Hope your brain locked up so we don't have to read the rubbish that streams out of it anymore.

At least I have a brain that can be locked up.

The point isn't exclusivity. It is royalties. It is a good pickup. It can keep new features Xbox first for free while making money off the likes of Apple, Sony and Android to keep it on their platforms.

I don't think so. It's way overpriced at 2 billion dollars. And I think it's past its prime. I see Minecraft as a fad. They'd be better off buying out Capcom. Way more valuable IP there.

Just fad four years running and the greatest indie success that continues to captivate youth and adults alike. I'm sorry, who gives a crap about Capcom IP right now?

Resident Evil, Dead Rising, Mega Man, Monster Hunter, Street Fighter, PowerStone, Devil May Cry, Onimusha. Do you have any idea how many hundreds of millions of games that those franchises have sold?

Combining every single of those IPs would still be less than half as relevant as Minecraft is today.

Wrong. Monster Hunter alone could give Minecraft a run for its money. Add in all the other ones (and the dozens of other Capcome franchises I didn't list), and Capcom would be the smarter buy. Exclusive Resident Evil, Dead Rising, Onimusha, Devil May Cry, Powerstone, and Street Fighter games would make the Xbox One the place to game.

Dude, what are you on? Monster Hunter? I have 4 neices, 3 nephews, a daughter and a son. EVERY ONE of them are addicted to Minecraft. I know MS is skipping on Xbox entertainment, but if they really push the marketing on Minecraft...TV, short films, DVD/BluRays, books, comics, toys, games. Serious potential behind this.

You can try to argue all you want, but Capcom's IP is much more valuable than Minecraft. Not only have their franchises sold hundreds of millions of games, but they have even larger marketing agreements than Minecraft could even hope to be. Resident Evil movies, Street Fighter cartoons, Monster Hunter toys, arcade games, fighting tournaments, MegaMan comic books, etc. Capcom's franchises absolutely destroy Minecraft in value. Your nieces, nephews and children don't live in Japan.

Majority of the world does not live in Japan.
Consumers do not respect history, and if you follow Microsoft you should know this better than most. Minecraft has done to gaming what the iPhone did to computers. Meanwhile, Capcom has a line of desktop PCs.

The majority of the world doesn't live anywhere. Again, argue all you want, but Capcom is worth more. Way more.

So you would rather invest in 2008 Microsoft than 2008 Apple? Enjoy your Resident Evil movie. Minecraft is a household name without any substantial marketing.

Ha, you think Minecraft is Apple 2008? Not even close to an accurate analogy. Minecraft is a tiny drop in the bucket that is likely a fad that hit its peak already. Street Fighter and Mega Man have been consistently popular for 3 decades. Resident Evil for two decades. Capcom's IP's have more name cachet, wider reach (especially in Asian markets where Microsoft badly needs a presence), and are consequently much more valuable an investment.

Potential, yes. But would MS take advantage of it, I think not. By the time they did anything with it, Minecraft would be dead from stagnation, or they'd mangle it like windows 8, which was theirs to begin with.

agreedl. I hear there is a pile of old E.T, game cartridges in the New Mexico desert somewhere. Maybe Microsoft should purchase those instead. They would probably cost way less and they would be more valuable,

Great point. The new Microsoft would keep this multiplatform, and hopefully focus on giving Windows exlusives and features first. And of course bringing it to Windows Phone and tablets.

Would be great! Minecraft Pocket Edition in Windows Phone!!!

Not sure that anything would changed and what Microsoft would get out of the deal but hope free on xb1 and Windows phone.

I know literally no one who plays Minecraft. :/

I don't know anyone who DOESN'T play Minecraft!

Well, honestly, I don't play it either, as I don't have the time to invest into it. My kids do though, and all of our families friends and kids. I never got into it because of the retro "8-bit" looking graphics (I come from designing levels/maps for Source engine games (half life2 etc) myself), so my building skills were kind of squandered looking at the simplicity of the Minecraft building tools.. But anyway. It's popular, I understand.

I never did not know nobody that didn't not play no Minecraft.

lol what is that, an octo-negative?

I don't feel like it would be worth it.

None of you saw this coming? It's great news, hope it comes to fruition.

2 billion??? Seriously?? How much life has this game left?

Way more than we think, they are still at version 1.8 lol

Just wait till ver 2.0. We're talking 16bit GFX people!

Haha
Version 3.0, ps1 graphics come to life!

Ooh. That brings the Doom engine to the equivalent of 1995. :-) My daughter loves Minecraft and plays it 24/7. I can't help being nostalgic when I watch, it reminds me of playing Doom Freeware Episode 1 and being blown away. I guess a lot of people on here were peeing their nappies when I was doing that.

Hopefully, they will nix the Java platform in favor of something that doesn't suck.

The graphic in this game is shit! I doesn't played this game because she is shi* :@

It is not all about graphics, it is predominately about gameplay and the in the case of minecraft, almost endless amount of creativity mixed together with survival mechanics.

They should buy Valve and Steam instead.

Gabe Newell said that he would rather see Valve bankrupt than sell it.

If Microsoft buy it, wish granted.

No, Microsoft would fuck up Valve in ways I can't even imagine.

I seriously have no clue what Minecraft even is, except that its a game of some kind. Ultimately it seems silly to me to buy these guys unless they have something else in the works. 2 billion seems like pocket change in today's buyouts... But it's still 2 billion. And id think it could be better spent on other things to get people to this platform.

Why? Why not purchase a company that can enhance what you already are involved in, like Windows Phone, OneDrive, Windows? This does little for your ecosystem and brings next to nothing. And for what? One friggin game a lot of people play and a lot more dont play?

Basically their doing what Nintendo did

Nintendo, if they don't open up more to third parties... sadly they are not going to last long...

Nintendo has enough money in the bank to most awhile. And Nintendo is very open to third parties, especially on the 3DS. It's third parties and named that are less open to them.

Okay fair enough on the first point, but they cant eat into that for ever. Also your second point doesn't make sense, you can't be very open and less open. It is like saying a single two-way light switch can remain in the on and off state at the same time :P.

Never liked it. Just as ive tired messing around with project spark

Mohjang seems like a one hit wonder to me. As evidence look at the title of this article, It does not contain the word Mohjang instead It says Minecraft maker. Probably because if the title siad Microsoft looking to purchase Mohjang most people would have asked who's that. No doubt Minecraft is super popular but it's probably on it;s way down. Mohjang has already developed another game and if it wasn't for Minecraft no one would probably would have ever played it. I'm reminded of the Rare purhase by Microsoft back in the early 2000s. That aquisition went no where.

I guess the team went their separate ways, a company is only as good as the people who run it. Without them a name can become virtually meaningless over night.

So while other companies buy other companies relevant to bringing innovation or merge technology (or eliminating competition) Microsoft buys a game maker???

Probably to entice users to spend their breaks playing minecraft :P. Joking aside, I wonder where does this acquisition factor into the productivity company manifesto, given Satya just recently down sized XES, some game studios have been shut down...

They got Bungie to come over to Xbox. Halo was originally going to be on PC only, but MS came and swooped them up. So its the same here, they buy the Devs of a super popular-award winning game to attract more attention to Xbox.

Halo was actually originally intended to be an rts game for apple, that turned into a third person shooter for apple, which MS then bought and became the FPS game for XBox

Microsoft doesn't need other companies to innovate when they spend like $1 Billion annually in R&D.

Evil! Evil! Indie studios should remain independent! It's worse than the nokia acquisition! And they lost a shed-load of jobs!

0 sec ago 0 If true this would be a tremendous waste of money. Minecraft only pulls in 100 million in profits last year. How long do they think they can keep that up. Where is the return on investment. This makes the $19 billion spent by Facebook on WhatsApp look like a good move. Mojang is a one hit wonder. Does Notch have some compromising picture of Sanjay? I just don't get this move, especially at this price. If Microsoft wanted to waste their money they could have done it more wisely. If they wanted to spend money for gaming in order to prop up their Xbox and other Window systems there a lot more companies to be had more cheaply with better future proof IP. In fact, they could have bought several good gaming companies at that price. Furthermore, doing so would have locked it in to their platforms to drive sales of their platforms, not theirs and everyone elses. Capcom comes to mind as good investment. Look at all the unique that company can provide.

0.0 DAMN! who would have thought retro pixel graphics would amount to a tune of a cool 2 billion dollars. Good on Mojang! Now MS don't you dare kill this one too! :P...

Minecraft on WP confirmed! I wish...

Hehe...my Minecraft buddies on Linux servers are going to HAAAAATE this news. I don't play the game, but maybe I'll try it now :)

Haha. it's kinda a "meh" game, but if you have a great imagination you will like it a lot !

This isn't so much about trying to get a return on investment from the studio itself. It's more about the branding of the Minecraft game. Like it or not, Minecraft is still huge. It's not really slowing down because if you go to any elementary school you'll find Kindergardeners and 1st graders talking about Minecraft. It's not just for big kids. I expect to see a FULL version of Minecraft appear in the Windows 8 store as well as it becoming a Universal App. So that means Minecraft on Windows Phone.

YOu hit the nail on the head. People are just thinking WP and Win8.1. But, this is much much more than that. TV, short films, DVD/BluRays, books, comics, TOYS...endless.

Actually given MS just downsized XES and there rumours that it is going to be spun off and sold, don't see that happening. Unless Satya Nadella has had a change of heart :P, currently they are going down the platform / productivity route. If they weren't then downsizing XES doesn't make any sense.

2 ... Billion!? That is crazy money. And stupid to pay that amount for a crap game that keeps my kids glued to a tv

Well I can tell you clearly where the fault lies and its not the game or tv :P.

2 billion ??.Give me $500k and just buy a smartphone watch company Yea, there is a lot of Minecraft fans sure but the big hype on it was 4-5 years ago. Spend your money on something more than a one hit wonder...

They have 3 games. Seems like an awfully expensive purchase for a studio that really on has one hit.

Microsoft should be f'ers, insist on the license to Minecraft also, and pull it off the Apple app store... just so I can see people go ape shit. Would be one of the more entertaining things I've seen in a while.

Would we get it on Windows phone?

Jesus... The dude's first acquisition will be Minecraft?!?! /cry...

Actually, Microsoft Bought out Syntax Tree, developers of A Visual Studio tool for the Unity game engine, a couple of months ago.

Yupp I know. They even acquired green button which was I guess the worlds largest cloud computing company. Headquarters in new Zealand

Well hopefully his tenure won't be solely remembered just by the Minecraft acquisition lol...

Wait, so 2 Minecrafts is equal to 1 Nokia (purchased at 3.79B)? That is absurd and makes no sense.

Jeez, Take Two has market cap of just under 2 billion. A better purchase for sure. You get all of Rockstar's and 2K's library of games/ip

Purchasing Mohjang is more than just purchasing a "game maker". They're purchasing a household name; a name brand... which includes a huge market of toys, collectables, clothing, etc. Right now, anything with the "Minecraft" logo on it sells like hotcakes!

I am struggling to see where this fits into the current direction MS is heading. I guess one thing that would make sense to buy it out before Google or Apple does and shut out WP going forward / touch friendly version. You can always install Minecraft on x64 / X86 W8+ and play it with a gamepad + teamspeak or similar or keyboard + mouse.

For fedoras for that fat bastard

"Will this give the Xbox division a boost?" How about windows Phone ???

Does mojang do anything else? What's the purpose of this, i wonder? Seems like a dead-end purchase.

Finally we might see Minecraft for Windows Phone and Windows 8.1 wooooo

This is too much money! Not worth it! Has nobody learned from when Zynga was bought out and became worthless? #GamemakersDontMatter Posted via the WPC App for Android!

LMAO good now Minecraft will finally have some depth to it. You know Notch is going to jump on this no problem. Greedy jew

I've always thought, on a high end WP, why couldn't they bring a somewhat simpler game such as Minecraft to it, then have us be able to play with people on Xbox..... I use my phone as an internet access point for Xbox anyway occasionally. It works fine.

Most of us here on the interwebs look at this acquisition as a real bad move. But here is what I have to say. If you mention to someone born after 2000, the name Microsoft what will those people say to you? Oh the people behind Xbox. Unlike most who grew up in the 90's and 80's like me and know Microsoft for Windows. These people think of Microsoft as a video game company. Buying mojang is not a bad move. This shows that more investment maybe put in the Xbox devision than we thought. Especially after people like Paul Allen have been demanding Xbox to be spun off or sold off. Satya may have some big plan's for Xbox that we don't know about. Maybe this could be a gateway to the acquisition of Capcom. Knowing how much stress that would put on rivals like Sony. This might be a test to see if Capcom can make games multiplatform still under Microsoft ownership. This does not mean Halo or gears of war will go multiplatform. Halo and gears are Microsoft games so quit freaking over it people!!!

Now maybe we'll get this on Phone and surface. My kids bug me about this ALL THE TIME.

MS has deep pockets indeed.

Rare didn't cost that much

I hope that they have some original IPs in the pipeline and aren't just a one-trick pony. I would hate to think that the only thing they're good for is making Mincraft mods popular Xbox franchises (Halo, etc.).

No no no no microsoft has gone way too far i mean what the hell why would microsoft spend 2 billion on a game for wp ? Or does microsoft want to take revenge of sony and remove minecraft from it ? You make good games with programmers not you money !!!!You know what ? Fuck Microsoft its a brainless company with alot of money.
Yeah I love WP but I have a ps3 and I cant buy an Xbox so why don't you consider these people ? Is Sony getting you mad that much Microsoft ?

stupidest and most pointless acquisition of all time. MS really is unbelievably clueless. why didn't they buy twitch?? that actually wouldve been useful, esp if integrated with xbox.

They were one of the team that wanted to buy Twitch, but the people at Twitch did not want to sell to Microsoft. Also, Microsoft has clost to 100 billion dollars overseas that they need to spen on something.

$2B for a company with a single successful game and 40 employees. Okay then.

The company does not even own the rights to Minecraft. Notch does.

Microsoft should have bought dota

Wtf. Well the positive side is Microsoft can sort out this bukkit/dmca mess and sue that idiot wolf.

Yeah! And don't sell it to ps4, just at a bigger price and make it cheaper for Xbox one to boost its sales!

They should rather buy Gameloft.

They should buy my house so I can finely retire!!!!!

Minecraft Pocket Edition!!!!

Mojang doesn't even own Minecraft. Let's all hope that we won't see another incident like the one with Rare and Donkey Kong.

Lets face it given MS's recent shut down of very talented studios, I wouldn't be surprised to see an article sometime in the future that MS has shut down Mohjang as well. Not to mention this is a huge slap in the face of the poor souls that got made redundant via those shut downs.

Probably fire all of there employees as soon as the deal is official.

They should focus on making better phones instead of throwing away money in shit that will never pay in comparison to the investment.

I'm not convinced that this is a good idea, but I'm no expert

Everybody seems to have their price...

$2 billion dollars seems too much. They might change their name to Microcraft or Minesoft?

Windows Phone Version soon!

Crazy how a studio that no one really heard of until a few years ago, is worth $2 billion. I love success stories like Minecraft, its such a good example for young developers. Keep programming guys, you never know what could happen!

so the $2billion from facebook to oculus was bad, but this $2billion is good? i guess it's different when your name is on the check.

Not sure it worths $2 billion but currently the USA IT companies reportedly have arround $1 trillion free cash, which they seek to invest somewhere thus such unexpected acuirings.

Please make this happen! My relationship with my sons' depends on it!! Lol :D

Why? Microsoft continues its habit of buying has beens instead of what will be. Minecraft is running out of steam and the company doesn't have other IP that is worth anything close to those numbers. Seems like a waste of money. Microsoft needs to get back to being innovative instead of chasing the competition. They need to take that $2 billion and give it to the guys at Microsoft Research and tell them to do something awesome!

Oh great minecraft is worth more than Nokia
Windows Central Newsletter
Thank you for signing up to Windows Central. You will receive a verification email shortly.
There was a problem. Please refresh the page and try again.