Satya Nadella sends email to LinkedIn employees on this week's acquisition news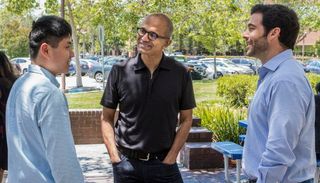 Microsoft CEO Satya Nadella has now sent an email to LinkedIn employees, commenting on the company's decision to acquire the business-themed social network. Nadella also posted another statement on the deal on the LinkedIn website. Microsoft plans to pay $26.2 billion for LinkedIn and the deal is expected to be completed by the end of 2016, pending regulatory approval.
In his email (opens in new tab), Nadella also reprinted the initial message he sent to Microsoft employees in February 2014 when he first became CEO of Microsoft. Here is Nadella's full email to LinkedIn employees:
LinkedIn Team,
I am flying back to Seattle more energized and inspired after spending the day on your Mountain View campus and talking with many of you. From the moment I met Jeff I knew he was a special leader creating a special place at LinkedIn — your sense of purpose is palpable. A few years ago one of my mentors shared the idea that we spend far too much time at work to not find deep meaning in what we do. I sense you all feel that at a profound level too. I know that you came to LinkedIn to make a difference in the world, and I want you to know that I believe that, working together, we can make an even bigger and more positive difference in the future.
Jeff, Reid, Qi and I have started dreaming about what we ca do together. I like that Reid calls today a re-founding moment and Jeff so clearly sees how Microsoft can help LinkedIn achieve the mission you relentlessly pursue. I have spent a lot of time learning about LinkedIn while also reflecting on how networks can truly differentiate cloud services. Over the past decade we have moved Microsoft Office from a set of productivity tools to a cloud service across any platform and device. This deal is the next step forward for Microsoft Office 365 and Dynamics as we connect them to the world's largest and most valuable professional network — LinkedIn. I know we'll invent new ways to help professionals achieve more as we reinvent selling, marketing and talent management business processes. Please take a look at the presentation Jeff and I shared earlier with investors and the email I shared with the Microsoft team today.
As we get to know each other better, I thought it would be helpful to share with you the email I sent to my team a few years ago when I took on my new job. I wanted the team to better understand what motivates me and the opportunity I see for Microsoft. Most of all, I wanted to start the process of rediscovering our soul. As you learn more about us, I think you will find many commonalities in our culture and purpose as well as how eager our team is to partner with you, to learn from you and — perhaps most important — to make a difference in the world with you.
Satya
In his post on the LinkedIn website (opens in new tab), Nadella commented on his visit to the company's offices. Here is that message, again in full
What an amazing day on the LinkedIn campus.
For a few months now, Jeff Weiner, Reid Hoffman, Qi Lu and I have been dreaming about what Microsoft and LinkedIn could do together. It was clear early on that both Microsoft and LinkedIn are centered on a common mission – to empower people and organizations. This sense of purpose and mission is palpable all over campus.
I witnessed first-hand the LinkedIn team's relentless focus on delivering value to its members – something that will never change. We also know that by bringing together the world's leading professional cloud of Office 365 and Dynamics with the world's leading professional network of LinkedIn, we can deliver new delightful and intelligent experiences.
This morning in a public presentation, Jeff and I outlined how we will reinvent new ways to help professionals be more productive and also reinvent selling, marketing and talent management business processes. Think about it – how people find jobs, build skills, get work done and ultimately find success requires a connected professional world.
It requires a vibrant network that brings together a professional's information in LinkedIn's public network with the information in Office 365 and Dynamics. This combination will make it possible for new experiences such as a LinkedIn newsfeed that serves up articles based on the project you are working on and Office suggesting an expert to connect with via LinkedIn to help with a task you're trying to complete.
Of equal importance to this deal, is the distinct sense of purpose and culture that will define our path forward. Just as Microsoft employees joined the company to make a difference in the world, so did LinkedIn's employees – and together, I believe we can have an even greater impact in the future.
Windows Central Newsletter
Get the best of Windows Central in your inbox, every day!
Email content: 80% employees will be fired ASAP

Agree. Nutella the terminator.

Dear LinkedIn Employess, Get all your crap packed, for you are no longer needed. Sincerely, The Terminator

Nope it's more the typical white noise message of every enterprise management I've seen till today at my workplace. It provekes a Meh in all employees.

Fingers crossed on LinkedIn UWP app.

Wait, a mail from Nadella that is not like: You are all fired now! - what is this?

Lol. Ms always tries to get ios devs to create uwp apps but they don't do their own. Maybe she's born with it, maybe it's Lumia 950xl

Ah no problem they can find new jobs by searching in LinkedIn.... Oops, the irony...... ;)

P.S. Arrange for your packing boxes. You're all laid off.

Hey Signal 2 noise...thanks for the rolling endorsment. Remember linkedin employees, 50 % off all moving boxes!

I see this as a great opportunity to leaverage a lot for business/enterprise users. Yes, any acqusition brings along employee restructuring, but it doesn't overshadow the possiblities the purchase can bring to the MS enterprise portfolio.

Finally, the linkedin app is going to get updated

Yeah for iOS and android with ended windows phone following 2 years later : ) ...i had to get that one in even though I'm a WP user! Posted via Windows Central app for Windows 10!
Proudly rocking my Lumia 1520!

It may have been Gates & board who approved this lunacy but Nadella will be the blame guy and rightly so. Anybody willing to bet virtual beer if Nadella is still CEO of MSFT one year from now?

No, this is typical Nadella.... He's pro Cloud, do or was his recommendation to the board and if it fails, he should be fired. H he's already making some suspect move that aren't getting any return on investment and if this fails, he's definitely out and rightly so! Posted via Windows Central app for Windows 10!
Proudly rocking my Lumia 1520!

I won't bet against you, but I'll double it and I don't even drink!

Well, I surely wait for the day this incompetent is going to be fired...all he thinks of is cutting costs down, working cheap. MS has lost it's quality and customer respect.

Agreed.....So I wont bet against you but I will raise one when he finally gets tanked....

This morning in a public presentation, Jeff and I outlined how we will reinvent new ways to help professionals be more productive and also reinvent selling, marketing and talent management business processes. (Translation: those new ways include giving your job to someone who will take less than $1/hr, no benefits and will work as close to 24/7 as inhumanely possible.)Think about it – how people find jobs, build skills, get work done and ultimately find success requires a connected professional world. Translation: Think about it--you'll get a chance to try out how a connected MS will help you find another job (you'll have to pay for our new job search engine apps, of course), build skills (because you will no longer find a job with your current skill set), get work done (that is, work through a high tech cash register at the newly automated Wendys). Jeff and I are looking forward to our company paid trips to visit our new employees somewhere in Asia (as well as that paid trip to Mt. Everest).
I just hope current employees have the sense to refuse to train their lower paid replacements.

Yeah, something like that :)) pretty much what this cost obsessed man did with Nokia employees.

What he meant: Most of you will be fired; we will destroy LinkedIn like we did with skype/messenger; LinkedIn will became irrelevant as we did with Windows Phone.

Nadella made a mistake with W10 Mobile when NokiaX was not continued as a long term strategy to bring Android apps into Windows mobile devices, but he is now doing good job with iOS bridge, from what I know it will be very similar to what iOS10 is doing for developers so if an app is coded for iOS10 it will work on W10 Mobile without code changes. Who knows, maybe someday users can have the choice to choose between 2 providers for maps (Apple Maps, Microsoft Maps(HERE) or 2 providers for voice assistant (Siri or Cortana) or 2 providers for photos (OneDrive or iCloud) if they have a W10 mobile device.

No, Nadella made a mistake by firying all good engineers from Nokia who actually had a clue about what a mobile phone is. MS knows nothing about a smartphone's HW and design. They know software, or at least in some parts...

Sorry but these are peoples livelihoods here guys, we don't know what's going to happen or peoples intentions. Ok so no job is for life but at least let people hope for the best. You can guarantee that if things are moving that way the staff are going to know and hopefully move on.

Hope for the best while ignoring history or corporate culture...perfect recipe for a sucker punch. On the other hand, forewarned is forearmed.

You can't predict the future based on the past.

Better safe than sorry. And MS hasn't really changed in a long time. Posted via the Windows Central App for Android

In MS's case, you actually can. They always promise and fail to deliver!

I don't get this move at all by Microsoft. Nadella just looks like he's really bad at shopping.

Its all about the data, we live on a world where big data is generated everyday (hundreds of petabytes) but not many cloud companies have the tools to analyse all that data, I think Microsoft has the tools and has the infrastructure (Azure) so its a very good acquisition.

I don't see how that data is going to get them a profit over those 26+ billion they are paying for it.

It's definitely about the data. Every salesperson I know lives in LinkedIn and most HR folks as well for recruiting. We already use third party tools to augment company data in Dynamics CRM. Now take the LinkedIn data, connect it with Dynamics and Office 365 for both social selling and recruiting purposes and you've made all 3 product lines more valuable. This will be good for Microsoft and LinkedIn for sure.

I look forward to seeing the improvements to their Android and iOS apps now that Microsoft, an Android- and iOS-first company, is in control.

I'm pretty sure Android,iOS, Windows 10 Mobile,Windows 10 destkop and Web LinkedIn apps will be improved, this is good news for all LinkedIn users I think.

I really doubt the windows 10/mobile app will ever be updated again..Nadella hates it's own mobile OS.

30 billion for a social network that brings nothing ... All that money could save NOKIA mobile division... even if losing 300 millions dollars each quarter for how many years ??? 3-4!!!

You don't have an idea how valuable will be LinkedIn Data, it will be valued in more than $30 billion in about 5 or 10 more years

I've had disagreements with Nadella on Mobile, but what he did with LinkedIn is great decision IMO LinkedIn is the third most important global social network after Facebook and Twitter, so I think Microsoft just got access to daily petabytes of information being generated by this platform that will be used to merge Microsoft's cloud products strategy to real business use. Microsoft acquired this company because of their valuable data I think, and this will be good for most companies, since now they can hire better talent and human capital using better/faster/scalable analytics.

I have been using LinkedIn for several years now, along with other business-related networks. The business model of LinkedIn is to grow membership. Connections between members are offered like candy to grow the network. Hence, the network is full of air, and the most frequented group is "liars and spammers". So, I wouldn't agree that LinkedIn is important. It's a waste of time for professionals. It needs to be rebuilt from scratch. Let's see what MS will do with it. So far, it never has made a profit due to lack of professional contents.

Guys move on. Nokia/Microsoft mobile isn't the only unit owned by Microsoft. They have a lot of other things as well. I really hate these posts saying "ms should've spent 30 billion on ms mobile blah blah blah". Why don't you guys go become the CEO? Investing money in something which doesn't promise returns is complete nonsense. They should invest in new things and explore new frontiers. Also I don't see the point as this is not your money being spent. P.S: I'm a proud Windows Mobile user and a student partner at Microsoft. Views are personal.

Guys move on. Nokia/Microsoft mobile isn't the only unit owned by Microsoft. They have a lot of other things as well. I really hate these posts saying "ms should've spent 30 billion on ms mobile blah blah blah". Why don't you guys go become the CEO? Investing money in something which doesn't promise returns is complete nonsense. They should invest in new things and explore new frontiers. Also I don't see the point as this is not your money being spent. P.S: I'm a proud Windows Mobile user and a student partner at Microsoft. Views are personal.

Been saying this for a while. Its a good thing this site doesn't cover MS's more business/IT oriented offerings. Otherwise every time a new version of SQL Server came out people would be outraged that it isn't a UWP app for Xbox or complaining that they spent money on it instead of Sirfuss Fone.

Student partner, meaning you don't get paid? thats why your still there. once you go on the payroll your pink slip is coming too! I was a proud WM owner until they screwed the users over again and again with broken promises, crap products (not the 950xl...that thing is awesome hampered by crap software), MS is crap and I am glad I am going away from it.

Coming from him... Blah, blah, blah, blah. Someone tell him to get out already.

Has he empowered something more ?

I had a feeling this would happen. this is actually great.

Congrats LinkedIn employees, pack your cubicles, you all are going on permanent vacation. Yours truly, Joe Belfiore.

lol :) now the layoffs shall begin. This guy cannot stand not to fire employees to cut costs, so say farewell to the old linkedin, and say hello to the future one, full of crap and bugs.

I know the real reason nutella bought linkedin. The head guys there took the big payoff, and nutella fired everyone from MS already...He just wanted to fire more people so he bought another company to do that....

just noticed the picture above....Nutella firing those 2 poor saps from the cubicle job,